This is the temperature your fridge should be set at - and how to stop it from getting warmer
It's important that your fridge is cold enough, in order to maintain your food's freshness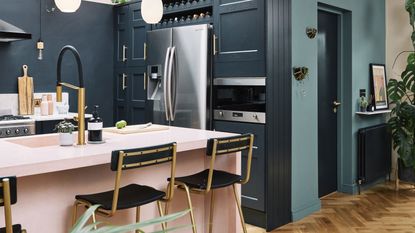 (Image credit: Future PLC / Philip Lauterbach)
Checking the temperature on your fridge might not be top of your to-do list (though cleaning your fridge might), but according to appliance experts, it's something you should be keeping an eye on if you want your kitchen to run like a well-oiled machine.
We're all used to adjusting the temperature on our hobs, ovens and toasters on a daily or weekly basis, but the temperature of our fridge (or fridge freezer) is a less common consideration. But did you know that there's an ideal temperature for your fridge to run at?
Keeping your fridge at the right temperature provides many benefits, actually – not only will it stop your food from going bad quickly, but it'll also minimise the running costs of the appliance. So what exactly is the right temperature for this appliance?
This is the temperature your fridge should be set to
Like anything in our kitchens, our fridges need to be maintained in order to keep them working at their best. And that involves ensuring that they are set to the right temperature - especially if this is something you've never thought to check before.
So what temperature is right? Amanda Lorenzini, AO.com's refrigerator expert, said, 'The ideal temperature for any household fridge is between 3 and 5 degrees Celsius.
'To adjust the fridge temperature, simply locate and twist the dial inside the appliance. However, note that any change to the temperature will take up to 24 hours to settle.'
For some fridges, however, this range may extend a little lower, to 0 degrees Celsius. For example, experts at AEG advise that, 'The average household fridge should be at a near constant temperature between 0°C and 5°C. But it's natural for your fridge temperature to fluctuate a little between these values, particularly when being opened and closed a lot.'
Why is it important that our fridges stay within this range, and don't dip any higher or lower, then?
'By putting the fridge to the correct temperature range, this will make sure the food inside stays fresh and avoids any bacterial growth,' Amanda said.
As well as a good overall temperature, appliance expert Simon Hughes at PriceYourJob.co.uk explained that organising your fridge properly is also key for maintaining your goods' longevity. 'The bottom of your fridge tends to be colder than the top – that's why the crisper is positioned there. Veggies do best in these drawer sections as it's cold with a good level of humidity,' he explained.
'The middle of the fridge, where the temperature level is more consistently cold, is the best place to store your butter and cream,' Simon continued. 'Leave the door – the one place you can't guarantee will be cold enough - for less sensitive items like condiments and preserves.'
It's also worth remembering that there are a few things that may be unwittingly affecting the temperature of your fridge; which you may want to avoid, to ensure your food stays fresh and mould-free for as long as possible.
Salah Sun, Head of Product Management at Beko, suggests that overfilling shelves could, surprisingly, be stopping your fridge from getting, and staying, cold enough. 'When stacking fridge shelves, try to keep it to two thirds full, leaving enough room for cool air to circulate inside,' he warned.
Similarly, continuous opening and closing of the fridge door, and putting hot or warm food in your fridge, can also bring down the overall temperature of the appliance.
'Throughout the day, try not to open the door too often or keep it open for too long. Opening the fridge too frequently will increase the internal temperature of your appliance. And it's also important not to put hot food inside your fridge, such as leftovers,' adds Salah.
'This will increase the internal temperature dramatically, meaning your food will be stored at the wrong temperature. Instead, make sure all food has cooled completely before storing it in the fridge.'
Get the Ideal Home Newsletter
Sign up to our newsletter for style and decor inspiration, house makeovers, project advice and more.
Amy Hunt is an experienced digital journalist and editor, now working in a freelance capacity specialising in homes and interiors, wellness, travel and careers. She was previously Lifestyle Editor at woman&home, overseeing the homes, books and features sections of the website. Having worked in the industry for over eight years, she has contributed to a range of publications including Ideal Home, Livingetc, T3,Goodto, Woman, Woman's Own, and Red magazine.