How to keep a bedroom cool - 25 ways to cool down in the boudoir this summer
Fed up with sleepless nights? These tips will make the summer months a breeze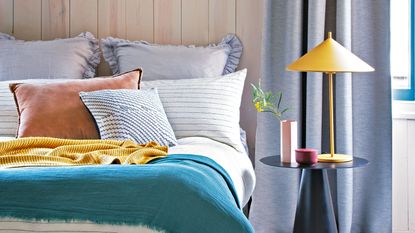 (Image credit: Future PLC / Dominic Blackmore)
Trying to get to sleep in the heat is a nightmare, especially during a rogue heatwave in September. Fortunately, there are some clever hacks that can help keep a bedroom cool and help you sleep better no matter the temperature.
'Sleep is an essential function that allows your body and mind to recharge. When you don't get enough sleep, it can impair your cognitive ability and increase your risk of conditions such as high blood pressure, heart disease, and poor mental health,' warns SleepSeeker's sleep expert Hayley Thistleton.
'Body temperature decreases when asleep and rises during waking hours, meaning sleep is most likely to occur when core temperature decreases,' she adds. However, 'heat can disturb this balance and make it difficult to sleep.'
So, if you've struggled to nod off during the stiflingly warm summer nights, understanding how to keep a bedroom cool throughout both the day and the night is key to having an airy and restful place to sleep.
You might have already turned to one of the best fans or best portable air conditioners in a bid to get a decent night's sleep but there are a number of different ways to keep you and your bedroom cool during a heatwave.
How to keep a bedroom cool in hot weather
'Research has shown that the optimal temperature to sleep is around 18C°, and if our bedrooms are warmer than that, then it'll take us longer to sleep and lead to disturbed sleep,' says Sam Tamlyn, Managing Director at California Shutters. 'There are a few key things you can do to not only keep your bedroom cool, but to lower your body temperature before you go to bed to help you get the best possible sleep.'
But what are the best ways to keep a bedroom cool, so you can drift off peacefully and sleep better during the warm summer nights? Our guide has 25 ideas that you can easily implement, full of advice from the experts and some tried-and-tested methods from the Ideal Home team.
1. Switch your sheets
Having a summer and winter set of bedding is an easy way to transform your bedroom for the warmer months. Opt for natural and breathable fabrics, so you don't find yourself sticking to your sheets in the middle of the night.
'Linen, bamboo, and cotton are soft and breathable which is perfect for the summer heat', says James Wilson, Sleep Expert at MattressOnline. 'They also draw away moisture more effectively' he says, which is great if you want to avoid waking up to a damp bed.
Knowing the best thread count for sheets is also a gamechanger. Look for a thread count of 200-400, as this means they will be lightweight and single ply.
'Pure cotton sheets have sensory benefits and, being naturally breathable, help to regulate your temperature and moisture levels while you sleep,' explains Lucy Ackroyd, Head of Design, Christy. 'Try Percale as opposed to Sateen sheets, as they're made with a looser weave and therefore are much more breathable.'
Ecommerce writer and bedding expert, Louise Oliphant agrees that opting for cotton percale fabric in the summer can make all the difference. 'Just like turning over your pillow provides a cool surface to sleep on, changing your covers to a naturally cooling fabric will keep you feeling fresh throughout the night,' she says. 'No more sticking your leg out for fresh air, that's for sure.'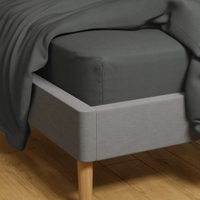 Cotton Rich Percale Fitted Sheet, £9 - £16 at Marks and Spencer
This cotton percale fitted sheet from M&S has a loose weave with a thread count of 180, meaning it's going to be super lightweight and breathable. Choose from 14 different colours, and there's also deep fitted and extra deep fitted versions if you prefer.
2. Stick to separate duvets
Find that your partner disturbs your sleep? Maybe their body temperature runs warm or the hot weather causes them to toss and turn - whatever the reason, separate covers could be the solution.
'Use different covers if you are sleeping with a partner; although it might still be tempting for some to snuggle up to your significant other, their body heat will only transfer to you, so use separate covers and if you can and swap out your duvet for a thin cotton sheet', says James.
Buying two additional single duvets for the summer months also means you'll have spares on hand for guests throughout the year, so the purchase feels even more justified.
3. Utilise fans to push hot air outside
You may already use a fan in your bedroom but did you know about this top tip to use it even more effectively during the summer?
'In the evening, face the fan outwards with the windows open to blow all of the hot air out of the room,' suggests Nic Shacklock, Head of Marketing and Brand Development at Online-Bedrooms.
'This little-known hack relies on air pressure to effectively push hot air outside of open windows while simultaneously pulling in cool air,' adds Core Sash Windows' Managing Director Sean Mac Anbhaird. 'While the fan blows warm air outside the window, open any windows on the opposite side of the house. This will create a wind stream, allowing a cool, fresh breeze to flow through your home.'
Just don't forget to keep your lights off or a few creepy crawlies may make their way indoors.
4. Use your trickle vents
If insects are making their way into your bedroom when you have the window open, you might want to consider using your window's trickle vents instead.
'Their purpose is to allow air to trickle into your home to increase ventilation, without making your home too hot, too cold or compromising on security,' outlines Jo Trotman, Marketing Manager at The Residence Collection. 'By leaving your trickle vents open during the summer, air can travel freely throughout the home without letting in the hot and humid air as well as keeping out those pesky flying insects.'
5. Open the attic
No matter if you live in a top-floor flat, a Victorian three-story home or you have a regular set-up, the fact is as simple as this - heat rises. This means that your bedroom is likely to be the warmest spot, especially at the end of the day. This can be even more stuffy if the room is south-facing or has limited windows.
One way to move some of the heat away from your bedroom is by opening the attic. According to James, 'opening your loft hatch is one way to allow heat to escape somewhere else'.
Lofts are often cooler and dark, so it's a great way to add some extra ventilation to the top of your home.
6. Use a dehumidifier
If your bedroom feels particularly stuffy and humid, it may be time to invest in or use a dehumidifier. 'Dehumidifiers eliminate moisture from the air, making the warm temperatures feel more bearable as moist heat causes the most discomfort,' says Quotezone.co.uk's expert Helen Rolph.
'A room will feel cooler and more comfortable if the humidity is low,' she continues. But it is worth bearing in mind that 'dehumidifiers increase electricity costs, so it's best to opt for a model that conserves energy by switching off when the humidity drops below a specific temperature.'
7. Opt for LED
Warm weather is a great opportunity to save money on your energy bills, and making the simple switch to LED lightbulbs will also help your home to stay cool - sounds like a win-win.
'Traditional light bulbs give out most of their energy as heat and in an already baking hot room, additional heat is the last thing you need,' says Greig Millar, Energy Expert at OVO.
The warmth of your lightbulbs might be a small factor, but every little helps when it comes to sleeping better through the summer. Greig recommends 'check which bulbs need a replacement throughout your house' as it could just cool a room down enough to make you sleep peacefully.
8. Choose the right mattress
Knowing how to keep a bedroom cool starts with choosing the best mattress that will help regulate your body temperature while you sleep.
'There are a number of mattress options available that can help you to regulate your body's temperature,' says Jonathan Warren, Director, Time4Sleep. 'Generally speaking, a mattress with a high content of natural fillings such as wool, cotton or bamboo is often a great choice for those suffering to sleep in the heat as they tend to be cooler as well as being naturally hypoallergenic.
'Other options to consider are new generation elite gel memory foam mattresses that include intelligent temperature regulating technology to help keep you cool in the summer and warm during the winter. These mattresses include a temperature regulating cool gel that adjusts with your body temperature to ensure you're never too hot or cold during the night, allowing you to have a truly blissful night's sleep.'
9. Switch your bedding to silk or lighter colours
'If you have dark coloured sheets, they're likely to be holding in a lot of the heat,' says Nicholas Auckland, home heating expert at Trade Radiators. 'Instead, opt for light colours such as bright whites and light greys.'
Another great material to keep you cool is silk. 'Silk is one of the best materials to help sweaty sleepers get to sleep easier,' Nic maintains.
'As well as being a beautiful and luxurious fabric, silk is breathable and is therefore an excellent choice for bed linen all year round, especially during the summer months. Its unique composition means that it wicks away, rather than absorbs moisture, keeping you both cool and dry all night long,' Georgia Metcalfe, Creative Director and Founder of French Bedroom, agrees.
'As a breathable fabric, silk sheets will help to naturally regulate your body temperature too, offering the perfect antidote to hot and humid evenings and ensuring you wake up feeling refreshed and rejuvenated all year round.'
10. Close windows during the day
You might be surprised to hear that leaving your bedroom window open during the day is not recommended if you're looking to keep a bedroom cool. The experts say it's better to keep the window closed, to stop hot air from filtering into the room.
'Keeping your windows closed during the day will stop the heat coming in and reduce the temperature of your room,' says Hope Bastine, Sleep Expert, Simba. 'Once the sun sets and the temperature drops, open them back up for a 'slightly' cooler breeze.'
11. Add a cold 'hot' water bottle
One of the best hacks to keep a bedroom cool is to use one of the best hot water bottles for the exact opposite of what they're intended for. Use as a cold water bottle instead, pop it between your bedsheets and enjoy a nice cold temperature while you sleep.
'Adding cold water to hot water bottles and chucking them in the freezer will create insulated ice packs that you can pop in your bed to keep the temperature comfortable,' says Brian Dillon, Bedroom Expert, Crafted Beds. 'If you don't have hot water bottles to hand, you can fill some clean socks with uncooked rice and freeze them for a few hours. This may sound unusual, but they're a soft alternative to ice packs that makes them great for taking to bed during a heatwave.'
To use the frozen hot water bottle hack safely, only keep it in the freezer for short periods (around 20 minutes), and definitely don't use boiling water.
12. Consider your sleeping position
You may not have realised but the position that you sleep in could be impacting how hot or cool you feel in bed. 'Side sleeping is best as the amount of contact between the mattress and your body is smaller. However, sleeping with your arms and legs stretched out increases the surface area so that sweat can evaporate and cool you faster,' according to the sleep experts at Bed Kingdom.
'The next best position for a cool night's sleep is the log. This is a side sleeping position that has the legs straight down and not tucked up. These positions are best because they allow a greater portion of your body to have fresh air as you sleep.'
Alison Jones, Sleep Expert at Sealy UK concurs, 'as you are trying go expose more of your body to the air around you, avoid tucking your legs up while you sleep. Instead, keep them straight to allow more of your body to be open and exposed to the air.'
13. Invest in a cooling mattress topper
'If you can't afford a new mattress or if you just want to preserve your mattress, consider buying a mattress protector or topper designed to help keep you at a comfortable temperature,' says Dr Greg Potter, Sleep, Nutrition and Metabolism Expert, The Fine Bedding Company. 'Using one will help protect the mattress in the long term, especially from perspiration you'll enviably emit during the hottest months of the year.'
The best cooling mattress toppers can be made of latex, wool, gel memory foam, or other materials that draw heat away from you while you sleep, making them an ideal addition to the bed during warmer weather. Try one for yourself and see the difference it makes.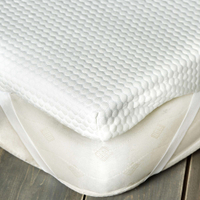 Gel Fusion Memory Foam Mattress Topper, King size £175 at Dunelm
This topper is made from a gel-infused memory foam that absorbs and disperses body heat while providing excellent support and comfort. It also has ventilation holes through the foam to allow airflow and breathability.
14. Keep a spray bottle on your bedside table
'We fill old spray bottles with water and spray faces and necks to cool down,' says Ideal Home Editor Heather Young. Dig out any see-through bottles you might have left over from trips abroad, improvise with a plant mister, or pick up some new spray bottles at Amazon.
A quick spritz of water can reduce the temperature of the skin and the air around you because the droplets use some of the heat in the air to evaporate. Make it extra refreshing by adding a couple of drops of peppermint essential oil to the water.
15. Give your feet a cold water bath
'I give my feet a cold water bath before I go to sleep,' shares Rebecca Knight, Deputy Editor (Digital) at Ideal Home. 'It helps cool you down and is supposed to calm your nervous system too to help you get to sleep more easily.'
'Having a bowl next to your bed allows you to soak your feet right before bed and quickly dry off with a towel, allowing you to drift off to sleep almost straight away,' says Brian from Crafted Beds. 'This is a great and easy step to add to your summer wellness routine, just make sure that the water isn't too cold as your body may go into more of a 'survival mode'.'
16. Cool your pillows before bed
The best pillows are an important factor to consider when looking at ways to keep a bedroom cool; they are where we rest our head and where we're most likely to feel hot after all. Instead of constantly having to swap over to the 'cool side' of the pillow, you can make it cooler all round by adding a gel insert, like the one recommended below.
Ideal Home Content Editor Holly Walsh recommends putting your pillowcase folded up in a zip lock bag and popping it in the freezer a couple of hours before bedtime. 'Then you'll have a nice cool pillow to lie down on!' she says.
You can do the same with socks, too – just like under-floor heating can make us feel much warmer, cooling your feet lowers the overall temperature of your skin and body.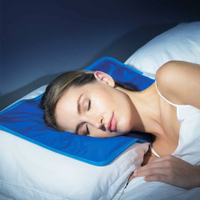 Chillmax Cooling Pillow Gel Inserts, JML, £11.99 at Amazon
Chillmax Pillow's inner gel reacts to your body temperature to absorb excess heat, drawing it away from your skin to produce a natural cooling effect for up to three hours.
17. Make bedtime more of a ritual
Try giving your bedtime routine more attention if you're consistently missing out on a good night's sleep. 'Make the whole process of going to bed more of a ritual by giving yourself a luxurious turn-down service before bed,' suggests Millie Hurst, Senior Content Editor at Ideal Home.
'Pull back the bedsheet, turn on a lamp, put a glass of water by your bed and spritz pillows with a pillow spray. Then, go and have a cool shower (this lowers your core body temperature) before gliding into bed feeling that bit more zen.'
18. Block out the light
Installing blackout blinds is one of our top bedroom design tips for better sleep, and they were made for warmer weather. Shutters will also come into their own, blocking the light while letting in the air.
'Consider factors such as which direction your window faces,' says Jason Peterkin, director at 247 Blinds. 'For example, a south-facing room will benefit from thicker, thermal materials to help keep it cool. Generally speaking, wooden Venetian blinds and plantation shutters are great for keeping the temperature down in the home as they allow you to adjust the amount of light filtering into the room by altering the size of the gap between the slats.
The wood also acts as a natural heat conductor, helping to keep the warm air out during the summer months. If you want to completely block out the sunlight, opt for blackout blinds. The thick fabric will not only help to regulate the temperature of the house, but also ensure you get a better night's sleep during the brighter months and lighter mornings.'
19. Change your duvet
'As well as making sure you have the right sheets for summer, you should also make sure you have the best duvet too,' says Lucy Ackroyd. 'During these hotter months, a lighter tog of 4.5 is recommended. If you like something a little heavier but still breathable, try a 10.5 tog.'
Knowing when's the right time to switch to a summer duvet is a gamechanger, as you won't feel the increase in external temperature as much. Alternatively, you can get rid of your duvet altogether. Robert Lancaster Gaye, the co-founder of luxury linen brand, Tielle Love Luxury, says, 'If you're prone to night sweats and tired of fighting with your bedclothes, try swapping your duvet for layers of easily removable cool, crisp sheets.
'Also, get rid of blankets on the bed and store them in breathable cotton storage bags or rolled up in cotton sheets,' Robert adds. 'Sweaty plastic or non-breathable bags can cause mildew to form.'
20. Welcome nature into the bedroom
House plants have never been so popular, and now the hot weather will give us even more excuse to add to the collection, as the best plants for the bedroom can actually help lower the temperature of the space. 'Indoor plants can help cool a house in warm weather, as they consume hot air for their natural processes,' explain the team at Stelrad.
'When an atmosphere heats up, plants will often release excess water into the air from their leaves – as a result, they cool themselves and the surrounding environment. Some of the best ones include rubber plants, Chinese evergreens, palms, mother-in-law's tongues and ficus benjaminas.'
21. Head to a different room
Some rooms of the house are naturally cooler than others. Remember that heat rises, so you might find downstairs areas less oppressive on a warm night. North-facing rooms also tend to be a lot cooler than those in the rest of a property. Even if you can't relocate your bedroom permanently, it might be worth sleeping on a sofa bed or air bed.
22. Switch off the lights
'Plugged in devices and lightbulbs emit heat and contribute to the overall temperature of a room,' says Thomas Høegh Reisenhus, Sleep Specialist and Sleep Counsellor, TEMPUR®. 'Turning everything off is better for the environment and prevents stimulating blue light, which can make you feel more awake. Remove all laptops, screens and phones from your bedroom to avoid distraction should you wake in the night.'
Switching off the lights during your wind-down routine will help keep a bedroom cool, plus it's a good way to save energy - win-win!
23. Use cool technology to sleep smarter
Even if you don't try out the fan hack above, investing in a fan or even one of the best air conditioners is a sure way to keep a bedroom cool this summer. Quiet tower fans with timers and a choice of settings are the smart choice if you struggle to fall asleep, but desk fans and pedestal fans will do the job nicely, too. If it's really hot, put a shallow bowl of iced water in front of the fan to cool the air.
'Put a bowl bucket or even plastic containers filled with ice water directly in front of a fan. As the ice melts the breeze from the fan will pick up the cool air coming from the ice's surface,' explains the team at Stelrad. 'This will recreate a cool breeze, similar to an air conditioning unit. Alternatively, a wet flannel or small, damp towel placed over a fan works just as well.'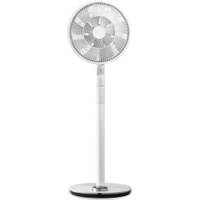 DUUX Whisper Flex Ultimate Smart Cordless Pedestal Fan, £249 at Currys
Duux Whisper fans are high spec, Quiet Mark (making them super quiet) and Smart enabled, so they're perfect for the bedroom. Control via a remote control or from your phone, and you don't have to worry about messy wires getting entangled either.
24. Wear the right clothes to bed
'What you wear to bed has a huge effect on how well you sleep. Loose fitting, well-ventilated cotton pyjamas are the best option,' says sleep expert Hope. 'Avoid synthetic materials that will cling to you at night. Cotton has moisture absorbing properties that will help keep the sweat from your body and ultimately allow for an improved level of comfort.'
Wearing cotton nightwear is actually better than wearing nothing at all, as natural fabrics will absorb any perspiration.
25. Stay hydrated
'When it's hot we're more likely to lose water by sweating as we sleep,' affirms Nic. Which is why it is incredibly important to stay hydrated during the warm weather. 'Drink water regularly during the day, but not too much at night,' suggests Rebecca Mayes, Sleep Expert at Harrison Spinks.
'Staying hydrated throughout the day will mean you don't disturb your sleep with a trip to the bathroom, as well as ensuring you stay cool while you sleep,' she adds. 'About half a pint just before bed will ensure you're hydrated throughout the night and keep a glass of cold water by your bed in case you wake up hot and uncomfortable.'
FAQs
Why is it hard to sleep in the heat?
We know that it's important to keep a bedroom cool if we want to have better quality sleep, but you might be wondering why that is exactly - after all, in the winter, one of the best feelings is snuggling up under a duvet and getting toasty warm while we drift off.
'As we fall asleep our body temperature naturally drops,' explains Dr Lindsay Browning, Psychologist and Sleep Expert,