12 brilliant uses for Kilner jars that you won't have thought of
Jam jars, click top pots and more - check out these brilliant ways to display your Kilner jars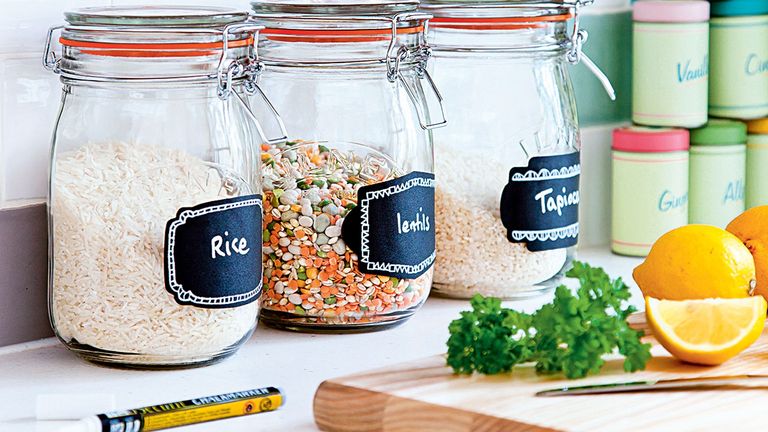 (Image credit: Future PLC/ Lizzie Orme)
Since 1842, the trusty Kilner jar has been a stylish and sturdy essential in our kitchens. The iconic gingham-topped jars have seen us try our hands at marmalade making, and the clip top jars have been pickling our gherkins for decades.
In a bid to get our favourite jar into every room of the house, we've found some pretty nifty ways to use the handy little number...
1. Make it green
Giant push top jars act as mini greenhouses inside the home during the winter. This display looks beautiful on the windowsill as the light streams in.
2. Store food
Click top pots make adorable little pudding pots. Bake an oozing crumble or pot some poached pears with crème fraiche and serve immediately.
3. Keep it pretty
This jar is the perfect size to hold a small bouquet of flowers. Decorate the jar with a loop of decorative ribbon or a small handle to hang them.
4. Treat yourself
Jam a jar full of chocolate treats, glue a little figure onto the lid and paint before handing them out as gifts.
5. Make your own light fixture
Dress up a simple light fixture by drilling a hole through the lid of your Kilner, secure it into place and screw the jar around the bulb.
6. Get creative with seasonal trends
Turn the jars upside down to create the perfect snow globe. Glue a figure to the lid, add some sparkly water and have hours of festive fun.
7. Keep it practical
Stick all those little odds and sods without a home into a mini jar. The metallic lids will also cling to a magnetic shelf to get them out the way.
Like this? Don't miss our step-by-step guide to making your own mason jar pendant light
8. Factor in a display
Pop some tea lights in old jam jars and decorate the lids for a glitzy yet inexpensive candle display.
9. Take it outside this summer
With barbecue season upon us, these little glass click tops are perfect for serving up dip, pickles or salsa - and any leftovers will remain fresh in the fridge.
10. Store punch
Perfect for sipping punch or zesty lemonade - stick a stripy straw in your drinking jar to make the perfect picnic glass. Cheers!
11. Keep food fresh
Decant your dry ingredients into large click top jars to keep everything fresh, tidy and uniform in the cupboard.
12. Display photographs
Wrap old family photos on the inside of your Kilner for an alternate photo frame display. The older and rustier the jar, the better.
Which idea is your favourite?