Masterchef winners – secrets of the semi-pro kitchen
Kitchen appliances that let you cook like a pro - which ones suit you?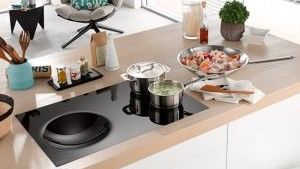 (Image credit: TBC)
So you love to cook. You're glued to every cookery show out there, and are a frequent and vocal heckler - cue strained and exasperated yell at the tv: 'everyone knows you can't do that to a partridge!'
So what appliances will equip your kitchen to help you truly cook like a pro?
1 Gas vs induction hobs
Gas may well be the chef's choice - it's the drama of all that heat and naked flame - but the popularity of the induction hob is on the up.
This is partly due to prices coming down, but also because people are finally cottoning on to the fact that induction is quick, super responsive and very easy to clean. High end models are zoneless too so can take bigger pans. And the clever ones have tracking that lets you move pans around, while the hob maintains each pan at the chosen temperature.
Gas isn't giving up without a fight though. For stirfries it's hard to beat the sheer power of a triple crown burner, hence appliance companies are getting smart offering a combination of gas and induction in one unit, or providing specicialist induction wok burners or tepanyakis, like the Miele hob above.
Look for stylish gas on glass, or designer pieces such as these cast hobs by international designer, Patricia Urquiola for Beko.
2 Domino hobs - the game changers
Of course you don't really have to make a choice between fuel types any more. Going domino lets you choose a selection of mini hobs which might include gas, induction, a griddle, tepanyaki and even a deep fat fryer. They are usually 30cm wide - so half the width of a standard hob - and they are designed to sit side by side.
Always choose from the same range for a seamless look, and bear in mind that you will need a separate power supply for each. The one above is by semi-pro favourite, Wolf.
3 Super-stylish cook table
Right on trend is the integrated hob and island that is the cook table. A smart option for modern designs, it gives a lighter look than a standard island and is pure theatre.
This is the W Series by La Cornue. It's a serious bit of kit for stylish cooks, and has a reassuringly expensive price tag.
4 Combination oven
Once upon a time there were single ovens and double ovens - the keen cooks always plumped for the double.
But today's built-in models let you mix and match with all kinds of enticing combinations that include fan ovens, combi ovens (offering standard functions along with either steam or microwave), and warming drawers than can slow cook and prove dough as well as warm the plates. This selection is by Miele.
Combi ovens are the most popular 'extra' as they can seriously reduce cooking times, but still give perfect results, with steam especially helping cakes to rise and keeping roasts nice and succulent.
The latest models have a whole range of functions that will - whisper it quietly - do the cooking for you.
5 Pro-style range cooker
A built-in oven isn't for everyone, and there is something majestic about a range cooker - quite often a beautiful beast that you can design your kitchen around.
Modern range cookers are commonly dual fuel, giving the best of both worlds with the roar of gas on top and the precision of electric in the oven. While heat store cookers such as the AGA are on all the time, and require a slightly different approach to cooking.
Standard range sizes are 90cm, 110cm, 120cm and 150cm but many companies are now produce minis such as the Wolf 'cub' above, for smaller kitchens. The Falcon below is part of a range inspired by professional kitchens.
The truly serious cook should take at look at the French beasts from LaCornue and Lacanche.
6 Sous Vide
Does an episode of MasterChef ever pass by without the sous vide bags flying? Until recently this method of cooking was strictly for the pro kitchen - for starters, you need a vacuum bag system!
But it's gradually wheedling it way into our affections and our homes with both KitchenAid and AEG creating near approximations for the home.
Sealed food is cooked with the help of water or steam at very low temperatures that preserve all the flavour and nutrients but give melt in the mouth textures.
Guests will be super impressed, especially if you start infusing melon slices with vodka and all those clever things we've seen done at demos by MasterChef champ, Tim Anderson.
7 Handy helper
Okay, this one's more Bake Off that MC, but even the home pro will need to whip up a sponge, choux pastry and macarons once in a while.
Magimix has always been the go-to company for the chopping, grating, churning champ that is the food processor (also mainstay of the wedding list).
Its new baby is the patissier which is geared up for all things baking.
But play to your repertoire. If soups and sauces are your thing, your handy helper might well be a simple stick blender.
8 Barbecue King/Queen
If you are serious about cooking and entertaining, there is no way a disposable barbecue is going to cut the hotdog mustard this summer. Allow us to introduce you to the Lynx.
This American brand of outdoor grill comes in five sizes with a large capacity grill and smoking box. You can get really carried away with the optional extras that include: fridge, ice machine, griddle plates, warming drawers, integrated lighting and even a cocktail-making station.
Make it a true Anglo-American collaboration by supplying your own brolly.
Find more ideas and inspiration for your kitchen project at Beautiful Kitchens.
******
Get the Ideal Home Newsletter
Sign up to our newsletter for style and decor inspiration, house makeovers, project advice and more.