Should curtains touch the floor?
Should curtains graze or puddle? Or should they hang above the floor? Here's what the experts say.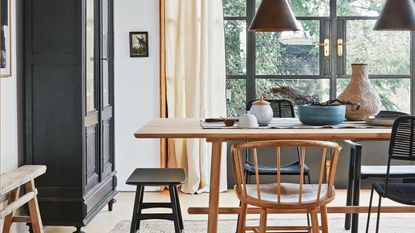 (Image credit: Future PLC / Jan Baldwin)
Choosing curtains is one of those design decisions that we tend to rush (or put off indefinitely). But curtain ideas are a great way to refresh a space. Just like throwing down a new rug or changing up your bedsheets, new curtains dramatically alter the overall feel of the space because they cover so much surface area.
If you're wondering, 'Should curtains touch the floor?' we have asked the experts for their verdict. Measuring curtains is intimidating, so you want to know what you're doing before you start.
Should curtains touch the floor?
According to Gareth Coxall, Creative Director from curtain retailer Terrys, they don't have to touch the floor, but they'll look far more opulent if they do. 'When your curtains reach the floor, it makes your room look more luxurious,' he says.
'If you hang your curtains up high, this will draw the eye upwards, and then drop your curtains to the floor for the full effect of making the room seem taller and larger,' adds Gareth.
Amy Wilson, interior designer for 247 Curtains recommends going a step further and letting them pool slightly onto the floor. 'To create the perfect curtain pooling, you should allow an extra couple of inches to your measured drop.' Light and floaty materials like linen pool the best.
But it's not all about looks, as the pros at Make My Blinds explain. They point out that curtains that touch the floor will help keep your house warm in winter. 'Floor-length curtains create a warm, inviting look and are easy to open, close, and reasonably easy to maintain,' they say.
'Floor-length curtains will allow less heat to escape compared to curtains above the windowsill as they do not cover the entire recess.'
If you've already cut your curtains, it may, unfortunately, be a case of replacing them – especially if the shortness is really bothering you or affecting the look of the room. Or, Amy says, you could try to lower the pole if it's quite high above your windows, in order to lower the height of the curtains. 'The beauty of curtains is there is margin for error when using a pole or track, as you may be able to lower this if your curtains are falling a little too short,' she said.
How much should curtains touch the floor?
If pooling your curtains on the floor, which is great if you want a romantic and rich look in more formal rooms, Make My Blinds recommend adding 5cm. For generous pooling, add 12cm.
Is it okay if curtains don't does the floor?
We're not here to tell you what you can and can't do. What if you don't love the look of overflowing curtains? 'If you prefer not to have curtains all the way to the floor, then consider a Roman blind instead of short curtains,' Amy advises.
Interior designers are divided on this topic, with some saying you never want them to touch the floor. For instance, Lee Trethewey is an interiors expert from Sustainable Furniture, who says they should never fully touch the floor for both design purposes and cleanliness.
'Curtains that do touch the floor are more likely to gather dust and other pieces of dirt from the floor, and can also make sweeping and vacuuming your home a nightmare,' says Lee. 'You want to be washing your curtains as little as possible, so opting for curtains that collect dust and dirt is anti-productive.
'If your curtains do touch the floor, making sure they're a material that's easy to clean is vital, as well as ensuring they're situated in a part of the house that's away from external doors.'
If you've changed your curtains and still don't love the look of your window area, you might also want to consider whether there's too much clutter on your windowsills. 'When it comes to window sills, the line between decoration and clutter is fine, but striking the right balance is key when it comes to showcasing your curtains,' Amy Wilson says.
'If you have fairly low or narrow window sills, try to keep decoration to a minimum to allow the curtains to remain the centrepiece. Adding too many items to a small window area will only leave the space feeling cluttered and messy and much less luxurious.'
Ultimately, the choice is yours when it comes to curtain length. We'd recommend hanging them so they softly graze the floor, as this ties the materials in the room together nicely while maximising warmth. Very short curtains could risk looking a little outdated, in which case we'd swap for Roman blinds.
Get the Ideal Home Newsletter
Sign up to our newsletter for style and decor inspiration, house makeovers, project advice and more.
Amy Hunt is an experienced digital journalist and editor, now working in a freelance capacity specialising in homes and interiors, wellness, travel and careers. She was previously Lifestyle Editor at woman&home, overseeing the homes, books and features sections of the website. Having worked in the industry for over eight years, she has contributed to a range of publications including Ideal Home, Livingetc, T3,Goodto, Woman, Woman's Own, and Red magazine.