How to make a small living room look bigger – tricks to stretch your space
Think big with easy ideas and visual trickery that will make a small living room feel miles bigger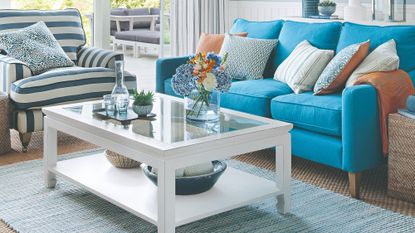 (Image credit: Future PLC/Dominic Blackmore)
Lack of space can be a huge problem, but when it comes to how to make a small living room look bigger, there are plenty of tips and tricks you can use to make a poky space feel much larger and spacious than it actually is.
While using pale colours is a trusted technique that will make any living room feel larger, that's not the only way of stretching the space and making a small living room feel less cramped and crowded. From clever furniture placement, light-saving window treatments, visual tricks or just a simple detox and declutter, we've rounded up all our favourite small living room ideas.
How to make a small living room look bigger
Start by taking a long, hard look at your space and working out what bits of it work well and what bits don't work quite so well. Re-assessing the space, getting rid of items that aren't earning their spot and then re-working the layout, can do wonders in a small living room, and taking it back to basics is a great place to start.
1. Simplify your colour scheme
When it comes to modern small living room ideas, avoiding an overload of bold or dark colours is key if you want to make a small space feel bigger. Using a single colour in different tints and tones throughout the room helps to stretch the space visually and make it feel larger and more spacious. Whereas, using too many different colours can divide the room up visually and make it feel smaller and disjointed.
'Colour Drenching involves using the same colour in different forms throughout your space,' says Ellen McEvoy, Head of Marketing and Digital at paint brand Colourtrend. 'This can include your walls, ceiling, woodwork, and furnishings all being the same shade. As well as creating maximum impact, this is an easy way to make a room look more spacious.'
'Lighter shades work well in smaller rooms as these colours tend to reflect natural light, opening up the space. Alternatively, pair pale neutral walls with furniture in a similar colour palette to create a seamless space. Recent trends from Colourtrend have shown customers are opting for milky and almond-toned neutrals over cooler greys and bright whites, to create that welcoming space.'
2. Don't rule out darker colours
While paler colours and calming shades are recommended for making small living rooms feel bigger, that doesn't mean that bolder colours and darker shades have to be avoided completely when it comes to how to design a living room.
'Painting a room in a deep, moody shade can also create the illusion of depth, while making a statement,' adds Ellen McEvoy at Colourtrend. 'Think about how much natural light the room gets too. To balance rooms with more natural daylight hours, consider the use of darker neutrals to balance the sunlight,' adds Ellen.
'Why not play into the fact that the space you do have is limited?' says Shelley Cochrane, Accessories Buyer at Furniture Village. 'One of my go-to tips when working with a small living room, is to make it as cosy as possible. Don't limit yourself on furnishings, don't hold back on accessories. You can still craft a beautiful, cohesive living room without overwhelming the space, and most importantly, it's a room we spend a lot of time in, so it needs to reflect your own personal style.
'Experiment with wall storage and wall hangings to create a cocooning environment – and if you are worried about the space feeling cluttered or cramped, the simplest trick is to place a mirror on the wall to reflect any natural light that flows into the living room.'
3. Create a focal point
Living rooms work best if there is a focal point, something that draws you in and the place where your eyes land when you enter a room. In many living rooms, the fireplace becomes a natural focal point and offers a solution when working out how to position living room furniture.
In a space without a small living room fireplace idea or any other standout features, it's possible to create your own focal point by clever use of paint, wallpaper, or placement of furniture. Try painting a panel on one wall in a standout colour to create a point of interest and a faux architectural feature. Adding a console table and mirror above draws the attention and looks just as eye-catching as a traditional fireplace.
'It is easy to be put-off using a bright colour like this in the home,' says James Greenwood, Brand and Interiors Expert at Graham & Brown. 'However we think it is easily translatable into a homey hue and our fearless Vixen paint looks stunning and playful in a brighter light, or sophisticated in a smaller cozy space.'
4. Leave some breathing space
'When living room space is tight, avoid over-filling the room with too many large bulky pieces of furniture that can block the light and make the room feel crowded and hemmed in. Knowing how to arrange furniture in a small living room can make a big difference.
'Make sure you leave a clear path to walk through your room, keeping corners empty,' says Martynas Mandrijauskas, design expert at Instrument Furniture. 'Your eye should be able to travel clearly through your home without obstruction. White space allows for visual "breathing room" that will make the place feel more expansive and less crammed.'
'Keep a clean view of windows, ensuring they aren't obstructed by large pieces of furniture, as this will make the window look smaller and block light. Instead, opt for smaller pieces near the window which will help with the visual scale of the room.'
5. Say yes to multifunctional pieces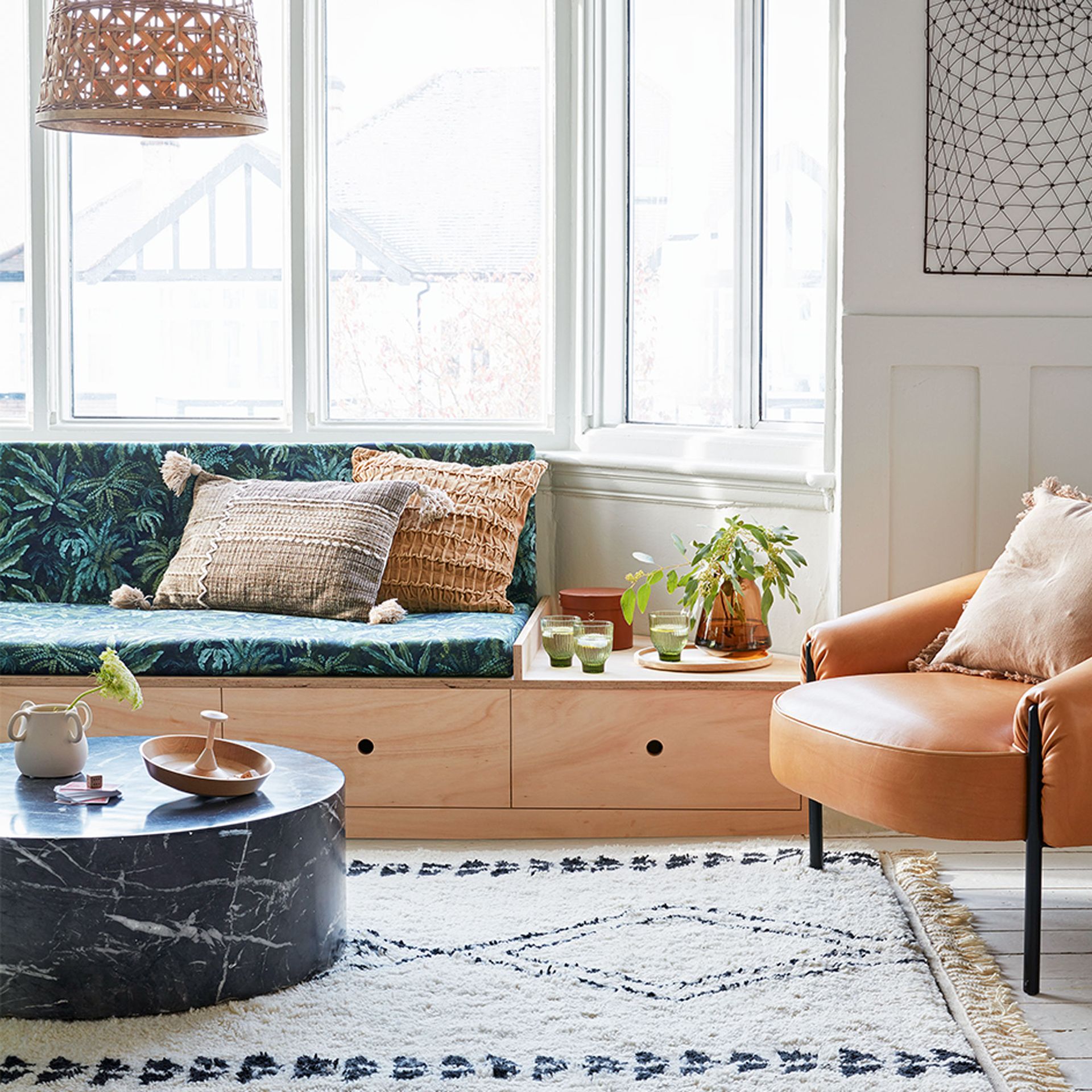 With space at a premium in small living rooms, finding clever ways of squeezing more in without using up valuable floor space is a must. Sofas and seating guzzle up a large amount of floor space, but opting for a sofa with lift-up storage underneath solves tackles two issues at once. Or consider building storage into wasted areas, such as in a bay window or alcove and then adding extra seating on top.
'Living in a small space means that there isn't much room for furniture. This can be challenging at first, but if you are smart with your choices you can get everything you need without overcrowding,' adds Martynas.
'Multifunctional furniture keeps the space efficient by having one piece that can do two or more jobs, meaning less furniture taking up precious room. This means you won't need to decide between two pieces of furniture, while helping you save money by doubling up on uses for each item. Think folding tables, sofa beds, stackable furniture and tables with storage which will save room and let you transform the space with a few simple adjustments.'
6. Scale down furniture
While having less furniture in a small living room will immediately make it feel more spacious, refining the furniture you do have is another way of making the space feel more sleek and streamlined. Give high-backed sofa ideas and big, bulky coffee tables a miss and instead opt for low-level sofas, armless modular pieces and smaller side tables or stacking nests.
'If you don't want to use multifunctional furniture and you'd like to have everything in one space, then you'll want to scale down on the size of your furniture. Keep it low-profile and compact, opting for one or two larger pieces which will keep the room visually balanced,' advises Martynas.
'Alternatively, if you like a minimalist look, you can use less furniture overall but with larger-scale pieces. However, make sure you measure your space including doorways and all access points before you purchase a large piece of furniture, to ensure you have adequate room to both walk and transport it through your home.'
7. Ditch the overhead pendant light
When it comes to small living room lighting ideas, not relying on just a single overhead light source is the number one tip from lighting experts. A single light is inadequate for any room, big or small, but in a living room, where a relaxed mood and cosy atmosphere is a must, a single overhead light will feel harsh and stark and not conducive to relaxation at all.
'We would always suggest using multiple light sources in a living room,' advises David Amos, founder of Amos Lighting . 'If you have different light types around the room it can not only eliminate shadows but create an appealing layered lighting effect, making the room naturally feel bigger. For example, you can incorporate different temperatures that project a different coloured glow or level of brightness.'
'We'd also suggest avoiding any bulky and large ceiling fixtures in a small living room. Whilst they can be an eye-catching addition to the room they can make the room look smaller and cause it to feel top-heavy.'
8. Avoid an overload of pattern
Don't rule out using pattern completely in a small living room. While pale colours and areas of plain will add calm to a small living room, not having any areas of contrast pattern or texture can make a room feel bland and lifeless if you're not careful.
The key with pattern in small spaces is not to overdo it. Small patterns can work here and there, but don't mix too many of them together or the room will feel too chaotic. And don't shy away from using large-scale patterns in small spaces, just restrict yourself to one or two and no more. A boldly-patterned rug can be a fabulous way of making a statement in a small living room. With pattern kept below eye-level, it won't overwhelm the room.
9. Think big with artwork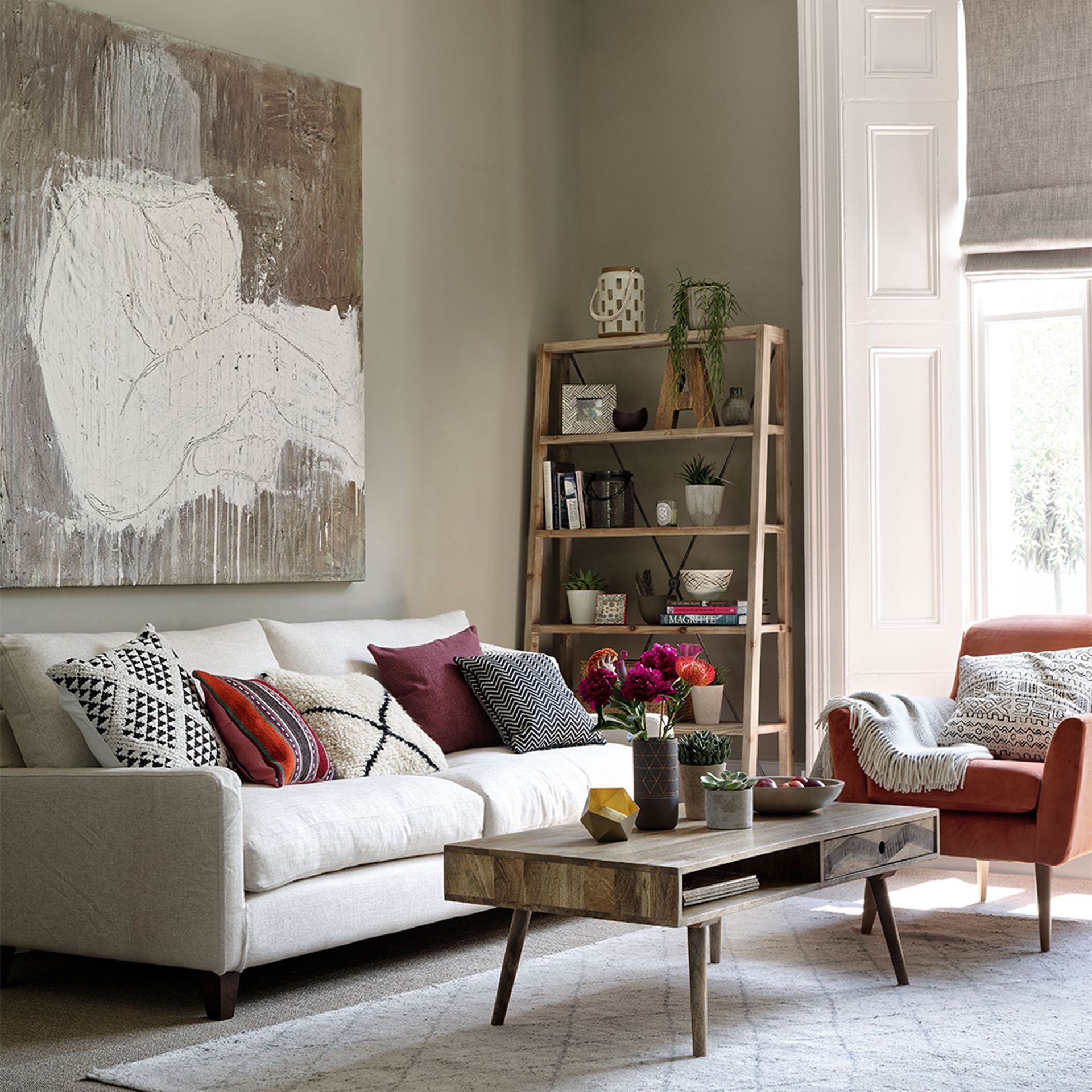 When it comes to wall space, one large piece of artwork can be much more impactful than lots of small pictures and prints crowding the wall. So while gallery wall ideas are great when there's lots of space, they can be tricky to pull off when space is limited.
Instead opt for a single oversized piece or two larger pictures side-by-side, perhaps above a sofa or other large item of furniture. Large artwork in a small space will grab the attention and draw the eye upwards and outwards and away from the floor, helping to stretch the space visually and make the room appear bigger.
10. Declutter shelves and surfaces
Too much clutter is never good, but in a small living room, will only make the space feel busy, untidy and overly crowded. Surface space is at a premium in small spaces, so put as many items away as you can, freeing-up table tops and shelves and creating a little extra breathing space.
A small living room styling mistake to avoid is overfilling bookcases and shelves, so that they're stuffed with books and ornaments. Edit down the pieces that you have out on show, allowing space around items so that pieces look purposefully placed rather than crammed in, which will look much more aesthetically pleasing.
'The easiest thing you can do to make any room feel bigger is to clear clutter away, ensuring that flat surfaces have unused space,' says Martynas. 'Purging the room of unnecessary items will make it feel much larger. An organised space will look and feel cleaner and more open.'
'If you just can't bear to get rid of any stuff, then additional storage is your best friend; baskets under tables, floating shelves and hanging storage behind doors will keep your rooms organised, spacious and clutter-free.'
11. Invest in a large rug
When it comes to living room rugs, big is better, especially in small living rooms. It might seem counterintuitive, but a large rug can help to stretch the space, drawing the eye and making the floor area feel bigger. If a rug is too small it won't help with how to make a small living room look bigger as it can appear as if it's floating in the middle of the room and look out of sync with the proportions of larger items of furniture.
'The size of a rug can also play a part in how big the room feels,' says Martynas. 'Rugs should be large enough to tie the room together, which brightens and opens up your floor space. A rug that is too small for the furniture around it will make the room feel smaller.'
Go for a rug that is as large as (or even wider) than your sofa if you can. A large rug will act as an anchor point in a living room that can help with how to arrange living room furniture. Run it under the legs of your sofa as well as the coffee table if possible and try to leave around 25-30cm around the edge of the room so you can still see the floor beneath.
12. Pull furniture away from walls
While it's tempting to push all the furniture against the walls in a small living room to put more floor space on show and make the room feel bigger, it can actually have the reverse effect. Having everything pushed up against walls can limit the sense of space and horizon, making a living room appear much smaller.
Try pulling sofas and armchairs away from walls to give them more breathing space. An easy solution for how to make a small living room look bigger, it will also make the room feel more inviting. No more dead space in the middle of the room. Group seating together to create a more relaxed, sociable feel.
13. Let more light in
Natural light can help with how to make a small living room look bigger, making it feel brighter, breezier and more spacious. Avoid heavy living room curtain ideas and solid blinds that block out sunlight and instead opt for lightweight linens, voiles and sheers that will let maximum light flood in.
One trick for small living rooms that can help stretch the space, is to install a longer curtain pole at a standard-sized window. Extending the pole on either side of the window will make it appear wider and allow curtains to be drawn back fully allowing extra light in.
14. Save space with sleek built-ins
Too many large bulky pieces of furniture can crowd a small living room and make it feel cramped. Opting for built-in furniture is a great way of making use of under-utilised alcoves and recesses and frees up floor space, rather than having lots of freestanding pieces. Paint built-in storage to match wall colour to create a more unified look that can also help increase the sense of space in a small room.
'Alcoves offer pockets of extra space in living rooms, but it can often be difficult to know how to get the best use out of them,' says Racheal Hutcheson, National Retail Manager, Sharps. 'Integrated shelving helps to create a dedicated space to display your prized possessions, whether it's an impressive collection of books, a series of treasured photos or an A/V entertainment system.' So bear this in mind when thinking about your small living room TV ideas.
'Fitted cupboards are the perfect place to hide any unsightly items or clutter that can build up, making your living room appear more spacious. Whether it's stashing away blankets or media accessories in a living space, a tidy area promotes a feeling of relaxation.'
15. Blur the boundaries
Wrap the room in colour, by painting living room walls and ceiling in the same warm shade throughout. A good trick for how to make a small living room look bigger, awkwardly-shaped areas or rooms with sloping ceilings, painting walls, trims and ceiling the same colour ensures that the eye doesn't get drawn to the corners of the room which helps create a greater feeling of space.
Don't shy away from blue living room ideas in smaller spaces - blue can work well in any living room providing you choose the right shade. It's definitely a winner when looking at how to make a small living room look bigger.
'Colours in north-facing rooms tend to appear consistently flatter and cooler than they would do bathed in natural light,' says Ruth Mottershead, Creative Director at Little Greene. 'Paler blues and greens may appear cold, so experiment with stronger green-blues for a warming impact. South facing rooms tend to experience warmer light and colours can often appear more yellow, so darker blues can be used to achieve a neutral scheme with more depth.'
16. Add height with contrast ceiling colour
In a small living room without much natural daylight, painting the ceiling a lighter colour is a good way of brightening up the space and making it feel more lofty.
Extend the effect in a room that features a picture rail, by painting the wall area above the rail to match the ceiling colour. It will make you less aware of where the walls end and the ceiling begins and will create the impression of extra height.
17. Open up the view
In a through-lounge or open-plan living room ideas avoid positioning furniture where it might block the view into the next area or across the space. Positioning larger items and bulkier pieces of furniture away from walkways will help to open up the space more and make it feel bigger.
Use round coffee tables and occasional seating between chairs and sofas. Curves are much easier to navigate around in tight spaces, with no sharp corners to bash into.
18. Double-up to bring balance
Increase the sense of space in a small living room by simplifying the window treatments. Small windows with multiple curtains and living room blind ideas can look heavy, visually-confusing and make the space feel crowded, whereas a more simple treatment will create a sleek more unified look.
Treat side-by-side windows as one, with a window treatment that encompasses the whole area. Simple pleated blinds sit on individual window frames for a neat look and can be raised completely to let maximum light in. Opting for a single curtain pole that extends across the whole area, with just a single drape at each end, simplifies the effect further and gives a more balanced, unfussy look.
19. Go big with mirrors
It may be an old and much-used trick, but clever placement of living room mirror ideas is a brilliant way of how to make a small living room look bigger.
Positioning a large wall mirror opposite a window or propping a floor-standing mirror against a wall, reflects light back into the room and creates the illusion that the space extends further than it does, making the room feel brighter, airier and more spacious too.
20. Find the right shade of white
Decorating a room in pale colours and light-reflective tones is another proven way of making a small room feel bigger. But rather than choosing wall-to-wall brilliant white living room colour schemes, using warmer tones of white will feel less harsh and clinical while still retaining white's room-enlarging qualities.
In north-facing living rooms, avoid blue and grey-toned whites which can feel a bit dark and dismal and instead opt for white with yellow or red undertones that will lift the space and make it feel more warm and cosy. South-facing living rooms tend to already get a lot of natural daylight, which can amplify the effects of warmer whites, so instead opt for cooler-toned whites which will balance out the warmth of natural light and create a more balanced effect.
What colours make a small living room look bigger?
Colour is a game changer when it comes to small living rooms. Using muted colours and soothing shades throughout can help to calm a busy space, help with how to make a small living room look bigger and create a cohesive look that in turn feels more spacious and easier on the eye.
'When selecting colours for your living space, think about how you would like the space to feel,' says Ruth Mottershead, Creative Director, Little Greene. 'Perhaps consider soothing, tranquil green tones or more natural neutrals to bring warmth and harmony to the room.'
'Neutral paint colours set the scene for harmony and tranquillity, while muted tones reflect nature at its purest and these gentle tones can warm cooler spaces and breathe light into darker rooms.'
What colour makes a room look bigger and brighter?
'Too many colours can make the room feel cluttered, so coordinating your colours will help to keep the visual language simple and easy on the eye. Try to keep to a minimal palette of three colours maximum which will help to create a cleaner look,' says Martynas Mandrijauskas at Instrument Furniture.
White is a tried-and-tested classic when it comes to how to make a small living room look bigger, but it's not the only option available.
'Pale neutral living room ideas are the obvious choice to encourage the illusion of space,' say the experts at Dulux. 'For a cool, stylish look, opt for light greys or grey-toned whites to imbue a sense of warmth with the light and airy feel of white. When you pair pale neutral walls with furniture in a similar colour palette, you'll create the impression of open and seamless space.'
'Alternatively, painting a room in dark colours creates the perception of depth, hiding the fact that it's so small. Consider a dark feature wall in dusky grey with accent colours of purple or yellow. While rich blue tones can also provide a soothing appeal, along with added depth.'
What pattern makes a small room look bigger?
Stripes are a failsafe choice that can instantly help with how to make a small living room look bigger. Wide bands of colour or horizontal stripes on wallpaper or wall panelling (laid width-wise) can all help to make a room feel wider. Similarly, narrow vertical stripes and linear timber panelling will create the illusion of height and make a low-ceilinged room feel loftier.
What make a living room look bigger?
When it comes to lighting a small living room space, there are a few things to consider to ensure the space doesn't feel cramped and make it feel more spacious,' says Piero de Marchis, Founder of Detail Lighting. 'Firstly, consider the areas you would like to highlight, like a coffee table for example, this will help you plan where to put any ceiling lights.'
'Then you need to think about the perimeter - lighting can be in the form of individual spotlights (surface or recessed) or LED linear lighting which is very popular. Perimeter lighting will help you to set a boundary in the room and make it feel more spacious, especially if it's quite dark. Perimeter lighting helps define the size of the space and avoids any dark corners. Finally think about accent lighting, for art on the walls or built-in lighting for shelves and joinery.'
Get the Ideal Home Newsletter
Sign up to our newsletter for style and decor inspiration, house makeovers, project advice and more.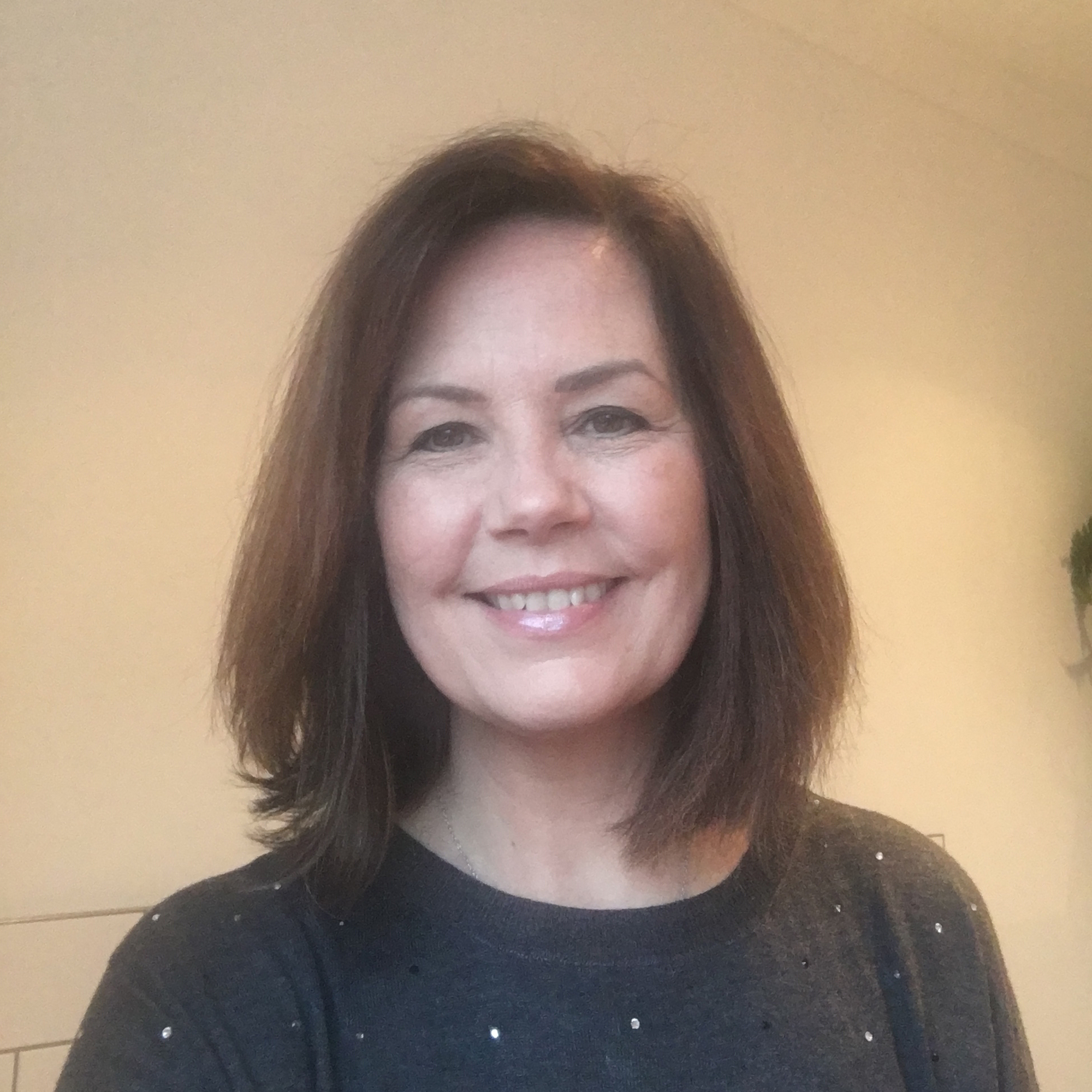 Lisa is Deputy Editor of Style at Home magazine and regularly contributes to sister title Ideal Home. She has written about interiors for more than 25 years and about pretty much every area of the home, from shopping and decorating, crafts and DIY to real home transformations and kitchen and bathroom makeovers. Homes and interiors have always been a passion and she never tires of nosying around gorgeous homes, whether on TV, online, in print or in person.