How to keep your house warm in winter – 24 budget-friendly ways to insulate your home
Keep cosy this season without upping those energy bills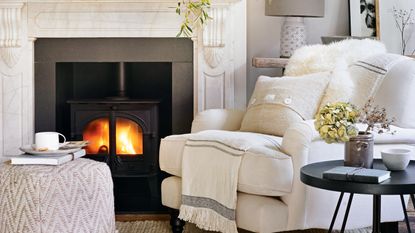 (Image credit: Future PLC)
With colder weather upon us and energy bills on the rise, there's no more important time to figure out how to keep your house warm in winter.
Instead of having to resort to whacking your central heating on every time you feel a chill, or investing in one of the best electric heaters – although an energy efficient electric heater can also be a budget-friendly way to stay warm indoors – there are plenty of ways to make sure your home not only gets warm, but stays that way, while helping you to save energy.
The major components, such as our boiler and central heating system, plus how well insulated our doors and windows are, should definitely be a priority, but there are also smaller changes you can make ,too.
'Everywhere we look there's news of increasing costs, which can feel incredibly overwhelming at times – particularly as we get closer to those colder months', says Jo Winston from St. Modwen Homes. 'But there are some simple yet effective steps you can take to keep your house warm, whilst saving a little bit of money.'
How to keep your house warm in winter
Whether you're looking for ways to stop draughts from doors, or wondering how to fill your floorboards we've picked out the best tips that will cover everything you can do for how to keep your house warm in winter while keeping your energy bills as low as possible.
Crisper mornings and chillier evenings don't have to mean a heavy spike in your energy bills! There are some investment suggestions which involve upfront costs but will save you money in the long term, as well as more budget-friendly steps that can make a big difference.
1. Update your thermostat
A thermostat controls your home's temperature by communicating with your boiler. 'Thermostats, particularly in older homes with older heating systems, can degrade over time,' warns Jordan Chance, heating expert from PlumbNation. 'Such degradation can lead to delays in your boiler switching on, or your home being heated at much higher temperatures than required.'
'Upgrading your thermostat could provide far greater accuracy in thermostat to boiler communication, preventing energy from being wasted, and saving you money.'
'Using a thermostat with a timer offers a simple and speedy solution to controlling your heating effectively,' Jordan explains. There is a smart home trend for modern-day thermostats can be controlled from your mobile, to ensure your home is nice and warm when you arrive home. Some of them are built to be energy-saving, so will automatically turn down when you're out of the house.
These app-controlled thermostats could be well worth the investment, as you can easily monitor how much energy you're using and save yourself money in the long run.
Jordan has worked as a plumbing category manager and heating expert for over 6 years with Plumb Nation and City Plumbing.
2. Make use of your heating timer
Darren Pelusi, Sales Manager at Viola Homes recommends setting the time on your boiler to come on half an hour before you wake up, so your house is nice and toasty by the time you get out of bed.
'You could also time the heating to come on when you're arriving home', he suggests. 'This prevents your heating from being on full blast when you switch it on and helps you cut down on overall heating costs.'
3. Get your boiler serviced
Ensure your boiler is up for the demands of a cold winter by having it serviced regularly. 'If your boiler is ageing and has seen better days, there's a strong chance it won't be working as efficiently as it once was,' advises heating expert Jordan.
'Defective boilers can increase your heating bill massively as they will need to work significantly harder to bring your home up to the desired temperature. We recommend that you get your boiler serviced every 12 months (preferably before the winter season), to ensure that your boiler is running efficiently and safely.'
A new boiler is a big upfront cost, but it is probably the most important element needed for how to keep your house warm in winter and will definitely help prevent your energy bills from rocketing during the colder months.
4. Consider your blinds
Installing the right blinds can help with how to keep your house warm in winter, thanks to how window dressings can prevent heat loss. Blinds2Go collated research recently using data collected by Historic England, shutters and reflective roller blinds are best at minimising this heat loss.
'However, the reduction in heat loss for all types of blinds using this data was an average of 49%, nearly half,' notes Leah Brandwood, designer from Blinds2Go. 'This means that for the average British family the savings from installing energy efficient blind, could be quite significant. Merely upgrading plain roller blinds to reflective ones could save you around £13.30 extra a month.'
5. Use heavyweight curtains
Thermal-lined curtains can help you keep the cold out more effectively, especially if you have single-glazed windows. If thermal curtains aren't within your budget, at the very least make sure your curtains are lined. The thicker the better, generally, and blackout curtains always do a great job of concealing heat. This curtain idea is genius and should really make a difference on cold mornings when your heating might have been switched off overnight.
'Keeping your curtains closed, or investing in a thermal curtain lining can likewise help to prevent warm air from escaping - this trick alone can reduce heat loss by up to 25 per cent,' says heating expert Jordan.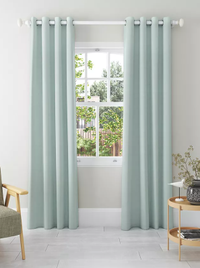 Textured Weave Recycled Polyester Pair Blackout Lined Eyelet Curtains, from £40 at John Lewis
Available in a huge range of colours, these curtains aren't just thermal but they're also blackout and they are made from recycled polyester. You can use them year-round since they're temperature regalating, to keep your room at the temperature you want it. They even come in several sizes to fit your window perfectly
6. Keep curtains open until 3pm
While keeping your curtains closed will keep the heat in at night, keep them open during the day. Any sunlight will naturally heat up the room, which will help when you finally draw the curtains as the chilly night sets in.
The sun usually sets at around 4 pm in the height of winter, so to make the most of the natural warmth keep your curtains open until around 3pm.
7. Look to LVT flooring
Luxury vinyl tiles (LVT) can help to keep your home feeling cosy by adding warmth underfoot. "Compatible with underfloor heating up to 27˚C, our LVT offers a comfortable underfoot experience,' explains Lorna Williams, head of product design at Amtico.
'Unlike natural stones, LVT is always warm underfoot ensuring a pleasant and inviting feel underfoot, making it an ideal flooring choice for cosy and comfortable living spaces.'
8. Before laying a carpet, fit underlay
The carpet and underlay for flooring that you choose can also make a big difference on your home's insulation and therefore how to keep your house warm in winter. According to the experts at Carpetright, getting the right underlay for flooring can save you as much as 15 per cent off your energy bills.
Jemma Dayman, Carpet Buyer for Carpetright tells us, 'Underlay is often overlooked, but it's a really important element of the carpet-buying process. Not only does it insulate, it also provides cushioning, acts as a shock absorber protecting the actual floor itself, and as a sound barrier between floors.'
9. Draught-proof your windows
In addition to knowing how to insulate your home, draught-proofing windows is a simple, worthwhile DIY task. All you need to do is apply self-adhesive foam tape to a window frame (or ask a local handyman to do the job). Draughts also occur in cracks between the window frames and the surrounding walls – it's worth considering using sealant or putty in these.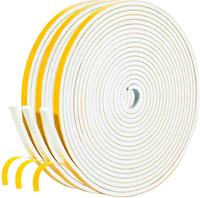 Self Adhesive Foam Tape, £9.49 at Amazon
This easy to apply tape should stop any draughts coming through your windows, concealing the heat inside your home a little more. This way, you shouldn't have to turn on your heating as much (or as high) plus it's easy to take off if you're a renter, or when it comes to summertime and you welcome the draught with your arms wide open and your fan on high.
10. Insulate doors
Whether your door is old or new, it could still benefit from fitting draught-proofing strips between the door and the frame. This can work for both internal and external doors. For gaps between the bottom of the door and the floor, you can buy a special 'brush' or hinged-flap draught excluder. A simple plush excluder can also be placed in front of the door to reduce breeze between rooms, or you could even go for a fun novelty design.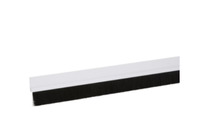 Diall PVC Self-adhesive Draught Excluder, £6.15 at B&Q
A smart buy to stop draughty doors from making your entire home cold, thanks to self-adhesvie this can be fit onto your door immediately. It's a briliant buy for exterior doors!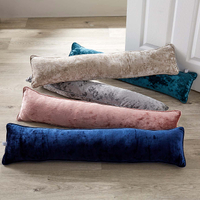 Crushed Velour Draught Excluder, £10 at Dunelm
Available in a range of colourways to blend in with your interiors, this velour draught excluder is as practical as it is stylish. Perch it by a door that really needs it and you'll feel the benefits almost immediately. The best part? They're filled with recycled polyester fibre to make them kind on the environment.
11. Fill the floorboards
Stripped floorboards look fantastic, but the small gaps between the boards can really let cold air in. Try using a filler to prevent draughts sweeping in through the gaps.
We highly recommend Draughtex Floorboard Gap Filler from Amazon. It's a rubber-like material that is easily pushed between the boards to seal the gaps. It comes with a handy roller tool to make the job super easy, and it comes in various widths to cater for different floors.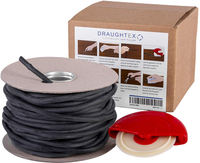 DraughtEx 40 Metre Roll, £31.40 at Amazon
Gappy floorboards? A roll of this stuff can save you up to £40/year in each room, just from blocking the cold air out of your home, once and for all. It's super flexible to use and you can do it yourself so no need to hire someone to help. An applicator comes included in the price, as does a total of 40 metres of this stuff. A total bargain that you definitely won't regret.
12. Layer floors with rugs
If you're looking for a quick-fix solution for how to keep your house warm in winter and don't have time to seal your boards, find a rug or two and pop those on the floor. It's on-trend to layer up your best rugs, so you won't have to find one huge design to cover a larger surface, and your home will feel instantly warmer and cosier.
Wool is a natural insulator, so a rug in this material is ideal. 'Part of wool's insulating property is the ability to balance humidity in a room as the fibres absorb and release water vapour', explains Julian Downes, Managing Director at Fibre.
13. Bleed radiators
Ensure your radiators are working to their full potential by bleeding them, to make sure no air is trapped, which will hinder their heating performance. It isn't tricky learning how to bleed a radiator and is definitely something that should be on your winter to-do list.
14. Check your TVRs
TRVs are the valves on your radiators which have the numbers on them and are used to control the hot water flowing into your radiator and in turn the radiator's temperature. If they are all set to 2 or below you'll have a hard time feeling the benefits of your heating being on and it'll take much longer for your home to warm up.
'We always advise our customers to set the downstairs TRVs to 5, and upstairs to 2 or 3, allowing some of the heat from downstairs to rise and heat both upstairs too', says Rebecca Lacey, co-owner of Lacey Plumbing and Heating.
15. Rearrange the furniture
'Obstructing your radiators with sofas or beds can massively impact the temperature of your room, so it might be time to shuffle your furniture around,' explains Jo from St. Modwen Homes. 'Make sure you keep any radiators unblocked and organise your furniture so the room is open and easy to heat.'
The trick is to place major pieces of furniture such as the bed, sofa and desks close enough to radiators to feel the benefits of the heat, but with enough space for it to circulate. Keep them away from windows and doors so you don't feel the draught when using them.
16. Insulate the loft
If your loft isn't insulated yet, you could be losing up to a quarter of the heat in your home through the roof. It's a bit like going out in the snow without a woolly hat! Insulating the loft, attic or flat roof is a simple and effective way to reduce that heat loss and slash those pesky heating bills.
Loft insulation is effective for at least 40 years and it should pay for itself many times over, so it's definitely worth considering the investment if you want to discover how to keep your house warm in winter.
17. Draught-proof loft hatches
While you're there, try installing draught strips around the frame to your loft hatch. When it comes to insulating a loft hatch, the door itself can also be insulated, usually with a polystyrene slab on the upper side.
18. Seal the skirting boards
'It may seem like a small change, but using sealant to fill the gaps between the top and bottom of your skirting boards can really make a difference,' says Claire Osborne, energy expert at uSwitch.
Your house will retain heat better if your skirting boards are nice and secure, so if they're really old and worn, it might be worth considering getting them refitted.
19. Close all the doors (and windows)
This one may seem a little too obvious, but that's also why it's easy to overlook. Leaving doors open is a fast way to let heat escape a room, and will mean you're more likely to turn the central heating up in the evening. Simply closing the doors will help with how to keep your house warm in winter. And of course, the same applies to windows too.
20. Invest in an electric blanket
The best electric blankets are a sure way to stop you from feeling chilly on a cold winter evening. If your bed is where you want to feel most warm, opt for an under electric blanket, which sits atop of your mattress.
Alternatively, an over-electric blanket can be moved from your sofa to your duvet, keeping you toasty whenever you need it. If you're wondering how much it costs to run an electric blanket it depends on the type, but they are an affordable alternative to other heating options.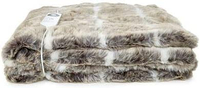 Dreamland Intelliheat Deluxe Alaskan Husky Heated Faux Fur Throw, £99.99 at Amazon
This luxuriously soft faux fur blanket from Dreamland heats up in 5 minutes, and has 6 temperature settings, so you can set it to the temperature you want and save your energy running sky high. It costs from as little as 1p to run for up to 7 hours, which could be a game changer this winter.
21. Cover the keyholes
The keyhole may be small, but that doesn't mean it isn't contributing to the draught getting into your front room. You can fit a purpose-made cover that drops a metal disc over the keyhole to prevent any wind whistling through – simple but effective. These are available at most DIY shops and Amazon.
22. Add extra layers
It goes without saying that the more layers your home has, the warmer it will be. Keeping extra soft furnishings to hand can make all the difference in how to keep your house warm in winter. Think best throws, bedspreads, and even weighted blankets, and you'll be able to stay warm on cold nights without totting up your energy bills.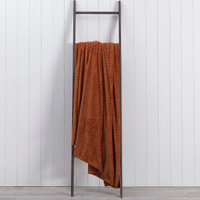 Amelia Throw, £16 at Dunelm
This super cosy throw from Dunelm is sizeable and affordable, as well as available in a range of colours to blend in with your interiors. It's made of polyester so it's warm and washable, plus it's perfect for layering on a sofa or bed thanks to its textured design.
23. Fit a floating shelf above radiators