Before and after: a chevron floor works wonders in this updated bathroom
The owners went for a classic colour combo, inspired by a chevron floor, and then had fun adding in accessories in their favourite bright yellow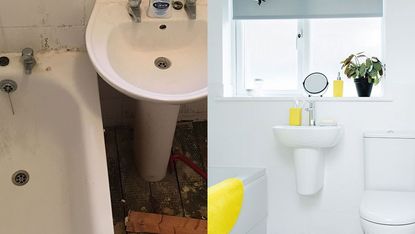 (Image credit: Future PLC/Lizzie Orme)
Ideal Home Newsletter
The Home Of Great Ideas For More Than 100 Years
Thank you for signing up to . You will receive a verification email shortly.
There was a problem. Please refresh the page and try again.
The owners of this south-east London flat bought the property knowing that it needed updating throughout. 'While the bedrooms and living room were liveable, the bathroom was in a dreadful state,' they say. 'We decided to make it our priority, as we needed a bath to relax in after a long, hard day of DIY.'
The bathroom's unattractive brown carpet and grubby cream walls and suite were enough to make anyone crave a bright and light space, so the couple got to work straight away. 'We ripped out the old flooring, chipped off tiles and removed three stubborn layers of wallpaper almost as soon as we moved in,' they say. 'Once we'd cleared out the clutter, we were able to see what the space had to offer. It soon became clear that the layout, with a large window on one wall and a door opposite, would restrict us, and that we'd have to plan carefully.'
Now came the fun part and the owners were able to use their creative skills. 'We wanted a modern scheme that wouldn't date too quickly,' they say. 'After some product research and a lot of browsing online, we headed down a monochrome path, adding colour with bright accessories.'
Because they also had to do up the rest of the flat, the couple had to be careful with their finances. As a result, they decided to do as much as they could themselves to keep costs down. 'We did all the prep work before calling in a professional to carry out the skilled jobs - plastering and fitting the suite,' they explain. 'We were tempted to do the tiling, but we were worried that we'd get it wrong, so left that for the builder, too.'
Initially, the owners thought about having a chequerboard floor, so they bought square vinyl tiles. But then they saw a chevron floor in a local restaurant and fell in love with it. 'Cutting the square tiles into the right shapes was hard work and time consuming,' they say, 'but we're really pleased with the result and think the pattern makes the room feel much larger.'
The couple spent ages trying to find storage for their toiletries and chanced upon a slimline unit in Ikea. 'It's the perfect size to fit the space between the bath and the door,' they say. 'It not only keeps everything tucked away neatly, but the mirrored front also helps make the room feel lighter, too.'
In terms of the colour scheme, the owners knew exactly what they wanted. 'We've always liked black and yellow, so we've combined them here,' they say. 'The only exception is the slate grey door, as black, white or yellow wouldn't have looked right. We love how the towels on the back of it really pop against the paintwork.'
Small details play a big role here. The soap dish is black and white to match the floor, but the pattern is very different. Touches of yellow are found throughout the room, in the towels, bathmat and other accessories, which really brighten the space.
Even the light pull has been given a brand-new look with beads in complementary colours.
This innovative plant hanger is a great way to incorporate plants in a compact space. 'We made it out of black cord, so we could display our potted fern,' the crafty duo explain.
[]
And how do the owners feel now the work is finished? 'We're totally in love with our shiny new bathroom,' they say. 'It's the perfect sanctuary at the end of the day.'
Get the look
Buy now: Optima bath, £330; Zentrum washbasin, £116; and Zentrum loo, £282, all Vitra (opens in new tab)
Buy now: vinyl flooring in latte white and jet black, £36.50 per sq m, Harvey Maria (opens in new tab)
Buy now: Function and Form Hex wall tiles, £37 per sq m, British Ceramic Tile (opens in new tab)
Buy now: Lillangen high cabinet with mirror door, £85; Badaren bath mat, £3; and Haren bath towels, £3 each, all Ikea (opens in new tab)
Buy now: Industrial towel rails, £26 each, Rockett St George (opens in new tab)
Buy now: Prime Dandelion soap dispenser, £10; toothbrush holder, £8; and Medina soap dish, £12, all John Lewis (opens in new tab)
This bathroom originally appeared in Style at Home, June 2017.
Image credits: Lizzie Orme