Bathroom colour schemes – create tranquil retreats and standout schemes
Make a splash by introducing a new bathroom colour scheme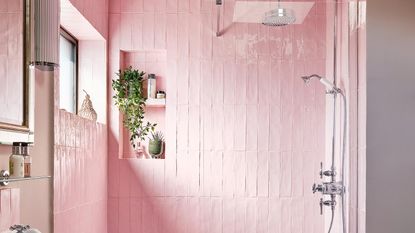 (Image credit: Future PLC/Darren Chung)
Bathroom colour schemes can be hard to decide on – after all, whether you've got a spacious bathroom complete with roll-top bath, or a more compact shower room, picking colours that you love and that set the right sort of ambience is key to making it a room you enjoy using. Of course, there's plenty of bathroom ideas out there, but colours come and go so make sure it's a shade you're not likely to go off of in a month's time.
Decide what feel you'd like your room to have – do you want it to be energising with hits of bright colours to make you feel awake and give you a great start to the day? Perhaps you'd prefer something more relaxing or luxurious, with a scheme that invites you to run a bath and shut the world out of an evening? This is the time to research some bathroom colour ideas and bathroom paint ideas.
Bathroom colour schemes
Adding a bold colour to your bathroom can lift your whole home, bringing this functional room into line with the rest of your decor. Or, why not choose some more muted colours and wood accessories to complement your otherwise neutral bathroom colour scheme?
'Creating a cosy feeling in the bathroom will you that "ahh" moment as soon as you jump into the bath,' says Emma Bestley, co-founder of YesColours. 'Create this cocooning feeling by drenching the entire room in colour. Opt for a classic dark blue, which promotes the feeling of tranquillity or perhaps a warming dark green, which creates a relaxed and comforting feel. Those who prefer a clean, crisp look that gives a spa-feeling at home, it's best to focus on uplifting shades of pale peach, pink or a warm white.'
We've got lots of ideas for bathroom colour schemes for you, so whatever your preference, you're sure to find something here that takes your fancy…
1. Enjoy a deliciously dark green
While dark colours don't always appeal to everyone, we think this luxurious green has a real depth to it. You'll also notice that the room has just one single colour used, from the green paint to the wall tiles and colour of the bath, upping its drama. Warmth is brought in from the wood floor and the white of the inner bath and marble alcove helps break it up slightly.
'Bathrooms are a wonderful space in which to retreat and relax, and a deep, rich tone will envelop the space and create a cocooning and calming feel,' says Ruth Mottershead, Creative Director at Little Greene.
2. Add tropical colours
Feel the sunshine all year round with bathroom colour schemes that boast a mix of lush, tropical colours. From vibrant pinks and deep marine blues, to the greens of lush foliage, this bathroom in channeling its inner holiday vibe and is a great choice if you're trying to steer away from grey bathroom ideas.
Having a mix of colours like this gives the eye more to take in, meaning it's interesting to look at, especially with all the pattern, too.
The pale pink bath adds a softness to the scheme and the whole bathroom is lifted by the metallic accents in the taps, handles and lighting.
3. Try a black and copper combo
Think black would make your bathroom dreary? Think again! Team with a copper bathtub and hey presto! – you've got yourself a dramatic scheme that's a definite conversation starter.
The juxtaposition of deep black and warm copper makes for a striking combo, and you can see here that you add in other metallics easily, from the gold bath legs and gilt frames, to the chrome bath shower head.
4. Pretty it up with pink
Go pretty with pink, as they say, and give your bathroom a feminine feel. These pastel, candy-pink tiles are a statement without being too overpowering, and teamed with the greenery and natural accessories, make for a light and lush interior.
'When selecting a colour for your bathroom, consider shades that exude tranquillity and serenity so you can create a haven within your home,' says Little Greene's Ruth Mottershead. 'For a scheme that provides you with a calm retreat, use colours with warm undertones that really bring a natural comfort to a space.'
Of course, you don't have to go for this shade of pink – try Pantone's Viva Magenta colour for a more vibrant shade, or an on-trend plaster look (you'll see an example of this further down). And, if you want to give your pink colour scheme more clout, why not team it with black fittings for a contemporary look that's not overtly girlie.

5. Get graphic with colour blocking
Bamboozled by all the lovely colours on offer when it comes to deciding your bathroom colour schemes? Why not mix a few by adding painted blocks of colour on your walls? From strong blue to zesty yellow and a hot pink shade on the vanity, this bathroom is full of dopamine-raising colours to lift your spirits whatever time of day.
Note the matching yellow toilet lid, too – a nice touch that helps bring those colours onto the fittings.
6. Add depth with blue
Keep your bathroom colour scheme simple with a white suite and chrome brassware, then ring the changes with a deep blue-green wall colour – enabling you to switch up your style by simply re-painting.
Building out a shallow shelf and tiling with plain white tiles not only hides waste pipes but also offers the perfect ledge for fresh foliage, bringing in pops of vibrant green to the scheme. The oval bath cuts corners to enhance a sense of space – a great small bathroom idea.
7. Work with shades of grey
For a cosy, cocooning feel, grey bathroom ideas literally make the walls feel like they are closing in on you. Painting the bath in a paler grey and adding wooden accessories will give an added dimension and prevent the grey walls becoming overbearing.
Creating a panelled effect in the bathroom will not only add character, but it also breaks up a flat area of painted grey wall – light will hit the panelling at different points and change its shade and tone, therefore adding interest.
8. Mix pebble and stone
Mix greys, off-whites and browns with touches of shell pink to create neutral bathroom colour schemes with a pretty edge. Pair up opposites for a look that's inspired by nature but sophisticated, too. Team slate floor tiles with pretty polished-stone mosaics; tough concrete-grey walls with soft pink towels; smooth wood with rustic wicker.
Finish the look by adding a floating shelf painted in the same colour as the wall and use to display toiletries together with beachcombing treasures.
9. Choose nautical blues
Evoke a summery image of bright skies and deep sea by teaming Azure blue walls with a fresh white bath. This simple nautical bathroom idea creates a relaxed yet confident scheme by boldly mixing a Mediterranean palette with touches of globally-inspired prints, such as mosaic and trellis designs on blinds and towels.
Accessorise using texture with the addition of wooden and woven pieces.
10. Pick plaster pink
We've seen plaster pinks take the interiors world by storm and it's great for bathroom colour schemes, creating a relaxed, laidback feel. Here, the plaster-pink walls have been teamed with vintage-style accessories, from lace embossed tiles and a flourish of pretty pre-loved accessories to complete the look.
If it is a small bathroom or cloakroom, paint all walls (including the ceiling) in the same colour for a super immersive feel and choose an off-cut of scalloped-edged lace to dress the windows, too.
11. Be bold with black and gold
We showed you black and copper, but you could also consider black and gold for new bathroom colour schemes. Add drama by painting the walls jet black – and do the ceiling too, to give the room an immersive feel and help 'smooth' out the lines of a sloping roof.
Add designer touches by choosing statement tiles and brass clad units for a real touch of luxe. The gold brassware echoes the glamorous feel of this bathroom whilst the addition of fauna and foliage keeps the look grounded.
12. Try lilac and primrose yellow
Blousy florals and pretty shades don't have to be kept solely in the bedroom, give your bathroom a touch of 'designer Downton' with a flower bouquet print in shades of yellow and lilac.
Team with a clever wall panelling idea – this design is painted in a complementary shade of purple. Finish with painting the bath in a matching lilac. Freshly cut flowers, or cologne filled glass bottles creates a summery mood.
13. Make a statement with neutrals
You don't need bright colours to make a statement in a bathroom. This scheme has stuck to a beautiful neutral palette of beige, white and putty and it's still an eye-catching bathroom colour schemes. The striking tiled wall introduces pattern to transform these traditionally safe shades.
14. Pair yellow and grey
Yellow and grey are a surprise colour match made in heaven. Make the duo work in your bathroom with a two-tone wall like this one.
Keep the grey to the bottom half and match with grey accessories to ground the room. The yellow shade is the cherry on top, brightening up the entire space.
15. Turn to the dark side with black fittings
Black interiors are a trend that shows no signs of ebbing, but if it's a little too bold for you or you think your small space might feel even smaller, dip your toe in the trend with black fittings instead.
Here, a bath and wall panel are in black, while the rest of the room is kept bright and breezy in white and wood.
16. Stick to earthy terracotta and copper
Pink is everywhere at the moment, but if you're thinking of fluffy candy-floss colours then this strong earthy take on the shade will change that.
Add the warmth of pink into your bathroom with terracotta shades and copper fittings. The deep earthy colours perfectly complement the exposed brick wall, softening the industrial look.
17. Keep it simple with white
White is a classic colour scheme in the bathroom for a reason. It is bright, airy and the perfect match for a porcelain sink and bath. Contrast the shine of the white marble tiles with matt monochrome accents.
18. Add height with a split colour scheme
It's an oldie but a goodie: use a stronger colour on the lower part of the wall to stretch the height of the room (an optical illusion, of course). This simple trick helps to break up the wall and create the feeling of space – ideal for use in smaller bathrooms.
In this stylish example, a sophisticated shade of green is used on wood panelling to add definition to the colour break. A brilliant white above helps to elevate the colour contrast. Smart walnut cabinetry and touches of monochrome add a touch of characterful elegance to the look.
19. Keep it fresh with pastels and off-white
All tiled everything works a treat in this chic bathroom space. The simplicity of pairing neutral shades and diluted pastels in different tile choices helps to add interest, while allowing the scheme to remain fresh and unfussy.
The paired-back nature of the lime wood cabinetry helps to keep the feel light and airy. The fresh colour scheme welcomes metallic touches to stand out, just enough without looking too gaudy.
20. Go dark and dramatic with grey
Colour has a huge impact on mood, and bathrooms have a tendency to sidestep polarizing hues in favour of pale neutrals and whites, which are refreshing and easy to live with.
At the opposite end of the spectrum, darker shades of grey including slate, are also popular for creating a cocooning effect. Brooding dark shades provide the perfect backdrop for rich metallics, such as gold or brass.
21. Work a characterful two-tone contrast
If clean white is working in your space but you wish to add a hint of interest – perhaps it's a budget bathroom idea or update – why not go half and half? This bathroom boasts brilliant white walls above a line, that has been perfectly measured and taped to form the illusion of a dado rail.
The bottom half in complete contrast is a combination of a thing stripe in turquoise blue and a block of rich navy below.
22. Opt for colour in an ombre style
If you're a lover of ombre, why not incorporate a graduated paint effect into your bathroom? Often reserved for modern designs, it can look equally as stunning in a country scheme. If you have a south-facing room, it's a good idea to invest in a cooler palette – this pale, sea blue has a tranquil, peaceful aura ideal for a room that receives the sunlight all day.
23. Create ambience with rich purple tones
Bask in the glow of metallics and shiny surfaces. Add a heady, intoxicating note to a bathroom with a reflective copper bath to enhance rich bramble wall tones. Accessorise with comforting fluffy towels and a toe-warming mat and work in a few nature-inspired accessories for good measure.
24. Go for invigorating light green
Pep up a white room with a vivid colour like this fresh green and you won't regret it. Push the boundaries of your colour barometer and go for the brightest blast you can muster.
In this scheme, mixed-pattern mosaic tiles in dark and light green adorn the walls and window, giving this modern scheme colourful style.
25. Accessorise with sunshine yellow
Give a monochrome bathroom a new lease of life with a burst of vibrant colour. If the thought of bright walls fills you with dread but you still want to incorporate colour without taking drastic action, then consider introducing a few zingy accessories and soft furnishings instead.
Easy to change and cost-effective, you won't need to strip your walls bare if you decide that this look isn't for you, or you just fancy a change. Sunshine is just the thing to make you feel happy every time you use the space.
26. Strike a balance with monochrome
Choosing a monochrome colour scheme always helps to create a striking finish, without overpowering with accent colours. In this sleek bathroom, the walls and furniture choices are black, while the freestanding bath and metro tile surround are kept classic in white.
The patterned flooring helps to marry the shades and add further character to the scheme.
27. Add interest with contrasting coloured tiles
Decorate your space with coloured tiles. For a look that is highly contemporary and original, lay wall tiles, in contrasting hues, chevron style to create a bespoke space, as per this bathroom tile idea. A mix of blush pink, teal green and black combines well to enhance the modernity of this bathroom.
Remember, less is more, so think petal pinks as an accent and include no more than three tonal shades in your palette. Use black as the base. Like white, it's the colour that sets off any pink to its best advantage.
28. Keep things natural
Look to the earth for inspiration. This taupe and limestone colour combination has a beautifully grounded feel to it, ideal for a space to relaxing and enjoy some timeout.
The neutral colour palette across all the tiled surfaces and the furniture helps to create a feeling of serenity, like that of a natural spa. The stone and putty colours are perfectly matched with mint green accessories to add a hint of uplifting colour in contrast.
29. Go for a rainbow effect
Add interest to a white scheme with accent tiling in a host of rainbow colours. Line recessed shelves with colour-coded tiles to turn them into a design feature in their own right. To create recessed shelving, you'll need to build a false wall, which can also be used to keep plumbing out of sight. Finish off the look with a bold, yellow rubber floor, which is unashamedly loud and proud.
30. Show off a burst of red
Transform your shower into an elegant feature with a burst of red brought in from the wall tiles. This cheerful, vibrant colour is used inside the shower cubicle, with small hints of it elsewhere in the room. Strong, durable and easy to clean, porcelain tiles offer a floor covering that's ideal for a bathroom environment.
What colours are best for bathrooms?
Colour is very much a subjective thing and what works for one, won't work for another. 'When selecting a colour for your bathroom, consider shades that exude tranquillity and serenity so you can create a haven within your home,' says Ruth Mottershead, Creative Director at Little Greene. 'To create a scheme that provides you with a calm retreat, use colours with warm undertones that add a comforting feel to a space.'
Which colours are in for bathrooms for 2023?
This year sees a few different colours trending for bathrooms according to YesColours' Emma Bestley. 'We're seeing a demand for people injecting their own style and personality into their bathrooms, and there's no sign of this slowing down for 2023,' she says. 'Lilac is rising through the ranks of popularity. A once underappreciated colour, lilac is now working its way from the catwalks into our homes, and even the bathroom. The cool blue tones mixed with subtle red offers up an inspiring space which pairs very well with brass, chrome or matt black detailing. It's incredibly versatile.
'Earthy tones create a relaxing space that reflects the outdoors, providing a grounded feeling,' Emma continues. 'To recreate this look, pick out soft greens, sages, warm neutrals, soft peaches and dusky pinks. Bathrooms can still be a place for fun though, and by injecting pops of colour like an olive green, bright pink or deep aqua you'll get that energetic holiday spirit with a colour that's reminiscent of the tropics.
'Those who prefer a more classic style can bring depth and drama with a monochromatic look. Think dark shades of grey contrasted by white for a clean crisp style. This look works beautifully in period homes with tall ceilings and architectural features.'
What colour is best for a small bathroom?
In a small bathroom, consider if you want it to feel cocooning or light and bright. 'Often, people opt for light neutrals in small bathrooms as it is commonly thought that adding a deep or bright colour to such a small room will make it appear enclosed,' says Helen Shaw, UK Marketing Director at Benjamin Moore.
'However, bold colours can actually cleverly absorb the light of a space, making the division between walls appear blurred. This effect adds depth and dimension to a room, making it seem larger. This correlates well with the fact that 2023 is going to be a big year for bold, charismatic colours such as Starry Night Blue. Yellows, corals and peachy hues are also another way to help open smaller bathrooms as they are warm and welcoming and work well with what light is available.'
Get the Ideal Home Newsletter
Sign up to our newsletter for style and decor inspiration, house makeovers, project advice and more.
Tamara was Ideal Home's Digital Editor before joining the Woman & Home team in 2022. She has spent the last 15 years working with the style teams at Country Homes & Interiors and Ideal Home, both now at Future PLC. It's with these award wining interiors teams that she's honed her skills and passion for shopping, styling and writing. Tamara is always ahead of the curve when it comes to interiors trends – and is great at seeking out designer dupes on the high street.