7 steps to creating a hotel-style bedroom
Ever come back from a spoiling weekend and wished that you had a hotel-style bedroom at home? With our five step guide, there's no reason why you shouldn't have a cosseting space to call your own.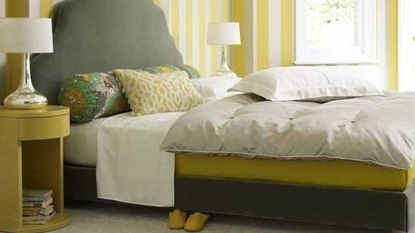 (Image credit: TBC)
Ideal Home Newsletter
The Home Of Great Ideas For More Than 100 Years
Thank you for signing up to . You will receive a verification email shortly.
There was a problem. Please refresh the page and try again.
CREATE AN ENSUITE
When was the last time you stayed in a luxurious hotel with a bathroom down a corridor? Exactly....an ensuite is a MUST and if you don't have one you'll have to annexe an adjoining room (or if you have a large room, sacrifice some space for a bathroom, however small).
DECLUTTER
The reason we love hotels is because they are completely devoid of clothes and the paraphernalia of daily life. Simplifying a bedroom is about more than storing clutter under a bed or on top of a wardrobe; bin it or banish it altogether. Ideally, keep your clothes in a spare room (or better still, a dedicated dressing room if you have the space). For a really serene feel, you can get away with nothing more than a bed and a pair of wall mounted lights.
HANG HEAVY CURTAINS
Ever wondered why luxury hotels are so peaceful? More often than not, they have heavy interlined curtains with black out lining that keeps out noise and light out.
CREATE A BIT OF FANTASY
A giant headboard, a dark paint colour or a striking wallpaper (or all three) will help create a distinctive mood that sets the space apart from the rest of your home.
TV & MUSIC
What ever the experts say, a TV (ideally wall mounted) in a bedroom is a great luxury and essential in busy households where there is competition for access to the main set. An iPod dock will help you create the right mood - and remember no lap tops or work related gizmos!
SYMMETRY
To create a truly hotel feeling ensure that your bedside table and lights are matching and symmetrical. This masculine room has the ordered calm appearance of a hotel room.
CRISP SHEETS
There's nothing like slipping in between the crisply laundered immaculate sheets of a hotel bed but with busy lives ironing your sheets to perfection isn't realistic. Invest in some non iron sheets as a cheat. We love Sheridan's Nashe range (opens in new tab).