Coastal bedroom ideas – 20 ways to turn your space into a nautical hideaway
Invoke memories of your favourite beach holiday with our coastal bathroom ideas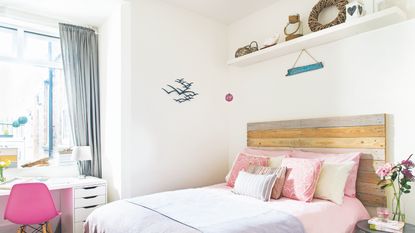 (Image credit: Future PLC )
Beachy seaside style will always be a popular look, this is where our coastal bedroom ideas come in. By using cool colours, well-worn natural textures and seaside motifs you can create a fresh, relaxed look that will make your bedroom ideas feel like a summer holiday.
'Mimicking the coastal décor of the beautiful homes along the shores of New South Wales and Byron Bay can be as simple as rethinking the colour choice across the larger furniture pieces and accessories. The starting point is often a selection of paler blues and well-worn, driftwood-toned natural materials, which come together to provide a base on which you can add seaside motifs and textural finishing touches,' say the team at King Living Design Studio.
Keep the look fresh yet laid-back with white-painted or weathered-wood furniture (the more beaten the better). Then fill the room with texture, panelling, baskets, woven rugs and knitted throws or cushions to help to soften the simple white or grey palette.
Finally, embrace the holiday vibe with plenty of coastal-inspired accessories, such as nautical motif cushions and storm lanterns, and enhance your room's character with driftwood-look wood.
Coastal bedroom ideas
Coastal style has a timeless look that can be easily adapted to suit your own tastes. Whether you are creating a contemporary Balearic island look with azure blues, trying out vintage bedroom ideas with antique finds, or natural sun-bleached simplicity teamed with stripes, take a dip into our coastal bedroom ideas for a bit of bright and breezy inspiration.
1. Start with a blue upholstered bed
Start with a focal point, a blue upholstered bed will give you just that, then collate coastal accessories to bring the rest of the scheme together.
'For the bedroom, an upholstered bed frame in a soft blue and neutral woven rug are easy additions and can make even a contemporary space feel a tad coastal. If you're lucky enough to have light floorboards, or tongue and groove panelling on the walls, these will work in your favour to perfect this relaxed look,' says the team at King Living Design Studio.
2. Team mint green with sky blue
If blues are a little gloomy for you then choose a pretty mint green bedroom idea as your base colour. Light and airy with a nod to coastal shades, you can use a pale blue as an accent with a pop of turquoise. Blond wood furniture adds warmth and an earthy shade to the mix.
3. Choose shoreline accessories
Lamps crafted from beachcombed wood, hanging rope plant holders and stripy bedding all help to create a coastal bedroom feel.
Stripes can be pale or dark – the sea has many different shades to it so all will offer a nautical feel. A blue blind or curtains will complete the look, a brighter sky blue will lift a room with low ceilings.
4. DIY your own coastal headboard
Add authenticity with a DIY headboard idea made from reclaimed wood, all you need is enough to make a statement backdrop that can be wall-mounted behind your bed.
Scour reclamation yards and they might even make it for you, if not, batten 8-10 planks together and attach to the wall. If you want a more weathered look give it a good sanding with rough sandpaper to create an uneven yet characterful look.
5. Pair neutral walls and shades of grey
There are so many bedroom colour schemes you can choose from that will still sit within the 'coastal bathroom' scheme. Barely-there greys and denim blues work well with taupes and stone shades. Pop a shelf up above the bed and use it for beachy mementos like wooden houses, mini-plates and artwork.
Flea markets are wonderful sources of vintage paintings, hanging some seascapes will give depth and extra colour to your coastal bedroom.
6. Look to coral for an alternative colour scheme
Rebecca Snowden, interior style advisor, Furniture And Choice gives expert advice on how to encompass this joyful scheme:
'Style a dreamy bedroom retreat with two-tone peach walls, a grey fabric bed and crisp white linen. Incorporate splashes of sky-blue for summer holiday vibes and accent fresh, white bed linen with cushions in blue and orange as a nod to Palm Springs' roots in mid-century modern design.
Encapsulate the feeling of basking under open skies with coastal artwork to evoke memories of lounging poolside. Finally, play up this dreamy Instagrammable aesthetic with chic blue tiles, white gloss finishes and metallic gold accents.'
7. Invest in beachy wall lights
'When it comes to choosing lighting for a coastal beachy theme, you want to look for pieces that are handcrafted, of the highest quality, and complement your existing décor and style. Whether you're looking for a timeless classic or something with a more modern twist, there are plenty of options to choose from,' says Mara Rypacek Miller, managing director, Industville.
Bulkhead style lights give a warming glow, hang a pair each side of the bed for a traditional nautical element.
Mara founded Industville over a decade ago, following a successful career in International Marketing & Business Development. At a young age, Mara had worked with a number of leading organisations such as Volvo and AXA, gaining invaluable experience and knowledge to ensure the launch of her own successful business. A natural entrepreneur as well as designer, Industville was born to fill a gap in the market for unique industrial vintage reproduction lighting and furniture.
8. Embrace colour blocking
For a more intense coastal scheme go bold with your chosen shades and colour block behind the bed. Balance the scheme with crisp white and pops of emerald green. Choose white bedding with striped pillows and blue and white checked blanket.
9. Paint your floorboards white
A nautical scheme of blue and white conjures up the classic coastal look. Painting your floorboards white offers a blank canvas for striped rugs as well as helping to bounce light around the space.
Accessorise with seafaring style pieces like a pendant light and chrome metal handles on wardrobes.
10. Layer your textures
As well as the obvious colours that suit a coastal scheme, the other key element is the textures. Think drift and painted wood, rope hung lights, knitted and waffle throws and slubby linens.
The emphasis is on tactile materials that introduce that seafaring feel, and then source them in the colours that conjure up the coast for you.
11. Add print with a wavy wallpaper
Loving a blue and white coastal scheme but want to incorporate some pattern? Consider a 'wavy' wallpaper – subtle yet stylish, it's a wonderful option that will break up a classic nautical vibe.
Pop in some printed bedding too, the shades will link to the wallpaper perfectly so no need to worry about colour matching.
12. Work in weathered wood
Take traditional Scandinavian bedroom ideas and you don't have to tweak them too much to produce a beach-style scheme. Use colours and textures of natural coastal surroundings as inspiration. Choose subtle pebble shades of pale grey, sand and stone and team with the rough warmth of weathered wood and worn linen.
Build a headboard and bed platform with reclaimed planks, choose sisal flooring and a feature rug and dress the bed with wool blankets and cushions. Against simple, pale-grey walls, all those natural and woven textures will stand out beautifully creating a cosy finish. Alternatively, if you love darker hues, take a look at these nautical decorating ideas for plenty of navy and red.
13. Paint it white
Get the bright summer beach look in your bedroom with plenty of white. Painted wood panelling will create a charming beach-house atmosphere that can be complemented with charming blue stripes for a fresh and calm look. Keep the room from looking too bland by mounting a picture rail to displaying favourite artwork and seaside postcards. Add warmth with soft furnishings in knitted or woven textures.
14. Make it child-friendly
Beach and nautical themes make a great choice for children's bedrooms because they are fresh, enjoyable and timeless. Choose fun small-scale seaside motifs and use red accents to lift the subtle palette of whites and blues.
Classic white wooden furniture will last long into adolescence and your coastal scheme is ready for a more mature update - pick these using home furnishing discount codes to keep the initial costs low.
15. Decorate with coastal blues
Create a bedroom you won't want to leave with ocean blue walls. Marry steely blues with shingle grey for a relaxing rocky beach palette that will bring a calming peaceful tone to your room. Combine painted beach-hut style panelling, limewashed flooring and oak furniture to build an easy-to-live-with look. Then give the scheme an organic feel with pebble-toned linens, cosy throws and tactile ceramics.
16. Give it a grown-up feel
Reinvent beach style with inspiration from more dramatic shorelines and moody horizons. Give your bedroom depth by mixing stormy blues and warm greys to create a tonal scheme, then add accessories with stripes, checks and spots for a cosy and casual feel. Finish the drama with a large photographic beach print in black and white.
17. Take on traditional
Turn your bedroom into a tranquil retreat by dressing a simple bed with light crisp covers and sheets in relaxing ocean blues and white. Let the sea breeze waft into your room through atmospheric whitewashed shutters and complete the beach look with interesting postcard-style prints of sea life loosely pegged to the wall in a laid-back manner.
18. Factor in a feminine feel
Give your bedroom a relaxed sun-bleached 'visit to the beach' feel that is light, breezy and energising by day and cosy and cocooning at night. Layer textures from rough 'driftwood'-inspired finishes and woven surfaces to fine fabrics. Add subtle coastal motifs with neutral fish-print wallpaper and fabric. This scheme is perfect if you love that 'closer to nature' vibe.
19. Evoke memories of the Med
Take a style lesson from rustic Mediterranean villages and live with their ethos of simple, raw beauty. Create a focal point with a hotel-chic four-poster bed and layer with slouchy crumpled linens in marine blues and crisp white; the classic coastal combination to capture the relaxed island vibe. The weathered door and driftwood accessories add to the laid-back, sun-bleached haven atmosphere.
20. Make your coastal retreat inviting
One of the most charming features of a seaside home, a window seat, makes an inviting spot to sit and read or simply enjoy the coastal views. A joiner can make a window seat to fit a window recess with a lift-off or hinged lid for built-in storage. This one has been made into a beautiful feature, framed by white tongue and groove on the walls. Let the views sing with simple beige linen blinds and a padded seat to match.
How do you style a coastal bedroom?
Coastal bedroom style can be achieved by choosing a colour palette that represents the beachfront for you, it might be that blues and greens are your favourite shades, or you opt for corals and sandy tones.
Once you've got your scheme nailed it's time to style it up, collate driftwood, pebbles and beachy artwork and display it around your space. Groupings of pebbles for example look great, you can pile them on top of each other for a very effective look.
How do you decorate in a coastal style?
'When selecting lighting fixtures for this particular design aesthetic, consider materials such as driftwood, rattan and wicker, bamboo and metal. These elements bring the feeling of the beach into your home while creating an inviting atmosphere,' says Mara Rypacek Miller, managing director, Industville.
'For example, driftwood sconces can provide soft illumination that pairs perfectly with a distressed white or blue shutter headboard. Or try using rattan lampshades and light fixtures to bring in some texture.'
Get the Ideal Home Newsletter
Sign up to our newsletter for style and decor inspiration, house makeovers, project advice and more.
Jennifer is the Deputy Editor (Digital) for Homes & Gardens online. Prior to her current position, she completed various short courses a KLC Design School, and wrote across sister brands Ideal Home, LivingEtc, 25 Beautiful Homes, Country Homes & Interiors, and Style at Home.