Best air beds 2023 - the top-reviewed air beds for camping, sleepovers, and hosting in style
To sleep extra guests or to take camping, these are the best air beds money can buy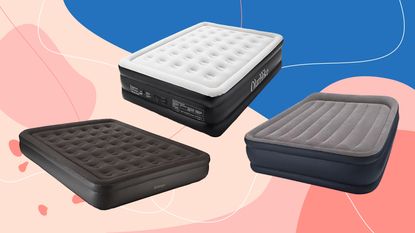 (Image credit: Future)
Quick Menu
While we could scream and shout about the best mattresses all day long, we understand that sometimes a solid and permanent mattress just doesn't fit the bill. After all, it's impossible to take a full-size mattress on your camping trip or slide it down the stairs to sleep your guests when the rest of your house is full.
That's where air beds reign supreme. These blow-up beds are portable, affordable, and customisable - allowing you to roll up your makeshift mattress and take it with you wherever you're going. But in the process of trying to find the best air bed, you've probably come across a whole host of options, from single air mattresses to queen-size air beds complete with their own pump and pillow.
So, how do you know which one to buy? In an effort to make this decision easier for you, the Ideal Home team has rounded up the best air beds on the market today, taking into account style, price, and practicality.
Best air beds 2023
Why you can trust Ideal Home Our expert reviewers spend hours testing and comparing products and services so you can choose the best for you. Find out more about how we test.
Best air beds
How to choose the best air bed
When choosing the best air bed for you and your family, you need to consider a few different things. After all, there are so many different air beds on the market, and narrowing down your search criteria can make your decision a lot easier.
Size: You can buy an air bed in various sizes, from a smaller single to a much larger queen. So, when choosing the best air bed for your needs, it's important to understand who the air bed is for. If you like to have one lying around the house for unexpected guests, it's always a good idea to go bigger. But if you're buying an air bed for your camping trips, you should always measure your tent before buying the biggest one on offer.
Durability: Nick Langdon, Head of Exclusive Brands for Outdoor Living at GO Outdoors explains, 'Some airbeds are more prone to temperature change than others. When your mattress is exposed to cold temperatures during the night, it can lose some pressure, meaning you need to keep topping up/re-inflating.' If you're someone who intends to use an air bed on a regular basis, choosing something that's durable and made from thicker material will work in your favour.
Inflation: There are two kinds of air beds: those that have a built-in pump and those that require an external pump. This is something you need to consider when choosing an air bed, as you need to figure out what you'd rather. As you can imagine, a self-inflating air bed is much easier to use on a regular basis - but it'll also be more expensive.
Any extras: While most air beds come with the inflatable mattress and the inflatable mattress alone, there are others that offer extras. They might include pillows, sleeping bags, and more. Of course, these air beds will normally be more expensive, so you need to work out whether those extras are worth the extra pennies.
Price: You can pick up an air bed for £20, or you could spend £200 on an air bed, but how much you spend will ultimately depend on how much you plan to use it. If you're buying an air bed with the intention of using it once a year when your long-lost uncle decides to stay at your house at the last minute, you don't need to spend a lot. However, if your child plans to use it every weekend for their camping trip with their friends, it'll be worth shelling out a bit more.
FAQs
How much do I need to spend on an air bed?
Depending on size and usage the prices of air beds can vary hugely. For an expedition-quality self-inflating mat, £60-£200 would get you a top-of-the-range single. If you're after a straightforward air mattress for kids' sleepovers, prices start around £10 for something fairly basic.
If you want to offer your guests something close to a real bed experience, look to air mattress experts Aerobed. A coil construction mattress starts at £130 for a double, going up to £330 for a raised king size. It may sound expensive, but it's still cheaper than your average sofa bed!
Is there a better alternative to an air mattress?
A self-inflating mat or SIM is a popular choice for campers and festival-goers. It is a thin air mattress with a layer of foam padding inside. They range from 2cm to 12cm in thickness, but check the width, too, as they can be a bit narrow, so you might want to upsize. To inflate, you simply open the valve to allow air to be automatically sucked in.
They roll up small, similar to your average yoga mat and are extremely light. Some people might find them too thin and firm. However, note that they can also be used with a camp bed base for an off-the-ground set-up. Air beds follow the same sizing rules as regular mattresses, but they can feel a bit smaller based on their level of inflation.
These air mattresses are a better option if you're planning to share them with someone else. There are plenty available in a double or king size. The best air mattresses come with long, tubular air chambers. This means the level of firmness or softness can be adjusted using the pump, which is either built-in or external. Some come with a special flocked velvet-like coating that eliminates the need for sheets, as they are super soft to the touch.
Of course, a SIM isn't the only alternative. We'd also recommend the best sofa beds and the best chair beds for something more permanent and stylish.
How easy is it to inflate and deflate an air mattress?
This depends on how much your budget will stretch. There are three main types of pumps: a foot pump, an integrated pump or an electric pump. The majority of the top of the range airbeds come with a rechargeable or mains-operated integrated pump. They will also have a remote control that can inflate and deflate the mattress within a matter of seconds.
Self-inflating mats are a doddle as they come with a valve that, once opened, allows to the mat to self-inflate. You can then top it up with a few breaths, so no need for any extra equipment. Your average air bed comes with a separate pump that is either rechargeable or can be plugged into the mains for home use or into a car cigarette lighter socket. The latter is handy if you're camping and can take up to 3 minutes to inflate.
Do air beds lose air?
Like anything filled with pressurised air, these mattresses are susceptible to springing a leak. Air beds do tend to lose air naturally and gradually anyway. If you notice a rapid loss, there could be a hole somewhere. But where? Follow these steps to help detect the source of the problem:
1. Blow up the air bed fully and then examine the entire sleeping surface and listen out for a thin hissing sound. An inflated mattress makes it easier to identify defects.
2. If the leak is too small, it might be hard to hear so another popular method is to gently wipe over the mattress with a soapy sponge and look out for small bubbles. Washing up liquid is good for this.
3. Once you find the hole, circle it gently with a permanent marker so you don't lose it and then deflate it.
4. Most good air beds come with their own fixing kit. Each kit's instructions may vary so be sure to read them carefully.
5. If your air mattress doesn't come with a repair kit, there are many available online, or you can repair the hole in the same way as you would with a bike puncture.
How we select
You'll find full details of the Ideal Home review process on our how we test page.
If there are any products that we haven't managed to test in person, or the product didn't achieve over 4 out of 5 stars, then they won't have an Ideal Home Approved badge. However, you can rest assured we've done thorough research on their technical specifications and read multiple happy – and not-so-happy – customer reviews to narrow down our suggestions to only the best-in-class.
Are you buying an air bed for a guest bedroom? Check out our favourite guest bedroom ideas to complete the look.
Get the Ideal Home Newsletter
Sign up to our newsletter for style and decor inspiration, house makeovers, project advice and more.