Best ironing board 2023 – tested by the Ideal Home team
De-crease your laundry pile the top choices of 2023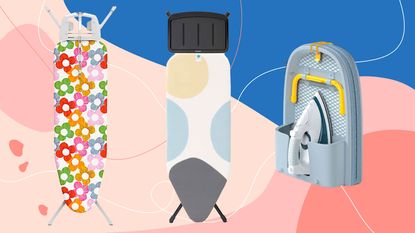 (Image credit: Future)
It's safe to say that one of the best ironing boards is essential for the home. While some people absolutely hate this chore and will avoid it at all costs, there are others who love the fact that this quiet task can help them let off some steam (quite literally).
While the best steam irons can help you iron out the creases and help your collars stand to attention, they'd be nothing without any ironing board to keep them company. But how do you choose the right ironing board for your needs? With so many different styles, sizes, and price points out there, knowing which one to buy can be a minefield.
That's why we've decided to take the hard work out of choosing the best ironing board. We've tested the best options from brands such as Joseph Joseph, Brabantia, Vileda, and Lakeland to see what the fuss is about and to determine whether their top-class reviews are justified. This has allowed us to put together a list of what we consider to be the best ironing boards of 2023. Check them out.
The quick list
Short on time but sure that you want to bag the best ironing board on the market? Browse our quick list below, which has everything you need to know neatly summed up.
Best ironing board overall
1. Brabantia Ironing Board B
The best ironing board for most homes
Specifications
Height: Variable height adjustment (69 - 96cm)
Board size: 124 x 38 cm
Weight: 6.3 kg
Reasons to buy
+
Available in some great prints
+
Ideal for most iron types
+
Sturdy
+
Well-sized for medium tasks
Reasons to avoid
-
No space for a steam generator
This is the first of three Brabantia mentions in this guide, but what can we say, we think the brand makes a brilliant ironing board. We really liked this one thanks to its sturdy design, which made it feel safe throughout use.
All four feet are non-slip and there is also a trustworthy iron holder on the far end of the board. This worked well for both our right-handed and left-handed testers which kept the whole team happy.
Assembly was easy thanks to a lever on the underside of the board, and this locks which kept us confident that this is a great board for the safety-conscious.
Height adjusts from 69 to 96 cm and there's a 10-year guarantee.
Best ironing board for steaming
2. Vileda Total Reflect Ironing Board
Best ironing board for speedy steaming
Specifications
Height: Variable height adjustment (74 – 97 cm)
Board size: 130 x 44cm
Weight: 6.5kg
Reasons to buy
+
Smart tech for enhanced steaming
+
Works with steam generators
+
Wide base
+
A true all-rounder
Reasons to avoid
-
Covered for only 3 years
This ironing board is one of the sturdiest we tested, featuring extra-wide feet and multiple height positions to ensure it's comfortable to use however tall or short you might be, too.
The ironing surface itself is plenty big enough to cope with sheets and duvets, and the iron support is shaped to accommodate both a steam iron and steam generator.
The underside of the cotton cover has a metalized foil layer that reflects steam and heat back into the clothes making it more efficient when steam ironing. This really did seem to make a difference, with items such as cotton t-shirts sometimes only needing a quick press on one side rather than both to remove light creases.
It also has a safety locking system that prevents the board from collapsing if accidentally knocked over. It is the tallest of the models we tested when folded though so you'll need a little more space to store it than most.
Best ironing board for small spaces
3. Joseph Joseph Pocket Ironing Board
Best ironing board for small spaces
Specifications
Height: Tabletop design
Board size: 90 x 33cm
Weight: 2.6kg
Reasons to buy
+
Compact design
+
Iron holder included
+
Surprisingly large ironing space
Reasons to avoid
-
Not ideal for all items of clothing
While it's the most storage-friendly of the boards we tested, the Joseph Joseph Pocket Ironing Board still has an impressive surface area of 90 x 33cm. It also has the option to be mounted on the back of utility room doors or inside wardrobes.
Another plus is the fact that it has a storage space that will hold a regular-sized iron for easy storage. We found that it worked better with a corded iron than a cordless one which often has a base that will need storing, too.
This one is great for ironing smaller items of clothing and perfect if you're short on both space and time, you can simply fold down the mini legs and then pop it onto a work surface or table and start pressing. The main issue is that we couldn't wrap things around the underside of the board as we would when we used a regular ironing board, meaning it's not the best for doing pillowcases or t-shirts one side at a time.
The cover is nicely padded and although we wouldn't recommend it for larger families with heaps of ironing or if you're wedded to ironing your duvets, it's perfectly acceptable for t-shirts and jeans. Make sure you pick a surface to sit it on that's the right height, though, or you could end up with back strain if you're ironing for a while.
Best ironing board for steam generators
4. Brabantia Ironing Board C
Best ironing board for steam generators
Specifications
Height: Variable height adjustment (75 – 98 cm)
Board size: 124 x 45 cm
Weight: 8.4kg
Reasons to buy
+
Perfect for holding a steam generator
+
Generous proportions
+
Secure, non-slip base
+
Transport lock for safety
Reasons to avoid
-
Takes up a lot of space
-
Not the most storage-friendly
We know that there's much more to an ironing board than its cover but we also realize that often people buy them because of the way they look as much as how big – or not – they are. There's something about the range of covers available for this board that makes us feel a little more stylish when ironing.
If you're looking for a compact, easy to store board, then this one probably won't be for you as its sturdy construction XL size – 124 x 45cm – and solid steam generator holder means it'll take up a fair bit of space whether up, or folded down. It has 7 height adjustments from 75 to 98cm, great for even the loftiest of ironers and our testers felt it was one of the most stable and sturdy boards they tried.
There's plenty of surface to take on sheets, duvets and flowing dresses, meaning ironing big items is much quicker and easier than on a small board. If this cover isn't for you, then this board is available in 7 other colours/patterns.
Best ironing board with cord holder
5. Lakeland Bright Blooms Ironing Board
Best ironing board with a cord holder
Specifications
Height: Adjustable (46-97cm)
Board size: 120 x 40cm
Weight: 6.5 kg
Reasons to buy
+
Convenient cord holder
+
We love the floral cover
+
Reasonably priced
If you ever get annoyed by the iron cord getting jammed between the iron holder and the board itself, this one might be for you as it features a pull-up cord holder that prevents that from happening.
However, if you have a steam generator, be aware, the cord on the one we used was far too bulky to fit into this attachment, making this a better choice for those with conventional irons. It is a traditional choice, although a little heavy, and has thick steel legs with non-slip feet and the usual safety lock to ensure it doesn't open when being moved.
It has a decent, well-fitting cotton ironing surface that features a jolly floral design. Our main downside was that this ironing board had a bit of a wobble in testing. This wasn't an issue when the board was weighed down a bit, but it could still prove annoying over time.
Best ironing board for sleeves