How to store Christmas decorations to keep them in perfect condition
Avoid shoving yours into a cupboard this year and put a proper storage system in place…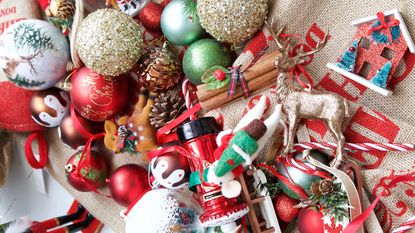 (Image credit: Future PLC/Simon Whitmore)
The festivities may be over for another year (sob), but something your future self will thank you for next December is packing up and learning how to store Christmas decorations in a way that will keep them in perfect condition for the next round of decorating.
We know – it's not the most exciting thing after Christmas. But we've all been there come 1st December – after piling our decor into the only cupboard with space, we've pulled them out to find that there are smashed baubles, the tree lights have disappeared, multiple ribbons are missing, and our more delicate decorations have sadly ripped.
Figuring out how to properly store Christmas decorations means avoiding all of that faff when you next need to get decorating – and it also means that you can reuse yours year after year.
So for those whose normal method is popping them all in a box and hoping for the best – how should we be storing our decorations?
How to properly store Christmas decorations
Before you can get started working out how to store Christmas decorations, make sure you remove them with care.
'My hack when it comes to removing your decorations from the tree is to place towels or throw blankets around the base of the tree in order to catch any fragile pieces that may fall as you remove them,' advises Mac Harman, CEO, Balsam Hill. 'It's a good idea to work from the bottom of the tree up as working from the top down may mean you knock lower-hanging decorations.'
'Whatever your system - be it ordering by size, shape, colour, texture - you should sort your decorations as you put them away. This will make decorating the following year even easier, as you can create your specific look without having to unpack everything.'
1. Wrap lights around cardboard containers
Trying to unwrap and detangle outdoor Christmas decor such as Christmas lights is one of the biggest pains when it comes to decorating – so save yourself the trouble in 2023 and take five minutes to wrap them around a cardboard container (it's likely you'll have plenty to spare after Christmas present buying).
Cut the side off of one of your cardboard boxes, and simply loop your lights around it for easy, neat storage; or, you could try wrapping them around an old kitchen roll holder.
2. Buy ornament storage boxes
Knowing how to store delicate ornaments without smashing them can be tricky. But an easy alternative is to get yourself an ornament storage box. You can pick one up from pretty much anywhere, with these storage boxes go from £7.99 on Amazon.
They are essentially boxes divided up into square storage holes; the perfect size for an ornament. By storing your ornaments individually in this way, you're pretty much guaranteeing they won't get damaged between now and next December.
3. Store smaller ornaments in egg boxes
Alternatively, to store Christmas decorations on the smaller, more delicate side, then look to leftover egg boxes (from all those festive brunches). An egg box makes for a great home for smaller decorations – though you may want to wrap them up in kitchen roll to ensure extra protection. Begin collecting up egg boxes in mid December, and you should have plenty to hand for all of your precious pieces.
4. Get a tree storage bag
Short of stuffing it back in the box it came in, there aren't many options for storing your Christmas tree – unless you've discovered the magic of a tree storage bag.Pick up a Christmas tree bag, from £6.99, Amazon, that matches the height of your tree, so that when you break it down, it fits perfectly and can be safely stowed away. Of course, this only applies to artificial Christmas trees – you'll have to see our guide for how to dispose of a real tree.
'A storage bag will protect your tree while it's stored,' explains Mac from Balsam Hill. 'Your bag needs to be large enough to comfortably hold your tree and made from durable material so that it can't be torn by protruding branches - rip-stop nylon is a great option for this. For trees of more than one section, top to tail your sections so that thinner tops cover the fuller bottoms.'
'As a precautionary measure, you can even try storing the tree with a container of baking soda or unused coffee grounds to prevent it from acquiring a musty odour while in storage.'
5. Place soft decorations in a hamper
There are usually hampers aplenty over the Christmas period, whether you've had one as a gift or you've used it to transport your presents in. This year, try using it to store decorations such as tinsel, tabletop ornaments, Christmas wreaths or garlands.
Hampers are a good option, as they tend to be much sturdier than plastic bags for example, so should keep your decorations in good condition throughout the year.
6. Make sure to label everything
Finally, it's not a storage tip as such, but an essential step in how to store Christmas decorations (so you don't dread next December), is to label every box, bag (or egg carton) you have.
Once it's labelled, you'll know exactly what to unpack for each room, and you won't waste time peering inside every box to find out. A no-brainer!
Get the Ideal Home Newsletter
Sign up to our newsletter for style and decor inspiration, house makeovers, project advice and more.
Jennifer is the Deputy Editor (Digital) for Homes & Gardens online. Prior to her current position, she completed various short courses a KLC Design School, and wrote across sister brands Ideal Home, LivingEtc, 25 Beautiful Homes, Country Homes & Interiors, and Style at Home.