How to cover a lampshade with fabric - an easy guide for a low-cost revamp
Create a bespoke lighting design with a fabric to suit your style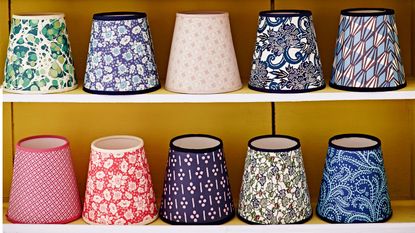 (Image credit: Future Plc/Alun Callender)
Ever wondered how to cover a lampshade with fabric? It actually couldn't be easier to make something unique and perfectly styled to your home and this easy DIY project can be knocked up in just an afternoons work too.
While we can't deny what a plethora of amazing designs are available to buy out there, making something special for your home, using your own fair hands, gives such a sense of both joy and achievement. From how to paint a mural, to making your own DIY headboard ideas, there' something to be said about doing it yourself.
Lighting plays such an important part when it comes to nailing the perfect interior and making it bespoke to your room scheme will let your personality shine.
Molly Mahon, Printmaker and Founder of her self-named Interior Design business Molly Mahon says, 'I can express myself using pattern and colour much more easily than I can with words and, through the art of block print, I have found I can add personal touches, right down to the very smallest detail, to my home too.'
'So much so that all of the lampshades in my home have been either printed by me, or covered using my block printed fabrics.'
How to cover a lampshade
There are a few ways you can cover a lampshade with fabric, but here we're going to focus on using a lampshade kit, with a few tips added to the end if you want to cover an existing lampshade.
You'll first need to choose a fabric that you love to cover your lampshade, and a lamp base too if making a table lamp. You can source a fabric from almost anywhere, from online haberdasheries, to charity shops or even use an old scarf or piece of clothing that you love.
You'll also need a decent pair of fabric scissors - try the soft grip fabric scissors, £8.50, Hobbycraft to get you started.
1. Select your lampshade kit
First up you'll need to select a lampshade kit. There are a few different formats you can choose from, all in different sizes and shapes. A drum lampshade kit, like the 20cm drum lampshade kit, £11.99, Dannells will allow you to make a simple straight-sided shade using a fabric of your choice, while the tumeric rainbow lampshade block printing kit, £58, Molly Mahon will guide you to making a shade with fabric you've printed yourself.
Molly Mahon explains, 'We have a kit you can buy that contains everything you need to get going. It includes a 25cm diameter drum lampshade panel, tools to build your shade plus full instructions. Also included is a stippler (the tool for applying paint to the block), a pot of bespoke eco fabric paint and a hand carved wooden block.'
Most kits should come with two rings, a self-adhesive lampshade panel, double-sided tape and a finishing tool. Printing your own fabric is a great solution if you're not sure what to do with leftover paint.
2. Cut your fabric to size
If you've found a fabric that you love, or you've printed your own, think carefully before cutting it to size as you'll want the most amount of pattern to be shown. If your shade is an empire shape, you'll lose some pattern at the top where the shade is narrower, so play around with a template before cutting. In terms of getting your fabric the right size, it should be a few centimetres bigger on both the long and short sides of your shades frame, but your kit will guide you with this.
3. Attach the self-adhesive panel
Place the self adhesive panel from your lampshade kit on the back of your fabric. The panel will already be the correct size for your shade so just line it up with your already cut fabric. Smooth it out so there are no air bubbles or creases.
4. Peel back the top and bottom edges
Next peel away the top and bottom sections of the backing panel- you should just be able to snap them back with your fingers, but if not, use something like the handles of your scissors to crease the edges and try again. Carefully peel back the sections, trying to avoid the fabric from fraying.
Then stick double-sided tape along the one of the short edges of your lampshade panel.
5. Attach your fabric to your lampshade frame
Take both rings of your lampshade frame and wrap with the double-side tape, sticking it to the entire circumference. Pinch it into place then remove the tape backing.
Place both rings at the end of the panel (ensuring the 'bulb' frame is the correct way up) and carefully roll them along the the two long sides in the same direction. Your frames should line up with the edges of the panel on your fabric.
Roll until you reach the end of your fabric panel then remove the backing from the tape on your short edge and press the ends together.
6. Neaten up the edges
Lastly, to neat up the edges, use the finishing tool to tuck the over-hanging fabric up underneath the frame. Where the bulb support is attached to the frame, simply snip a small line so the fabric can be wrapped around this area.
If you want to add any trim to the bottom of your lampshade such as pom poms or fringing, this can be attached using a fabric glue. Once dry, your lampshade can be attached to your base, or hung from a pendant light cord.
And there you have it, a beautiful, bespoke lampshade made in just a couple of hours!
Can I cover a lampshade with my own block-printed fabric?
'Block printing your own lampshade fabric is easy and it needn't cost the earth - if you're decorating on a budget you could just as easily use a potato and any leftover sample paint pots you have lying around', says Molly.
'To potato print, you will need: plain paper, a knife or biscuit cutter, a paint brush, paint and a potato or two.'
'Start by cutting your potato in half to create a nice flat surface. Mark the shape you want using a pencil or a biscuit cutter. I find simple shapes create the most striking designs. Cut away the excess potato around your shape, paint a nice thick layer of paint onto your raised shape and press it down onto the fabric'.
'Try out your design on a scrap first, and each time you make a print, load your potato with more paint. There is nothing more heartfelt than a jaunty homemade accessory… it feels good to have made your own, looks good and saves money too!'
How can I cover a lampshade that I already have?
If you already have a fabric lampshade, but it's in need of a refresh, you can just recover it with a new design.
First make a template for your fabric by creating a marker on your existing shade. To do this, wrap a length of wool around the shade from top to bottom and tie in place. Make sure the loop of wool is sitting squarely in position.
Next take a sheet of newspaper and place the shade on its side at one end of the paper so that the wool is touching the paper. Mark this starting point on the newspaper with a pen. Gradually roll the shade along the newspaper, tracing its path top and bottom with the pen as you go, stopping when the shade has made one complete revolution and the wool is again touching the paper Mark this stopping point. If you have a drum shade you will end up with a rectangle; if you have a tapering pendant shade, you will end up with a curved shape.
Add 1-2 cms all around your marked shape and cut out. Lay out your fabric face up and place the template on top, shifting it around until you are happy with the position of the fabric pattern underneath. Cut out the fabric.
With the fabric face down, turn up 1cm along both long edges and one short edge and press - you will need to do this slowly and carefully if the long edges are curved. Place the pressed fabric over your shade, aligning what will be the vertical 'seam' of the fabric with the 'seam' of the shade underneath.
Using a fabric spray adhesive and following the manufacturer's instructions, carefully and lightly spray along the length of the unpressed vertical edge (you only need a tiny amount of adhesive). Smooth the pressed vertical edge into position over the sprayed edge for a neat and even finish.
Repeat to spray the top and bottom edges of the fabric, fold them over the frame of the shade and press into position. Leave adhesive to dry completely.
Take a scrap piece of fabric and spray lightly and evenly with a fire-retardant fabric spray, following the manufacturer's instructions. Leave to dry. If you're happy with the results, cover any adjacent surfaces and spray your newly covered shade. Leave to dry and fit the shade to your lamp base.
Where can I buy a beautiful home-made lampshade if I'm not feeling crafty?
There are plenty of places that sell beautiful homemade lampshades if you just want to cheat the look instead!
Molly says, 'An alternative to printing your own shade from scratch is our brilliantly playful 'flirty skirt' shade, from £55 each, Molly Mahon an immediate solution to revamping a table lamp without breaking the budget. The Flirty Skirt is made from my hand-block printed fabric and looks fantastic when paired with a simple stem base in a co-ordinating colour. Simply tie it around an existing shade for a new, joyful, super chic look! They are easily adjustable to fit your shade and if you don't have a base to tie it around, we also sell the simple rattan carriers to sit underneath.'
Here are a few of our favourite ready-made shades to add to your lamp bases.
Wee Pomegranate Lampshade
This retro lampshade in the Wee Pomegranate design is the perfect way to get a pop of colour and pattern into your room.
Turquoise Disco Zebra Lampshade
A 40cm straight empire shade in a vibrant and beautiful, free flowing pattern designed by Matthew Williamson.
Get the Ideal Home Newsletter
Sign up to our newsletter for style and decor inspiration, house makeovers, project advice and more.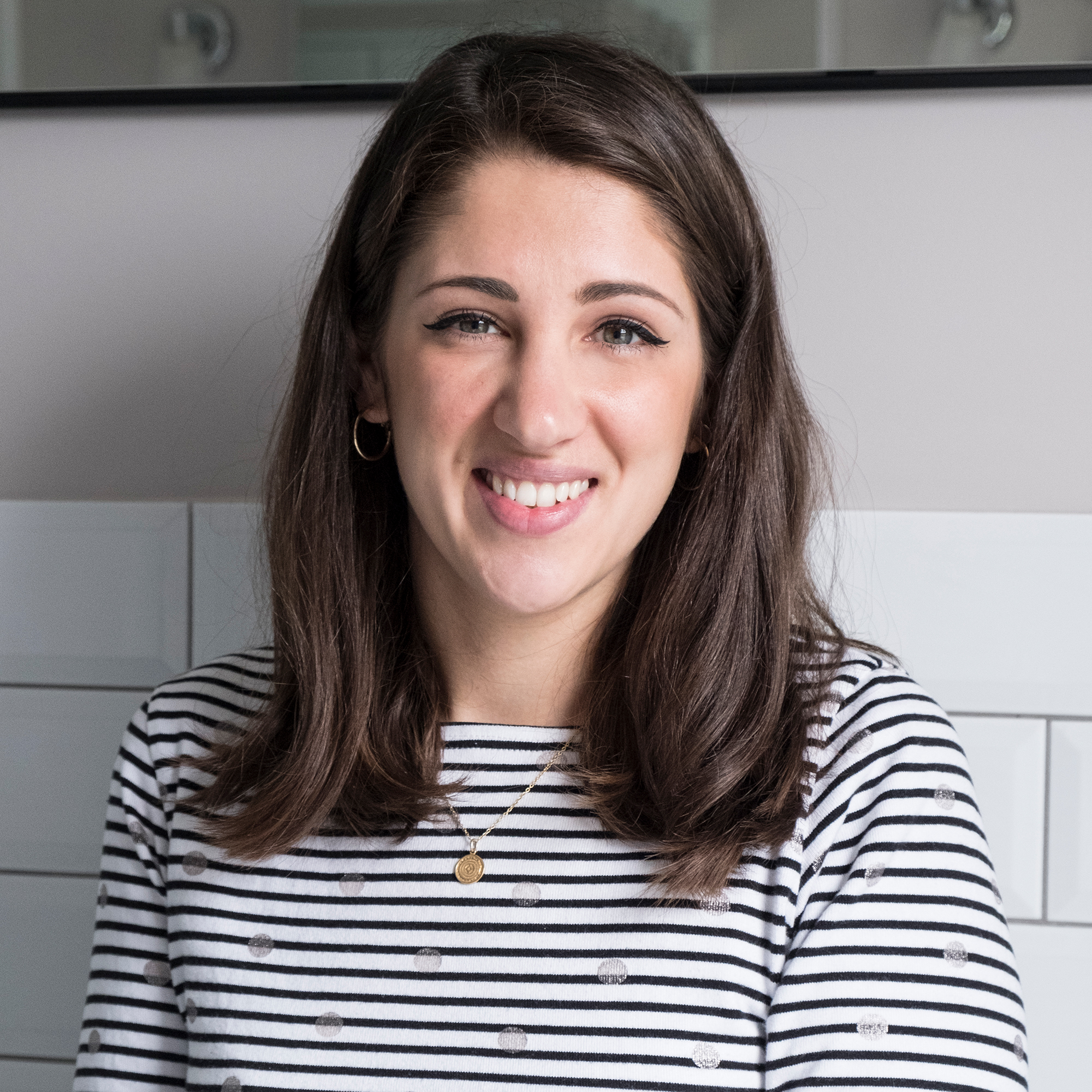 Holly Walsh has been Content Editor at Ideal Home since 2021, but joined the brand back in 2015. With a background of studies in Interior Design, her career in interior journalism was a no-brainer and her passion for decorating homes is still as strong as it ever was. While Holly has written for most of the home titles at Future, including Livingetc, Country Homes & Interiors, Homes and Gardens and Style at Home, Ideal Home has always been her ideal home, and she can be found sharing her expertise and advice across both the printed magazine and the website too.