How to sew an easy blind
Follow Country Homes & Interiors' latest craft idea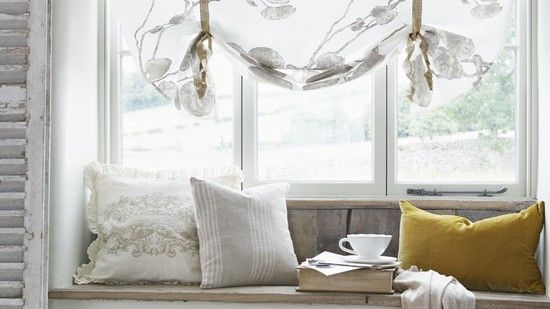 (Image credit: TBC)
Looking to add a decorative touch to your windows? Follow our easy, step-by-step craft guide...
You will need
Illustration, Michael A. Hill (opens in new tab)
Step 1) Measure the height and width of your window recess.
Measure in a few places as windows are rarely square and use the
smallest measurement in each case. Cut out a piece of main fabric to
this size, adding 19cm to the drop and 10cm to the width.
Step 2) Turn under 2cm then 5cm along each side edge, press and machine stitch hems in place.
Step 3) To
form a channel for the curtain rail, turn 2cm then 10cm to the wrong
side along the top edge of the blind and press. Machine stitch close to
the turned under edge.
Step 4) Thread the blind
on to a telescopic curtain rail and adjust the rail to fit the alcove.
Carefully push the rail into place at the window with the wrong side of
the blind facing you. Pin a hem along the bottom edge, turning under 2cm
then 5cm but adjusting the fit as necessary. Take down the rail and
remove the blind. Machine stitch the hem in place, remove pins and
press.
Step 5) Carefully cut two lengths of wired ribbon
or braid, each to twice the finished drop of the blind. Lay the blind
out, face up, on a flat surface. Position each length of ribbon at an
equal distance from each side edge of the blind, and with half of the
ribbon hanging over the front and half over the back (see illustration).
Pin the ribbons in place back and front at the points where the ribbon
covers the machine stitching along the curtain rail channel.
Illustration, Michael A. Hill (opens in new tab)
Step 6) Using a sewing thread that matches the ribbon or
braid, neatly hand-stitch the ribbon in place along the machine
stitching (see illustration). Work carefully through one layer of fabric
only, repeating at the back of the blind to attach the ribbon there.
Step 7)
Slip the curtain rail through the channel on the blind and hang in
place. Lift one side of the blind up to your preferred height and
carefully tie the ribbon or braid to hold it in that position. Repeat on
the second side. Adjust the fabric
and ribbon as necessary until you're happy with the result. If you are
using wire-edged ribbon, add a decorative touch by coiling the free ends
into curls.