How to etch pretty glasses
Get crafty and make your own etched glasses, with Style at Home's easy guide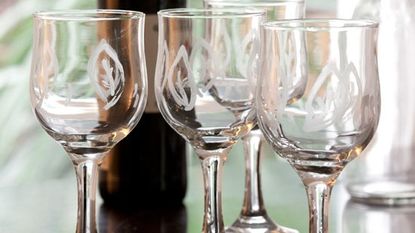 (Image credit: Future PLC/DAVID GILES)
Ideal Home Newsletter
The Home Of Great Ideas For More Than 100 Years
Thank you for signing up to . You will receive a verification email shortly.
There was a problem. Please refresh the page and try again.
Set your dining table with unusual glassware created following our simple step-by-step guide.
With a little time and patience, you can jazz up everyday wine glasses using glass etching cream. We've stuck to a natural leaf theme for ours but you could try more graphic spots or even stripes.
Takes 1 hour
Costs £10.64 for four wine glasses
What you'll need
Evia wine goblets, £4.49 for four, Dunelm Mill (opens in new tab)
Marker pen
Piece of white A4 paper
Sticky tape
Armour Glass Etching Cream, £6.15 for 90ml, Hobby's (opens in new tab)
Thin paint brush
Tip Avoid any contact between your skin and the cream, taking care when you wash each glass.
1) Wash and dry your glasses, removing any sticky marks. Draw a simple leaf onto a small piece of paper, practising until you are happy with your design - aim for a fluid, simple shape.
2) Pop the paper with your final leaf design inside your goblet, with the design facing out. Hold in place with a piece of sticky tape at the rim.
3) Carefully trace over the design with a thick coat of etching cream, applied using the fine paintbrush. Steady your arm by resting your elbow on the table.
Leave for five minutes for the cream to react, then wash off with water. Repeat to etch your glass four more times.
Tip Going to a wedding? Why not etch the date on a pair of glasses as a gift for the happy couple?
Feel inspired to etch your own glasses? Let us know how you do on Facebook (opens in new tab).