Paint colours - the essential guide
Choosing paint colours? When it comes to instantly reviving and refreshing a room, paint stakes its claim as a key decorating tool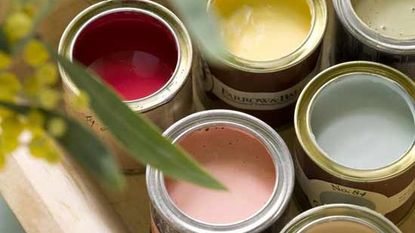 (Image credit: TBC)
Ideal Home Newsletter
The Home Of Great Ideas For More Than 100 Years
Thank you for signing up to . You will receive a verification email shortly.
There was a problem. Please refresh the page and try again.
Thanks to technological advances, paint colours are becoming safer to use, as oil and solvent-based formulas are being replaced by water-based acrylic.
The new paint colours are high-performing, low in toxic chemicals and almost odour-free, so better for the environment and healthier for us.
Not sure which colour to go for? Take a look at our living room colour schemes brimming with character.
These days, there are paints to decorate every surface in the home, from melamine to ceramic tiles. Many of these formulas require no specialist preparation - Crown's Cupboard Makeover Paint is available in 12 colours and does not need a primer. There are also multi-surface paints, such as B&Q Bedec MSP Multi Surface Paint, which can be used on everything from plastic to masonry.
Colours Everywhere for walls, ceilings, woodwork and radiators, and areas such as bathrooms and kitchens benefit from durable, mildew-resistant coverings, which are available in pre-mixed colours. However, for the more discerning, Dulux Kitchen & Bathroom paint can be mixed in any one of its 1,200 colours.
For more decorating, craft ideas and cleaning hacks don't miss our dedicated DIY guide.
Specialist paints also include some exciting new finishes, such as suede effects, metallics and high-sheen lacquers. Judy Smith, colour consultant at Crown, suggests an accent wall in one of these to lift a neutral scheme. Crown's Feature Wall range, which includes eight metallic finishes, nine bright colours and a highly reflective Pure Brilliant White, comes in convenient 1·25 litre tins.
If you have a timber floor that's not particularly attractive or is made from a patchwork of old and new wood, paint makes the perfect disguise. There are plenty of choices - all the colours from Farrow & Ball are available as floor paint and Nordic Style offers an elegant selection, too.
Alternatively, a timber floor in good condition can be treated to a natural or tinted stain, which allows the grain to show through. Eva Johnson's Scandinavian woodcare oils will take the yellow edge off pine, and Osmo makes a range of opaque semi-gloss woodwax finishes, which can be mixed to create attractive, muted tones.
If you are grappling with the problem of choosing a woodwork colour to go with neutral walls, check out Architectural Colours by David Oliver, the founder of Paint & Paper Library. He arranged his off-whites for ceilings, cornices, walls and woodwork in chromatical groups and the concept has been so well received that chromatically arranged colours, such as soft greys, greens and pinks, have been introduced. For a scheme that demands dark woodwork colours, take a look at the excellent Flemish Colours range by Siecle, or the Cotswold collection by Ecos.
Water-based paint colours are usually referred to as emulsions and were traditionally used only for interior walls and ceilings. But recently tremendous advances in paint technology mean that water-based formulas, especially the high-performing acrylics, are available for all surfaces, from woodwork to metal, and for interior and exterior use. The advantages of these paints over oil-based ones is that they are cleaner, have less odour and are more environmentally sound. Brushes can be rinsed clean with water.
Solvent or oil-based paint colours are used where a tough, durable finish is required for interior and exterior timber, masonry and furniture - although, as mentioned above, the new generation of acrylics and multi-surface paints offers viable alternatives. In general, brushes need to be cleaned with turpentine or white spirit.
Make-up and quality All paints are made of four key ingredients: pigments, binders, liquids and additives. Generally speaking, the more pigment used to make the paint, the better the
quality it will be: a ratio of 30 to 45 per cent binder and pigments by volume indicates a paint that will be durable and provide good coverage and lasting colour.
Specialist masonry and exterior woodwork paints are now available in many of the sophisticated colours offered for interiors. For example, the Weathershield range of satin and gloss exterior paints. Dulux features innovative shades such as Wild Berries and Wild Roses. When choosing paint colours for exterior surfaces, consider the style of the brickwork or masonry of your home along with the colours used on nearby buildings, so as to pick colours that are sympathetic to these surroundings. Colours for fences and sheds should be selected with the same criteria in mind.
Technical advancements are constantly being made to improve the life span, durability, wear and performance of exterior paints. Sandtex's Microseal technology gives its paints "two-way" breathability where moisture and air can move out of the home, but rain and wetness cannot
penetrate from outside.
Masonry paints come in a wide variety of finishes, from textured to ultra-smooth. Opt for a texture if you need to disguise fine surface cracks. If you favour traditional finishes, then consider limewash, which is available from specialists such as Francesca's Lime Wash. The beauty of this paint is that it will mellow and weather with time. However, do check with the supplier first to ensure that the surface is suitable for this finish. Scottish company Anta can make limewash to order.
The 'organic' paint brands, such as Ecos, which emerged in the late 1980s, heralded a new era of odourless paints, free of solvents and VOCs (volatile organic compounds) and paved the way for other companies' environmentally safe formulas. Paints with reduced or no VOCs are healthier for decorators and the people whose homes are painted with them.
The leading brands now flag up paints with lower VOCs and produce paints that are virtually odour-free - the Breatheasy range by Crown is one example. Most leading brands now produce high-quality water-based acrylic paints which outperform the older technologies of vinyl and oils.
Today, it is increasingly easy to source ecologically sound paints, as most specialist ranges, such as Ecos, Earthborn (pictured), Georgina Barrow and Auro are available via mail order. There is a wealth of colour options in these pre-mixed ranges that include lush shades and muted palettes, reflecting their natural ingredients.
Distemper - A traditional water-based paint made from animal and natural resins, which dries to a velvety matt finish. Primarily used on ceilings and plaster mouldings, and to give furniture an aged effect, but not suitable for areas of high wear. Available to order from specialist companies.
Eggshell - Traditionally refers to an oil-based paint with a silky finish, suitable for interior walls and woodwork. Water-based alternatives are now available.
Flat or Dead-Flat Oil - Provides a completely flat, oil-based finish. Generally used on walls but not suitable for areas of high wear.
Gloss - These paint colours have a high sheen level and are usually used on woodwork.
Limewash - Made from slaked lime and water, this paint is good for porous surfaces such as brickwork, render and plaster and gives a chalky finish. It is available from specialist companies.
Matt - Describes paints that give a flat, non-reflective finish. It is ideal for walls and ceilings that are not perfectly smooth.
Satin or silk - Water-based vinyl or acrylic paint for walls in high-wear areas, such as hallways and kitchens. A satin finish will be slightly shinier than silk.
Satinwood or semi-gloss - These paints are commonly used on woodwork, such as skirting boards. This sheen level is between eggshell and gloss.
Abigail Ahern at Designer Paint, designerpaint.com (opens in new tab). Stunning capsule collection of 13 dark, inky hues that are mostly made of natural pigments.
Annie Sloan, anniesloan.com (opens in new tab). Water-based paints in mid-sheen and chalk finishes, metallic and sparkle paints, plus powder pigments.
Anta, anta.co.uk (opens in new tab). Capsule collection for walls and woodwork, developed to coordinate with Anta fabrics.
Auro, auro.co.uk (opens in new tab). Wide variety of ecologically sound paints made from natural and solvent-free ingredients.
B&Q, diy.com (opens in new tab). Huge range of own-name paints and those of other manufacturers.
Bedec, bedec.co.uk (opens in new tab). Water-based, environmentally-friendly paints for all surfaces.
Blackfriar, blackfriar.co.uk (opens in new tab). Specialist paints and woodcare products.
Chiselwood, chiselwood.co.uk (opens in new tab). This kitchen manufacturer has recently launched its own range of 35 subtle colours.
Craig & Rose, craigandrose.com (opens in new tab).
Paint ranges include 1829, Opulence, Feng Shui, RHS Garden Collection
and Crayola, with its Magnetwall, Heat Sensor, Fluorescent and Glitter
Glaze effects.
Crown, crownpaint.co.uk (opens in new tab). Huge choice of period and modern colours and decorative effects for all surfaces.
Designers Guild, designersguild.com (opens in new tab). Interior paints in 154 tones from neutrals to vibrant hues.
Dulux, dulux.com (opens in new tab).
Vast selection of paint ranges, formulas and finishes; colour-matching
available through the Colour Mixing System. They also supply
eco-friendly paint.
EarthBorn, earthbornpaints.co.uk (opens in new tab).
Paints made with natural ingredients, such as plant oils, clay and
plant extracts, in a variety of artistic ranges, colours and finishes.
Ecos, ecospaints.com (opens in new tab). Odourless, solvent-free organic paints in 108 colours and various finishes.
Farrow & Ball, farrow-ball.com (opens in new tab).
Authentic historic and contemporary colours in finishes - including
dead flat oil, limewash and water-based eggshell - for surfaces indoors
and out. Ranges include Estate Emulsion and National Trust Garden Paint.
Fired Earth, firedearth.com (opens in new tab).
Period ranges include V&A Historic Colours, Art Nouveau and Art
Deco. Also contemporary designer collections by Kelly Hoppen and Kevin
McCloud.
Francesca's Lime Wash, francescaspaint.com (opens in new tab).
Recreated from traditional Italian recipes; finishes include limewash
for interior and exterior surfaces, chalky emulsion for interior walls,
eggshell, matt and gloss, all in 130 hand-mixed colours.
The Green Shop, greenshop.co.uk (opens in new tab). Sells several natural and environmentally-friendly paint ranges.
Hammerite, hammerite.com (opens in new tab). Wide range of paints for metal surfaces.
International, international-paints.co.uk (opens in new tab).
Paints and primers for a wide range of surfaces, including melamine,
brick, metal, radiators, wood and uPVC, plus floor finishes.
Johnstone's, johnstonestrade.com (opens in new tab). Large array of paints, stains and coatings for all surfaces.
Laura Ashley, lauraashley.com (opens in new tab). Paints in 48 shades, all available in matt emulsion and environmentally-friendly water-based eggshell.
The Little Greene Paint Company, thelittlegreene.com (opens in new tab). The company's two core collections - Colours of England and Colour Scales - comprise of 164 colours. The new Grey collection, which launched earlier this year, features an additional 28 shades.
Mini Moderns at Designer Paint, designerpaint.com. (opens in new tab) A palette of 12 chalky paints to co-ordinate perfectly with the retro wallpaper collection.
Nutshell Natural Paints, nutshellpaints.co.uk (opens in new tab). Natural paints, including Eco Emulsion, in 100 colours. Also sells earth and mineral pigment tints.
Osmo, osmouk.com (opens in new tab). Interior and exterior wood paints and woodwax finishes.
Paint by Conran, paintbyconran.com (opens in new tab). A collection of 96 warm and welcoming hues, all inpsired by British plants and landscapes.
Paint & Paper Library, paintandpaperlibrary.com (opens in new tab).
Colours divided into ten collections, such as Aqua, Rosa and Citrus,
plus Architectural and Original Colours in emulsion, oil- and
water-based acrylic eggshell, dead flat oil and acrylic.
Ronseal, ronseal.co.uk (opens in new tab). Specialist coverings, including One Coat Tile and Radiator paints, and Melamine & MDF paint.
Rose of Jericho, rose-of-jericho.demon.co.uk (opens in new tab).
Manufacturers of limewashes, distempers, emulsions, flat oils and
eggshells. Colours are mixed using earth and artists' pigments and
collections include Traditional, Classic and Italian.
Sanderson, sanderson-uk.com (opens in new tab).
The Spectrum range comprises 1,352 pastel to mid-range colours in
emulsions, gloss and eggshell. Also 36 heritage shades in the Morris
& Co collection.
Sandtex, sandtex.co.uk (opens in new tab). Specialists in exterior and masonry paints.
Siecle, makespeoplehappy.co.uk (opens in new tab). A range of ecological paints in wonderful colours from the Netherlands.
Zoffany, zoffany.co.uk (opens in new tab). A collection of 144 classic colours in flat emulsion, low-sheen eggshell and gloss.
So now you know what paint is right for the job, you just need to pick the right shade. Easy!