Phil Spencer answers 17 of your property and DIY questions
Location, Location, Location presenter Phil - in association with Rated People - shares his pearls of wisdom with Housetohome readers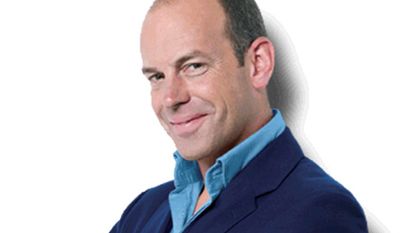 (Image credit: TBC)
Ideal Home Newsletter
The Home Of Great Ideas For More Than 100 Years
Thank you for signing up to . You will receive a verification email shortly.
There was a problem. Please refresh the page and try again.
Phil Spencer, of Location, Location, Location fame, took over our Twitter feed this week to share his thoughts on all things property, DIY and homeownership.
In case you missed the - quite frankly brilliant - session with the man himself, we've rounded up the top questions and Phil's expert answers.
Q: We have a four bed detached house with room to build bedroom five over the garage. Is it worth it? We're not desperate for extra space.
A:
Interesting question. You should get your money back as it's cheaper to build space rather than buy it. Not a huge amount of difference between a four and five bed, so it might not be worth the hassle.
Q.
What fix-up jobs should you never put off round the house?
A.
The quickest job is the one that most people put off and the one that causes damage. Clean the leaves out of your gutters!
Q:
I'm planning to retire 200 miles away in three years. How soon should I start house hunting?
A: Depends on how specific your requirements are, but leave 18 months for house hunting, just to be safe!
Q: What general renovations can devalue a property?
A: Bad DIY, it can cause problems if mistakes are visible!
Q: How many times have you moved house?
A:
I've moved home four times and redeveloped all of them which means I've also had time in rented properties.
Q:
Tenants left my home in a state whilst I was abroad. How do I turn it around quickly on a budget?
A: Hopefully you've kept the deposit, but new carpets and a fresh coat of paint make a big difference quickly and cheaply.
Q: Do you have any tips on incorporating colour into a kitchen?
A: You can bring a lot of colour into your kitchen with your appliances and accessories, no need for decorating.
Q: When renovating a house what would your top tip be for injecting life into a tired kitchen?
A:
Fresh grout, new tiles, new cupboard doors, new floor...all of these things can be done pretty cheaply!
Q: Tell us about your first home. How much did you pay? Are you still in it?
A: I paid £160,000 for a four bed flat. Converted into two and lived in the other one for five years.
Q: What's the craziest thing you've ever seen someone do to their house?
A: When filming Secret Agent I saw a lot of crazy stuff! But the biggest crime was not cleaning your home when trying to sell it.
Q. Which room should I focus on improving in order to add value to my property?
A. The kitchen. It is the hub of the home and it's often the make or break behind a deal. But don't forget the garden.
Q. What is the best question to ask the estate agent when viewing a property?
A. If you like the property, ask the agent the following: What did they base the asking price on? Can they justify it?
Q: What is the guaranteed way to add value and which things lose money?
A: This is a very bold question but making it bigger will add value whilst overspending will lose it. 

Q:
What are your thoughts on WiFi connected appliances in the kitchen?
A:I'm aware that this is the way the world is moving but I see this as novelty value rather than adding value!
Q. I have a conservatory that gets too hot in the summer and too cold in the winter. What can I do to make it liveable?
A: This is a common problem with older conservatories where corners may have been cut. Insulation can help keep it warm in the winter and blinds can help keep cool in the summer.
Q: Will there be another series of Love it or List it?
A: I have some great news, yes there will be! Series two will have eight episodes, we start filming later this year.
Q. Any advice for neighbour relations when you're having external/garden work done?
A: Plenty of warning and cases of wine should do the trick!
Phil joined us as part of his work with Rated People. (opens in new tab)
Heather Young has been Ideal Home's Editor since late 2020, and also edits its sister title Style At Home. She is an interiors journalist and editor who's been working for some of the UK's leading interiors magazines for over 20 years, both in-house and as a freelancer.