How to paint bathroom tiles - a guide to upgrade your bathroom on a budget
Want a quick and easy way to revamp your bathroom? A lick of paint over your tiles could be all you need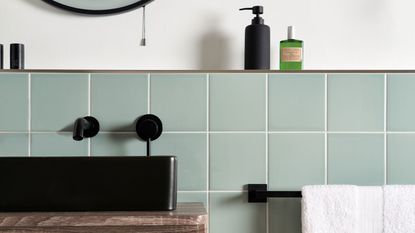 (Image credit: Walls and Floors)
Ideal Home Newsletter
The Home Of Great Ideas For More Than 100 Years
Thank you for signing up to . You will receive a verification email shortly.
There was a problem. Please refresh the page and try again.
Replacing your bathroom tiles can be a disruptive, time consuming process, that could end up being a costly one too. Materials, labour and delayed delivery times could all thwart your make-over, so opting for a DIY job might just be your answer.
If you're not sure how to paint bathroom tiles, here we'll talk you through each step to ensure you have all the knowledge to take on the project yourself.
Adding paint to bathroom tiles is a great way to explore bathroom colour ideas, which is a huge trend in interiors currently. So if your existing tiles are in good condition but not really your cup of tea colour-wise, you can give them a fresh new look with a coat of tile paint.
But getting your technique and application right is going to make this whole DIY project a success, in a little as an afternoon.
Is painting tiles in a bathroom a good idea?
Whether you are looking to include some grey bathroom ideas or a bit more colour or pattern to your space painting tiles is a simple and cost effective solution. 'Anyone can paint tiles, the only skill you need is patience,' explains Annie Sloan, Founder of Annie Sloan Paints (opens in new tab). 'Geometric shapes look fabulous on tiles and are easy-peasy to create,'
Paint is smart way to add colour to a bathroom on a budget and to give a space a new look and this is just as relevant to a bathroom as any other room!
How to paint bathroom tiles
As ever with a DIY project, the first step is all in the preparation. Make sure you've researched your paint colour, have all the tools and apparatus you need, and have set aside a good amount of time to get the job done, without feeling rushed.
From looking at bathroom paint ideas, to perusing tile trends, once you know what you want to achieve, you're ready to get started
What you'll need
Dust sheets or newspaper to protect surfaces you don't want to get paint on
A good quality paint brush or roller
Decorators tape or masking tape
Your chosen tile paint
Grout pen (optional)
1. Protect surfaces
No matter how steady a hand you have, paint splatters happen so use dust sheets, newspaper, plastic bin bags- anything that you can get your hands on, to protect floors, basins and windows.
2. Give your tiles a scrub
Start by giving your tiles a good clean, scrubbing off any mould or limescale and filling in gaps where the grout has come loose. Once dry, give the tiles another thorough wipe with a lint-free cloth.
3. Mask off your edges
Where tiles butt up to the bath, basin or shower, or where they meet the wall, use decorators tape or masking tape to create a crisp line. This means you don't have to be quite as neat when it comes to painting your edges, as you can simply paint up to and over the tape, removing it once the paint is dry to reveal a neat edge.
4. Get painting
Next take your chosen tile paint and apply it to the surface using a good quality brush or roller. Cover both the tiles and the grout together, then leave to dry. If you're painting over patterned tiles, you might need a second coat, so apply as needed.
5. Add definition
Once your tiles have been painted, you might feel you want to add definition, so there is the option to go over the grout with a white grout pen. Or you could choose something more dramatic, like a dark grey or black. Although this can be time-consuming and you'll need a steady hand, it will add a great finishing touch.
Or if you're feeling really adventurous, you could use a stencil to create a geometric pattern to add the wow-factor to your space and really have fun with bathroom floor tile ideas.
What kind of paint do you use on bathroom tiles?
As tiles are non-porous, you'll need to use a paint that will stick well to a smooth surface, so specialist tile paints are the best option for a hard-wearing finish. That said, if you make sure to use a good ceramic or porcelain tile primer first, you can actually use any type of paint on top, as the primer should act as a great base coat.
You might want to add a lacquer over to top of your chosen paint, especially if you use chalk paint, which will take a little longer to dry.
Holly Walsh has been Content Editor at Ideal Home since 2021, but joined the brand back in 2015. With a background of studies in Interior Design, her career in interior journalism was a no-brainer and her passion for decorating homes is still as strong as it ever was. While Holly has written for most of the home titles at Future, including Livingetc, Country Homes & Interiors, Homes and Gardens and Style at Home, Ideal Home has always been her ideal home, and she can be found sharing her expertise and advice across both the printed magazine and the website too.