Small bathroom colour ideas – make a splash with these stylish schemes
Bored with white and want to add some personality? Small bathroom colour ideas will give you some inspiration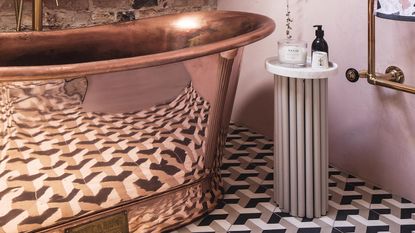 (Image credit: Future PLC / James French)
If you're looking for small bathroom colour ideas but aren't sure what to go for, don't be fooled into thinking you need to keep it white in order for the room to feel spacious and light. In fact, there are lots of ways to bring colour into the bathroom and all are guaranteed to create a different mood, whether it's fun and energising or tranquil and serene.
Since space is tight, you'll want to make your bathroom colour scheme count, so whether you rent or own your home, consider paint, wallpaper, tiles, and accessories for giving it that much-needed colour boost. You could even go for a coloured suite for a more retro feel!
'Light is key to making the most of the space in any small room,' says Justyna Korczynska, Senior Designer at Crown. 'Lighter shades will lift the walls and make the room feel bigger. Another way to make a small bathroom feel bigger, though, is to create the illusion of more space by using the same colour on the ceiling as you do on the walls. This tricks the eye into thinking that the ceiling is higher, and ultimately, that the room is bigger.'
Whatever colour you choose, try and push the boundaries to achieve something individual to you, rather than a trending design that you could grow tired of quickly. Of course, the great thing about refreshing a compact bathroom is that the footprint is much smaller – and with less space to cover, you can afford to be a bit more generous with your budget when it comes to tiles, paint or fittings.
Small bathroom colour ideas
'Small bathrooms are much the same as the kitchen really, with many opting for white, which can look cold and clinical,' says Coat'scolour curator Aaron Markwell. 'Plaster-toned colours like Coat's "Felt Cute" and "Factor Fifty" perfectly complement all skin tones and will help keep these spaces warm and inviting.
'If you're a bath person, go for really dramatic colours on bathroom ceilings and walls,' Aaron continues, 'as they'll look spectacular in candlelight and give the impression of bathing under the stars.'
Read on to find out more ideas on how you can introduce colour into your small bathroom…
1. Don't be scared of dark colours
Inky or navy blues, forest greens and even black can work beautifully in small bathroom ideas, with these darker colours bringing a real sense of depth to the room. 'Small bathrooms shouldn't be left neglected when it comes to colour,' says Emma Bestley, co-founder of YesColours. 'The smallest room in the house can be the most thrilling. Darker colours – like a rich earthy terracotta or burgundy – can actually maximise a small space by adding warmth and drama.
Marianne Shillingford, Creative Director at Dulux, says that: 'Blue is the best colour for making small spaces appear bigger which makes it a firm favourite for bathrooms.'
If in doubt, opt for lighter fittings, such as this marble-veined bath and sink, and keep the ceiling a bright white as a contrast.
2. Go two tone
Torn between two colours? Why not use them both? Opting for a split-level design adds interest to your walls, and means you can indulge in two of your favourite shades – just make sure they work well together.
In a small bathroom, use the darker colour on the lower half of the walls, to make it feel less oppressive, with your lighter shade at the top, then introduce furniture and accessories to complement your colour choices.
This pastel scheme features pale eau de nil tiles on the lower half of the wall, with pink and white painted walls above for a light, feminine feel that's guaranteed to make you feel soothed at the end of a long day.
3. Pick an earthy palette
If brights aren't your thing and beige is too bland, why not go for a happy medium with more earthy colours in the bathroom tile ideas? Here, terracotta wall tiles offer a dash of spice, while khaki tiles in the bath area, along with a fluffy green bath mat and plants add a lush feel.
'Earthy tones create a relaxing space that reflects the outdoors, providing a grounded feeling,' says Emma Bestley. 'To recreate this look, pick out soft greens, sages, warm neutrals, soft peaches and dusky pinks.'
4. Use metallics as a colour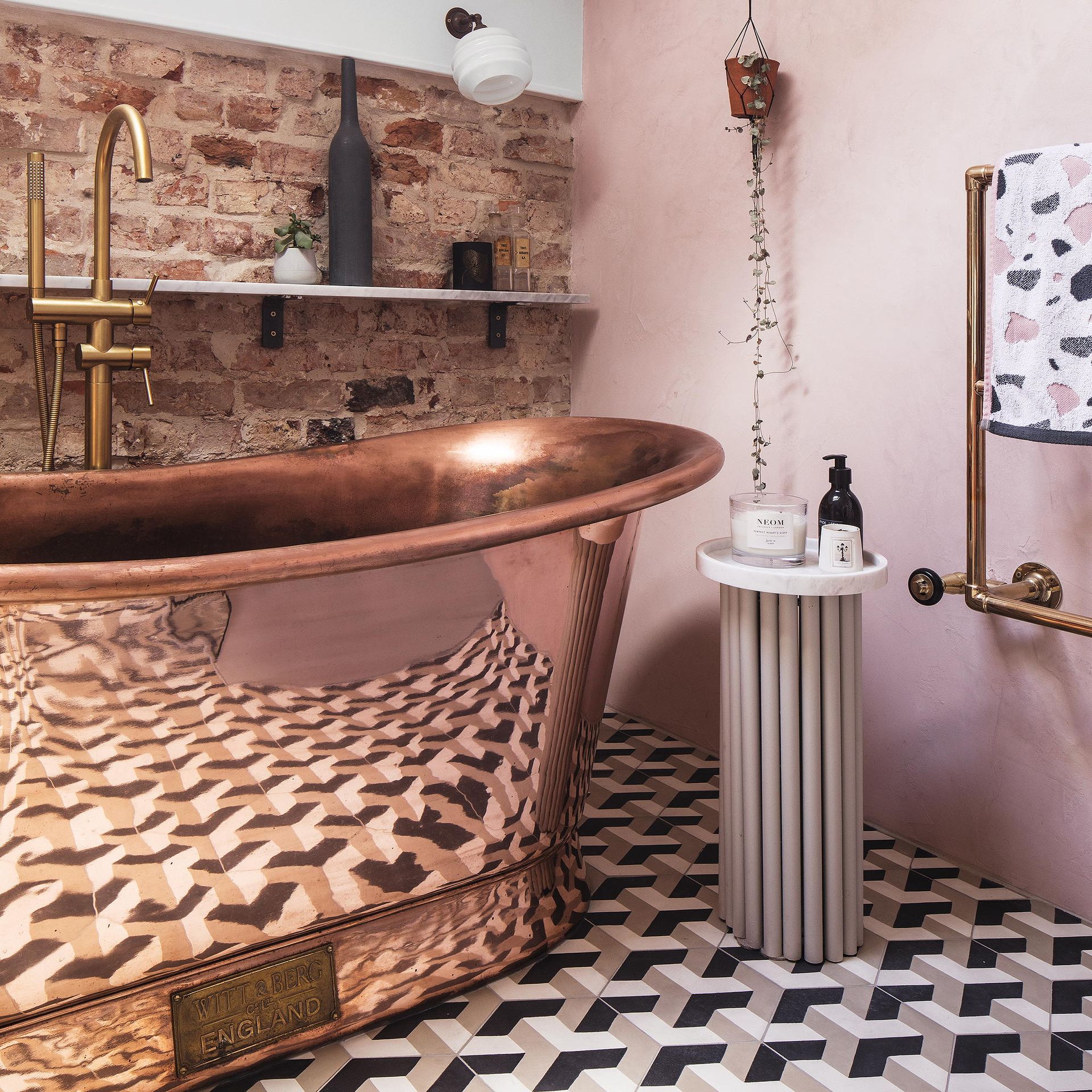 Metallics aren't always the first thing that spring to mind when you think of colour, but in a small bathroom they're ideal as they can help to reflect light and make a bathroom look bigger with a dash of luxury.
This pink bathroom, for example, isn't large in floor size, but the gleaming copper bath is a real standout feature and, teamed with a single pedestal table for toiletries, creates a scheme that wouldn't look out of place in a boutique hotel.
You'll also notice the mix of metals, too, with the tap and towel radiator in a brushed brass – and with a rustic brick wall set behind, it's a combination that is interesting, considered and extravagant.
5. Choose colourful tiles
Tiles are the obvious choice for a bathroom as they are practical, but that doesn't mean they have to be white, or plain. There are so many colourful tiles on the market now you are spoilt for choice and there are lots of amazing patterns and shapes to choose from too.
Hexagon tiles have been really popular recently and will give a different dimension to your bathroom, adding pattern and colour. Teaming with a coral wall unit and mirror really makes them pop.
Buy now: Corsica hex tiles, £82.50 m2, Porcelain Superstore
6. Introduce a splash of colour with paint
Never underestimate the power of paint! It's one of the quickest and easiest ways to add colour to a bathroom. As this small bathroom shower idea proves it can completely change the mood of the room, and it's easy to re-paint if you get tired of it. This lovely coral colour livens up an otherwise plain white bathroom, and the large mirror will bounce light around to make it look bigger than it really is.
7. Make a statement with a coloured basin
If the thought of a coloured suite fills you with horror, think again, as there are some beauties out there now. But if you can't face the whole matchy-matchy thing, why not choose a single funky coloured basin?
There are loads to choose from now in fantastic colours and shapes like this one (find similar at Kast). Pick up the ochre colour in the painted wall, then team it with striking terrazzo-effect, hexagonal tiles in monochrome. If this doesn't cheer you up in the morning, nothing will….
8. Embrace the wonder of wallpaper
Who says you can't use wallpaper in the bathroom? Bathroom wallpaper ideas are a welcome way to add colour to small cloakrooms, as long as there is plenty of ventilation it will be fine.
This small bathroom colour idea is stunning, not only a fabulous design wallpaper but it doesn't overpower the small space because it's balanced by the wall of white tiles. Continue the accent colours throughout the rest of the room by way of the towels and a bath mat.
9. Think about window treatments
A nice way to introduce colour into your bathroom is to add colour at the windows, with a colourful fabric blind, either plain or patterned, Venetian blinds or coloured shutters. There are some amazing styles around with something for every budget. If you are a dab hand with the sewing machine you could probably make your own roman blind.
This pop of sunshine yellow in an otherwise all-white and black bathroom is a striking way to add an accent colour. In a small bathroom using colour at the windows can help to draw the outside in, creating a sense of extra space.
10. Utilise the ceiling
Often called the 'fourth wall', the ceiling is a great way to bring colour in, either light or dark, to complement the rest of the colour scheme or as a contrast.
Alternatively, why not use a mural wallpaper (or paint a mural yourself) on the ceiling to give it a different dimension?
11. Upcycle a vanity unit
If you're using a pre-loved piece of furniture as a vanity unit, why not paint it in a bright colour with some leftover paint so that it really stands out? You could change the handles as well to give it a whole new look.
This is a good idea if you're unable to paint the walls of your small bathroom as it gives you another way of bringing a bold or dramatic colour into the room.
12. Paint the bath
Make a statement in a small bathroom by painting the bath in a standout shade from the rest of the room. In this snug-sized bathroom, the contrast of pale pink against darker blue is a gorgeous combination that makes for a stylish scheme.
Ensure you prep yourself on how to paint a bath with a step by step guide to make sure the DIY job is done properly, otherwise, the colour won't last.
13. Add colour with accessories
For a really quick and simple revamp, just buy a selection of on-trend accessories in the latest colour, especially if your bathroom is white. A new bathmat or towel would really add a pop of colour and won't cost a lot and the same goes for soap dispensers or toothbrush holders – plus if you grow tired of them, they're easy to replace.
What colour is best for a small bathroom?
'Your bathroom is the space where you prepare for the day, and likewise, where you prepare to unwind for the night,' says Sarah Lloyd, Senior Brand Manager at Valspar.
'To maximise the space's multiple purposes, it's important to choose bathroom shades which provide both a sense of revival and relaxation. Warm greys such as Valspar's White Cliffs, as well as pale blues like Chapel Choir create an atmosphere of calming revitalisation, perfect for the space where you go to recharge and repose each day.'
What colour makes a small bathroom look bigger?
'Small, dark rooms are easier to decorate than people think,' says Aaron Markwell, Coat's colour curator, 'but here's a rule that's easy to follow and reduces cost and time for painting these rooms. Paint it all the same colour. Ceiling, walls, woodwork… all of it. Doing this will reduce visual contrasts and make the space feel more relaxed.
'You can make a space feel airy doing this, but it's still a dark room so every colour will take on a slight greyness,' Aaron continues. 'Maximise the impact of these small spaces by using deep tones like Adulting. This will help draw attention to the furniture, objects and art in the room, rather than giving you a constant reminder of how boxy the space is.'
What colours are in for bathrooms for 2023?
'We're seeing a demand for people injecting their own style and personality into their bathrooms, and there's no sign of this slowing down for 2023,' says Emma Bestley from YesColours! 'Lilac is rising through the ranks of popularity. A once underappreciated colour, lilac is now working its way from the catwalks into our homes, and even the bathroom. The cool blue tones mixed with subtle red offers up an inspiring space, which pairs very well with brass, chrome or matt black detailing. It's incredibly versatile.
'Bathrooms can still be a place for fun,' Emma continues. 'Olive green, bright pink and deep aqua are all colours which are reminiscent of the tropics and injects that energetic holiday spirit. Those who prefer a more classic style can bring depth and drama with a monochromatic look. Think dark shades of grey contrasted by white for a clean crisp style. This look works beautifully in period homes with tall ceilings and architectural features.'
Get the Ideal Home Newsletter
Sign up to our newsletter for style and decor inspiration, house makeovers, project advice and more.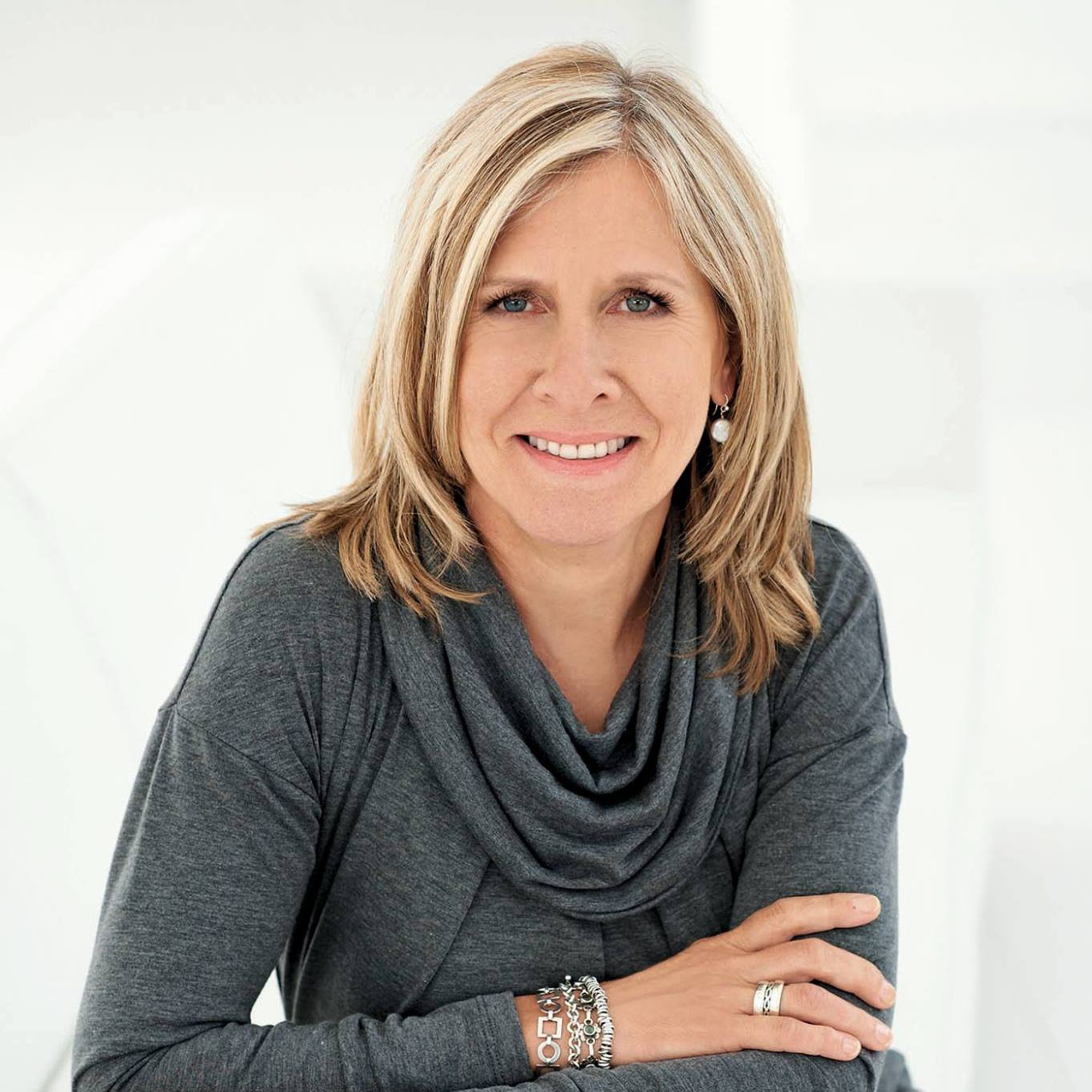 Alison Davidson has been working as an interiors and lifestyle journalist for over 30 years. She has been Homes and Gardens Editor of Woman & Home magazine and Interiors Editor of House Beautiful magazine, she has also freelanced and worked for most of the interiors magazines at one time or another. She is currently embracing the move to digital using the same knowledge and expertise to produce high quality features.