7 best trees for small gardens, and how to help them thrive
Think your garden is too small to plant trees in? Think again...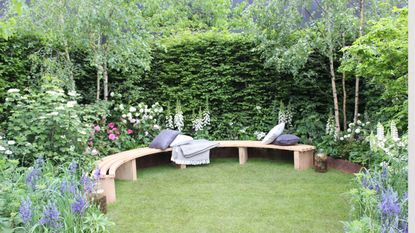 (Image credit: Heather Young/Future Publishing Ltd)
The best trees for small gardens might sound like a contradiction, but if you kept an eye on this year's RHS Chelsea Flower Show coverage you'll have spotted that trees in small spaces were big news. There has been a definite spike in Google searches for trees that people can incorporate into their small garden ideas since the event took place earlier this month.
Many of the show garden plots - which are far smaller than some traditional gardens - included beautiful groves of trees such as Gavin McWilliams and Andrew Wilson's Memoria & GreenAcres Transcendence Garden.
'While you might have a small garden, thinking about trees is a really good thing from a wider environmental point of view,' they said.
The silver-gilt winning space has sparked many a new RHS Chelsea Flower Show trend – not least of all a new way to look at how we use trees in our garden ideas.
What are the best trees for small gardens?
'It's important to consider several key factors such as the size of the tree, its growth habits, and its suitability for the specific space,' says Morris Hankinson, director of Hopes Grove Nurseries.
These are as follows:
SIZE: Look for trees that have a smaller mature size or can be pruned to maintain a compact shape. Dwarf or columnar varieties are often suitable for small spaces. Consider the tree's canopy shape and growth habits. Trees with a narrow, upright form or weeping habit can be good choices for limited spaces.
SPACE CONSTRAINTS: Measure the available space in your garden and think about both the horizontal and vertical dimensions. Ensure that the tree's mature size will not outgrow the area. Check for any overhead obstructions such as power lines, buildings, or other structures, and choose a tree that will not interfere with them.
ENVIRONMENTAL FACTORS: Assess the growing conditions in your area, including sunlight exposure, soil type, and moisture levels. Select a tree species that thrives in the specific conditions of your space. Consider the hardiness zone of your location and choose a tree that is suitable for that zone.
MAINTENANCE REQUIREMENTS: Evaluate the maintenance needs of the tree, including pruning, watering, and pest/disease resistance. Choose a tree that fits your available time and resources for maintenance.



Phew, there's a lot to think about – but nobody ever said that figuring out how to plan a garden would be easy.
With Morris' considerations in mind, then, here's our pick of the very best trees for small gardens...
1. Snowy Mespilus tree
Branding this a 'classic small garden tree,' Dan Ryan, the parks and garden manager at Gatton Park, says that the Snowy Mespilus tree (or Amelanchier lamarkii, if you want to get fancy) is a gorgeous 'small tree that has white spring flowers followed up by dark red summer berries'.
He adds: 'Sometimes called the Juneberry Tree as well, this one is deciduous, but you always get a lovely orangey bronze colour before the leaves drop.'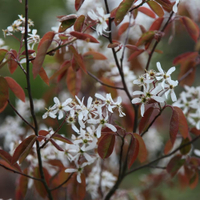 Snowy Mespilus | from £19.99 at Crocus
Looking to add some year-long intrigue to your garden? This gorgeous flowering tree comes in several different sizes, which means you can pick the one best suited to your garden.
2. Ornamental cherry tree
Is there anything more spectacular-looking than the pink fluffy flowers of an ornamental cherry tree?
As per the Royal Horticultural Society, look for a variety such as the Prunus 'Kiku-shidare-zakura, as these are usually grafted to create a smaller tree (topworked), reaching a height and spread of 3-4 metres.
Ideal for a small garden, right?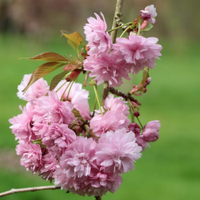 Prunus 'Kiku-shidare-zakura' | from £69.99 at Crocus
This magnificent weeping tree, which explodes with rich pink blossoms in the spring, is ideal for a small garden (and it's a guaranteed hit on Instagram, too!).
3. Photinia Red Robin
'Evergreen pleached trees are always very popular and Photinia is no exception, these plants give the opportunity for attractive high level screening to soften the impact of nearby buildings and structures, or to regain lost privacy,' says Morris.

'Pleached Photinia trees are suitable for all reasonable soils, they will grow in any normal garden soil that is not prone to waterlogging.'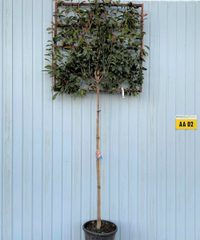 Photinia Red Robin | £368.76 at Hope Grove Nurseries
These beautiful trees give the opportunity for attractive high level screening to soften the impact of nearby buildings and structures, or to regain lost privacy.
4. Paperbark Maple
'This small tree is best grown as a multi stemmed specimen,' says Dan. 'Its most notable feature is the bronze or orange peeling bark which looks stunning all year.
'It has insignificant green flowers in the spring which lead to the playful helicopter seed pods that Acers get. And it has lovely semi-cut leaves, which again produce a lovely autumn display, leaving the striking bark to shine all winter.'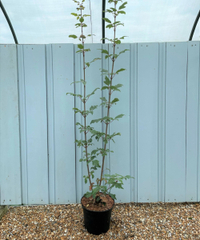 Acer Griseum (Paperbark Maple) | from £33.59 at Hopes Grove Nurseries
A super, low maintenance addition to any garden, make this tree a central feature to showcase its striking foliage.
5. Olive tree
Every garden needs an evergreen, says Dan, and an olive is the perfect choice.
'Its silvery foliage adds brightness to any garden, it can be maintained to almost any size or shape, and if it does grow a bit too big for your liking, it tolerates being cut back very well,' he explains.
'In fact you often see old gnarled olive trees that have come from Italian terraced groves cut back and repurposed as ornamentals after their useful life as oil producing beauties.'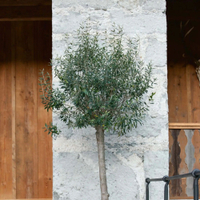 Olive Tree 35L | £145 at Homebase
If you are looking to add a touch of the Mediterranean to your home, this well-established olive tree is ideal.
6. Crab Apple
Piling praise on the small space appeal of crabapple trees, Gavin and Andrew explain that it's the sort of tree that offer plenty of interest throughout the year.
'With crab apples, you get the flush of spring blossom, but you also get the fruit and that stays on long after the leaves have gone. So, you've got this plant with several seasonal effects.'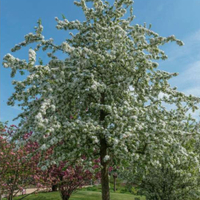 Malus 'Butterball' Crab Apple | from £59.99 at Primrose
Beloved by bees, this gorgeous tree produces distinctive golden yellow fruits, which remain through autumn and into winter.
7. Hawthorn
'When choosing a tree, I look for one that provides interest at different times of year, such as flowers followed by berries,' says Dan.
A classic hawthorn, with its thick clusters of white flowers in the spring, and striking red berries later on in the season, is a brilliant example of the sort of tree that ticks every box.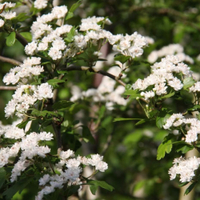 Hawthorn 'Plena' | from £69.99 at Crocus
A great ornamental option for the smaller garden or woodland setting, this thorny tree boasts foamy white flowers or bright red berries, depending on the season.
How big does your garden need to be for a tree?
Not very big at all, according to Dan!
'Having a tree in a small garden space can be the feature that ties the garden together,' he says. 'I would always recommend using one or more and being brave with it because almost no garden is too small – even flats with balconies.'
'Many trees are happy growing in pots and that can also be used as a method to slow down the growth rate or max size. You just have to be mindful of the watering in our increasingly dry summers.'
If your small space is also indicative of a smaller budget, then don't worry as, of course, tiny trees are less expensive than their larger counterparts. Make sure to check out garden discount codes for any seasonal offers to help cut costs even further.
What you will need to plant a tree:
If you have been left feeling inspired, here is what you will need to plant a tree in your small garden:
What are the best planting techniques for trees in small spaces?
There are a few things to bear in mind when it comes to planting your tree, according to Morris.
Make sure to do the following:
Dig a hole that is two to three times wider than the root ball and slightly shallower than the root ball's height.
Loosen the soil in the planting hole and mix in organic matter like compost to improve drainage and fertility.
Carefully place the tree in the center of the hole, ensuring that the top of the root ball is level with or slightly above the soil surface.
Fill the hole with the excavated soil, gently tamping it down to eliminate air pockets. Avoid compacting the soil too firmly.
Water the newly planted tree thoroughly to settle the soil around the roots. Apply a layer of mulch around the base of the tree, leaving a gap around the trunk to prevent moisture buildup.
If the tree is top-heavy or prone to wind damage, secure it to stakes with soft ties. Staking should be temporary and not overly restrictive to allow for natural trunk movement.
Now, it's time to put all of that knowledge to good use. Race you to the garden, OK? Let's see who can get their tree planted the quickest...
Get the Ideal Home Newsletter
Sign up to our newsletter for style and decor inspiration, house makeovers, project advice and more.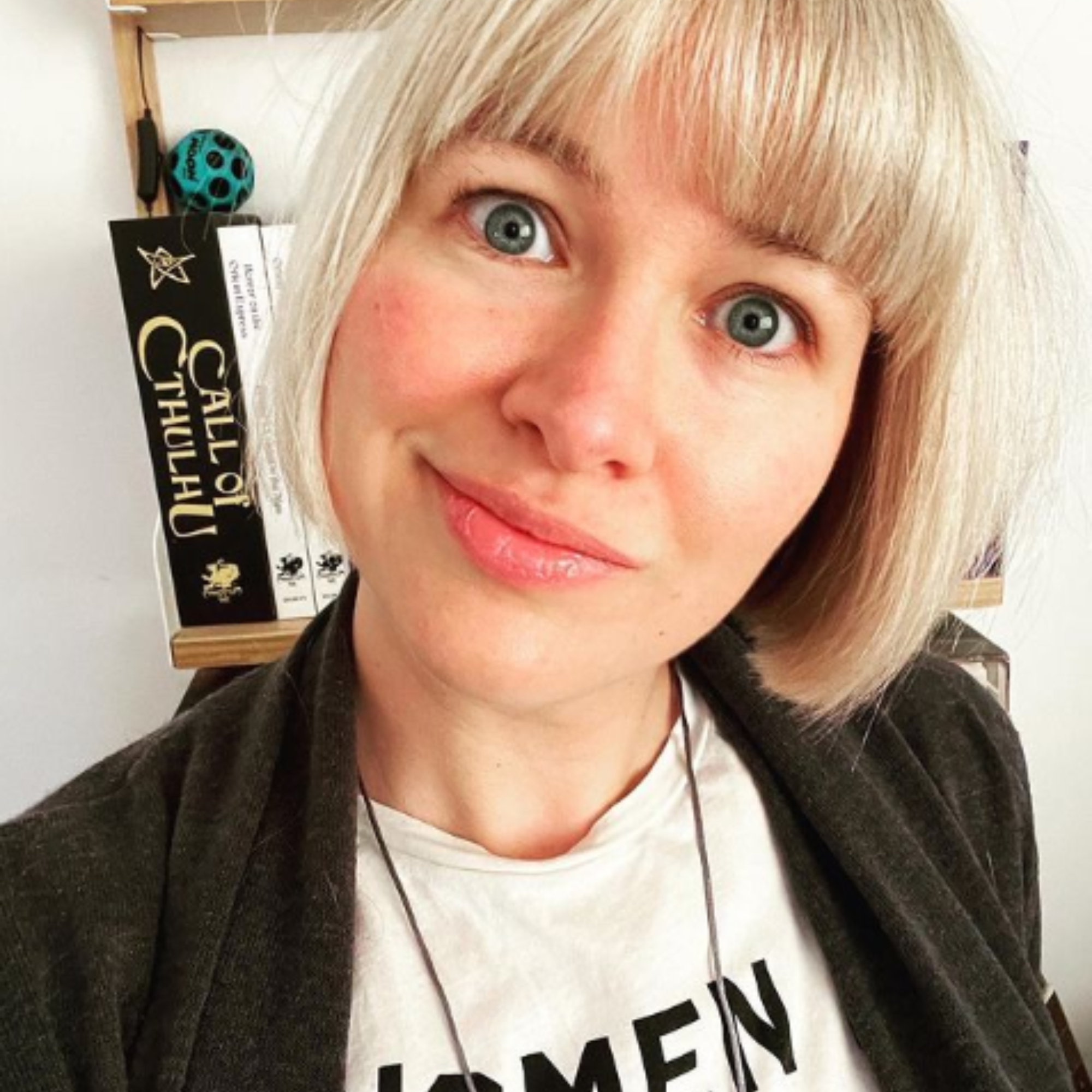 Kayleigh Dray became Ideal Home's Acting Content Editor in the spring of 2023, and is very excited to get to work. She joins the team after a decade-long career working as a journalist and editor across a number of leading lifestyle brands, both in-house and as a freelancer.