Garden fence ideas – 32 options that will give you showstopping boundaries
Garden fence ideas to give you privacy and structure without compromising on beautiful design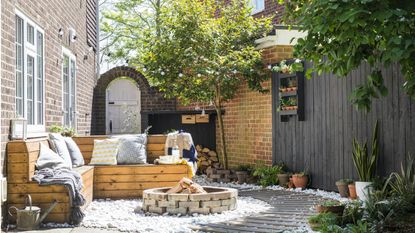 (Image credit: Future PLC)
When you're planning summer barbecues, parties or just unwinding in your garden, your garden fence is not usually something you factor into your garden checklist. However, prioritising your garden fence ideas can give your garden a total refresh. Giving your garden fence a facelift can be as simple as a lick of paint or more elaborate with a complete replacement.
No matter if your garden ideas are within a small or big garden, there are a large variety of styles and materials, from wood for a classic traditional look, to metal for a modern and contemporary look.
'Unique fence designs can be created by the homeowner and not just the manufacturers,' says Leigh Barnes, expert at Jacksons Fencing. 'Combining fence panels with either a trellis or fence panel topper is a great fence idea to personalise your fence line and make it your own. It also provides you with the combined benefits of different fence types. For example, using a privacy fence panel with a semi-solid trellis on top offers privacy but keeps light flowing into the garden.'
Garden fence ideas
A good garden fence can provide structure and definition to your garden landscaping ideas making it picture-perfect all year round. Your garden fence ideas aren't purely for separating one garden from another but can set the overall character of the garden. 'Giving your fence a touch of TLC is a great way to refresh your outdoor space,' says Michael Rolland, DIY expert at The Paint Shed.
Get inspired with these garden fence ideas to suit different styles and budgets.
1. Create a living wall
Instead of going for a standard fence, a pretty boundary can be created from a living wall for a natural fence of green foliage. This works especially well for your small garden ideas because it adds greenery and interest without taking up too much floor space. The living wall can be unique to your garden incorporating flowers such as Vinca minor (lesser periwinkle) and Saxifraga x urbium (London pride) which work well with vertical planting.
Long grasses will add depth to your living fence and climbing ivy will cover any gaps you may have for a full look. If you want an easy garden idea, pre-planted modular panels give you a fence in full bloom with little effort. Make sure to include a range of herbaceous perennials, grasses, herbs, seasonal flowers and scented plants. If you are struggling to know what to plant ask your local nursery for advice.
2. Incorporate art with a mural
Art is something that is not limited to just within the house, a mural on your fence is a fun way of adding colour to your garden. Using your garden paint ideas to make a mural will lift a bland garden scheme and provide an interesting focal point. When painting a mural on your fence, choose bold colours which will enhance the nature in your garden, think pinks,redsd, oranges, blues and greens.
Before you start painting your work of art, give it a good clean and remove any flaking paint, moss or dust from the fence. With a wooden fence, certain areas may need to be sanded to give a nice smooth surface and any holes filled with wood filler. Protect your surrounding plants and grass by putting down an old cloth and prime a wooden fence with an acrylic base coat.
3. Light up your fencing
'Festoon garden lights can be added along any garden fence for a touch of luxury, and are perfect for illuminating your garden all year round,' says Tom Cain, technical engineer at UltraLEDs. Garden lighting ideas along your fence not only look good but are an easy way to light up steps and paths in your garden to keep it safe at night.
'These garlands of twinkling bulbs can add a playful and celebratory atmosphere to any garden party, whether you're marking a special occasion or just hanging out with friends and family. These lights have many benefits, including energy efficiency, durability and safety too. In fact, one LED bulb is so energy-efficient that it can last up to 50,000 hours, benefitting both your wallet and the environment.'
If you do string LED lights along your fence all year round, they need to be suitable for all kinds of weather. Make sure they have at least an IP44 rating so the lights are protected against light rainfall, if you expect heavier rainfall choose a higher IP44 rating.
4. Use fencing as a background for seating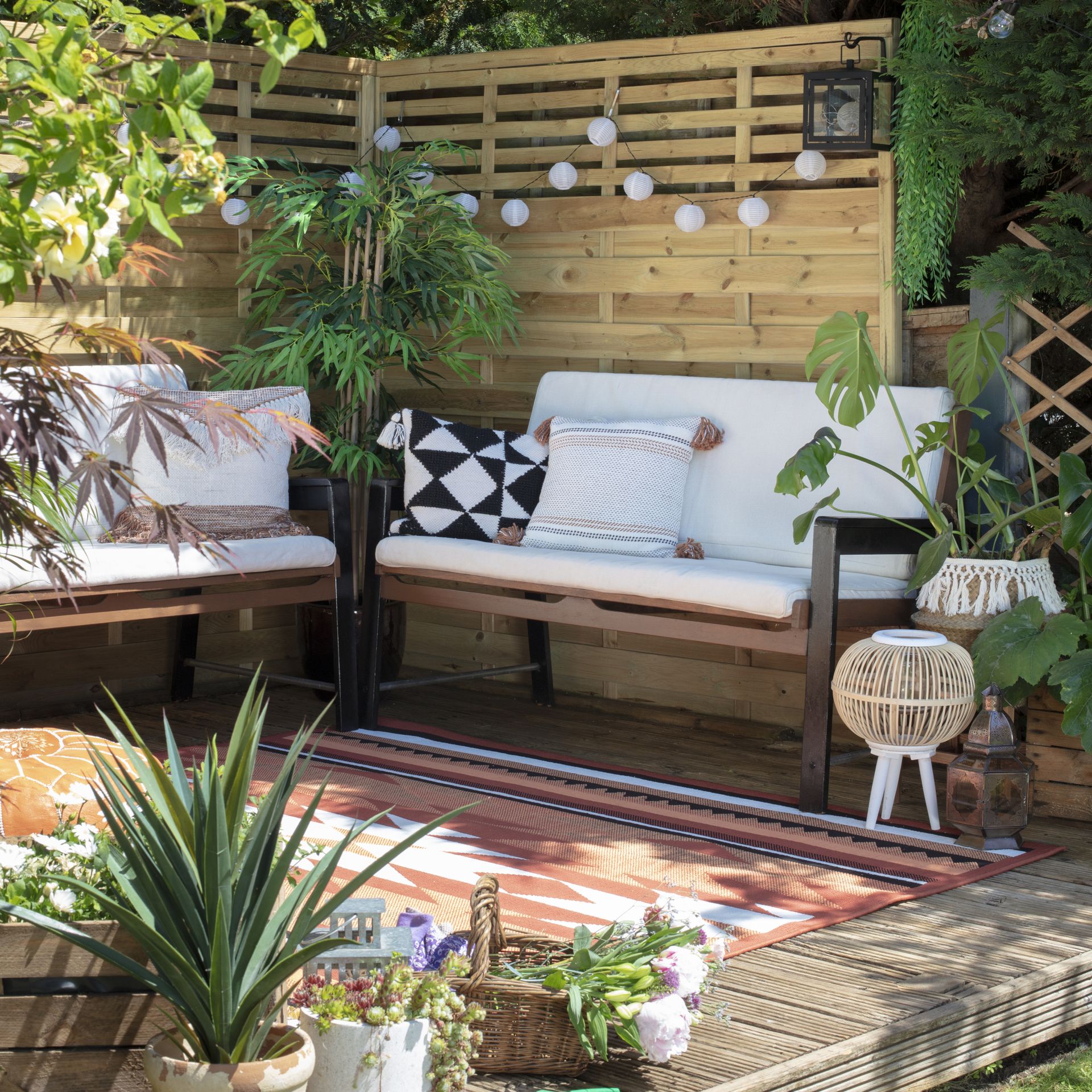 If you are lucky to have enough space for a separate garden seating area, use the fence to cocoon it to create your own private seating zone. Placing your seating in a corner with a fence on two sides creates a mini 'room' extending your living space out into your garden. Having the fence surround your seating area not only provides a comforting boundary but gives added privacy from any nosey eyes.
To stop your fence from feeling bare Angela Slater, gardening expert at Hayes Garden World recommends, 'Plant the fence up thickly with evergreen and herbaceous climbers which flower at different times of the year. Try and make sure there is a constant supply of colour.'
5. Use deconstructed pallets to make a fence
For a budget garden idea that will not only provide a solid structure but will get you hands-on with your garden fence ideas, create your fence from pallets. Pallet ideas for the garden are an eco-friendly way to give old wood a new lease of life as a fence.
'Deconstruct pallets and use the boards to make a fence,' says Angela Slater from Hayes Garden World. 'However, they do need a post and rail frame on which to nail them. For added interest, instead of nailing on the boards in a vertical position, fasten them on at a slant or place the boards horizontally for a contemporary look. Deconstructed pallets do involve a little work; as they are just rough timber, they do have to be sanded down. They also need to be protected against the elements otherwise they will soon rot.'
Wood pallets provide stable and resilient fencing material and can be picked up very cheaply or sometimes for free from local businesses. Using leftover pallets for your fence prevents them from ending up on a rubbish heap and adds a rustic twist to your garden.
6. Place shelves on your fence
A fence with shelving provides you with not only a boundary but somewhere for extra storage and decoration. Shelves can maximise your garden storage ideas by holding regularly used garden tools, or to place decorative potted plants.
'Shelves can provide you with a lot of unique possibilities. You can use the shelves for bird feeders or attract insects such as butterflies. You could even create an outdoor kitchen area with shelves incorporated,' says Thomas Goodman property expert at Myjobquote.co.uk.
If you love entertaining then use the shelves as somewhere for people to perch their drinks or plates of barbecued goodies.
7. Create a mixed hedge boundary
Mixed hedges provide seasonal colour to your fence all year round, and will blend in with the rest of your garden greenery. When looking at garden border ideas, hedging is a great option.
'Growing a native mixed hedge can provide privacy, security, if you include thorny shrubs, and food and shelter for birds and small mammals,' says Angela Slater from Hayes Garden World.
Mixed hedgerows provide both a nesting cover and a diverse source of food for animals, bringing a mix of wildlife to your garden. If you are a beginner gardener creating a mixed hedge fence is easy to maintain and grow because it suits a wide range of soils and climates. Unlike a single variety hedge, a mixed hedge will give you a variety of colours, shades and shapes.
When thinking about which plants to incorporate in your hedge, Photinia is an evergreen plant that has vibrant red leaves, lilacs will offer a lovely fragrance and Sambucus has white flowers and produces black fruit.
8. Turn things on their head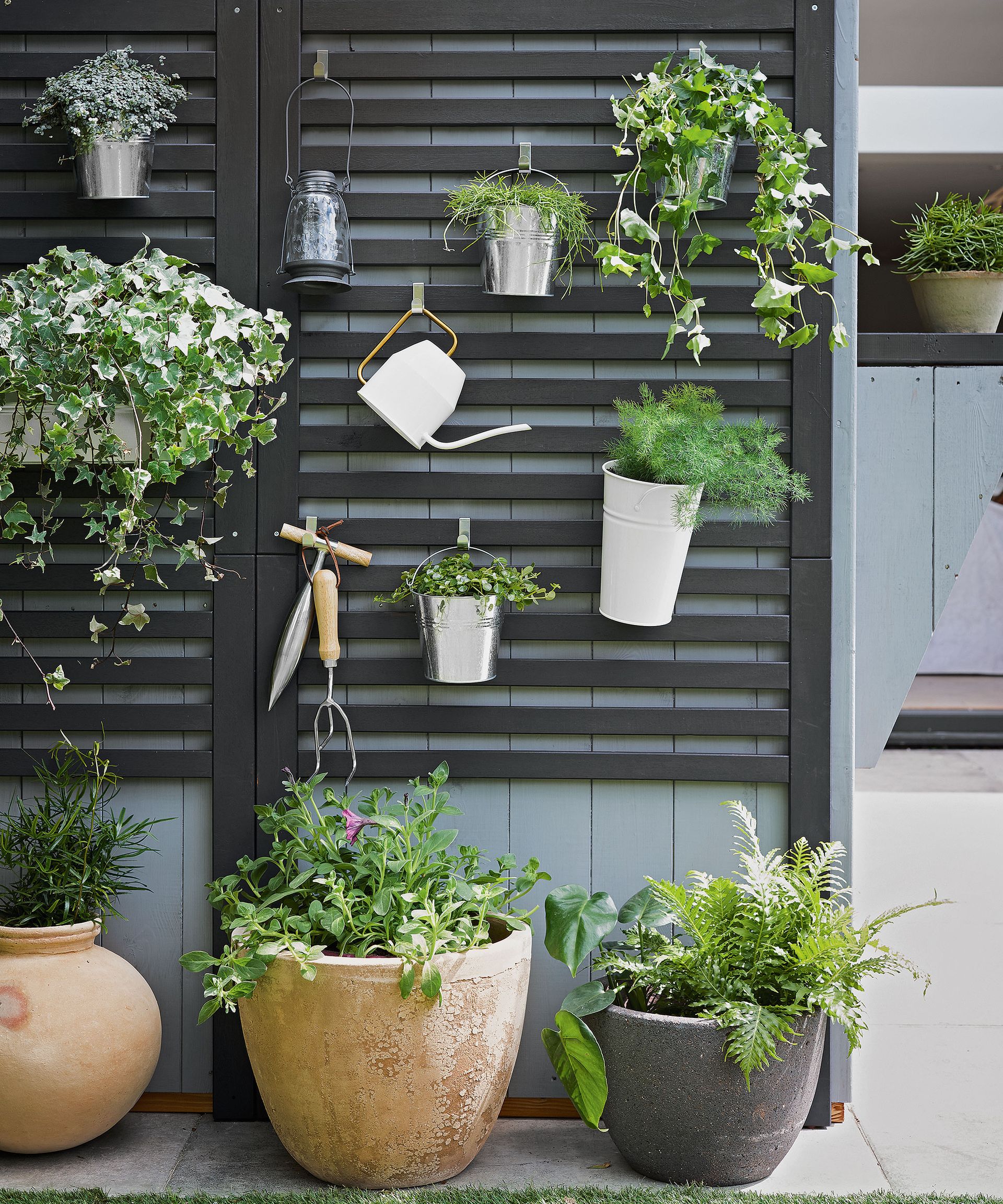 Think outside the box when it comes to your fencing and get creative. You don't have to use fence panels in the orientation they were necessarily intended, especially if it doesn't suit your space. Here, fence panels with vertical panels have been turned on their sides and joined together to create fencing that works better for the space. It also allows the home owner to hang potted plants and gardening tools from the horizontal slats, creating storage space too.
9. Break it up with bamboo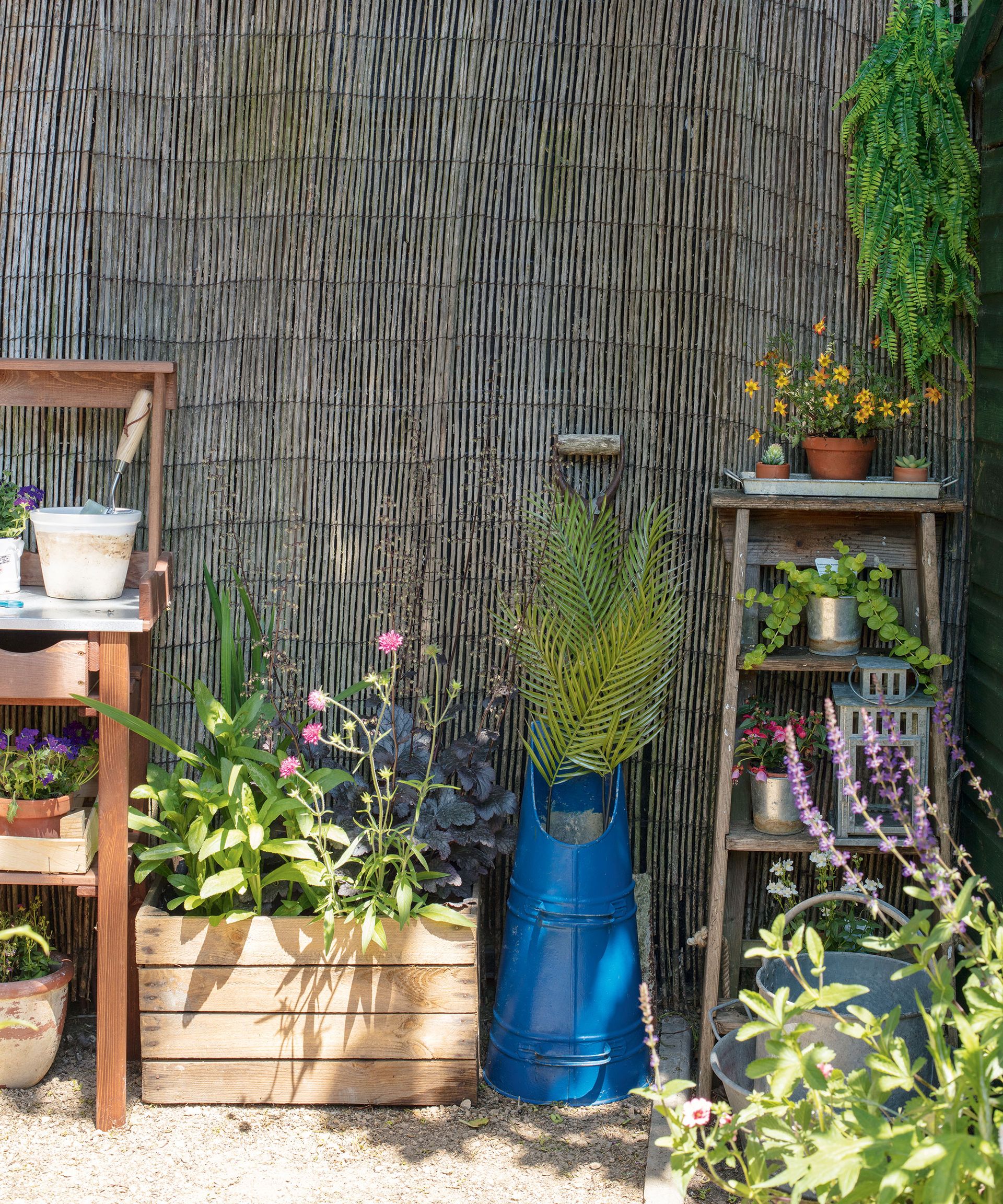 Garden fences are not only used along the boundaries of your space, but can also be used to zone different areas within your plot too. Bamboo screens are great for this as they are lightweight so you can install them yourself, plus have a malleable quality to them, making them great for all spaces. They can also be cut to the size you need, and any off-cuts make lovely flower bed borders.
Angela Slater from Hayes Garden World says, 'Woven bamboo panels are a relatively inexpensive form of fencing but they do need a secure framework. Living bamboo plants make a quick growing green fence; just make sure you don't buy the invasive varieties. Sink slates on their edge around the space where you want the bamboo to grow, they are fairly shallow rooted and won't go underneath the slates but will stay contained within their allotted area.'
10. Take it back to black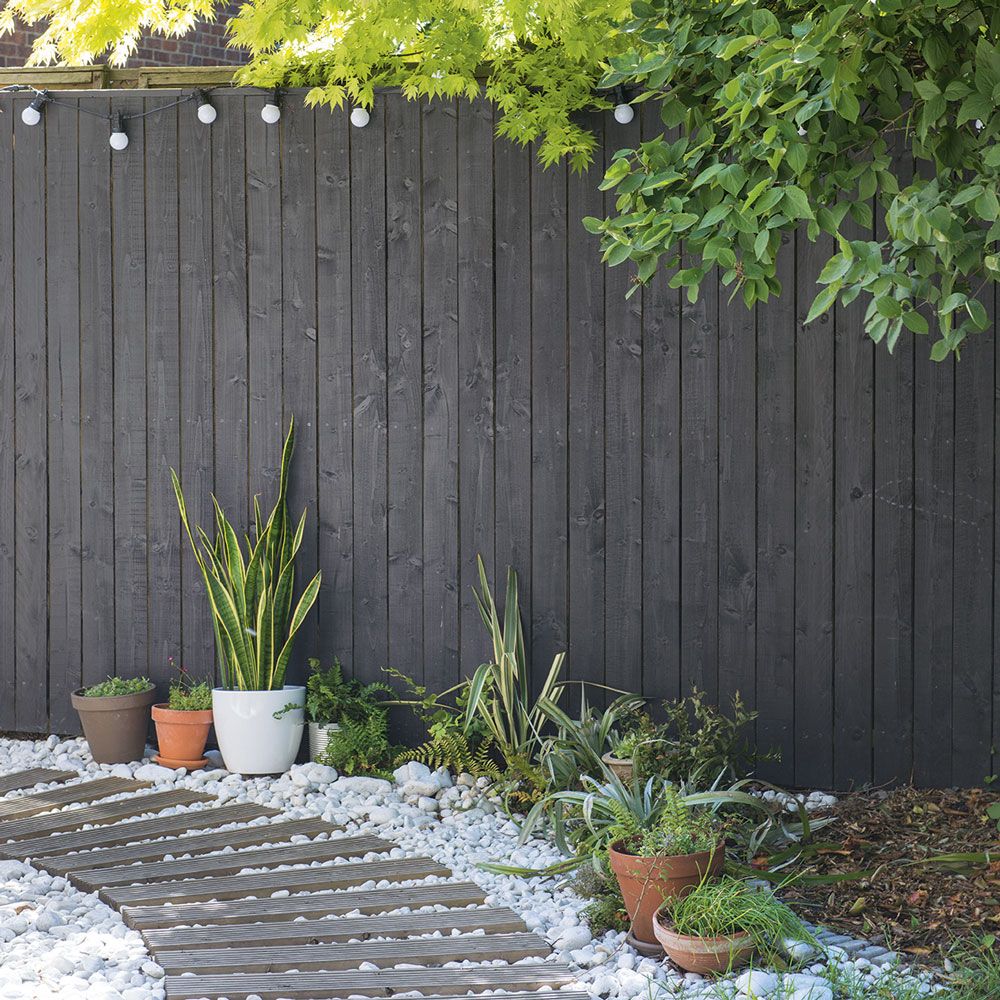 When considering how to paint a fence, black might seem like a bold choice for garden fencing, but by painting yours in this shade, will actually make the greenery around it seem greener!
Fresh green shades up against the black of your fence will make them stand out even more and gives a contemporary look that's easy to achieve. Finish the look by hanging a string of fairy lights along the top, which at night will create a cosy glow against your fencing.
11. Encourage ivy to grow in abundance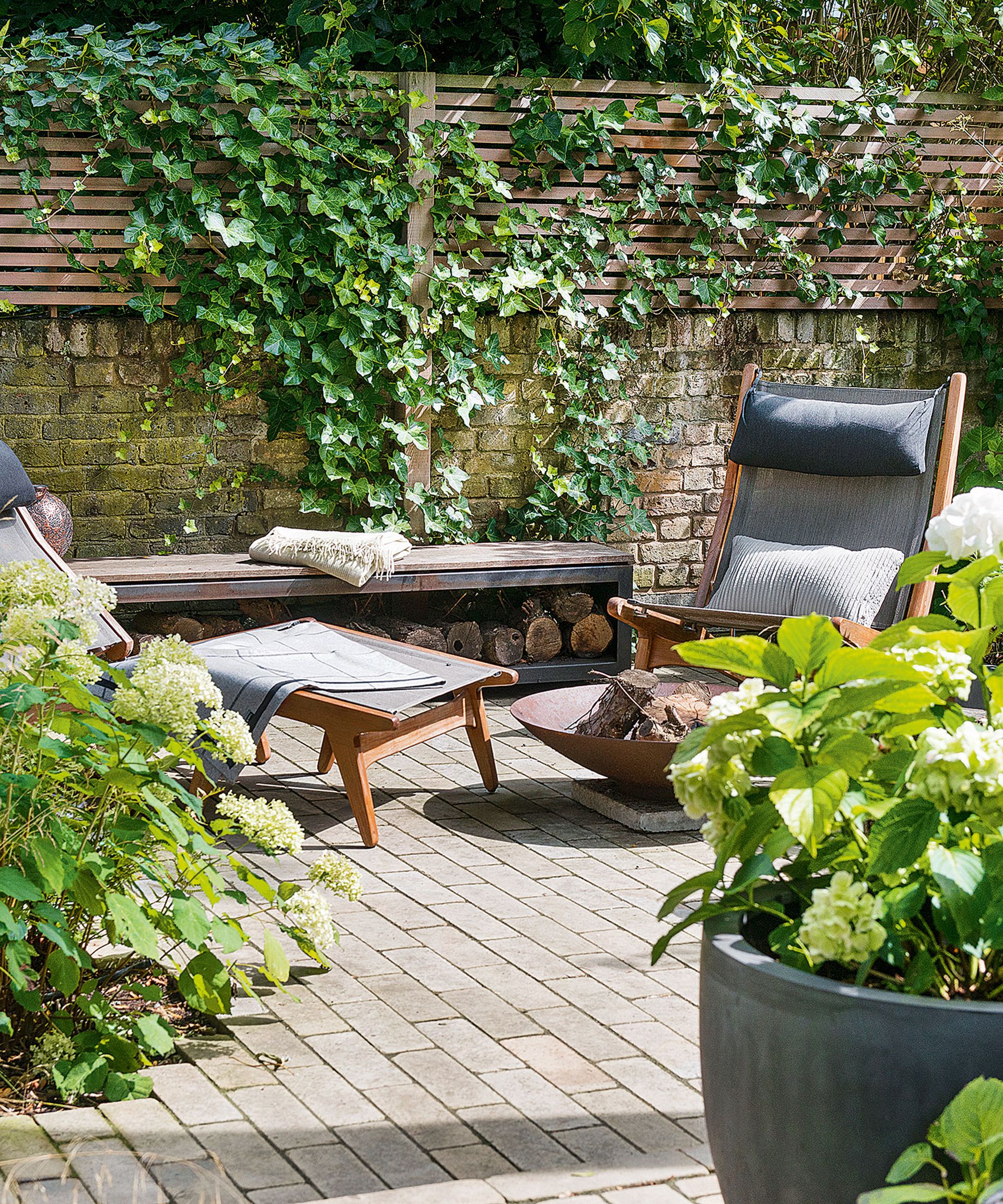 If it's not an option to replace your fencing, perhaps you can try and disguise it a little instead. Creepers and climbing plants like ivy will happily grow up and over walls, fences, panelling and more, so while it's fine to plant it up where you want this to happen, be aware that ivy can spread quite quickly and cause some damage to walls over a long period of time.
That might sound a bit scary, so while with maintenance ivy is easy to grow and live with, you could always opt for some panels of faux greenery to disguise ugly fencing instead.
12. Pop up a potting bench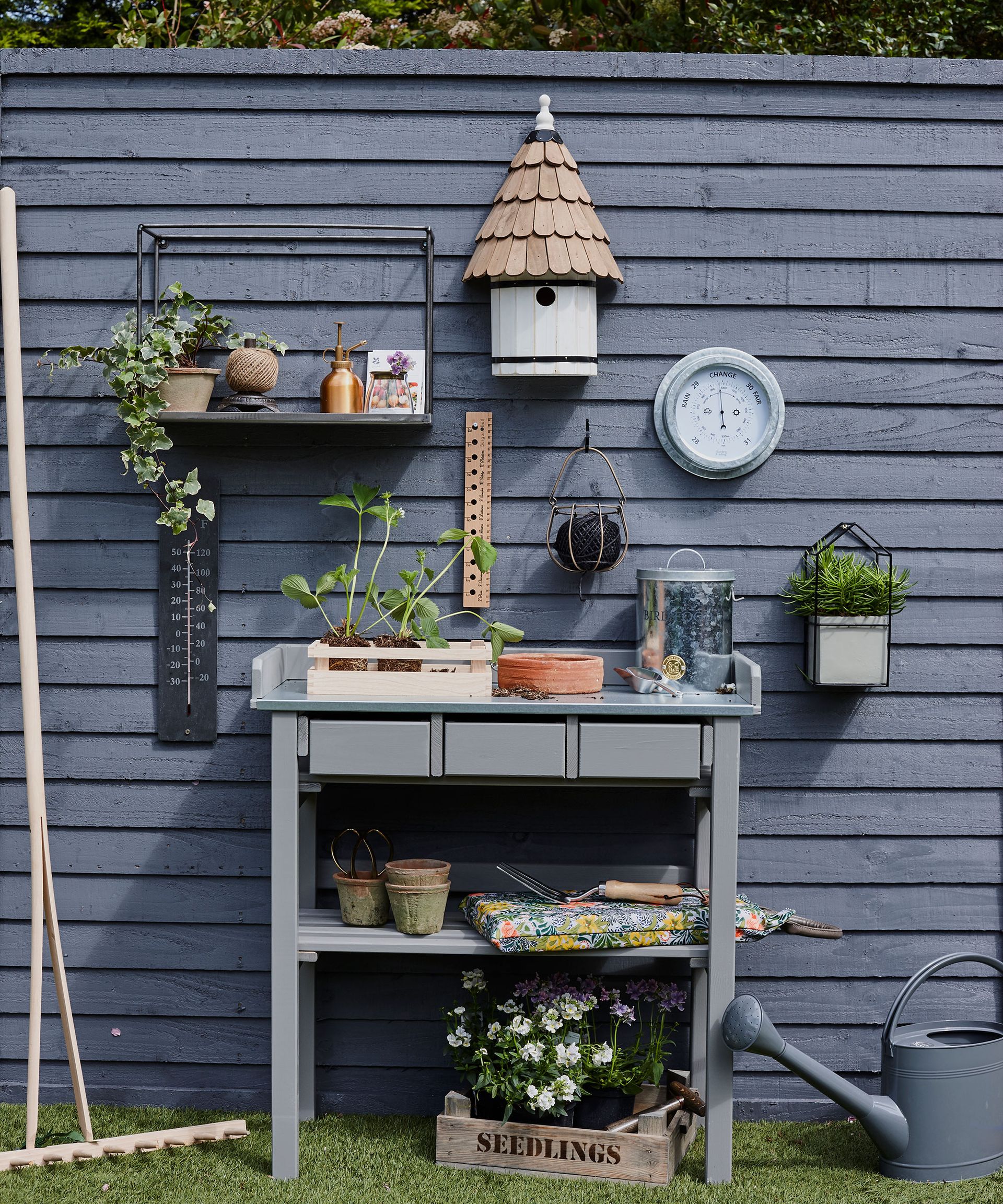 Turn your garden fencing into the backdrop for a potting station. Instead of your garden ending with just a solid fence, break it a bit by setting up a potting bench and work station to enjoy all summer long. Fixing up a couple of shelves will give you space to display potted plants and garden accessories.
13. Echo your fencing around the garden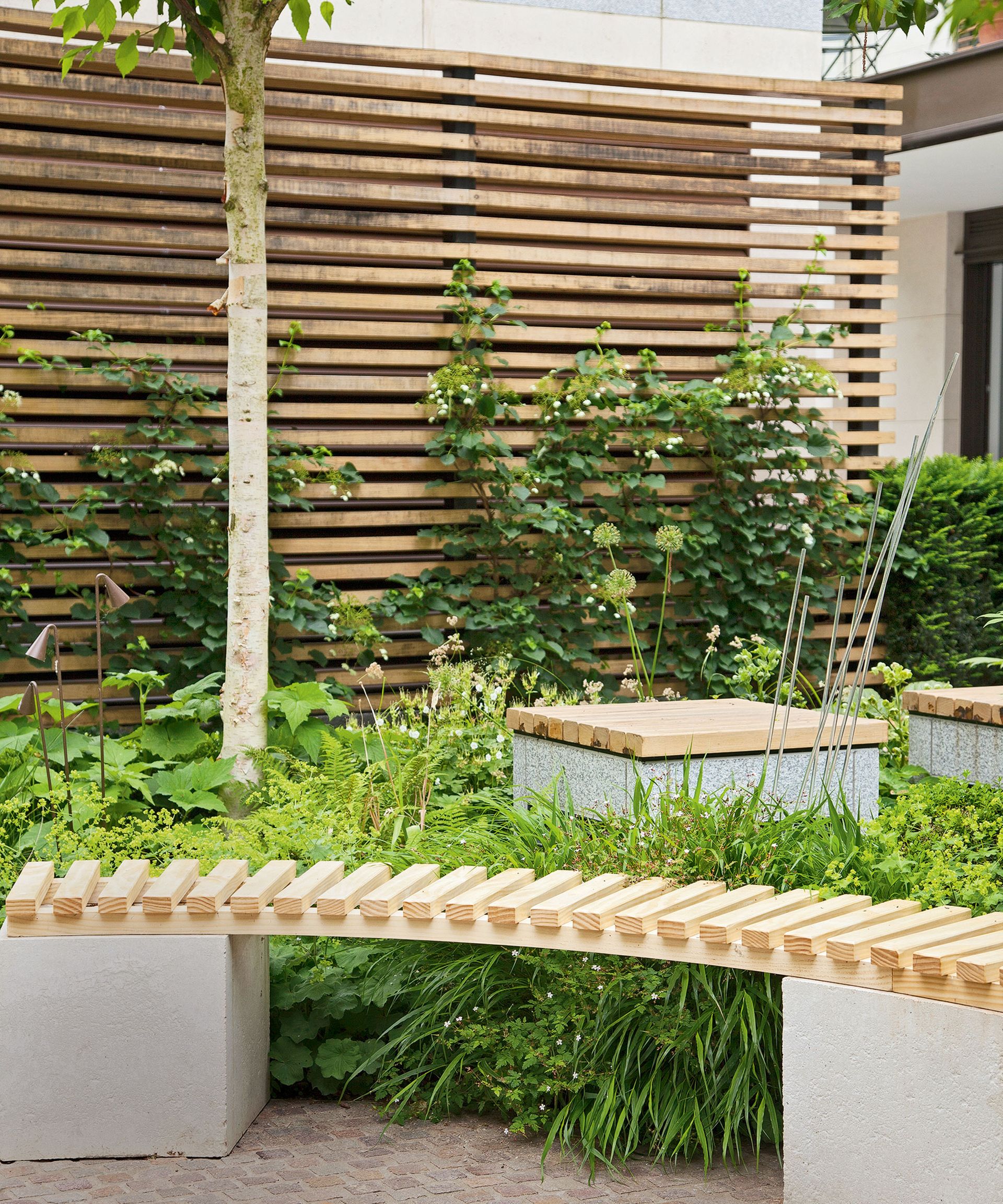 If you have chosen contemporary fencing that creates a feature in your garden, why not echo that feature to other areas too? Here the homeowner has made a bench with similar slim panels of wood as the fence behind, tying the whole space together. Thin, horizontal slats of wood are a modern, fresh look for fencing and whether painted or left bare, are perfect for courtyard gardens and turf-covered gardens alike.
14. Take it up a level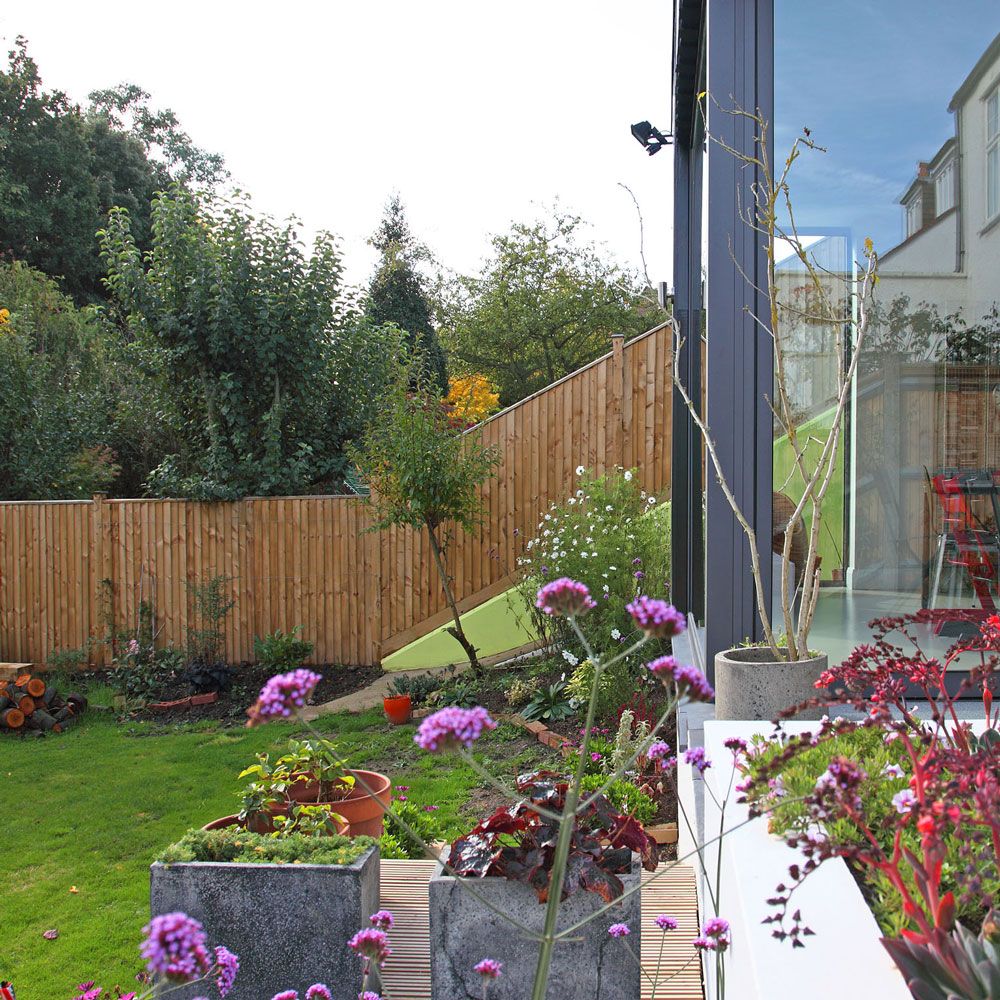 Use traditional lap fence panels to align the different levels of the perimeter of a garden. Run the design alongside an incline or stepped paving to create a continuation of the fence, rather than adding different height levels – making it feel disjointed. Rather than staining or painting the panels, simply seal them with a coat of wood preserving varnish for an understated finish.
15. Paint a feature wall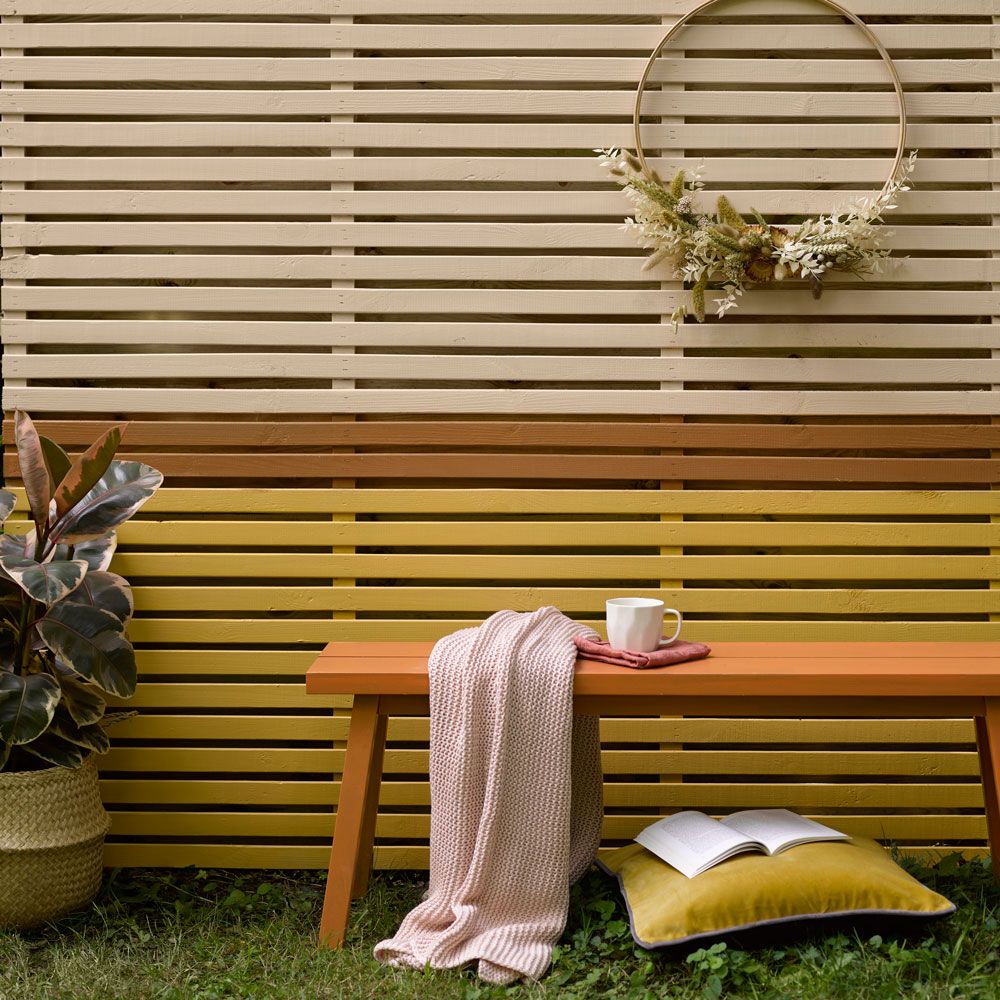 Update an old fence with new season trends with a splash of paint, creating a feature wall within your garden. Within your garden paint ideas try creating an ombre effect by choosing several colours in the same paint family. This delicious earthy colour palette is a mix of 'Bleached Rose'; 'Sandbank'; 'Gingerbread' and 'Sharon Fruit' all by exterior paint specialists Sadolin.
16. Make a playful statement with a two-tone panel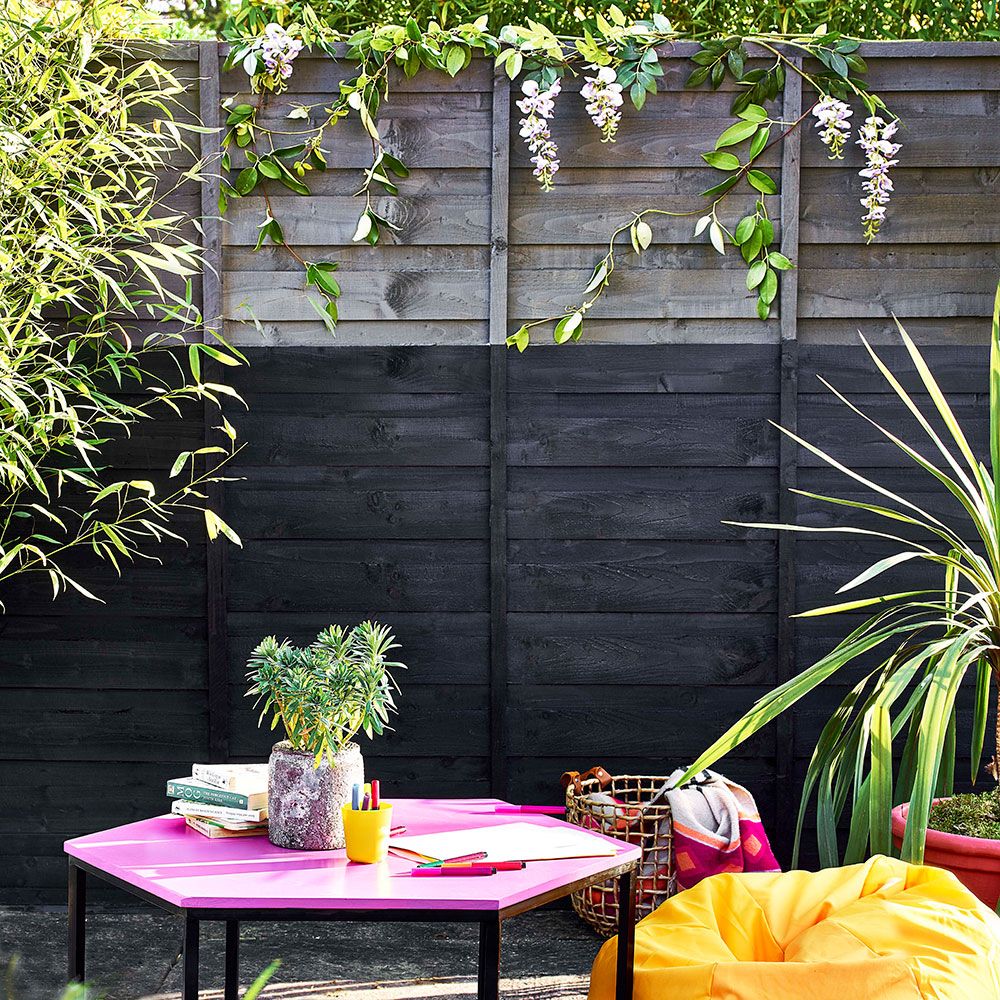 'Create a striking look for your fence in two tones,' advises Marianne Shillingford creative director at Cuprinol & Dulux. 'Keep the darker colour at the bottom to show off brightly coloured furniture and to make floral arrangements pop. All it takes is a bit of masking tape to get a sharp line between the divide.'
17. Soften the look with spacing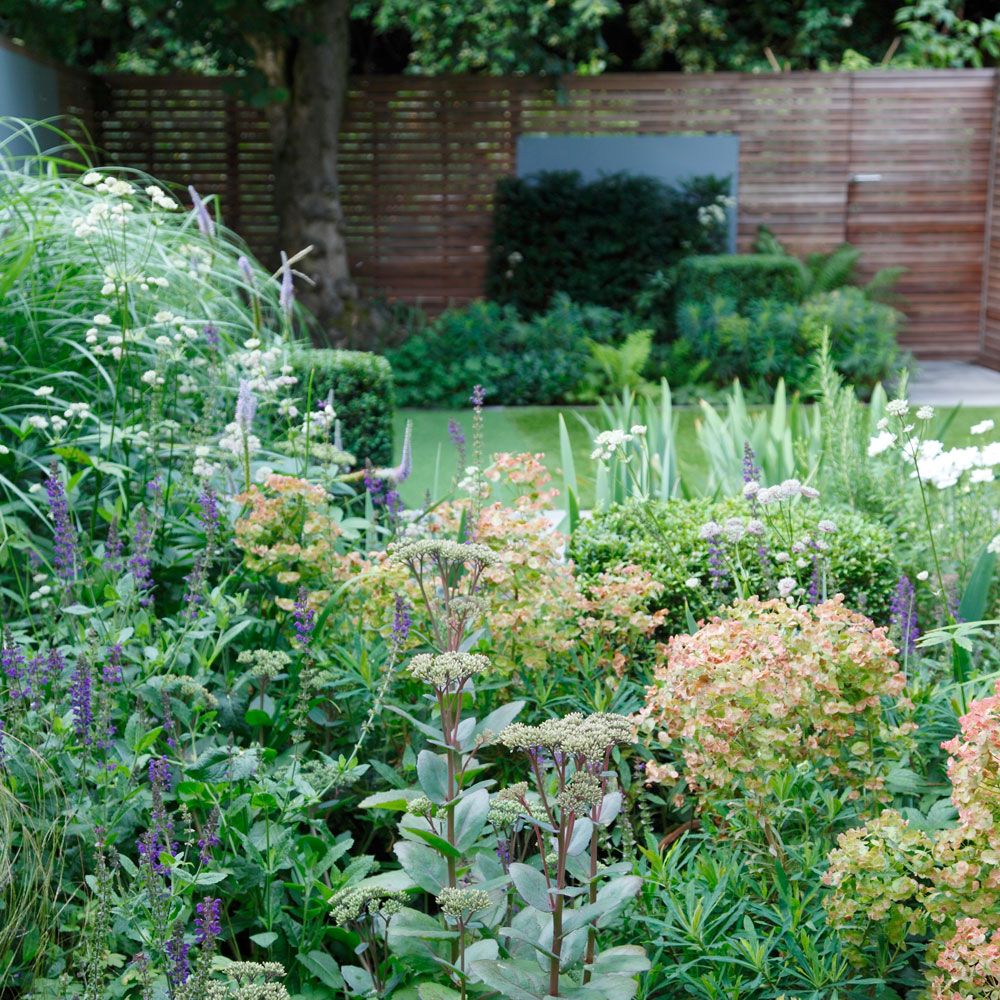 If your property is not over looked you may not wish to erect a solid fence panels. This slatted fence is a soften approach to setting the boundaries of a garden, without making it feel enclosed. The slim gaps between the slats allows a glimpse of the greenery beyond, in a sense extending the view of the garden – while still framing the grounds.
18. Bolt-on a neon pink trellis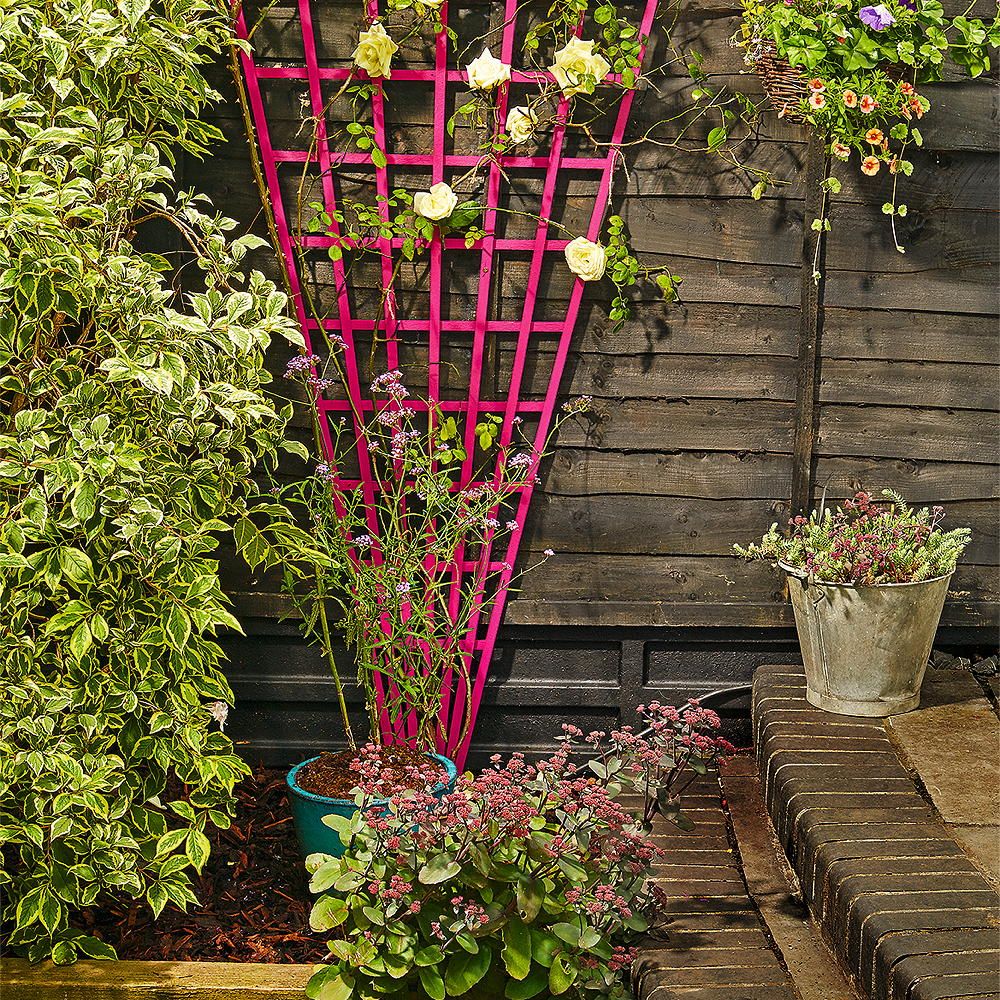 Give an old brown wooden fence a splash of colour with a colourful trellis. Fences are perfect for attaching trellis for climbing plants too. A vibrant trellis is a cheap and easy way to give your fence an easy, yet practical facelift.
A trellis fence allows you to screen one part of a garden from another without losing too much light. And if you're a fan of climbers like magnolia, it's also a cost-effective two-in-one option.
19. Repurpose old shutters as fences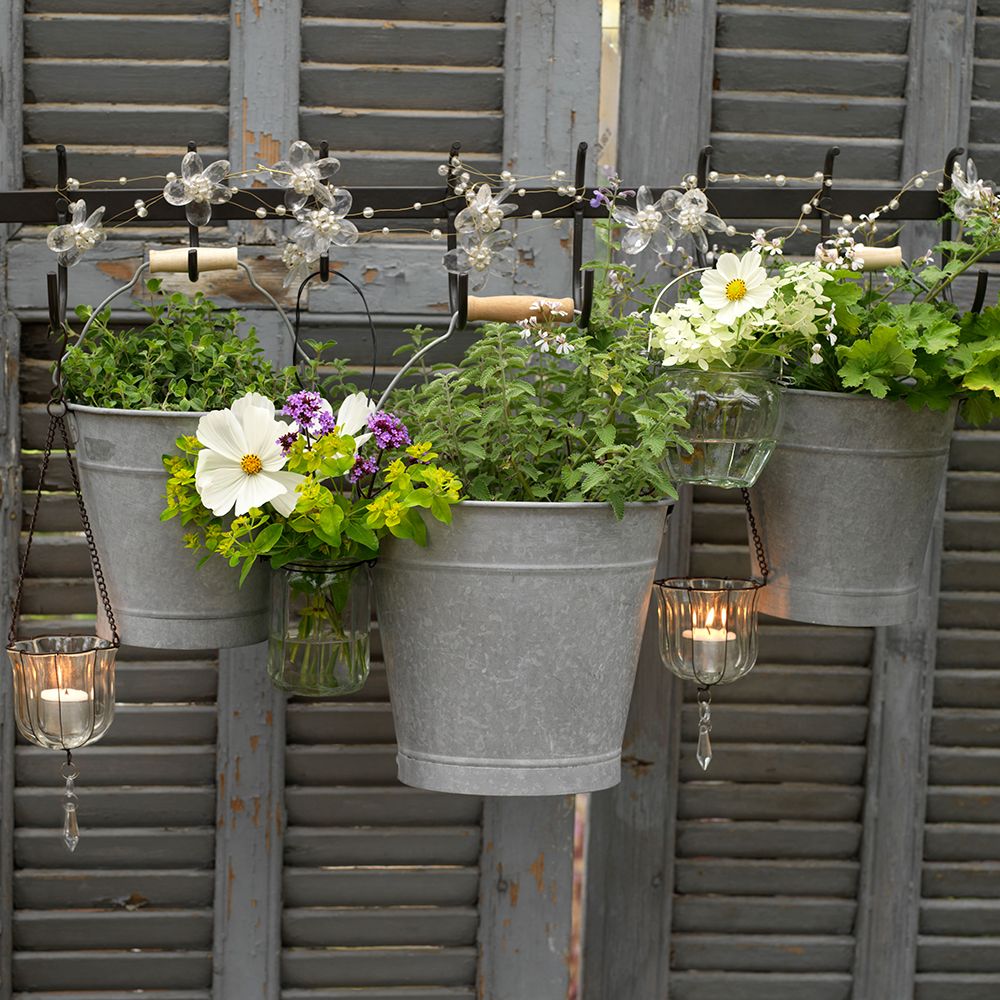 Create an innovative garden fence that has plenty of eco credentials by repurposing old shutters. Start by giving the shutters a coat of paint. Grey is a good colour for a backdrop, as it pretty much goes with everything, but white would look fab, too, especially when it starts to become rougher and less pristine. Add hooks to your shutter fence and use them to display pretty potted plants – buckets work well, as their handles make them easy to hang.
20. Create privacy with a fence extension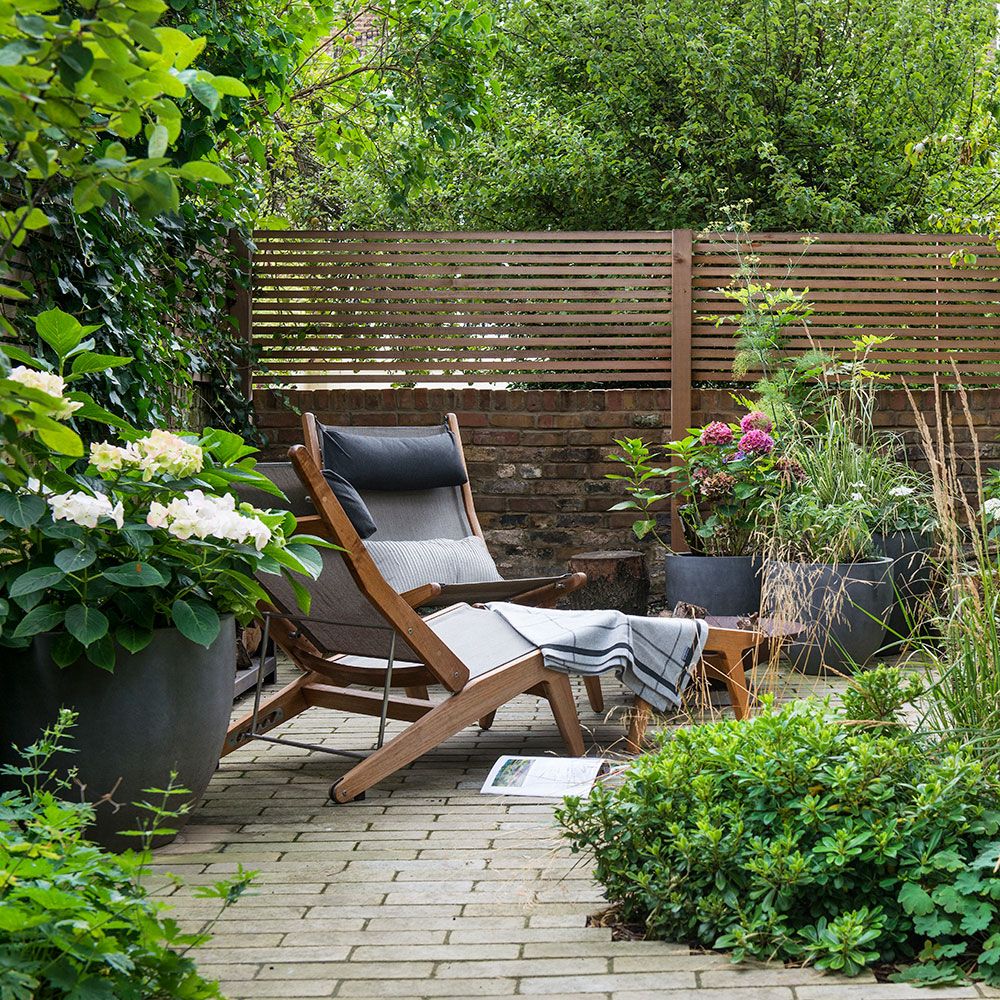 This beautiful low wall has so much character, it would be a shame to cover it up with full fence panels. Similarly, building it higher to give the owners more privacy would be costly and could make the space feel too institutional. This fence 'extension' has been carefully selected in a colour that complements the brickwork, and its horizontal slats have a contemporary feel to chime in with the landscaping's mix of traditional and modern.
21. Mount on an outdoor kitchen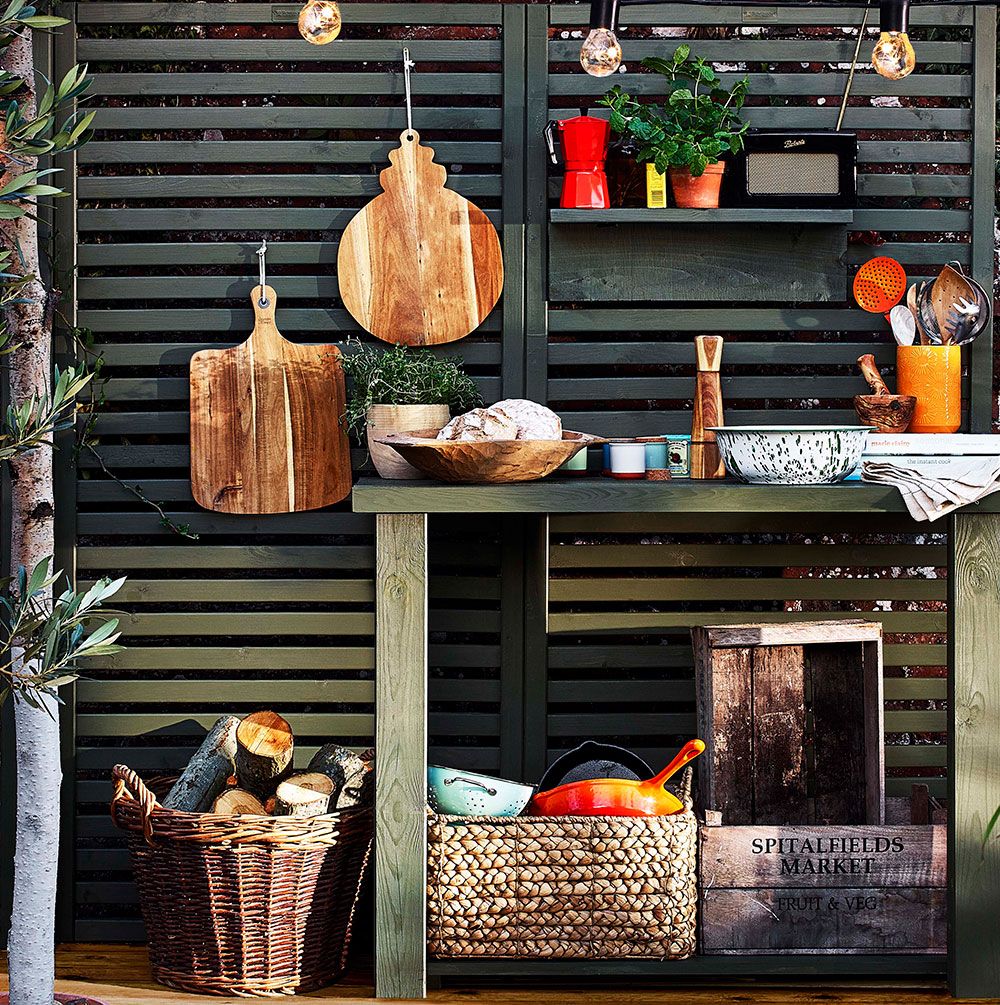 A slatted fence panel can be so much more! By adding a protective pergola above, a countertop and a shelf for storage, you can build up an outdoor kitchen for next to nothing. A little imagination, basic DIY skills and some timber can go a long way – add baskets for storing pots, pans and fuel for your outdoor cooker, and hang festoon lights so that you can cook well into the evening.
22. Paint your garden fence to make it colourful and cheery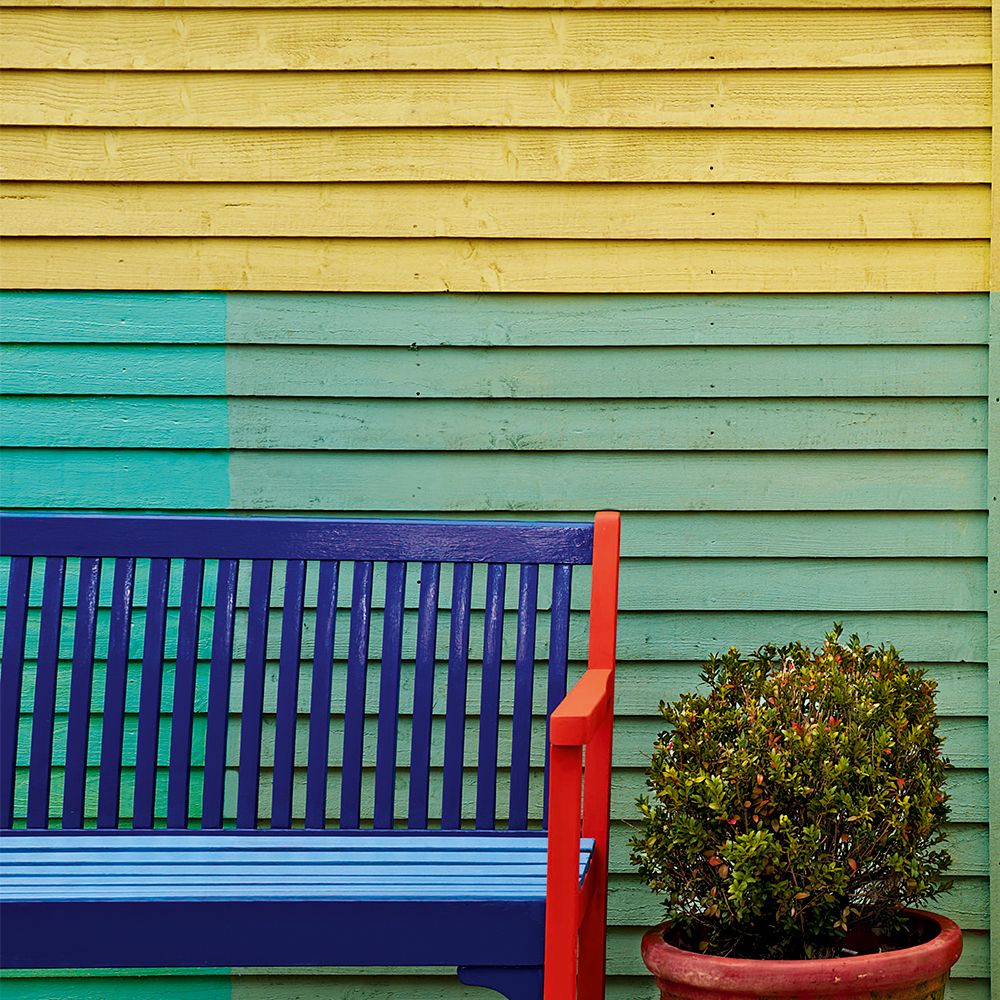 Let your garden fence stand out from the crowd with a stylish colour clash. If you're a brave sort, give your garden furniture a makeover at the same time. This picture shows that there are no rules. You could go for just one bold shade or divide your fence up into multiple panels – make masking tape your friend to achieve a perfectly straight line.
23. Camouflage in green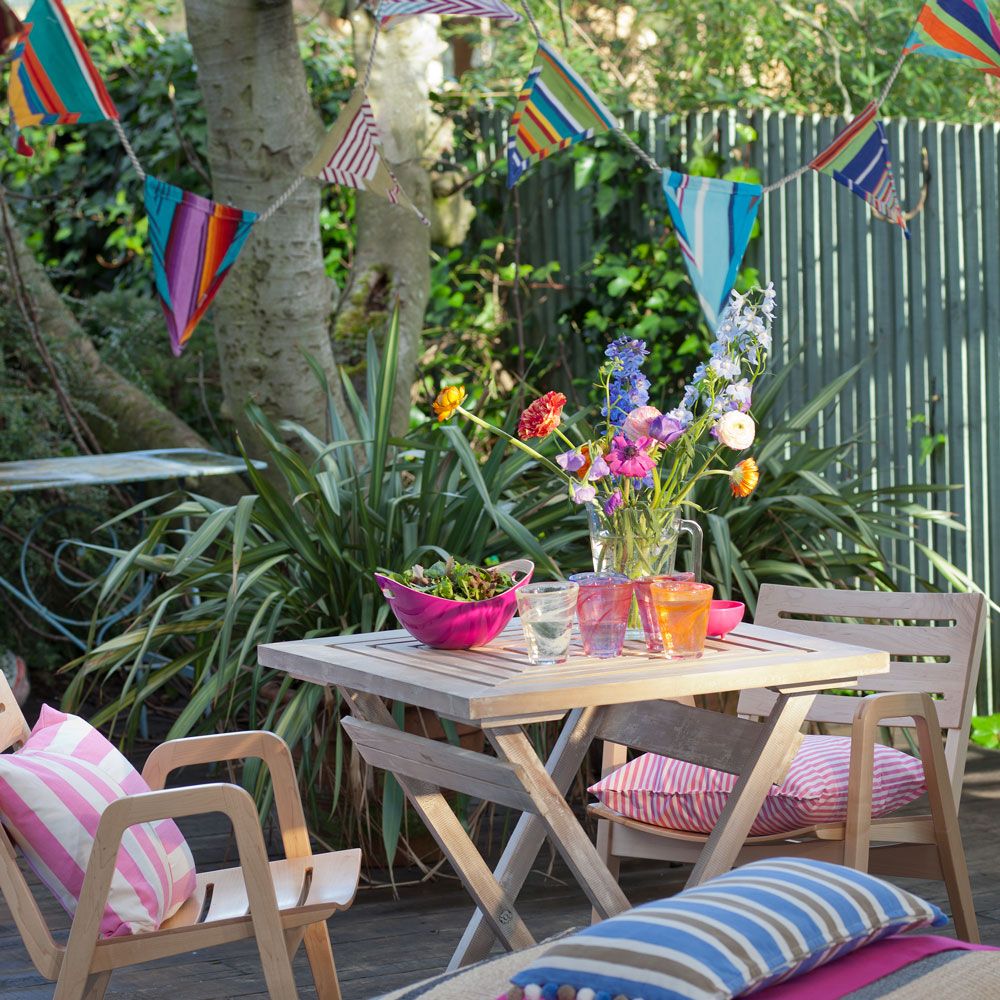 If you don't want your garden fence stand out from the crowd with bold colours, make it blend in with a coat of green paint. A serene shade of green helps to make this garden fence camouflage into the foliage. You can add colour through other mediums, from a string of decorative bunting and jolly striped outdoor cushions.
24. Go for an on-trend grey fence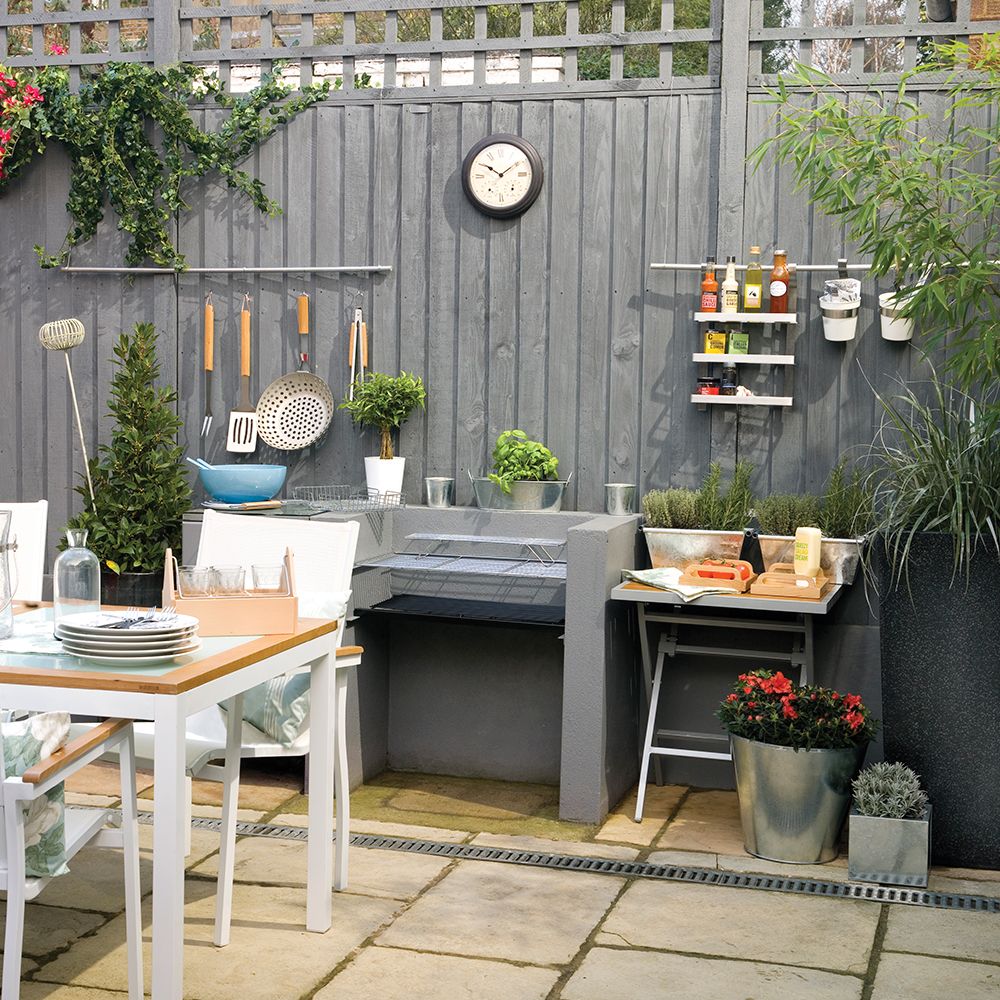 Use your garden fence as part of an outdoor kitchen. Take your barbecuing as seriously as the Aussies by moving your kitchen into the garden during the fine-weather months and using your fence as a handy place to store the bits and bobs you need.
Hang utensils in close reach of the action, along with a rack for all your favourite sauces. You could even place a clock on the 'wall', so you can make sure burgers and steaks don't get cremated.
25. Open the boundaries with rustic willow materials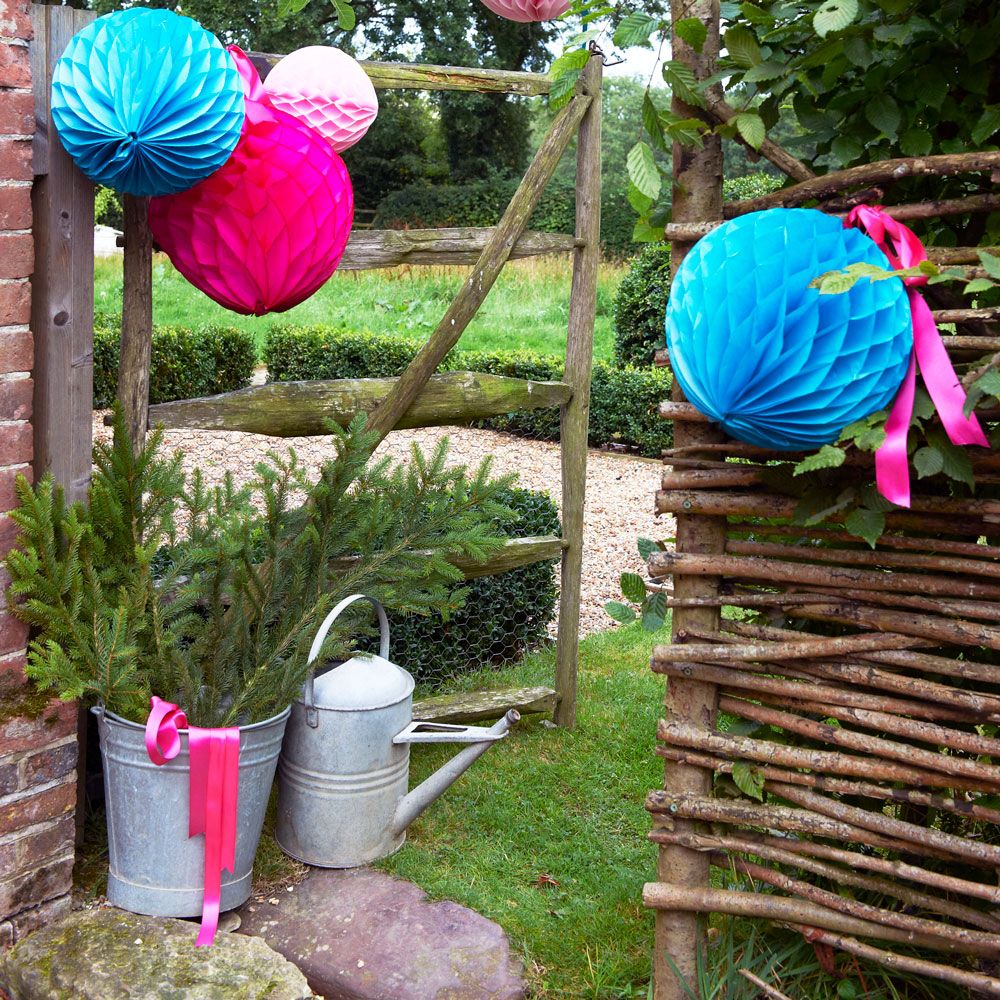 To prevent a garden fence from feeling too imposing or constraining it's an idea to use rustic materials to break up the design. A willow twig fence design is given a softer edge thanks to infilled panels of chicken wire – providing a secure design but allowing a view through. Use this for doora and gates, teamed with willow woven fence panels for the main fenced area.
26. Decorate your garden fence with colourful tealight holders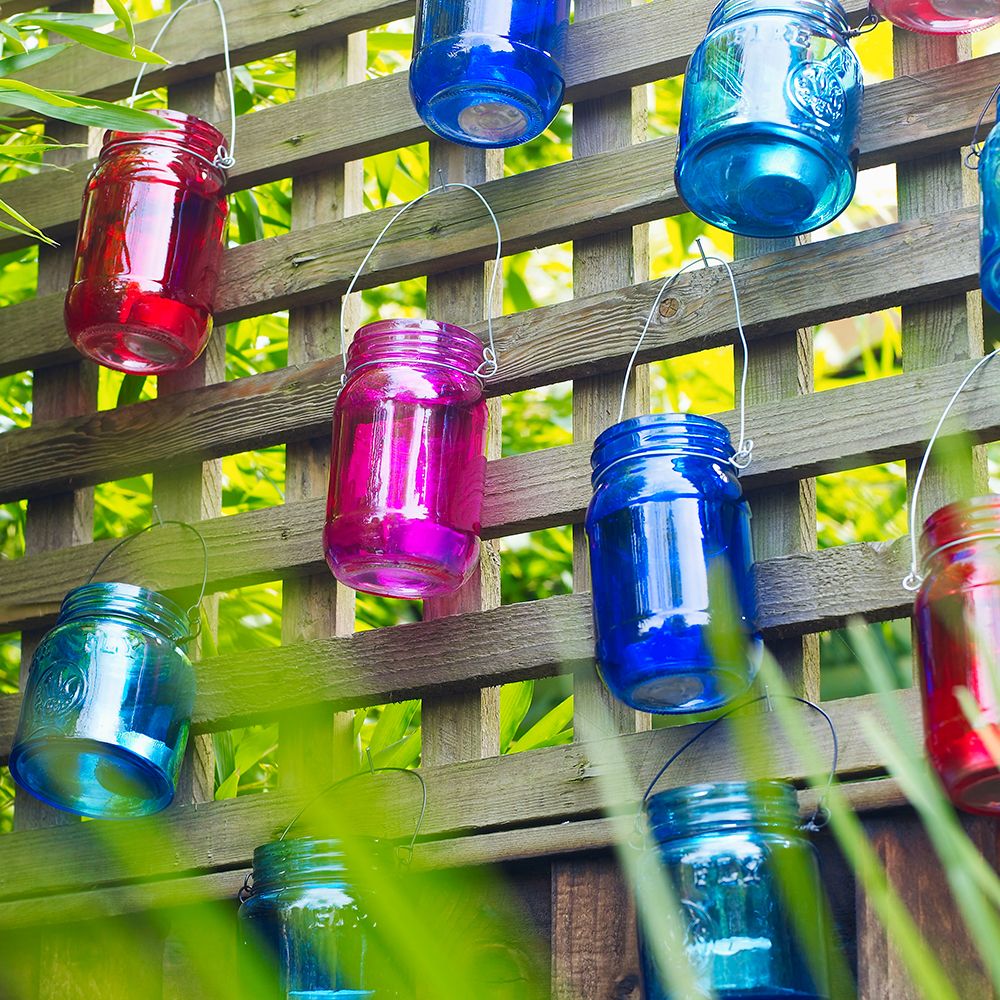 Take a garden fence with a trellis top and jazz it up with jam-jar-style tealight holders that look super pretty even during daylight hours. Use secure but unobtrusive nails to hang them so that they look almost like they're floating. A variety of shades will work well, but clear jam-jar tealights would also look great. At night, enjoy their warm glow from the comfort of a nearby garden chair - bliss.
27. Create a secluded dining area with willow fencing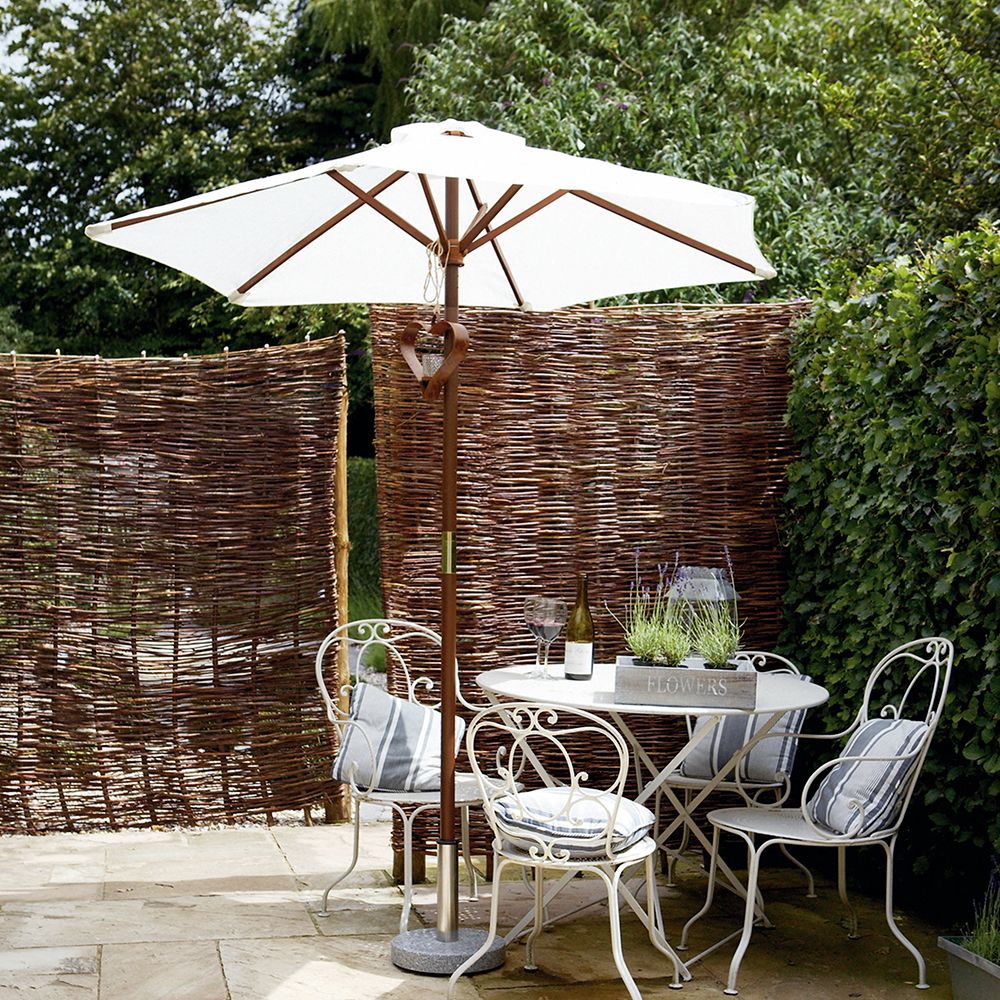 Go for a garden fence that is extra high so that it will provide all the privacy you could ever need - especially if you have curious neighbours. This fence features narrow lengths of willow that create a bamboo-style effect, ideal for screening an existing fence if you don't want to start completely from scratch. Willow screening fence panels can also add height to a short wall or fence, or you could even use it to keep the compost heap hidden from view.
28. Opt for a modern, low horizontal design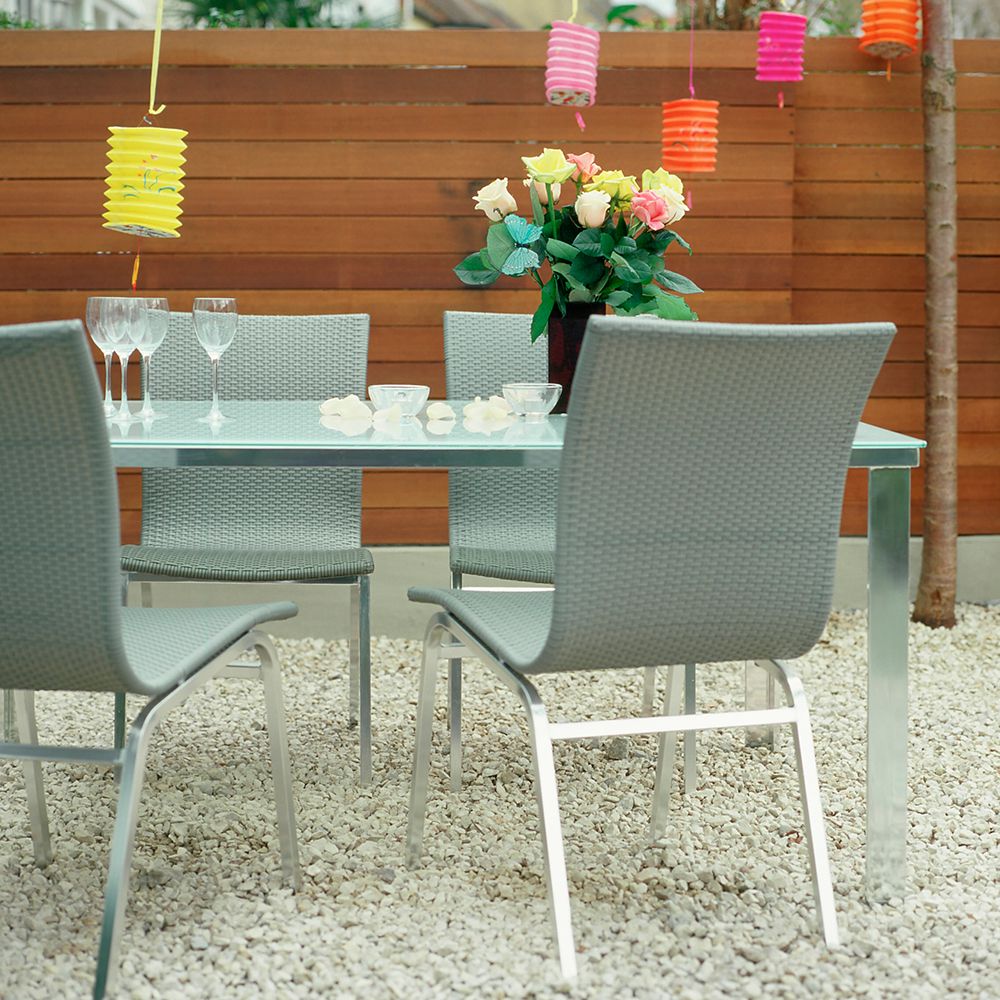 Mount a wooden garden fence on top of a concrete border for an elegant and modern scheme that has the feel of a room, complete with 'skirting board'. Not only does this contemporary garden fence look great, but it will also keep the gravel neatly in place. Go for horizontal wooden panels so that everything is flowing in a similar direction - a smart mid-toned varnish will be the perfect finish.
29. Decorate your garden trellis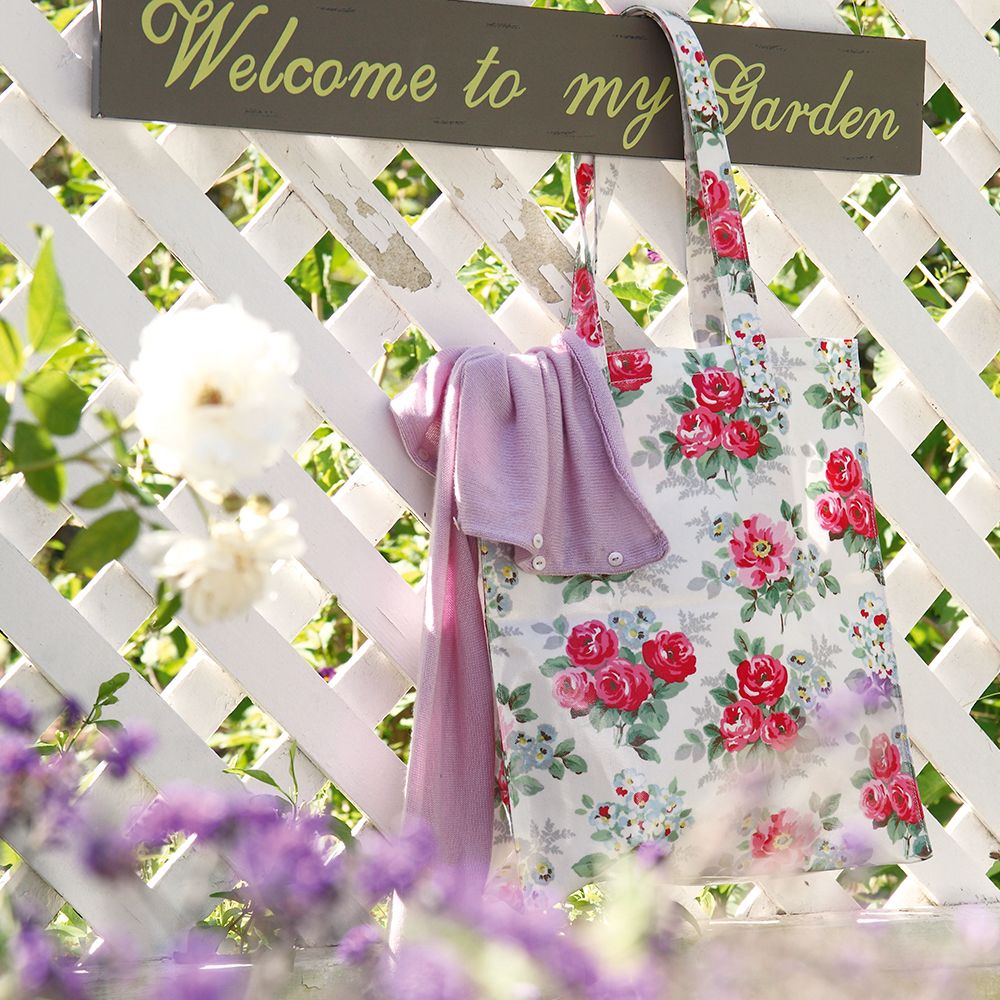 Paint a garden fence white to create a pretty country look that is a perfect colourful garden idea. The gaps in this trellis fence have been used to hang some characterful buys, such as a 'Welcome to my garden' sign. A garden trellis has other advantages, too, from providing a helpful place to train climbing plants to offering privacy without blocking rays of sunlight.
30. Paint your picket fence in an array of colours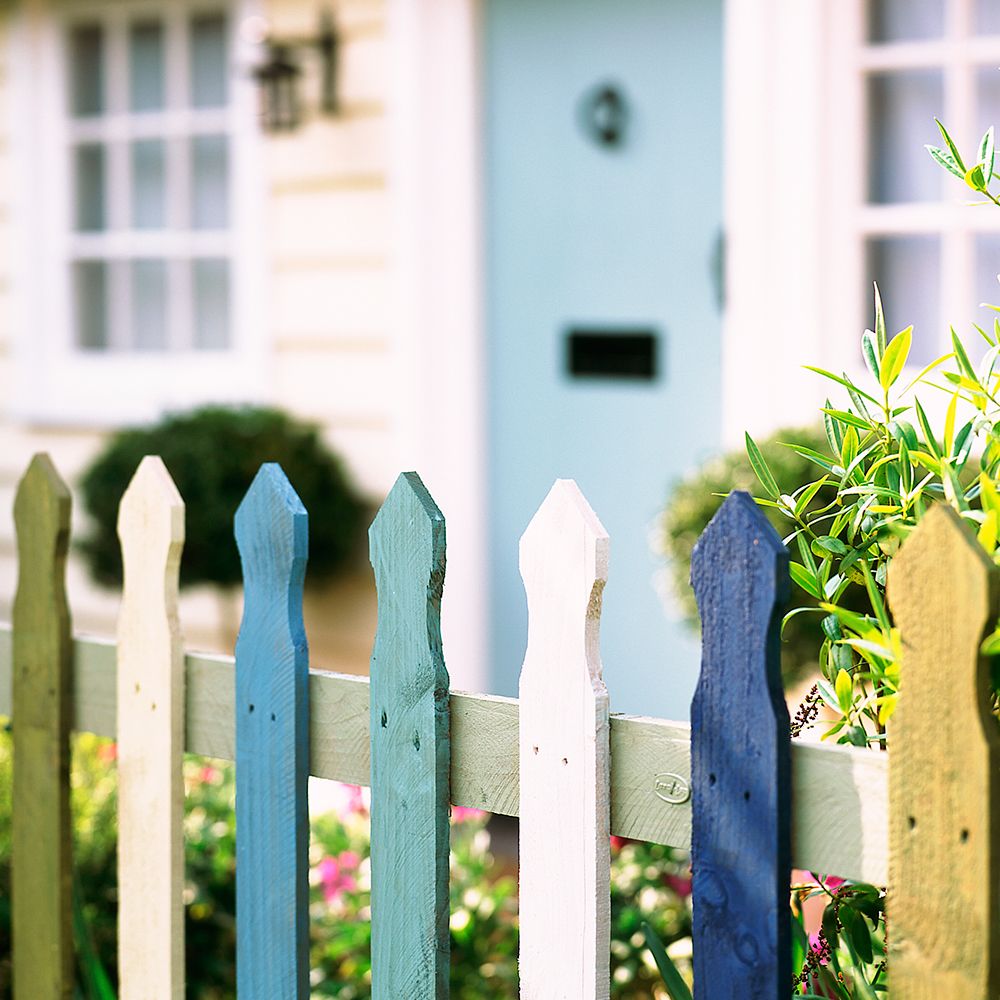 Use a fence to create a front garden with a difference. Thomas Goodman from My Job Quote says, 'Picket fence panels are unique due to their evenly spaced vertical boards and pickets. The main benefit of picket fences is that they are low in cost and they are easy to customise and paint, so you can easily change up the aesthetic as needed.'
This design has been painted in colourful shades that make passers-by feel that bit happier. We all dream of a white picket fence, but if you're lucky enough to have one, why not take the plunge and go for something a little more daring? Paint your fence in pastel hues for a pretty, rather than garish, look.
31. Mix your materials to create an unique look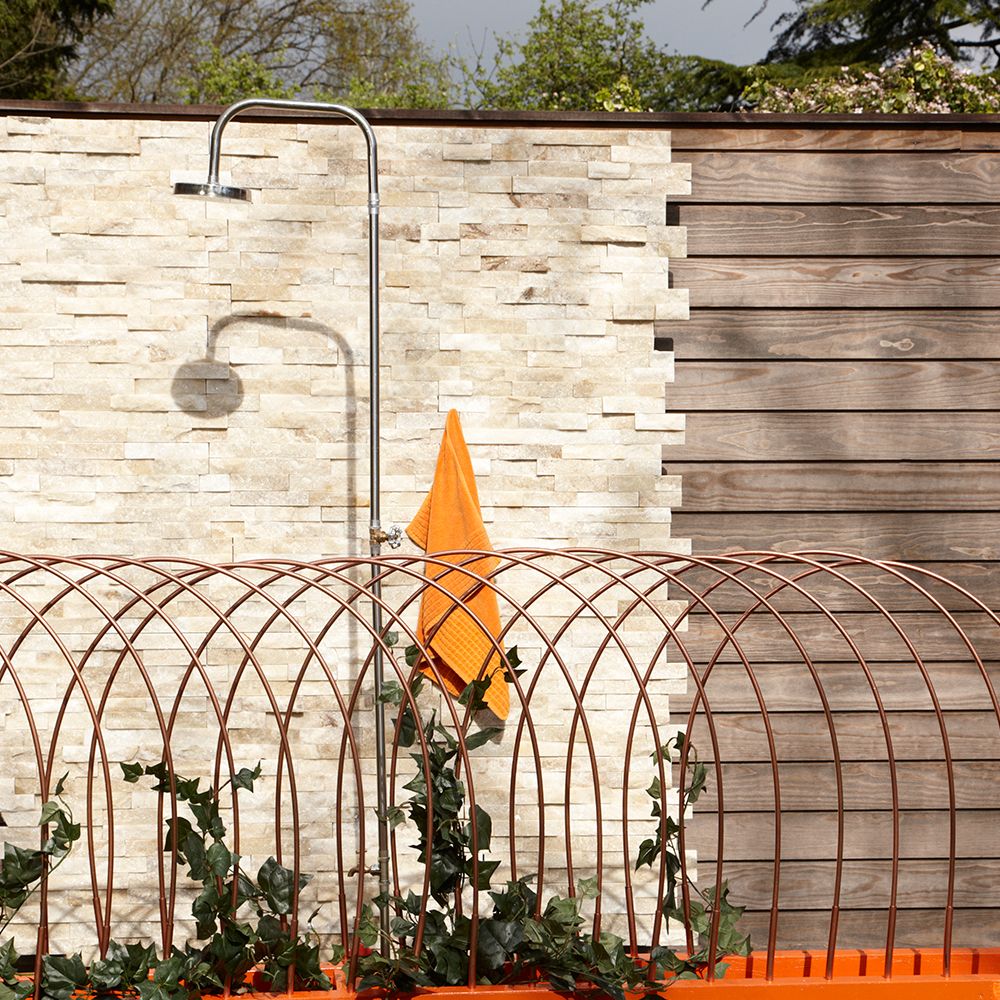 For a unique take on a garden fence, combine stone and wood in a Jenga-style arrangement. Here, this has been done not just for the effect, but also for practical reasons - stone will endure a good soaking from the outdoor shower far better than wood. With a garden fence like this, the emphasis is on quality natural materials with an innate beauty of their own.
32. Charm with a picturesque picket fence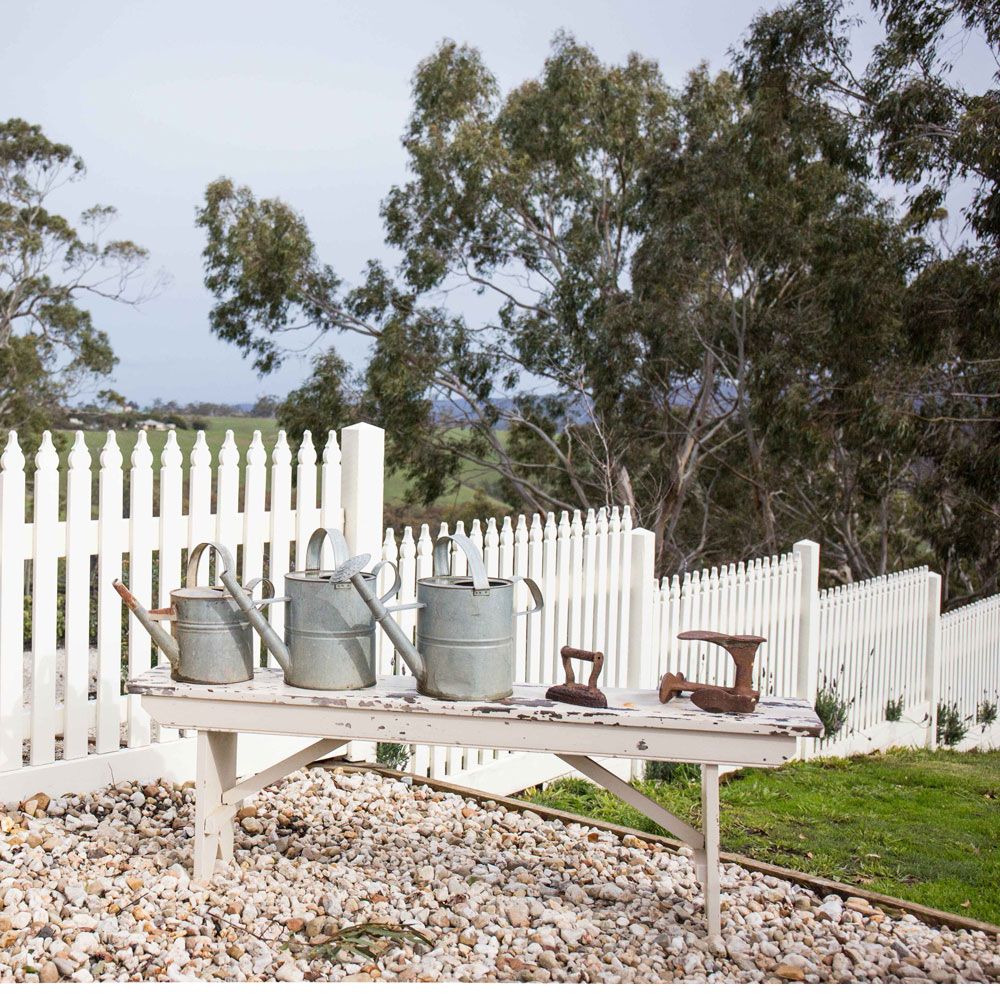 When it comes to garden fencing you can't get much more idyllic than a traditional white picket fence surrounding the property. A charming picket fence in white is ideal for both front and back gardens to create a picturesque classic garden enclosure for your home. As picket fencing only offers a low-level partition it might not be suitable for homes that require more security - such as households with children and pets.
What is the cheapest fencing for a garden?
Although you may want to save money on your garden fence ideas, the best way to make your garden layout ideas shine is to not go too cheap. Cheap material won't last as long and will need repairing and replacing multiple times during the same lifespan of a quality fence.
'We always recommend investing in quality fencing with a long lifetime guarantee; the lifetime cost will be a lot lower. It is also the most sustainable option as fencing can't be recycled due to the treatment processes it goes through, so it has to end up in landfill. The less fencing you need to replace the less will end up in the rubbish,' says Leigh Barnes from Jacksons Fencing.
'However, there are ways to still purchase quality fencing but more cheaply. Kit form, or traditional fencing, does not come premade. Fencing products are provided in kit form as individual posts, pales, and rails to be put together on-site. This reduces the cost to the manufacturer which is passed onto the customer, due to reduced labour and costs associated with making fence panels, making it cheaper to buy.'
How do I make my garden fence look good?
The style you choose for your garden fence depends on the rest of your garden design and works best when it also reflects the style of your home. When considering how to make your garden fence look nice, think about decorative touches that will elevate your fence. From pretty climbers, to colourful paint, to festoon lights, you can add as many decorative touches as you wish.
Leigh Barnes from Jacksons Fencing says, 'A high-quality, well-made fence will always look good if installed correctly. Installing fencing takes skill and no two gardens are the same. Investing in quality installation by a skilled professional will always pay off in making your garden fence look good.'
'Always look for stainless steel fixings as if they are not used to hold your fence panel together, you will get awful rust marks running down your fence. This will ruin the look of your brand-new fence.
Jenny Davis, head of marketing at Forest Garden says, 'You could also look at adding fence toppers – decorative lattice designs which are designed to fit on the top of traditional 6ft panels. This can add height and privacy without cutting out light.'
Get the Ideal Home Newsletter
Sign up to our newsletter for style and decor inspiration, house makeovers, project advice and more.
Jennifer is the Deputy Editor (Digital) for Homes & Gardens online. Prior to her current position, she completed various short courses a KLC Design School, and wrote across sister brands Ideal Home, LivingEtc, 25 Beautiful Homes, Country Homes & Interiors, and Style at Home.