How to plan a garden - everything you need to design your dream outdoor space
Discover how to plan a garden with plenty of that's perfect for relaxing and entertaining in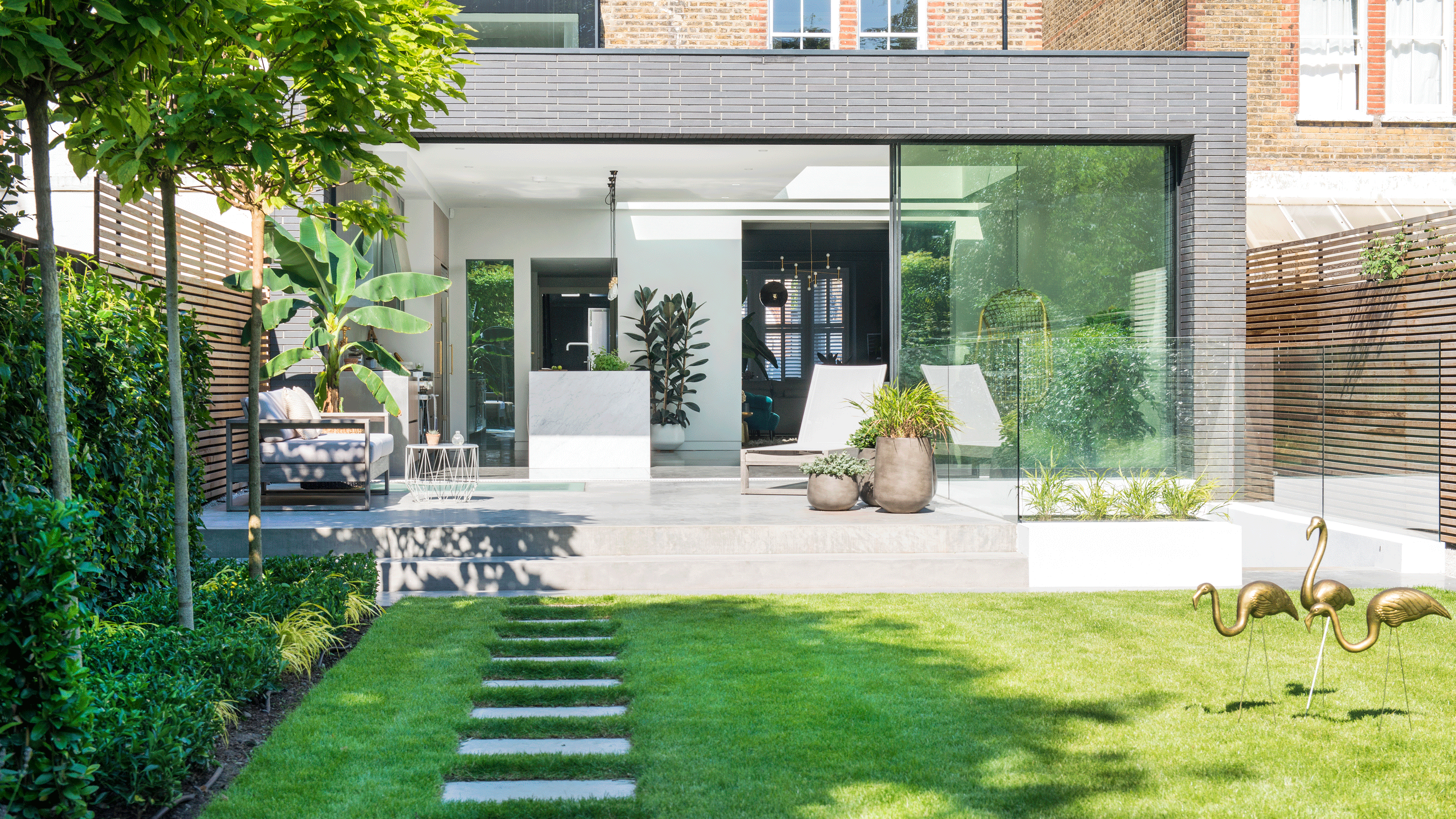 (Image credit: Future PLC / Colin Poole)
It's never too late (or too early) to learn how to plan a garden. You may be looking at your outdoor space in the height of summer, considering the changes you can make to make it more family friendly. You may find yourself peering out your window in winter, wondering what you can do to make it a space you can use year round.
It's quite possible that you're in the early days of planning a complete garden renovation, or you're just focusing on one area by adding a shed or a studio. Depending on your space, you might need small garden ideas to perk up your plot. Or if you're lucky enough to have a big garden, you may want ideas on how to zone your space.

Regardless of how much you're doing, what budget you have and how much outdoor space you're blessed with, knowing how to plan a garden and how to get the best from your space is a must. Having a clear idea of exactly what you want and how to deliver it will ensure you don't make mistakes down the line which could result in having to redo it all from scratch.
From planning a space perfect for parties, complete with an outdoor kitchen and dining area, to a simple space where you can escape to to relax and unwind, whatever the weather. We've asked the experts for their advice on where to start, what to do and how to do it to give you the inspiration and the tools to create your dream garden now.
How to plan a garden - must-haves for the perfect outdoor space
When planning your garden, you should always 'define the main purpose of your space,' explains Jody Crichton, co-founder at Amazing Outdoor Spaces. 'Is it a place to entertain guests, unwind with family or eat meals? Then you can start to plan accordingly,' he adds.
Next, you need to decide where you want each area in your garden - from entertaining to relaxing - to be. 'Consider the flow of space,' continues Jody, 'people will move through the garden and the relationship between each area.'
'For example, you may want to place the dining area close to the kitchen, so it is easy to serve the food. Then create designated areas for each activity, such as, a food prep area, cooking area, dining area, lounge area, etc. You can use furniture, plants, boundaries or hard landscaping to define each area.'
1. Make a garden wish list
Before you go reaching for a shovel, think carefully about how to plan a garden and the things that are most important to you. 'When planning your garden the first question to ask yourself is how do you want to use the space?' says garden designer Pollyana Wilkinson.
'Draw up a list of must-haves,' Pollyana continues. 'Be realistic on what you can fit in the space. In large spaces you can designate a use per "zone" but in smaller spaces try and designate a limit of 1-2 or uses, rather than throwing the kitchen sink at it, which can make the space cluttered.'
This is the fun part, so don't be afraid to think creatively as well as practically when you're visualising your new garden. It's helpful to establish which aspects will take up the most space first, before honing in on the finer details.
'Making a wish list is a great place to start and putting down what you would really enjoy in your garden is hugely satisfying!' says professional garden designer Jilayne Rickards, who is currently designing The Fauna & Flora Garden for the RHS Chelsea Flower Show 2023. 'Separate plants from bigger items such as furniture, a greenhouse or gazebo and then split plants into categories of trees, shrubs, perennials, grasses and bulbs to make it easier to source the plants.'
2. Learn the fundamentals of your garden
Next, get to know your garden so you can understand the space you're working with. A key point to consider when is how much sun or shade your garden gets and at what times of the day. South-facing gardens get a lot more sun than north-facing gardens for example, so it's important to find out your garden's aspects so you can plan it accordingly.
'If you are a sun lover, then plan your garden seating to follow the sun,' says Pollyanna. 'Perhaps include a morning coffee spot in an east-facing space, and a chill-out space in a south/west-facing space for afternoon and early evening sun. Equally, if you prefer shade, include a dining space which sits in a shadier spot.'
'Make a note any privacy issues that you might want to deal with as well,' says Jilayne Rickards. 'Do a soil test and also note if it is clay, loam or otherwise so that you can select the right plants.' Test kits are available to buy at most garden centres.
Once you understand the basics of the space you are working with, learning how to plan a garden becomes much easier, and you can avoid any unforeseen mishaps along the way.
3. Draw up a plan
Now you have an understanding about what you want and what will work well in your garden, take a piece of paper and sketch out a rough plan, working out what you want and where. Alternatively, there are many apps which can show you how to plan a garden layout.
'Start with the hard landscaping elements such as paths, patios, ponds, sheds/storage, pergola, raised beds and planting areas first,' says garden designer Jilayne. 'Remember to leave space for movement, as a space that is too small feels awful - for example, a chair needs space to move in and out from a table, pathways need to be wide enough, people need space to move around the garden.'
Be practical in your design and choose easy garden ideas. If you're going to spend a lot of time dining outside, for example, keep the seating area close to the house so you don't have to walk all the way to the end of the garden when serving food.
4. Set a budget
Like any project, set a budget early on so you can keep track of spending. Think carefully about what you want to spend your money on. If you want the best garden furniture you can afford, set aside a high proportion for that.
Also look at using reclaimed or second-hand materials for things like paving to bring those costs down. There are some great DIY pallet ideas for gardens that will help lower the overall cost of the project, but try and be realistic; the total cost of everything is unlikely to be cheap.
'Setting a budget is, of course, a necessary and sensible thing, however, projects often run over budget so try not to be too sparse with the first pricing you have in mind - or you will be disappointed!' says Amanda Telford, Marketing Manager, CTD Tiles. 'It's also a good idea to be realistic about the prices, and sometimes spending a bit more will ensure a high-quality, safe result.'
5. Check boundaries
'Take a walk around your garden to see what's going on with the boundaries. If you find they need replacing then it's a great opportunity to put something in that you like,' says garden designer Jilayne. 'Try to work with your neighbours on this and have a friendly chat about what you wish to do to avoid any conflict when the work starts.'
Ensure your boundary fences or walls are in good condition as it's easier to install new ones before you start any landscaping. It's a good opportunity to explore new garden fence ideas if you've not upgraded in a while. If they are in good condition, freshen them up with a lick of paint; learning the best way to paint a fence will make your boundaries a stand-out feature in your new garden.
6. Choose garden materials
While paving materials can be expensive there are some cheaper alternatives. 'Materials come down to personal choice and preference,' says Colin Gray, managing director at Lavender Green Gardens. 'Whether it's a country garden or a paired back contemporary space, there are materials to suit all needs. Natural stones are always favoured but there are some incredible porcelain tiles now that can give a phenomenal look at a fraction of the price.'
Gravel is a cheap alternative for using on pathways and reclamation yards are great for finding second-hand pavers, decorative stones and other materials, while railway sleepers are popular for creating borders or vegetable patches.
7. Smarten up with lighting
Hanging festoon lights across a pergola, along a fence or wall creates a welcoming atmosphere as the sun starts to set. You can also light up pathways with solar lighting or ask your electrician to install a more permanent set up.
Installing garden lighting at the base of trees of prominent planting is a great way to add interest. 'In the dark of night, garden lighting can create a dramatic and inviting scene outside your windows,' explains Peter Legg, lead designer, där lighting. 'Lighting foliage from below and illuminating favourite outdoor features and areas can create a living picturescape to enjoy from a patio or indoors.'
And as the experts point out, hanging lights in the garden goes beyond having aesthetic benefits. 'By lighting up steps, pathways and potential hazards like garden ponds, festoon lights and LED Neon flex lights can be an important outdoor safety feature, keeping you and your guests safe during those dark spring and summer evenings,' says Tom Cain, Technical Engineer, UltraLEDs. 'Especially for those who may need some help getting around in the evening.'
8. Create seating zones
Garden seating ideas will help to create a garden that is sociable, relaxed, and cosy. 'Seating is essential to a garden, for socialising, eating, and entertaining, so the seats which are lounged upon for hours need to be both comfortable and stylish,' says Sally and Sarah Wilkie, Founders of Home Barn. 'And having a variety of sofas and arm chairs that are suitable for outdoors can supply a cosy atmosphere under the stars.'
So take the time to plan what garden seating will work best in your space. A bespoke built-in design is great for creating a sociable seating area, ideal along a wall or boundary, whereas a freestanding table and chairs gives you the option to easily move seating from one area to another (handy if it's a hot day and you want to move it to a shadier part of the garden).
Creating different seating zones is also a fail-safe way to make a small garden look bigger. A hanging egg chair or swing seat makes a relaxing spot to read, while a small bistro set is perfect for a compact patio area. The zones will make your garden the perfect social hub for hosting summer barbecues and garden parties, and ensure all your guests have somewhere to sit.
9. Think about storage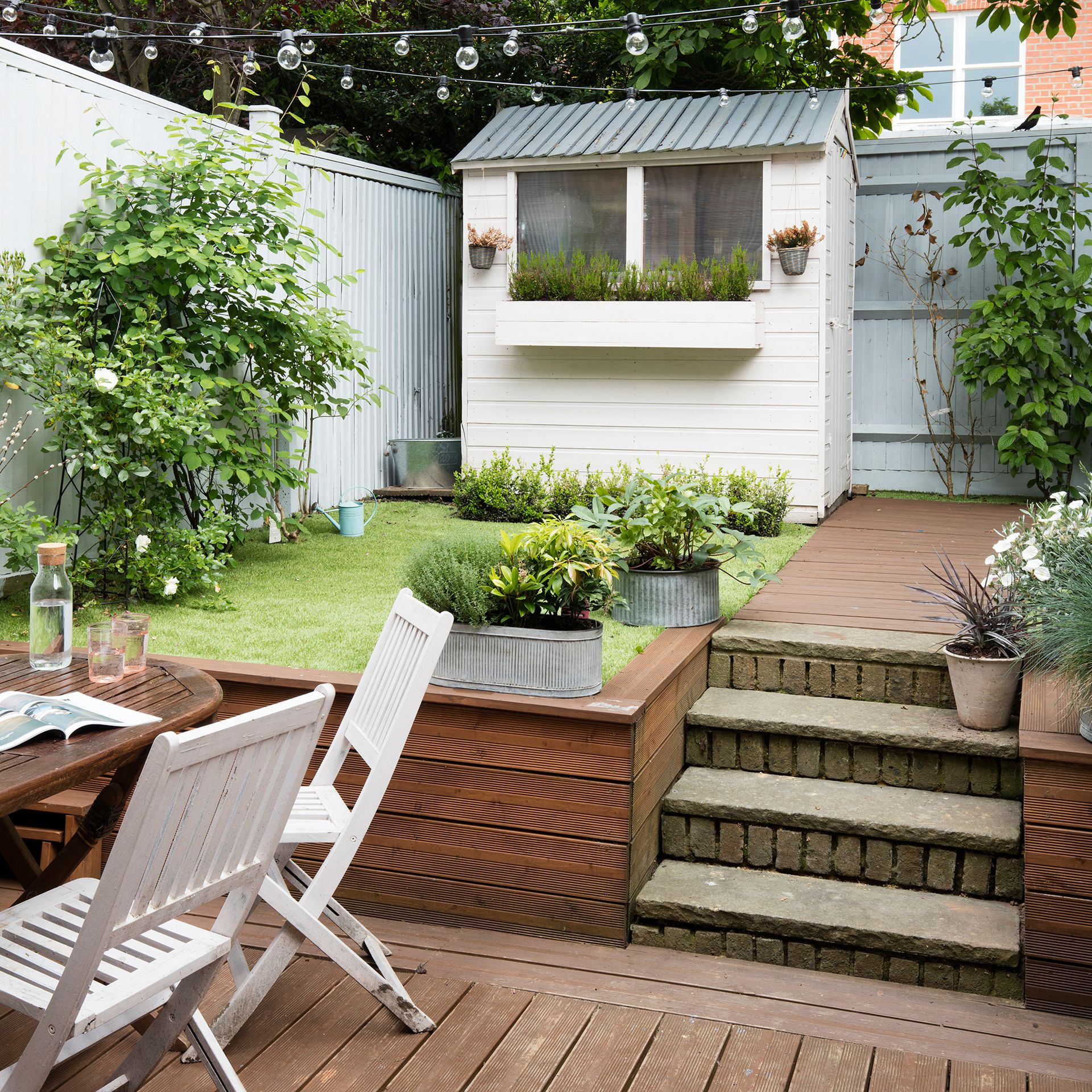 Every outdoor space needs garden storage and if you don't have a garage you'll need a good-quality shed for storing garden tools, furniture, kids toys and DIY materials. Consider what you will use it to store and if you have any bulky items like lawn mowers, measure the size before ordering your shed to make sure it fits.
'If you are using a shed for storage, it is a good idea to clad it with climbers so that it isn't a focal point,' says Jilayne. 'If the space is tight then think about ways that a storage unit could double up as a seat, such as a bench with a liftable lid. Bike and bin stores are best painted to fit in with the overall garden scheme.'
10. Pick your plants
Once you've figured out all your landscaping needs, it's time for the fun part! Planning your plants will literally breathe life into your garden and bring in bursts of colour, wherever and however you like. From climbing plant ideas to window boxes, the variety of plants you can incorporate into your garden are endless.
Have a think about the types of plants you want. Do you want plants that are easy maintenance? Is colour important? Do you want bright, modern style planting or something more traditional?
'Your planting plan should start with the large plants first and then fill around them with smaller plants and lastly, bulbs,' Jilayne advises.
Visit your local garden centre or RHS garden for ideas and remember buying plants at the end of a season is often a good way to save money. Where you plant is also important as some prefer shade to sun or vice versa.
'Gardens can be a space of great beauty and inspirational planting, but they also provide a place to relax and switch off in peace and quiet, to spend time with family, or to enjoy entertaining friends on long summer evenings,' says Charles Alexander, Founder, Oxenwood. 'Creating a sense of place and a haven in your garden to relax and unwind is no mean feat and requires a lot of thought, planning and care.'
With the help of professional garden designers and experts, our guide will take you through all the necessary steps of how to plan a garden, so that you don't miss out on any of the important stuff.
How do you layout a garden?
To plan your garden layout, the first step is to sketch out a plan of how you want the garden to look. 'It is essential to draw a plan to scale to ensure everything will fit, but before that some investigatory work has to be done', says garden designer Jilayne. 'Watch how the light moves around the garden – do you have sun or shade or both?'
Figuring out your garden's aspect will help you plan a garden layout that it optimal for the amount of sunlight it gets - there's more information on this below. Plan the hard landscaping elements first - pathways, patios, decking, sheds, raised beds, and planting areas. The key is to visualise where you would like everything to go, whilst keeping in mind the practicalities, like leaving enough space in between everything.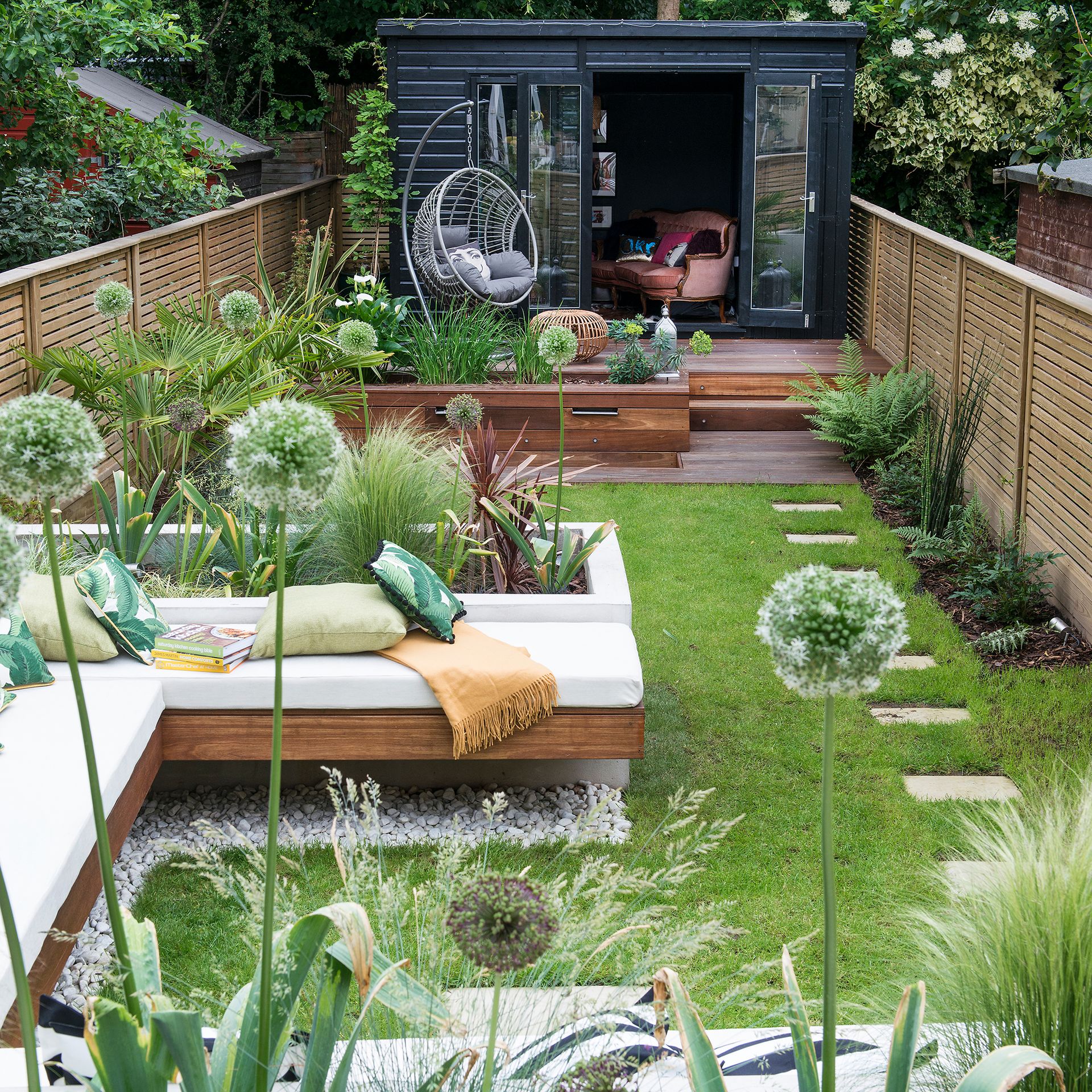 'Whether you'd like a vegetable patch, tranquil oasis or dog-friendly run around, it's important to layout your ideas visually at the start of the process,' says Jack Sutcliffe, Co-founder, Power Sheds. 'Even if you're not having external help renovating your garden space, a visual plan will help you keep track of the end goal.'
Once you've got a good idea of where the landscaping elements of the garden will lie, you can start to plan your garden seating and furniture ideas, followed by your plants. Planning where the plants will go is an essential part of the garden layout design.
'Make sure your plants are strategically positioned depending on their requirements to thrive,' says Jack. 'Consider which plants and flowers you'll be planting, how much room and sunlight they will need, and how they will be affected seasonally. Their new home is vital to whether they live a long and healthy life in your garden, so it's important to get the placement right.'
How do you start a garden for beginners?
If you're in the early stages of garden design and have never undertaken a project like this before, the resounding advice from the experts is to take as much time in the planning stage as possible, before you move on to implementing any of your ideas.
'Drawing up a substantial plan prior to a garden renovation is essential - without proper planning a multitude of issues can occur so ensuring that a solid idea is formulated beforehand will prevent these', says Amanda from CTD Tiles.
'A little pre-planning can go a long way in getting the most out of your budget', says Nadia McCowan Hill, Resident Style Advisor, Wayfair. 'Start by creating a wishlist or moodboard of what you like and what you'd ideally like in the space. Pinterest is a great tool for pulling together boards and finding inspiration.'
It's important to keep in mind the specific opportunities afforded by your garden space. Make sure you have solid measurements of your garden and take into account the boundaries; now is the time to look at changing these if you're not happy with them currently. Then, make a list of priorities of things you'd definitely like your new garden to have.
'Think about the space you have available, what items are top of your wish list and the budget available for a garden project or refresh,' Nadia continues. 'It's a good idea to keep in mind how much time you plan to spend in the garden and at what time of day you're likely to get the most use out of it, as that will help inform purchase and design decisions.'
Which way does my garden face and what does this mean?
If you go out into your garden with a compass (try your smartphone – most have one!) and face towards your garden. This will show you the direction your garden faces.
Garden aspects:
North facing Your garden is shaded for most of the day.
East facing Gardens will be sunny in the morning and shaded in the afternoon.
West facing Gardens will be shaded at the start of the day, and sunny in the afternoon.
South facing Your garden will get plenty of sun during the day.
The aspect of your garden is key when choosing plants to make sure they'll grow happily and healthily. It also makes it easier to plan your garden as you can zone different areas depending on the type of light they get during the day.
How much does a garden designer cost?
If you're still finding it difficult learning how to plan a garden and want some expert advice, calling in a garden designer is a good idea but you should probably be aware of how much a garden designer will cost.
In the UK, the average cost paid for a garden design is £1,950, according to Fiona Jenkins, Garden Expert, MyJobQuote. The price range, however, is wide. To hire a garden designer to plan out, in detail, a new or renovated garden could cost anywhere between £600 to £5,000. Their services will cover design fees, planning, materials, contractors, and planting - maybe more or less depending on your design package.
'Keep in mind that garden design and gardening costs can vary from region to region,' says Fiona. 'Those based in the London area can expect to pay considerably more for garden design than those based in the North or other areas of the UK.'
Ask around locally for recommendations or check out the Society of Garden Designers whose members have been trained to the highest professional standards.
Get the Ideal Home Newsletter
Sign up to our newsletter for style and decor inspiration, house makeovers, project advice and more.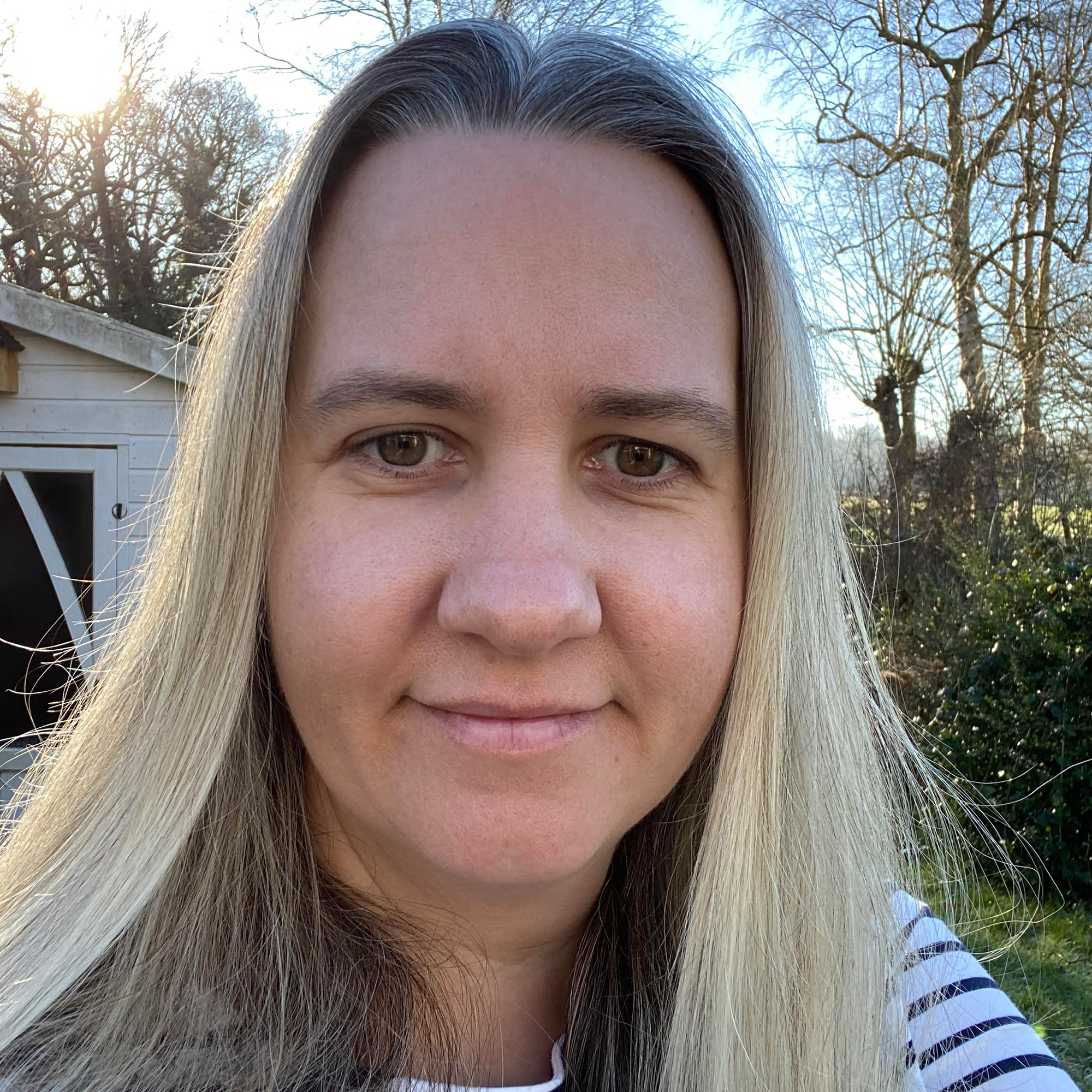 Amy Hodge has been working on interiors magazines for over 11 years. She's a freelance writer and sub editor who has worked for some of the UK's leading interiors magazines including Ideal Home, Style at Home and Country Homes & Interiors. She started at Style at Home just after it launched as food editor and is now chief sub editor for Ideal Home, Style at Home and Country Homes & Interiors.