Experts warn against falling for these 10 outdoor kitchen mistakes - save time and money
Planning the perfect outdoor kitchen? Save yourself time – and money – by avoiding these common pitfalls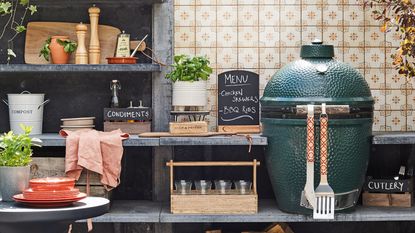 (Image credit: Future PLC/Joanna Henderon )
An outdoor kitchen can be a wonderful extension to your home. Another space to relax, cook and entertain in, not to mention all the benefits that come with spending time outdoors… when planned properly, that is. Get it wrong and you'll pay for it, figuratively, and literally, so it's worth wising up on the outdoor kitchen mistakes to avoid ahead of installation.
The best outdoor kitchen ideas are those that take style and substance into account. It's all well and good investing in cool-looking countertops, 'of-the-moment' appliances and super stylish serveware, but if the layout's wrong or the materials aren't suitable, you won't enjoy cooking in it, come rain or shine.
So, what are these outdoor kitchen mistakes to avoid? We've quizzed the pros on the most common blunders, from the initial planning stages all the way through to the décor and design details.
Outdoor kitchen mistakes to avoid
'When creating an outdoor kitchen, it's essential to consider the key items that will make the space functional and organised, while still maintaining a stylish feel,' says Reilly Gray, co-founder of Suns Lifestyle.
'Are you after a simple design that highlights the best BBQ alongside work surfaces and storage? Or do you want to go the extra mile by including a sink and fridge, perhaps even a pizza oven, too. These decisions will really affect the functionality of your kitchen and how you're using it, so make sure you include everything you'll need,' he says.
1. Failing to appreciate the importance of pre-planning
Don't make the mistake of thinking an outdoor kitchen is as easy to plan as an indoor one – it isn't. There's a lot more to think about. Before you even start to consider how to build an outdoor kitchen, you'll need to make sure you've taken everything into account, from location and layout, to materials, appliances and storage.
'Will it be close to the house? If not, it needs to be self-sufficient to avoid numerous trips back to the house. Will it be a focal point or do you want it to blend in with the garden so it's unobtrusive? What utilities do you want / need… it's so much simpler to install all the necessary pipes and cables at the build stage than afterwards,' says Charlie Alexander, founder of Oxenwood.
2. Positioning it too far away from the house – or too close
Unless they're equipped with an ample-sized fridge, a fully working sink and storage aplenty (which is pretty costly, let's face it), outdoor kitchens are best situated fairly close to the house so you can make use of indoor amenities without having to trek back and forth all the time.
Having said that, setting up too close to the house can come with its own set of problems; cooking smells, for one. You don't want those wafting in through your bedroom windows. You'll also want to avoid positioning it against wooden fencing (for obvious reasons), and try to keep it away from walkways if you can.
3. Getting the layout wrong
Before committing to a layout, it's worth having a really good think about what your priorities are when it comes to cooking and hosting. This can really impact what goes where, and if not considered properly, can affect the overall function of the space.
'If you really want to express your culinary skills outdoors, and have the budget, think about including more than one type of cooking appliance,' advises Joanne Bull, marketing manager at KönigOut­door. 'Pairing a traditional grill with the best pizza ovens will give you more variety, and keep you motivated to experiment with new dishes.'
Adding surfaces and shelving will also let you prep and cook without to-ing and fro-ing indoors as often – something you'll want to consider if your outdoor kitchen isn't as close to the house as perhaps you'd like.
'If your main focus is on entertaining, make sure you specify plenty of suitable refrigeration for drinks and consider integrating seating areas for your guests,' adds Joanne. You could also include open shelves lined with cocktail supplies, so guests can help themselves while you're busy at the grill.
4. Forgetting to factor in the forecast
It's not just rain that can dampen the fun of alfresco cooking, windy, or sunny days can be just as problematic.
'You might think you've found the perfect spot for your outdoor kitchen, but then when summer comes around you realize you're getting the sun in your eyes as you try to grill, or the wind keeps blowing out your grill flame,' says Muhammad Haq, of Norfolk Garden Sheds. 'I like to stand in certain areas throughout the day and see how the level of sun and aether cover changes. This gives me a great indication of where is likely going to be the best spot,' he says.
If your garden doesn't have much in the way of shade, don't panic – it's easy enough to create your own garden shade idea. A timber gazebo will provide decent shelter from the elements, and as long as you follow guidelines for your size, height and distance from boundaries, shouldn't require planning permission. Or for a less permanent option, consider investing in a fold-away canvas gazebo or sail.
5. Choosing the wrong materials
'While you might be able to get a good deal on some MDF or reclaimed wood panels, unless they're treated for outdoor use, you'll only end up with a shoddy-looking kitchen that's falling apart,' says Muhammad. 'Only use materials suitable for outdoor use, such as practical coated steel cabinets, stone worktops and heat-resistant ceramic tiles. Not doing so can lead to issues with durability, maintenance and safety.'
It's also worth noting that while certain materials might work for one aspect of your kitchen, that doesn't make them suitable across every area. 'Using stainless steel in the grill element helps to eliminate the risk of rust or water damage. However, we wouldn't recommend picking stainless steel countertops, as they can become dangerously hot if sat in the sun,' says Charlie.
When it comes to choosing your countertops, popular options include low-maintenance stone, quartz and concrete. large-format porcelain tiles are great for DIYers; include a slight gradient to prevent rain from pooling on the surface.
6. Thinking you have to 'do it all' at once
Permanent outdoor kitchens can prove costly, especially when paid for all in one go. But don't let that put you off. You have the option of spreading the investment by opting for a more modular set up that can be added to over time.
Starting small will also give you the chance to think about what you really need – and give you a sense of how often you're cooking in it – so you can make informed decisions on expansion in the future.
7. Scrimping on storage
They may not be exciting or pretty, but effective outdoor kitchen storage ideas are the key to a successful outdoor kitchen. 'You need to ensure you have enough to keep utensils, cooking supplies and equipment dry and protected, so opt for cabinetry made from high-quality, weatherproof materials, such as stainless steel, enamelled steel and FSC-certified premium timber,' says Reilly.
If you're short on space, storing some items is not the end of the world – in fact, some experts prefer it, particularly for working appliances such as blenders and blitzers that are prone to rust. Just be sure to factor in some cupboard space ahead of time to avoid cluttering up your indoor kitchen.
8. Bypassing the professionals
While there's nothing stopping you from building your own cooking area, if you want to ensure longevity and quality – or you simply don't know what you're doing – it's really worth considering a professional installer if your budget allows.
'Often, our clients do not fully understand that outdoor kitchens need to be constructed in a markedly different way to indoor designs so that they can withstand the weather. If you're unsure, it's really worth using a specialist outdoor company so you can reap the benefits of experienced installers and avoid wasting money further down the line,' says Charlie.
9. Losing light
Creating a successful lighting scheme is essential for outdoor kitchens, especially if you plan to cook and entertain at night.
'Not only is this better for everyone's safety, but it can create a lovely cosy vibe that is perfect for those late night dinners or parties in the garden. Make sure that you install lighting that's suitable for outdoor use and has the option to control brightness levels so you don't annoy the neighbours,' says Muhammad.
10. Neglecting the personal touches
It may be situated outside, but that doesn't mean your outdoor kitchen can't have a stylish interior. Approach decorating it in the same way you would inside the house (using all-weather materials, of course), using colour and pattern to create a cosy, 'lived-in' feel.
'Stylish utensils, rustic chopping boards and colourful serveware can all be used to introduce personality, particularly when you're entertaining a crowd – just remember to put them away afterwards to keep them in good condition,' says Rebecca Knight, Deputy Editor, Digital, Ideal Home.
'Getting playful with plants is another way to add flair; adorn shelving with potted herbs and pretty blooms for a cute style statement that blends in with your surroundings'.
FAQs
Can you leave an outdoor kitchen uncovered?
While your worktops and appliances may well be 'weatherproof', there's no doubt about it, constant exposure to the elements will speed up deterioration. 'You could end up losing money, both on the ruined kitchen and the new materials needed to replace the damage, so investing in covers is a worthwhile investment', for your worktops and appliances, at the very least,' says Muhammad.
Joanne agrees, and suggests taking it one step further; 'We'd recommend sheltering your outdoor kitchen with a pergola of some kind. If you have the budget, consider one with lighting and heat – it will open up your kitchen for year-round use. We have clients who hold a 'pizza and prosecco party' every New Year's Eve!'.
What is a must for an outdoor kitchen?
The perfect outdoor kitchen configuration will differ from household to household, but the most obvious is something to cook on, whether that be a barbeque, pizza oven or fire pit. Worktop space and storage, too.
Ultimately, 'musts' are dictated by lifestyle; for some, a fully functioning setup complete with sink and working refrigerator is a priority, while others may prefer a design focused around a bar and socialising. Perhaps not strictly an essential, but according to Joanne, 'ice makers are fast becoming the must-have feature – averting disaster when forgetting to fill up the ice tray for Auntie Margaret's G&T!'
Don't let this list of mistakes put you off creating your own outdoor kitchen. Instead take it as a helping hand to make sure you are making a sound investment in the best summer ever.
Get the Ideal Home Newsletter
Sign up to our newsletter for style and decor inspiration, house makeovers, project advice and more.