Before and after – from unexciting bedroom to inspirational craft studio
Practical solutions, pretty touches and a great view of the garden add up to a special craft studio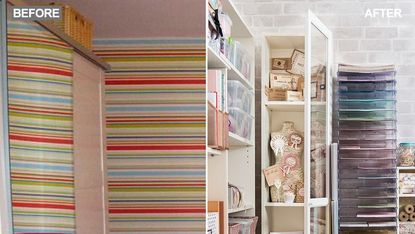 (Image credit: Future PLC/ Colin Poole)
Ideal Home Newsletter
The Home Of Great Ideas For More Than 100 Years
Thank you for signing up to . You will receive a verification email shortly.
There was a problem. Please refresh the page and try again.
'It took us ages to find the right house,' 
says the owner of this property in Derbyshire. 'We needed three good-sized bedrooms, so we could convert one into my studio and still have space for friends to stay. This house ticked all the boxes – it had 
a lovely feel and a gorgeous garden.'
For a beautiful workspace, see all our home office ideas.
'I knew this bedroom would make a fabulous studio,' she continues. 'The French doors let in loads of light and open onto the balcony. 
I like to plan ahead so I'd been gathering ideas while we were house-hunting. I used Pinterest but also built up a home journal, sticking pictures, swatches and samples into a book. By the time we moved in, I knew exactly how it would look.'
The scheme she had in mind was a fresh, inviting space with whites, greys and pale coral pink. Touches of copper and rose gold would be added for shine, and a subtle, brick-effect wallpaper meant the room felt calm and businesslike, but stylish too.
'I wanted an element of pattern for the walls but steered clear of "bedroomy" florals,' the owner explains. 'The brick-effect design really appealed, as it's light, smart and quite neutral.' The vertical blinds are neat and flexible, and great for controlling strong sunlight.
V and T reference the owner's business, Vintage Twee, without an obvious sign or logo. 'I loved the rustic wood and industrial metal trim of these initials,' she says. 'They are modern and fun. Finding a V was quite tricky, so I snapped it up when I spotted it!'
Get the look
Buy now: Similar white brick wallpaper, £10 a roll, Dunelm (opens in new tab)
Buy now: Wood & Metal A-Z Battery Light Up Circus Letters (opens in new tab), £19.99 each, Festive Lights
Systematic, accessible storage is a must in here with all the papers, beads, ribbons and trims the owner uses to make her stationery. 'I've got lots of trays, baskets and crates, which fitted on my shelves along the back wall,' she says.
Clear plastic boxes let you see at a glance what's inside, so they're a good choice for keeping small crafting bits like beads and bows organised. If you store 
a lot of items 
in crates and boxes, think about pinning Polaroid photos of the contents to the outside. That way, you can see at a glance what you're looking for.
Related: Craft room ideas for creative days
'I already had this tall shelf unit from Ikea,' says the owner. Adding a glass door has transformed it into a display cabinet for stationery samples.'
My old studio was bigger than this room, so I couldn't afford to squander any space. To work out the layout, I measured the room carefully, drew a diagram to scale and made cut-out paper pieces of the furniture that I could move around. 
I brought my desk with me from the 
old studio and positioned it facing the garden.
Get the look
Buy now: Similar Bristol white 
desk chair, £62.99, Maisons Du Monde (opens in new tab)
The nifty trolley for tools and bits and pieces comes from Ikea. Buying a good-quality vinyl flooring will pay dividends in the long run. It doesn't show furniture dents, so it will still look good if the owner decided to rearrange the room in the future.
Get the look
In store only: Passion Light Oak vinyl flooring, £18.99 per sq m, SCS
Buy now: Raskog trolley, £39, Ikea (opens in new tab)
'The coppery finish of my desk accessories is gorgeous – and very on trend for weddings this season. Papers and ribbons can blow about when the doors are open, so the pyramid paperweight is really handy.'
Ready for another makeover? Before and after: our bedroom used to be our garage
The owner couldn't afford any wasted space in her little packing area. The drawer shelf and floral boxes hold paper, bags, tape and scissors and a big bubble-wrap roll just fits nicely in the gap between them.
'My partner wasn't as confident as 
I was about the coral pink for the opposite wall,' she says. 'I knew it would work, though.'
Get the look
In store only: Walls painted in Valspar Premium Fleecy Dreams, £13 for 2.5ltrs, B&Q
Buy now: Kallax four-compartment shelving unit, 
£25, Ikea
(opens in new tab)Buy now: Drona floral patterned boxes, £3.50 each, Ikea (opens in new tab)
Buy now: Ekby Valter/Ekby Alex shelf with drawers, £41, Ikea
Carrying out the refurb wasn't without its challenges. 'When we were clearing the space, there were at least three layers of wallpaper to scrape off,' says the owner. ' Taking up 
the old carpet was quite a job, too, especially as we found another one underneath! When the second one came up, it pulled away part of the skirting board, which had to be replaced.'
The floor itself was quite uneven, too, so the owners had hardboard laid on top before the new vinyl flooring could go down, which added an extra £100 or so to their spend. Luckily, they had 
a little extra cash put by.
Having dreamt of a room a room where she'd be focused but enjoy spending time, it seems things gone exactly to plan for the owner. The studio has turned out exactly as I visualised it and I love working in here,' she says, with pride.
Heather Young has been Ideal Home's Editor since late 2020, and also edits its sister title Style At Home. She is an interiors journalist and editor who's been working for some of the UK's leading interiors magazines for over 20 years, both in-house and as a freelancer.