'The farmhouse was a romantic buy, to think we could live somewhere like that was a dream come true'
A country-meets-Scandi barn conversion is the first stage in this couple's dream farmhouse renovation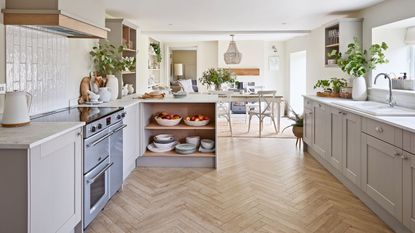 (Image credit: Future PLC / Darren Chung)
When this homeowner and her husband had the chance to buy the Norfolk farmhouse round the corner that they'd long admired on their dog walks, they sold everything to get it – including the house they'd built thinking it was their forever home.
Once they had it, they embarked on a two-stage renovation, first turning an ancient barn into a charming annexe for the family to live in while they overhauled the farmhouse.

An interior designer, she worked a makeover miracle, overcoming the obstacles thrown up by lockdown and a tight budget, and turning a bare-walled storage building into a welcoming home with a calming, country-meets-Scandi aesthetic.
'We used to walk the dogs past the farm. My husband said to me, "If that ever comes on the market, we should try and buy it",' she explains. 'Two years later, it came on – so we sold virtually everything we owned to buy it.
'We'd built our previous home, and thought that was going to be our last house. The farmhouse was more of a romantic buy. To think we could live somewhere like that… it was like a dream come true.'
'The people who were here before us were in their 80s, and it was one of their parents who had bought it and raised them here. The couple had brought up their children here, and were quite glad it went to us – a local family with young children.

'We started work on the barn at the end of January 2021, and it took four months. The building was very basic. It'd been part of a dairy and used for milking, storing tools and as a workshop. We put in an internal layer of blockwork, and added heating, plumbing, electric, windows etc.
'We bought the kitchen from Howdens. Because you walk through the kitchen to the dining area, I didn't want doors on the top cupboards as it might feel like a tunnel, I wanted open units. The kitchen designer said they would need to be bespoke – which wasn't in the budget!
'Instead they sent some end panels and Neil, our carpenter, made everything, including the extractor fan cover, a unit that fits on top of the worktop, and the breakfast bar area.'
'Picking my kitchen colours was difficult because people still weren't being let into showrooms due to the risk of Covid. I'd seen a colour called Cashmere online, but I told the guy at Howdens I couldn't order it without looking at it first. And I'd picked a different worktop as well.

'He said he'd leave them outside the showroom and I'd have to look at them there. I went down and hated both of them!'
'It was lucky I managed to talk him into letting me have a look, because I changed them both. I went for a colour called Pebble in the end, and a worktop that was more heavily marbled.

'The worktop is a laminate. I really wanted quartz but that would've been about £4,000, so that wasn't going to happen. I chose thin laminate because it was more like quartz, and it looks really lovely.'
'There was an old barn door that wasn't tall enough to use as a normal door, so we used it to make a window. There is so much going on outside, it's like a picture that changes all the time. A farmer grazes his cattle on the land. He takes them off when they're in calf, and they come back with their babies.'
'As well as the kitchen and dining area, there was space downstairs for a snug, a cloakroom, utility, a space with the air source heat pump that I use as a drying room, and a mud room for taking off our wellies.'
Describing her style as 'relaxed, boho and cosy', she opted for soft neutrals, off-whites, natural materials and plenty of ceramics and glassware to imbue her home with warmth and tactility.
''A farm is such a great place to live, and for the children to grow up in – we are really lucky,' she says. 'During the lockdowns, it was wonderful having all this land to walk around on.

'When we are in the farmhouse, this will become an annexe. I think my mother-in-law has her eye on it, but our eldest daughter will be returning home from university, too, so we will see how it goes.'
Get the Ideal Home Newsletter
Sign up to our newsletter for style and decor inspiration, house makeovers, project advice and more.