Installing a downstairs toilet – costs and step-by-step guide
A downstairs loo is a small but hardworking space – here's how much installing one will cost and factors to consider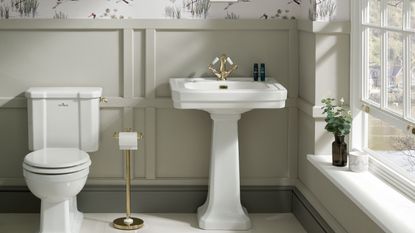 (Image credit: BC Designs)
Ideal Home Newsletter
The Home Of Great Ideas For More Than 100 Years
Thank you for signing up to . You will receive a verification email shortly.
There was a problem. Please refresh the page and try again.
Installing a downstairs toilet is one of the most practical home renovations you can do, plus, it can add around 5 per cent to the value of your property. For parents of young children, anyone who entertains regularly, and those with elderly relatives, a downstairs loo is a godsend.
Many properties built between the 1930s and 80s only have a bathroom upstairs, which often leads to muddy footprints on carpets and a reduced sense of privacy upstairs. Adding a downstairs toilet isn't as expensive as you might think, so it's well worth considering.
Installing a downstairs toilet
That said, it's not something that's easy to DIY, as it requires plumbing experience. We've enlisted expert advice to help you bring your small bathroom ideas to life.
Barrie Cutchie, Design Director at BC Designs (opens in new tab), says, 'It isn't just about adding a toilet, at the very least you will need a washbasin, a light source, and also ventilation. If there's more space to play with, then you may consider turning it into a downstairs washroom or bathroom.'
1. Decide where you want it to go
Once you've decided to add a toilet, the first thing you'll need to consider is where the best place for your downstairs toilet might be. For instance, you may be able to convert a cupboard under the stairs, in which case you'll need to measure, measure, and measure again.
Alternatively, installing a toilet at the end of a hallway, in a utility room or off the kitchen will mean you have more space to work with. And you no longer have to follow the 'two door' rule – just one door dividing your kitchen and toilet is enough.
2. Draw up a budget
If you're installing a downstairs toilet as part of your extension ideas, it'll obviously be more costly but you'll be less limited on square footage. When you've found a suitable space you'll need to decide how much you are willing to spend. Barrie Cutchie recommends consulting a builder at this stage as they can help you to find a suitable space and will tell you how much it will cost.
3. Choose your layout
You'll then need to decide where the four key elements of your downstairs toilet will go: the toilet, sink, lighting, and ventilation/window. Small downstairs toilets pose design challenges that feel like a game of Tetris, but there are lots of clever small bathroom layouts to take inspiration from.
You may also want to install extras like a heated towel rail, built-in shelving, wood panelling, or space-saving cloakroom storage ideas. Look on Pinterest and in magazines for ideas that could feasibly work.
4. Consult a plumber
With location and layout firmed up, it's time to speak to a plumber about your plans. Professional tradespeople will be used to this kind of work and will generally find it to be quite a simple process.
Trinity Owhe, a design expert at Victorian Plumbing (opens in new tab), says you'll want to ensure you have the capacity for proper drainage and adequate waste disposal. This can be secured by making sure there is access to sewage and drainage systems, as well as making sure your plumbing meets the Water Regulations Advisory Scheme (opens in new tab).
5. Think about lighting
Because it's usually a small space, you'll want to be smart with your bathroom lighting ideas when installing a downstairs toilet. Chances are, there isn't much natural light available, so think of ways to layer light sources, from LED strips to mirrors with lights, at IKEA (opens in new tab).
Ceiling lights will also need to be flat if you've got low or sloping ceilings, so people don't walk in and hit their heads.
6. Hang a mirror
You really notice it when you go into a toilet without a mirror, and while it might be the oldest trick in the book, hanging a mirror always opens up small spaces. As well as giving guests a chance to check their hair, the best bathroom mirror will create a sense of depth, making it feel altogether brighter and less cupboard-under-the-stairs.
7. Seek sanitary ware with a slim footprint
Any downstairs toilet will need a toilet, sink, and lighting. You'll also need somewhere to hang a hand towel, and potentially an extractor fan. With all these components going on, streamlined sanitaryware with a small cistern will stop this petite room from feeling cluttered.
How much does it cost to install a toilet under the stairs?
It's likely to cost between £2,000 and £4,000. 'People shy away from adding a downstairs toilet to their home, as they think it's a job fraught with red-tape, expensive materials, and high labour costs,' comments Barrie. 'The truth is: You can install a ground-floor loo in a few days and for as little as £2,000, though this will depend on the fixtures and fittings that you go for.'
Richard Southern says the job usually takes between eight and twelve days, and that you may need to hire some additional contractors for the work, such as flooring specialists, electricians, plasterers, and decorators. The labour costs, in general, will depend on your location.
You can cut costs by opting for basic fittings and doing the painting, tiling, and flooring yourself. Remember to factor in the cost of finishing touches like mirrors and storage. With the help of our budget small bathroom ideas, you'll find ways to cut costs, from using paint and compact storage to repurposing old furniture.
Is it easy to install a downstairs toilet?
'Installing a downstairs toilet may not be as difficult as you might think,' says Richard Southern, a plumbing expert at PriceYourJob (opens in new tab). 'The work will generally take around a week or two.'
Do I need permission to install a downstairs toilet?
You don't need to apply for planning permission, unless you're lucky enough to live in a listed building or a conservation area or if your downstairs toilet ideas are going to be a part of an extension. That said, you will need to follow the latest building rules and regulations, so before going ahead with any plants, check with your local council or a building control company.
Some councils demand that a downstairs toilet is wheelchair accessible, and rules vary across the country. So if in any doubt, check.
Can I put a downstairs toilet anywhere?
As long as there's adequate plumbing, toilets can go upstairs or downstairs in any room of the house. Richard Southern says that contractors will be able to work around small spaces in your home for the installation.
That said, some locations will be more of a headache, because you need to work out how to get water to it, as well as having a drainage system to take waste away. 'If you put it in a location that makes this difficult, it will add considerable cost to the project in terms of the plumbing,' says Barrie Cutchie.
Millie Hurst is Senior Content Editor at Ideal Home. She first joined the team at the start of 2021. Previously, she worked in women's lifestyle and homes news, writing about everything from budget kitchen makeovers and gardening tips to homeware dupes and cleaning hacks. Millie can often be found looking up trending terms, spotting news stories our readers need to know about and finding ways to decorate her rented flat.