Installing a cloakroom – costs and what to consider when adding a downstairs toilet
A downstairs loo is a small but hardworking space – here's how much installing one will cost and factors to consider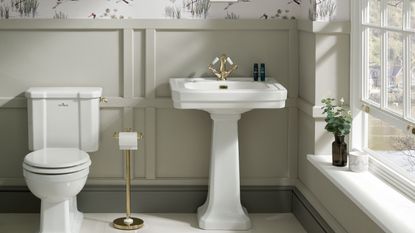 (Image credit: BC Designs)
If your household has outgrown sharing one bathroom upstairs, and you're slightly fed up of waiting to go to the toilet whilst someone finishes up in the shower, you've probably been dreaming wistfully of installing a cloakroom.
A cloakroom can be a wonderful addition to the home. It will save you from making the trip upstairs every time you need a toilet break, and add around 5 per cent to the value of your property. But there's a fair bit of planning involved with installing a downstairs toilet, so before you start browsing the best downstairs toilet ideas, it's useful to know how to go about the process.
Installing a downstairs toilet
Adding a downstairs toilet isn't as expensive as you might think, so it's well worth considering. That said, it's not something that's easy to DIY, as it requires plumbing experience. We've enlisted expert advice to help you bring your small bathroom ideas to life.
Barrie Cutchie, Design Director at BC Designs, says, 'It isn't just about adding a toilet, at the very least you will need a washbasin, a light source, and also ventilation. If there's more space to play with, then you may consider turning it into a downstairs washroom or bathroom.'
Decide where the downstairs toilet should go
Once you've decided to add a toilet, the first thing you'll need to consider is where the best place for your downstairs toilet might be. For instance, you may be able to convert a cupboard under the stairs, in which case you'll need to measure, measure, and measure again.
Alternatively, installing a toilet at the end of a hallway, in a utility room or off the kitchen will mean you have more space to work with. And you no longer have to follow the 'two door' rule – just one door dividing your kitchen and toilet is enough.
Installing a cloakroom - the essentials
When it comes to installing a cloakroom, there are four major components to consider first and foremost.
The layout and key features of the cloakroom i.e. the toilet and sink, which will require a plumber
Lighting, which a professional electrician will need to wire
Some form of ventilation - either a window or an extractor fan
Heating - if you want your cloakroom to be included in your central heating system, you'll need to have a radiator fitted
These are the aspects of the cloakroom that require the most planning. Before you start ringing around for local plumbers and electricians, check your building regulations so you know that installing a cloakroom in your home will comply with all the relevant safety regulations. You can contact your local authority building control team via Planning Portal, and they'll be able to give you more information on whether you need any planning permission.
'The installation will involve plumbing, heating, and electrics – these all need to comply with certain safety standards,' explains Thomas Goodman, Property Expert, MyJobQuote. 'Once the work is complete, it will need to be signed off by a building control officer. Once the work is signed off, you will receive a building control completion certificate to prove that the work was completed under the relevant building control rules.'
Plumbing
The plumbing is where most of the work is required when installing a cloakroom. Before you progress into the design stage, consult with a plumber so they can clarify where the toilet and sink can be placed. They will consider water access and exit, and the link to your main sewage waste pipe.
'In order to make sure the plumbing meets the UK building regulations, it is highly recommended that you hire a professional plumber to complete the work for you', says Thomas Goodman at MyJobQuote.com. 'Your plumber will ensure that there is proper drainage, efficient waste disposal, access to sewage and drainage systems, your pipes run downhill, and your plumber will also ensure the work adheres to the Water Regulations Advisory Scheme (WRAS).'
Layout
After consulting a plumber you can start flexing your creative muscles as you'll need to decide where the four key elements of your downstairs toilet will go: the toilet, sink, lighting, and ventilation/window. Small downstairs toilets pose design challenges that feel like a game of Tetris, but there are lots of clever small bathroom layouts to take inspiration from.
You may also want to install extras like a heated towel rail, built-in shelving, wood panelling, or space-saving cloakroom storage ideas. Look on Pinterest and in magazines for ideas that could feasibly work.
Lighting
Your new cloakroom will also need to be well lit, so getting lighting wired in is an essential. An electrician will be able to do this fairly easily. It's always a good idea to get a few quotes from local electricians so you can ensure you're getting the best deal.
'Getting lighting fitted in a downstairs toilet is relatively easy and would not be expensive,' says Bob Stephen, Managing Director, Hollywell Building Services. 'It is often just a case of wiring from the existing lighting circuit in an adjacent room. A ballpark figure for four downlights and wiring would be £500.'
Ventilation
'Ventilation is very important', says Thomas Goodman at MyJobQuote.com. 'You will need to install an extractor fan that can remove 15 litres of water from the air per minute. Alternatively, you will need to install a window that can open more than 15 degrees.'
Including a bathroom extractor fan is an essential step in installing a cloakroom. The last thing you want is for your new cloakroom to become a site of mould and damp, so we recommend prioritising this as part of your budget. 'If the cloakroom is formed on one of the outside walls of the building, the wall can be drilled to put the fan in, which would cost around £450,' says Bob Stephen.
If not, make sure to get a window fitted instead. This is going to be more costly if there isn't one in the room already, and you'll have to keep it open a lot of the time to let air circulate. But a window could be a nice addition to the cloakroom, and you could even choose an obscure glass type for added visual interest.
Heating
'Lastly, you should consider the heating,' says Simon Boden, Property Expert, House Sales Direct. 'While most cloakrooms are relatively small and don't require separate heating, others may do, so installing a radiator is the final fitting you will have to do.'
You may prefer to have a radiator in your cloakroom anyway, especially if you're having a window fitted which will be left open a lot of the time. How big of a job it will be to connect a new radiator to your central heating depends on where the existing heating pipework runs.
'The most energy efficient route is more often than not to install the radiator on the heating circuit,' explains Dasha Klyachko, CEO and Founder, Livlet. 'It would involve adding flow & return pipework from your heating circuit, and connecting them to your radiator (often a towel rail - type).'
Dasha adds, 'as the bathroom will often be against an external wall & be used relatively sparingly we would very highly recommend going for a smart thermostatic radiator valve and setting the temperature to a reasonable lower level.' This is a helpful way to save energy if you do want your new cloakroom to feel benefits of central heating.
Do I need planning permission to put in a downstairs toilet?
'Fortunately, you do not need planning permission to install a downstairs toilet unless it is part of a bigger extension project,' says property expert Simon Boden. 'The only thing you should be mindful of are the building regulations, but they should be relatively easy to adhere to.'
So if you're just converting a space that's already there and installing a downstairs toilet in it, you aren't required to gain formal planning permission. The building regulations will determine where it's safe for the toilet and sink to be installed. If your new cloakroom is part of an extension, you will need to obtain permission for the overall project.
'As long as you are not making any alterations to the outside of the home, you won't need to worry about applying for a full planning application for most toilets and sinks,' says Thomas Goodman. 'Though it's still always worth checking with your local authority beforehand just to make sure.'
He adds, 'if you live in a listed building or a conservation area, then you may need to get planning permission.'
How much does it cost to install a toilet under the stairs?
It's likely to cost between £2,000 and £4,000. 'People shy away from adding a downstairs toilet to their home, as they think it's a job fraught with red-tape, expensive materials, and high labour costs,' comments Barrie. 'The truth is: You can install a ground-floor loo in a few days and for as little as £2,000, though this will depend on the fixtures and fittings that you go for.'
Richard Southern, a plumbing expert at PriceYourJob says the job usually takes between eight and twelve days, and that you may need to hire some additional contractors for the work, such as flooring specialists, electricians, plasterers, and decorators. The labour costs, in general, will depend on your location.
You can cut costs by opting for basic fittings and doing the painting, tiling, and flooring yourself. Remember to factor in the cost of finishing touches like mirrors and storage. With the help of our budget small bathroom ideas, you'll find ways to cut costs, from using paint and compact storage to repurposing old furniture.
Can I put a downstairs toilet anywhere?
'Depending on the position of your main sewage waste pipe, fitting a downstairs toilet is not that difficult to dos,' says Adam Logan, Training Manager, LIXIL EMENA & GROHE UK. 'You do however need to consider water and waste access and exit, and it's important to note that there are regulations to observe regarding the waste pipe fall which is the angle that the pipe drops for correct drainage.'
Consult a plumber to check where your downstairs toilet can be fitted, but more often than not, it can be installed pretty much anywhere. There may be more work required depending on the current network of pipes, but a qualified plumber will be able to take you through this.
'While you are allowed to put a downstairs toilet anywhere in your house, sometimes certain areas are not entirely suitable for it due to layout, walls, ventilation etc.,' says Simon Boden. 'It's important to choose the right spot for it and make sure that there isn't a better use for the space. Some places to consider include under staircases, unused cupboards, wardrobes and back of the kitchen spaces.'
'If you put it in a location that makes this difficult, it will add considerable cost to the project in terms of the plumbing,' warns Barrie Cutchie.
Make sure you have a clear budget in mind before getting started.
Get the Ideal Home Newsletter
Sign up to our newsletter for style and decor inspiration, house makeovers, project advice and more.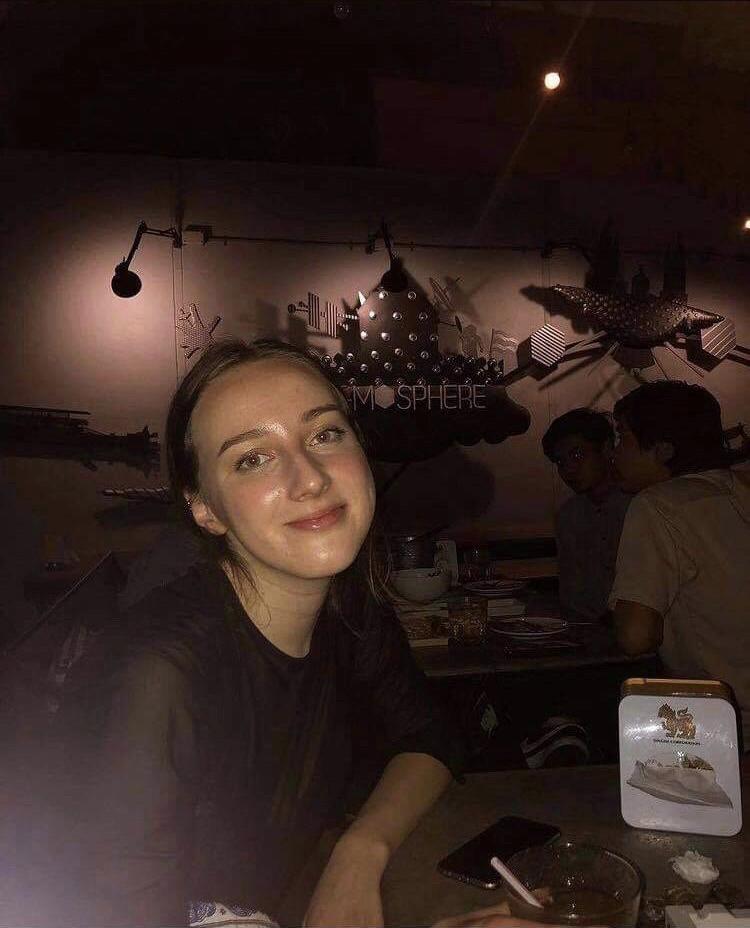 Katie Sims has been writing for Ideal Homes since spring 2022. She qualified from her Master's in Media and Journalism in 2021 and has been writing freelance since. She has worked on Ideal Home's ecommerce team where she researched the best home products on the market, and on the news team, researching the latest trends for feature pieces.