The 'Hollywood clean' is going viral on TikTok – but is it actually any good?
We speak to the experts to find out whether this is a good approach to cleaning and if we should be trying it ourselves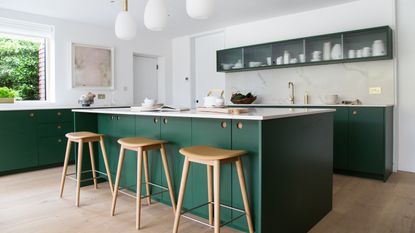 (Image credit: Naked Kitchens)
Ever heard of the term 'Hollywood clean'? If not, it may soon be on your radar, as a TikTok video making reference to the practice has recently gone viral, with over 5.4 million views and 819,000 likes.
TikTok user @sare.nicolee posted a tongue-in-cheek, five-second video showing her boyfriend deep-cleaning their carpet, alongside a snap of herself, looking notably confused. The video was captioned, "When your boyfriend grew up in a 'deep clean house' but you grew up in a 'Hollywood clean house'".
She later posted multiple different videos revealing that her parents had made up the term 'Hollywood clean', and that it essentially indicates a surface-level clean (arguably, like the surface-level beauty of Hollywood), as opposed to a longer, deep clean of your house.
So is the practice of a Hollywood clean actually beneficial, or should we be ignoring it in favour of more regular deep cleans of areas like your kitchen, bedroom, and bathroom? We asked the experts…
Why a Hollywood clean can be very helpful – according to cleaning experts
Sharing some examples of the difference between a 'Hollywood clean' and a deep clean, the TikTok user explained in further videos that while her boyfriend will regularly do things like shampooing their carpets, or dusting in all the nooks and crannies, she, for the most part, will instead focus on ways to make their home look presentable on first glance – perhaps by folding their sofa blanket, getting rid of any surface clutter, or straightening up towels in the bathroom.
And according to experts – while it may not sound like it at first – a 'Hollywood clean' could actually be a fantastic trick for keeping on top of your home maintenance routine.
Cleaning expert Laura Mountford, of @Lauracleanaholic, says, 'I absolutely relate to and love the concept of a 'Hollywood clean', because this is my style of cleaning on a weekly basis.'
'The biggest benefit of the Hollywood clean is that it enables you to keep on top of cleaning, and on the surface your space looks and feels clean and tidy. It feels productive and positive mentally, because there is not lots of visible clutter or dirt.'
She explained that it can be super helpful to people with busy commitments such as work, kids, and social live. 'In modern day life, we simply do not have the time to deep clean the whole home every week, let alone every day.'
Matthew Harrison, cleaning expert at PriceYourJob.co.uk agreed, sharing that, 'For those with a limited amount of spare time, it's the ideal method.'
'In fact, being able to keep up with surface level cleaning saves time and effort when it comes to seasonal deep cleans, too.'
But, Matthew explained, for a Hollywood clean to function properly, it's something you probably need to maintain on a daily basis. 'You do need be strict, doing a small portion of surface cleaning each day. And you need to be organised – for example, having a daily schedule printed up and baskets for clearing clutter away quickly is a must.'
However, Laura urged that if you do follow the idea of a Hollywood clean most regularly, it's vital to ensure you still deep clean on a semi-regular basis.
'It's important not to neglect deep cleaning completely, especially with appliances like the washing machine and dishwasher, or they can become less effective.'
'Equally, avoiding deep cleaning completely can actually hinder your Hollywood cleaning, because a build up of grime can make a surface level clean impossible. For example, if your grout becomes mouldy and grimey, you would need to deep clean it just to restore it to a state when you could then just surface level clean it.'
Get the Ideal Home Newsletter
Sign up to our newsletter for style and decor inspiration, house makeovers, project advice and more.
Amy Hunt is an experienced digital journalist and editor, now working in a freelance capacity specialising in homes and interiors, wellness, travel and careers. She was previously Lifestyle Editor at woman&home, overseeing the homes, books and features sections of the website. Having worked in the industry for over eight years, she has contributed to a range of publications including Ideal Home, Livingetc, T3,Goodto, Woman, Woman's Own, and Red magazine.