How much does it cost to run an air purifier? We've done the sums
And which energy saving features to look out for to keep costs down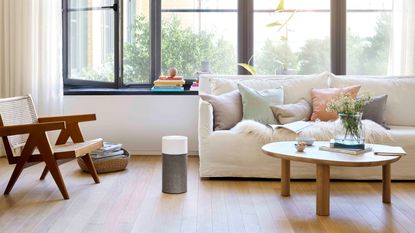 (Image credit: BlueAir)
Whether you have a medical condition, such as asthma, hayfever or pet allergies, or are looking to remove contaminants like dust, pollen or smoke from the air, investing in one of the best air purifiers can really improve the air quality of your home.
There are also airborne pollutants that you might not even have considered could be causing issues in the rooms where you spend the majority of your time, such as the chemicals released from some paints, certain candles, cleaning products and artificial air fresheners.
So, if you've been considering investing in an air purifier you may have wondered how much does it cost to run one. Well, we've calculated exactly how much electricity an air purifier uses and what this will cost with the current energy price cap.
Energy prices have fallen a little in recent months, with predictions of another decrease later this year. But every little helps when it comes to saving energy at home. So, keep reading to find out exactly how much it will cost you to run an air purifier with average usage, as well as which energy saving features to look out for to save even more.
As well as the price and the dimensions of the air purifier, 'the clean air delivery rate (CADR) is one of the most important numbers to look for when you're picking out an air purifier, as it shows you how effective the device is. The higher the CADR, the faster the machine cleans the air,' reveals Lars Dunberger, technology development Manager at Blueair.
'Once you know the CADR then you can compare this with the energy use and size of the room it can filter to work out how efficient it is.'
There are a range of different brands, wattages and sizes of air purifiers to choose from. Because of this, it can be a little overwhelming to know where to start. But if you already have a certain air purifier in mind, keep reading to see how much it could potentially cost to run an air purifier, as well as how to ensure that you keep energy costs down.
How much electricity does an air purifier use?
'Air purifiers are relatively cheap to run in comparison to other air treatment appliances,' says Meaco's managing director, Chris Michael.
'The amount of electricity an air purifier uses really depends on the size of the room that it is being used in, alongside the specific model and its size,' explains Marc Duckworth, product manager for Russell Hobbs at Product Care Group. 'For instance, a compact model that is suitable for smaller rooms will use a lot less energy as opposed to an air purifier that has been designed specifically for larger living spaces.'
'It's also important to remember that electric consumption will vary depending on its settings and how long it is used each day,' he continues.
'A good quality air purifier will efficiently deliver clean air on its lowest setting, only requiring higher settings when detecting periods or spikes of pollution, such as chemical sprays, or smoke from cooking,' says Lars from BlueAir.
'Premium air purifiers that contain advanced features such as HEPA filters that capture unwanted air particles will require an additional amount of electric output to function,' Marc continues. While multi-functional air purifiers, such as those from Dyson, which also have heating and cooling capabilities can also cost more to run.
For example, 'using the heating element will cost more than the cooling element, but it's a multi-functional machine so you can use it all-year round,' says Matt Jennings, environmental care category director at Dyson. Which is why it also worth bearing this in mind when you look to purchase the best air purifier for your needs and home.
How much does it cost to run an air purifier?
The wattage of an air purifier can range anywhere from 10W to 100W – or even as high as 200W on some industrial models – but we have based our calculations off of some of the most popular and common air purifiers on the market.
So, if you have a 10W air purifier, you would divide 10 by 1000 to get 0.01. If you are using it for ten hours a day, you'll then multiply 0.01 by 10 giving you 0.1kW. This is how much energy the air purifier uses in a day.
To work out exactly how much it costs to run an air purifier, you will need to know how much you pay for one unit of energy (1kW). This should be listed on your energy bill. From October 2023 the energy price cap will be 27p per kWh and this is the figure that we have used to calculate how much some air purifiers could cost to run at the moment.
In all of our calculations we have made the assumption that the air purifier will be used for 10 hours a day every day. But it can be a good place to start from, when compared to how many hours a day you use your own air purifier.
An example 10W purifier used on average for 10 hours a day will cost roughly £0.19 per week, £0.82 per month and £9.85 per year.
An example 40W air purifier used on average for 10 hours a day will cost roughly £0.76 per week, £3.28 per month and £39.40 per year.
An example 55W air purifier used on average for 10 hours a day will cost roughly £1.04 per week, £4.51 per month and £54.17 per year.
If you know your existing air purifier's exact wattage or are researching which one to buy, you can use our figures to work out how much your air purifier will cost.
Which energy saving features should I look for when buying an air purifier to keep costs down?
'When it comes to energy saving, it's of the utmost importance to select the right size of air purifier for your needs,' according to Chris. 'If you have a large family, then you may need to look at larger models that can cope with more.'
'These are appliances that you will probably own for several years, so think about how your needs might change in the future and whether to buy for those needs now, or whether you are willing to wait and trade in later,' he continues.
There are also a couple of different features to keep an eye out for when buying an air purifier. Nicholas Auckland, energy expert from Trade Radiators, outlines a few of the most important ones.
1. A built-in timer
Having a built-in timer 'allows you to set the air purifier to turn on and off at certain times, helping you save energy and preventing you from using the air purifier when you're not at home,' he advises. There are even air purifiers which can be operated via a mobile app to give you even more control over your appliance.
2. Night/sleep mode
Having a night or sleep mode will also automatically switch your air purifier to a lower energy setting at night. This mode will consume 'less energy than its standard mode,' explains Nicholas. It will also likely make your air purifier even quieter, ideal for when you're sleeping.
3. A filter change/removal reminder
'To ensure that an air purifier is working in the most energy efficient way, we recommend cleaning the product at least once a month to remove any dust that has accumulated,' advises Colin Swift, product line manager, Wellbeing and C&A at AEG.
'Air purifiers have filters, which need to be cleaned on a regular basis as well as being replaced,' continues Colin. 'The lifespan of a filter is dependent on usage, but we'd recommend that you replace the filter of an air purifier between 6-12 months depending on usage.'
'Some filters have to be replaced completely instead of being cleaned, so it's a good idea to look for an air purifier that tells you when to change your filter,' adds energy expert Nicholas. 'If your air purifier doesn't remind you, then it's likely you'll end up running it without it being able to work at its full capacity.'
4. An air quality sensor
Having this specific sensor will ensure that you don't waste energy running your air purifier when the air quality is already good in a specific room or area of your home.
You'll also want to keep your windows and doors closed when you're using your air purifier.
If you're unsure about what your air quality might be, here is how to check the air quality in your home.
Get the Ideal Home Newsletter
Sign up to our newsletter for style and decor inspiration, house makeovers, project advice and more.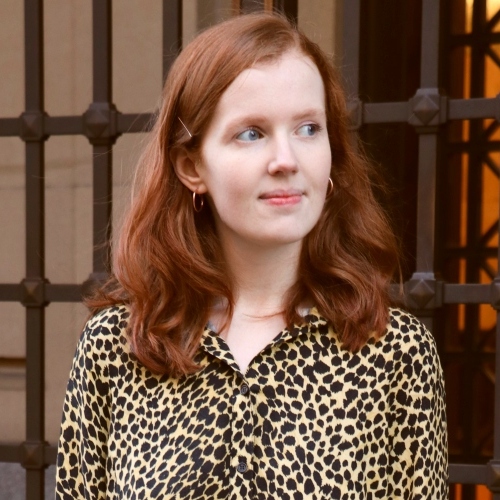 Ellis Cochrane has been a Freelance Contributor for Ideal Home since 2023. She graduated with a Joint Honours degree in Politics and English from the University of Strathclyde and between her exams and graduation, started a lifestyle blog where she would share what she was buying, reading and doing. In doing so, she created opportunities to work with some of her dream brands and discovered the possibility of freelance writing, after always dreaming of writing for magazines when she was growing up.
Since then, she has contributed to a variety of online and print publications, covering everything from celebrity news and beauty reviews to her real passion; homes and interiors. She started writing about all things homes, gardens and interiors after joining Decor & Design Scotland as a Freelance Journalist and Social Media Account Manager in 2021. She then started freelancing at House Beautiful, Country Living and in Stylist's Home team. Ellis is currently saving to buy her first home in Glasgow with far too many Pinterest boards dedicated to her many design ideas and inspirations.