Energy price cap to drop again from October - how much will you save on your bills?
In October, the energy price cap will drop below £2,000 for the first time since April 2022, but how much money will you save?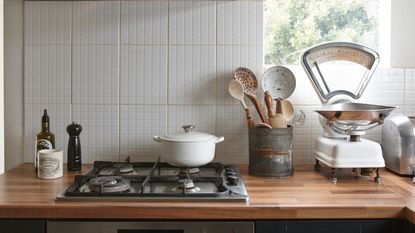 (Image credit: Future PLC / David Woolley)
Recent updates
This article has been updated to reflect the latest energy price cap announcement from Ofgem, the energy regulator.
If you're wondering what the energy price cap is and whether it still applies to you, you're not alone.
Energy regulator Ofgem has announced that the energy price cap will drop below £2,000 in October (it hasn't been below £2,000 since before April 2022), meaning cheaper bills for households across England, Wales and Scotland.
The Ofgem price cap has increased various times throughout the energy crisis, peaking at £4,279 in January 2023 causing households to worry about how to keep a house warm in the winter.
Former Prime Minister Liz Truss stepped in to protect bill payers from debilitatingly high bills by implementing a temporary energy bill freeze which effectively replaced Ofgem's price cap for a fixed period. This was called the Energy Price Guarantee. But as energy prices dropped, the energy price guarantee ended in June 2023 and the price cap took over again.
But while wholesale prices are dropping and the energy price cap is falling again, prices are still higher than before the crisis began, which means many households may still continue to struggle to afford their bills.
What is the energy price cap and how much will you save from October?
The energy price cap was introduced in January 2019 and sets a limit on how much energy providers can charge per kilowatt hour (kWh) of energy usage on standard variable and default tariffs. The price cap also applies to those on prepayment meters. It was designed to ensure customers pay a fair price for their energy and to protect them from huge bill hikes.
As the energy price cap got so high, the government intervened and introduced the energy price guarantee, which capped average annual bills based on typical use at £2,500. The price guarantee capped average unit prices at 34p per kWh for electricity and 10.3p per kWh for gas, and was in place until the end of June.
From July, the energy price cap dropped to £2,074 (based on typical use and paying by direct debit) per year - a saving of £426 compared to the price guarantee. This meant that unit prices were capped at 30p for electricity and 8p for gas. But from October 2023, the price cap will be £1,923, £151 cheaper than July's cap. Under the October cap, unit prices will be 27p for electricity and 7p for gas.
Don't forget that, as well as paying for the energy you use, you also have to pay a daily standing charge for your gas and electric. This will be an average 53p per day for electric and 29p per day for gas.
It is important to note that the price cap is not the maximum amount that you will pay for your energy bill – it's expressed as an annual average based on typical use. The cap actually applies to the price you pay per unit of energy, not your entire bill.
If you have a large draughty home and a big family, it's likely you will use more than the typical household and so your bills might cost more. On the other hand, if you have a small energy efficient home and are taking steps to reduce how much energy you use, your bill could be lower than the stated caps.
Predictions for how the price cap might change into 2024 are already swirling - use our calculator to see how these might affect your bills.
My bill still high - how can I keep energy costs as low as possible?
In the past, the best advice to save money on your energy bills was to shop around using a comparison site to find another cheap fixed-rate deal. However, when energy prices skyrocketed, suppliers removed their fixed price deals from sale as they couldn't afford to sell energy at such low prices. Now that wholesale energy prices are dropping, we are seeing some suppliers start offering fixed-price deals again. Look on a price comparison website like Go.Compare to see what deals might be available to you.
But prices are still not as low as they were before the energy crisis began. The best way to keep your bill as low as it can be is to reduce how much energy you use at home. This could be drying clothes outside instead of using your tumble dryer, using eco modes on washing machines and dishwashers, replacing light bulbs with energy-saving alternatives and avoiding leaving items on standby.
If you can't afford to pay your energy bills, you're not alone and help is available. Speak to your supplier in the first instance. But don't simply avoid paying your bill or cancel your direct debit as this can leave a black mark on your credit history that can impact your finances in the long term.
Get the Ideal Home Newsletter
Sign up to our newsletter for style and decor inspiration, house makeovers, project advice and more.
Sarah is an experienced journalist and editor with more than 10 years of experience in the Homes industry, working across brands such as Homebuilding & Renovating, Period Living and Real Homes. After segueing into the world of personal finance, acting as launch editor of Ideal Home's sister brand TheMoneyEdit.com, Sarah became Editor in Future's Wealth division with a focus on property-related finance and household bills, working across brands including GoodtoKnow and Ideal Home. She is passionate about helping people cut through confusing jargon to make the right financial decisions when getting on the property ladder and turning a house into a home.
With contributions from