Is a variable rate mortgage ever a good idea? Experts weigh in
Our money expert explains what a variable rate mortgage is, who they can be good for, and the pros and cons of this kind of mortgage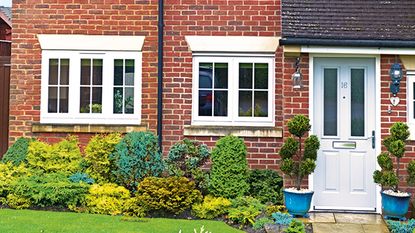 (Image credit: Future PLC/Jeremy Phillips)
It may seem crazy taking out a variable rate mortgage at a time when interest rates are rising, but for some borrowers it's the right move.
Later this month, the Bank of England will meet to decide whether to put up the base rate again. It has risen more than 13 times since December 2021. During that time, the price of fixed rate mortgages have climbed and climbed, driven even higher by unexpected shocks to the economy.
An average two-year fixed rate for a homeowner with 25% equity was 6.21% at the end of August, according to the Bank of England, up from 4.6% in April. But with variable rates rising more slowly (the equivalent rate is 5.66%) it's no wonder they're grabbing borrowers' attention when they are looking for the best mortgage rates.
We've asked the experts to lift the lid on why borrowers choose variable rate mortgages, their pros and cons and the different types available.
What is a variable rate mortgage?
A variable rate mortgage is a home loan with an interest rate that can go up or down within the term of your deal, unlike a fixed-rate mortgage, where the interest rate is fixed for a specific duration, usually two, five or ten years.
There are three types of variable rate mortgage:
Tracker mortgage – this tracks the Bank of England base rate by a specified margin, for example base rate + 0.25%. As soon as the base rate changes, your mortgage will change by this amount.
Discounted rate mortgage – these deals are linked to your lender's standard variable rate (SVR), the default rate you go onto when your mortgage deal expires if you don't arrange a new one. A discount off the standard variable rate is offered, for example, SVR – 3%. This means that if your lender's SVR was 8%, your rate would be 5%. When the base rate changes, your lender is not obliged to alter its SVR or pass on the full rate rise or cut, but it can do.
Standard variable rate – if you do nothing when your deal expires, your interest rate will revert to the lender's standard variable rate which is much higher than other variable rates, averaging around 8%.
Is a variable rate mortgage ever a good idea?
Whether a variable rate mortgage is a good idea depends on two things; whether or not you think interest rates will fall and your financial circumstances.
In early September 2023, the governor of the Bank of England said it was "much nearer" to the end of its interest rate hikes but because inflation remained high, borrowing costs may still rise further.
If you think rates will drop, then taking a tracker or discount mortgage may interest you. While you may have to endure a short-term increase in your monthly payment, if rates do fall over the next two years, you'll be on a cheaper rate than if you locked into an expensive fixed-rate now.
David Hollingworth of L&C Mortgages said: "If interest rates don't come down you must consider whether you have enough capacity in your budget to deal with an increase in your rate and how much flexibility you have before your finances are under too much strain." Read our guide if you find you can't afford to pay your mortgage - it's packed full of practical steps you can take.
Lots of tracker deals, and some discounted mortgages, come with no early repayment penalties. If rate rises are putting your budget under stress you can switch to a fixed rate at any time. But you would have to pay remortgaging costs to do so. Check the terms and conditions of your tracker deal before signing up. Some are only penalty-free to ditch early if you're switching to a fixed rate with the same lender.
Should I stay on my lender's Standard Variable Rate?
Staying on your lender's Standard Variable Rate is a costly decision and one that's not advisable for more than a few months. Borrowers who are moving home may sit on their lender's SVR if their old deal has expired to avoid the stress and cost of remortgaging.
Rowan Frayling, managing director of brokerage J Finance, said: "Lots of borrowers choose variable rates because of their features not because they're cheaper than fixes. Many allow borrowers to make unlimited overpayments and leave early with no penalties. These extras are more important to them than the stability of their rate."
Most mortgages restrict borrowers to a maximum of 10% overpayments each year. An unlimited overpayment feature is useful for homeowners expecting an inheritance or who receive bonuses at work that they plan to use to pay down the mortgage.
Pros and cons of a variable rate mortgage
Benefits of a variable rate mortgage
You'll benefit from a lower interest rate and monthly payment if the base rate falls.
You are not tied into a fixed rate for two to five years, watching rates drop while you remain on a higher fixed rate.
There are more flexible features on a variable deal than a fixed rate mortgage.
Drawbacks of taking a variable deal
Borrowers on a tracker will see their monthly payment rise if the base rate increases.
Those on a discount deal may be shielded from all of the rate rise but are likely to see some increase in their monthly payment if the base rate increases.
Households have a lack of certainty over their monthly budget.
Most variable rate mortgages have a restriction in their terms which states your mortgage rate cannot drop below a certain level, however low the base rate falls.
Get the Ideal Home Newsletter
Sign up to our newsletter for style and decor inspiration, house makeovers, project advice and more.
Samantha Partington is a personal finance journalist specialising in mortgages and the property market.
Over the past nine years, Samantha has worked for the Daily Mail, trade website Mortgage Solutions and business title Property Week. She regularly writes for national money pages including Money Mail and Sun Money and supports prop tech firms with content writing.