Take a look around this colour-pop cottage in the Scottish borders
The owner turned this drab stone Victorian cottage into a bright and modern home that's bursting with vibrant colour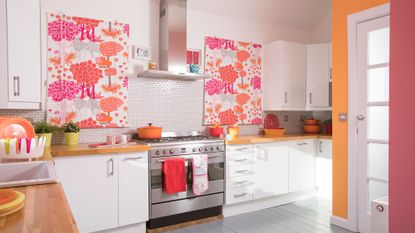 (Image credit: Future PLC/Dave Burton)
'Ever since I left school and went to art college I've experimented with the primary colours of red, blue and yellow,' says the owner of this four-bed cottage in the Scottish Borders. 'I've always liked to push the boundaries – initially with the clothes I wore, but later in my home, creating a riot of bright, bold shades which crop up in every room of my house. I have colour on the walls, the furniture and in all the accessories.'
Be nosy and look around more of our real homes
As a chocolatier, the owner is surrounded by dark chocolate colours when she's at work, so when she gets home she wants less brown and more of a pick 'n' mix of sweet shades! When she bought this stone cottage it was little more than a shell, completely devoid of colour and stripped back to the bare bones.
The tiny kitchen had nothing in it except for a sink and all the carpets had been taken up. 'I saw it as a renovation project,' says the owner. 'I had done up two other houses and I knew I could do something with this one.'
Exterior
This 1890s four-bedroom semi-detached house in Peebles in the Scottish Borders, was an empty shell with all the furniture – including carpets and kitchen fittings – removed. There was nothing but a sink in the kitchen and the place hadn't been decorated for 30 years.
Now the house is filled with bright colours and creative ideas. The attic has been turned into two bedrooms and a shower room, while a series of small utility rooms have been turned into a light, airy kitchen.
Kitchen
Once all the structural work was complete, she turned her attention to the kitchen. 'It was very small and I wanted to open it up by knocking out a pantry, coal cellar and cupboard to create a spacious L-shaped room.'
The kitchen is one of the owner's favourite rooms in the house. I didn't have a huge budget for furniture, so I bought Ikea units then found bits and pieces on eBay or in antique shops,' she says. 'I love the pink Smeg fridge – I just adore the colour, and it's echoed in one of the accent walls.'
The owner's only regret is not making the kitchen even bigger. I spend so much time in there that, in retrospect, I should have knocked out the wall into the downstairs bathroom, moved the bathroom to where the dining room is, and had a huge kitchen-diner. It's something I might do in the future, but for now I'm perfectly happy with my home as it is,' she says.
Get the look
Buy now: Floor painted in Ronseal Diamond Slate Satin floor paint, £47 for 5L, B&Q
Buy now: Smeg FAB32R fridge freezer, £1,699, John Lewis
Living room
When it came to decorating, the owner decided to focus on one room at a time. 'I've learned from experience that it's not good to jump from one to another,' she says. 'So I took my time and got a feel for each room before I started to look at colours and furniture.'
The sitting room is long and narrow, so the owner wanted to draw it in and added a log burner as a focal point. 'I brought the sofas from my last house, including the blue/green Habitat sofa, adding splashes of colour with geometric cushions from We Love Cushions and a yellow trimmed throw from Ikea,' she says.
Get the look
Buy now: For a similar sofa try the Colby two-seater, £1,400, Habitat
Buy now: Ormhassel throw, £15, Ikea
Dining room
Although I was keen to keep all the remaining original features, I also wanted to bring the interior up to date with bright hues. I painted a lot of the woodwork and added vibrant, bold accent walls, too.'
'I have always loved playing with colours,' the owner says. 'When I studied textiles at art college, I was never afraid to wear all kinds of clothes, experimenting with patterns and colour. It was the same when I decorated this house. I find a starting point, such as curtains or cushions, and go from there. I'm not afraid to use really strong shades together. I find retro and vintage fabric in markets to make my own soft furnishings and upcycle old furniture with paint and new handles.'
Make yours fit for a feast with our dining room ideas
The owner chose a bold colour combo for the dining room. 'Sometimes I surprise myself with what works – like this combination of bright green on the chimney breast flanked by lemon alcoves,' the owner says. 'I waxed the original floorboards and added a £100 dining table and chairs that I found on eBay.'
Stairs
Make your staircase interesting by decorating the risers – the owner has added colours to tie in with her home, but mono stencils or even wallpaper can create a very interesting effect and make a feature. 'The hallway is long and narrow, so I painted the walls a sunny welcoming lemon, adding a striped rug from TK Maxx,' the owner says.
Bedroom
The attic was a large, open space, so the owner split it into two bedrooms and added a shower room by building out at the back of the house in a dormer style.
The owner added a mirror above the desk to create a dressing table and bought a chair from a second-hand shop and re-covered the seat with Ikea fabric. 'The red throw and blue bedding picks out the desk drawer colours,' she says. 'My bedroom in the attic is light and spacious.'
Bathroom
The bathroom is small and compact so the owner chose an overbath shower with a curtain, to make the most of the limited space. The glass display cabinet makes an ideal storage unit in the bathroom and the towels stored inside add a splash of colour.
Get the look
Buy now: Fabrikor glass door cabinet, £140, Ikea
Buy now: The patterned shower curtain, £19.99, H&M, is similar

The owner always looks forward to that moment when she walks through the door at the end of the day to be greeted by all those lovely colours. 'It can be dark, cold and raining outside, but my house always feels sunny,' she says. 'My home might not be to everyone's taste, but it still makes people smile. I certainly had fun doing it.'
Get the Ideal Home Newsletter
Sign up to our newsletter for style and decor inspiration, house makeovers, project advice and more.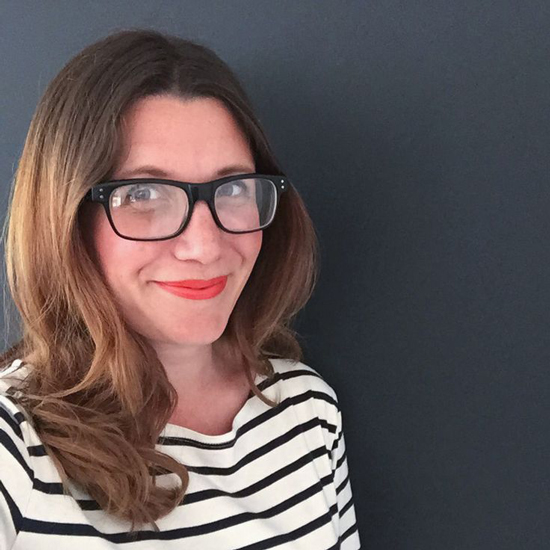 Heather Young has been Ideal Home's Editor since late 2020, and Editor-In-Chief since 2023. She is an interiors journalist and editor who's been working for some of the UK's leading interiors magazines for over 20 years, both in-house and as a freelancer.