Compact equipment for small kitchens
There are free-standing compact versions of most kitchen appliances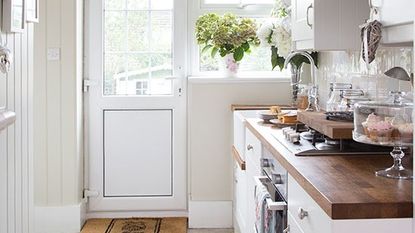 (Image credit: TBC)
Ideal Home Newsletter
The Home Of Great Ideas For More Than 100 Years
Thank you for signing up to . You will receive a verification email shortly.
There was a problem. Please refresh the page and try again.
There are free-standing compact versions of most kitchen appliances. To most manufacturers, the term 'compact' encompasses everything from slimline machines, such as 45cm-wide dishwashers and 50cm-wide fridge-freezers, to very small tabletop models.
The ZRT210W is an under-counter fridge-freezer from Zanussi, www.zanussi-electrolux.co.uk (opens in new tab), offering a saving of 30cm in width over a conventional fridge and freezer standing side by side. Compact washing machines that wash from 3 to 3.5kg of laundry are made by Candy, www.candy-domestic.co.uk (opens in new tab), and Zanussi.
The Candy AQ1000 accepts a 3.5kg load and costs around £360. Candy also supplies the Trio 501, a 60cm combination oven, hob and dishwasher, around £670. To make the best use of limited space, approach one of the companies that specialises in fitting complete kitchens into small spaces. John Strand Kitchens, www.johnstrand-mk.co.uk (opens in new tab), has black, white, cream, stainless steel and wood-effect cabinets (above) and compact appliances.
Another firm specialising in standard and bespoke small kitchens, in coloured, metallic and wood-effect finishes, complete with compact appliances, is Space Savers, www.spacesavers.co.uk (opens in new tab).