How to buy a kitchen sink
We've got everything you need to know to help you pick the perfect kitchen sink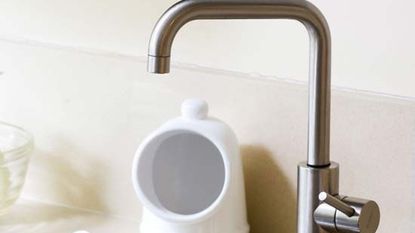 (Image credit: TBC)
Ideal Home Newsletter
The Home Of Great Ideas For More Than 100 Years
Thank you for signing up to . You will receive a verification email shortly.
There was a problem. Please refresh the page and try again.
The kitchen sink is a hardworking appliance that doubles as the kitchen's visual focus, so it's worth considering your options carefully. Here's some useful tips on how to buy a kitchen to help you choose the perfect design.
Before you buy a kitchen sink
With such a variety of modern materials, dramatic designs, and
space-saving options to choose from, it's important to pick a sink that
suits your needs.
If space allows, you can opt for anything from a single-bowl sink to a bigger, more industrial size, which can accommodate extra-wide trays from range cookers.
A two-bowl sink is the best choice, but if you have enough space, think
like a professional and get completely separate sinks for dishwashing
and food preparation.
Types of sinks
Inset
Probably the most common type of sink,
inset designs come in a wide variety of shapes and sizes, and are fixed
in place with the rim of the sink and drainer overlapping the worktop.
They can be fitted into a surface made from any material and are,
therefore, an extremely flexible option. Effectively sealing the space
between sink and counter top, they work particularly well with Formica
or wood finishes, which can be vulnerable to moisture.
Undermounted
Undermounted sinks are ideal for use with all types of solid
surfaces including wood, stone, Corian and glass. The bowl is fixed in
place underneath the kitchen counter, giving a really smart, modern
look. 'Fitting an inset sink into a beautiful granite worksurface would
be a wasted opportunity when you could have a sleek, undermounted sink,'
says Lawrence Pigeon. 'They are also cleaner, as any spills or crumbs
can be wiped straight into the bowl without getting stuck at the rim.
Bear in mind, though, that they can't be used with laminate worktops.'
Flush Mounted
Similar to stainless-steel undermounted sinks,
flush-mounted models sit level with the work surface. The main
difference between the two designs is the narrow perimeter that is left
around the edge of flush-mounted bowls, where taps or soap dispensers
can be installed. This area can also be extended to make sure the
drainer is completely level with the worktop. For a coherent kitchen
look, these designs look particularly good teamed with flush-mounted
hobs, and also work well with wooden worktops.
Integral
As both the sink and counter top are manufactured from the same
material, for example stainless steel or a synthetic solid surface,
there are no visible seams between the separate components. The result
is a sleek, contemporary and low-maintenance design.
Belfast or Butler
Known for their robust, hardwearing features, these sinks can look
as good in a modern kitchen as they do in more traditional schemes.
There is not much difference between the two classic designs, other than
the fact that butler sinks are a simple rectangle, whereas Belfast
models have a weir-type overflow to one side. Be aware that, instead of
fitting directly into your kitchen units, as most other sinks would,
both of these need to be bracketed onto the wall behind the worktop.
What materials are kitchen sinks made of?
Granite
Made from 80-85 per cent natural granite, which is ground up and
mixed with resin to form an extremely tough material, 'granite can be
moulded into any shape or size, creating designs that wouldn't be
feasible with stainless steel,' says Neil Clark of sink specialist
Carron Phoenix. Available in a host of shades, there's a hue for every
kitchen.
Copper
Copper sinks
have a warm, individual look, but do require some maintenance as they
scratch easily and can get dark spots. Depending on your taste, they can
be left to develop a rich, aged patina or can be repolished with
abrasive cleaners. To avoid discolouration, they should be wiped dry
after use.
Stone
Marble and other natural stone sinks can look amazing, but are best kept as prep sinks rather than for dishwashing, as they damage easily. Take care with cleaning products, and avoid bleach at all costs.
Wood
Quiet, resilient and softer than ceramics, wood warms up cool
modern kitchens. Usually laminated teak composite, the wood is sealed
using epoxy resin, which renders it tough and easy to clean.
Useful contacts
Alpes Inox (opens in new tab)
Astracast (opens in new tab)
Blanco (opens in new tab)
Boffi (opens in new tab)
Caple (opens in new tab)
Carron Phoenix (opens in new tab)
Holloways of Ludlow (opens in new tab)
Homebase (opens in new tab)
Ikea (opens in new tab)
John Lewis (opens in new tab)
Kohler (opens in new tab)
Hi-Macs (opens in new tab)
Schiffini at Design Space London (opens in new tab)
Shaws of Darwen (opens in new tab)
Stone Age (opens in new tab)
William Garvey (opens in new tab)
Use our product guide to locate your ideal kitchen sink.
Thea Babington-Stitt is the Assistant Editor for Ideal Home. Thea has been working across some of the UK's leading interiors titles for nearly 10 years.
She started working on these magazines and websites after graduating from City University London with a Masters in Magazine Journalism. Before moving to Ideal Home, Thea was News and Features Editor at Homes & Gardens, LivingEtc and Country Homes & Interiors.