7 DIY vintage garden projects for Bank Holidays
Dreaming of a pretty vintage garden? We have 7 DIY projects to help bring your outdoor space up to scratch. Better still, you can complete them over a long weekend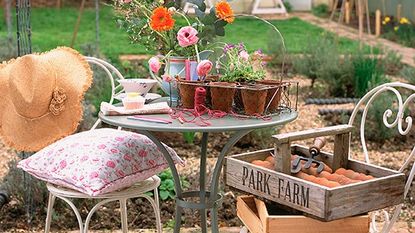 (Image credit: CH&I by Mark Scott )
1. Create a potting table
If you love to potter about in the garden, create an outdoor work station where you can pot up any cuttings and seeds you've collected.
If you have an old vintage work bench, table or dresser that you're no longer using, give it a new purpose. Sand down the surface before painting it (if you want a painted finish) in your colour of choice. When it's dry, sand down the edges of the surface and legs for a shabby chic effect. Your 'new' potting table is then ready to place in your favourite gardening spot.
Maximise efficiency with a small set of drawers, like those used to file old library cards, to keep your seeds dry and contained. An old terracotta pot makes a great place to temporarily store your secateurs and trowel during the day.
2. Upcycle old garden items
If that rusty old wheelbarrow has too many holes to ever be useful, don't throw it away. It will make a wonderful planter that creates a 'make-do-and-med' feel reminiscent of the 1930s. That extends beyond wheelbarrows! Other well-loved items like watering cans, galvanised planters, troughs and even bicycles are also great for creating a vintage vibe.
This wooden trough has been given a fresh lick of slate-grey shed paint to stand up to the Great British weather, then filled with beetroots, peas and lettuces. Label your planter using an alphabet stencil and white paint and don't forget to drill holes in the bottom to allow drainage.
3. Make a secluded al fresco dining area
Being able to sit out in your garden with a refreshing drink on a hot summer's day - there's nothing quite like it.
It's not hard to transfrom a neglected patio or a secluded corner into a serene alfresco dining area; simply clean up the area a little, remove weeds and add outdoor furniture, such as a wrought-iron lattice-pattern table and chairs and a floral-print parasol. Surrounded by pretty flowering shrubs and climbers, you've instantly got some serious English-country-garden appeal.
If you have the space and budget, consider introducing a trellised arbour and planting climbers, such as clematis which will clamber up the shelter with their beautiful spring-time blossoms.
4. Paint a birdhouse in vintage colours
Treat your garden and the wildlife that lives there to a vintage-style birdhouse or two. Pick up a couple of birdhouses - new from your local garden centre or reclaim some vintage ones - and get creative by painting them various pastel shades. The example above has been whitewashed and given a pale green roof, but you can experiment with stripes, polka dots or whatever takes your fancy. Get the kids involved!
If you're feeling really crafty try decorating the roof in a floral-print wallpaper then, when it's dry, sand it over to allow some of the wood grain to show through.
Sealed with wax and hung from tree branches, or nailed to fences and walls, these pretty birdhouses will add a vintage touch to your garden in a mere couple of hours.
5. Introduce homespun garden storage
Hunt out some vintage apple crates to create a homespun shelving unit - if you want an authentic look, make sure you obtain the genuine article. Stack them on top of each other, nail the individual crates together and tie them to a wall or fence to avoid them taking a tumble. Ideal for stashing old terracotta pots, wellies and garden tools (the latter out of reach of children) outside the house.
6. Dig for victory with a strawberry patch
Create a picturesque allotment-style area in a sunny space of the garden by digging out a strawberry patch. Border it off with reclaimed railway sleepers, bricks or tile, then fertilise the ground with manure.
Plant the strawberry plants in rows, 35cm apart, and keep them well watered. Sprinkle straw over the top for a more rustic, country-style look. It will also act as a deterrant for any pesky snails or slugs with their sights set on the plants' leaves.
When your strawberries take off, a mass of pretty white blossoms and ruby red fruits will adorn your garden.
7. Makeover a garden room
If you're lucky enough to already have a garden building, such as a summerhouse, you could freshen it up with a lick of paint. A combination of duck-egg blue slats with bright white window and door frames offers a cool retro look.
Bring a little personality to the exterior with small finishing touches, such as an ornate iron handle, a lace curtain, or colourful accessories such as an upcycled country-style chair or a bright bike. Add to the secret den-like feel by not pruning nearby foliage too much.
We can already imagine sitting sipping a glass of pink lemonade with jitterbug tunes blaring from a Roberts Radio... Now that's vintage.
For more decorating inspiration, craft ideas and cleaning hacks don't miss our dedicated DIY guide.
Get the Ideal Home Newsletter
Sign up to our newsletter for style and decor inspiration, house makeovers, project advice and more.
Tamara was Ideal Home's Digital Editor before joining the Woman & Home team in 2022. She has spent the last 15 years working with the style teams at Country Homes & Interiors and Ideal Home, both now at Future PLC. It's with these award wining interiors teams that she's honed her skills and passion for shopping, styling and writing. Tamara is always ahead of the curve when it comes to interiors trends – and is great at seeking out designer dupes on the high street.