Russell Hobbs 12" Scandi Desk Fan review
Simple yet stylish, our Russell Hobbs 12" Scandi Desk Fan review tests this affordable fan's cooling powers, noise levels, and ease of assembly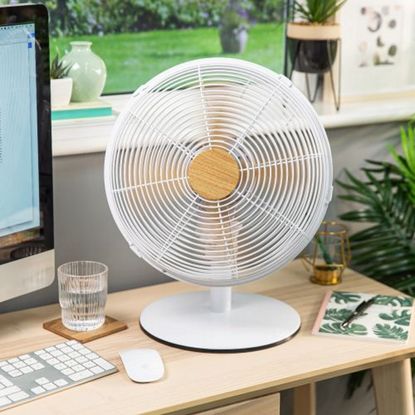 (Image credit: Russell Hobbs)
The Russell Hobbs 12" Scandi Desk Fan is a basic yet good-looking and relatively affordable way to stay cool while you work from home. Just don't try assembling it in a heatwave, as it may leave you a little hot under the collar
Reasons to buy
+

More stylish than your average desk fan

+

Relatively affordable

+

Oscillates left to right

+

Manual controls are easy to operate, if a little awkward to use
Reasons to avoid
-

Mid-level noise during operation

-

Build quality feels basic

-

The self-assembly is hard work

-

Limited control over the direction of airflow

-

Surprisingly heavy and takes up a fair amount of space
Why you can trust Ideal Home Our expert reviewers spend hours testing and comparing products and services so you can choose the best for you. Find out more about how we test.
The Russell Hobbs 12" Scandi Desk Fan takes the standard desk fan and gives it a simple yet stylish makeover thanks to three understated colourways – white, grey and black – and some Scandi-style oak-effect detailing.
It's a fairly basic design at a relatively affordable price point, but those simple design touches certainly mean it looks a lot nicer in the home office than most budget fans. And if it's not your WFH set-up that needs cooling down to prevent you getting hot and bothered on work calls, then the collection also includes the Russell Hobbs 16" Scandi Pedestal Fan and the Russell Hobbs 12" Scandi Floor Fan.
It may not be the most high-tech fan we've tested, but sometimes simple works just fine, so we were eager to put the design to the test to see how it compared against some of the best fans on the market.
---
Russell Hobbs 12" Scandi Desk Fan review: the specs
Why you can trust Ideal Home Our expert reviewers spend hours testing and comparing products and services so you can choose the best for you. Find out more about how we test.
Power: 45W
Speed settings: 3
Oscillation: 90˚ left-right
Timer: no
Other functions: no
Dimensions: H46 x W35 x D29cm
Weight: 3.7kg
---
How we tested the Russell Hobbs 12" Scandi Desk Fan
Amy is the Ideal Home team's Decor Editor, putting all manner of products through their paces to find the best recommendations for our readers, whether that's the best sofa beds for multifunctional living or the best garden furniture for a stylish outdoor space. She tested the Russell Hobbs 12" Scandi Desk Fan in her two-bedroom apartment, comparing it to bestsellers from all the leading brand names to see how well it performed against the best-in-class.
Russell Hobbs 12" Scandi Desk Fan review: Unboxing and assembly
Although I know that many people love a home appliance that can be controlled via a smart phone app or chatted to through Alexa, I happily admit to being a bit of a technophobe, so although this fan is quite basic, when the box arrived I was very much looking forward to a product that would be quick to unbox, plug in, and get the cool air flowing – without any head scratching whilst I waited for it to connect to the WiFi… or not connect to the WiFi… as seems more often the case.
However, unfortunately, my excitement was a little shortlived, as although on unboxing the Russell Hobbs 12" Scandi Desk Fan it was indeed gloriously tech-free, instead of an instruction manual telling me all the weird and wonderful ways I would need to connect the fan to various devices before I could experience cool air, instead I found an instruction manual that explained the process of assembling the fan, as, yes, it turns out this fan is self-assembly. So, as it turned out, I would need to build the fan before experiencing any cool air.
This was a little disappointing considering nearly every other fan I'd tested came ready assembled – and because I couldn't find anywhere that warns that the product would need self-assembly on the box.
Luckily I had the time and dexterity to assemble it myself – and quite enjoy the odd IKEA flatpack assembly – but that won't be the case for everyone, so it's definitely a factor to bear in mind before you buy, and not ideal if you're midst heatwave and already a little hot and bothered.
The fan arrives with the two grill guards slotted inside each other and the fan element attached to them with a plastic tie. A tie that was impossible to undo without scissors, but, scissors located, and the first hurdle of freeing the fan blades overcome, now all I needed to do was separate the grill guards. Except that 10 minutes later the grill guards were still locked together, and my patience with the extremely poor assembly instructions – that don't include any diagrams or make any mention of disassembling the parts before you can begin building – was beginning to wear thin.
Eventually I realised that there are swivelling clasps on three edges of the grill guards that have been closed to lock the two sections together during transit. However, even after opening these, the grills still wouldn't budge as the carry handle on the back of the rear guard was wedged through the front guard grill – perhaps this was an unlucky fluke – and in the end I just had to prise the two metal grill guards apart by brute force and hope nothing vital got bent (which it didn't).
Thankfully the room temperature at the time was a balmy 19°c, but this would have been a lot of hard labour if I was attempting it when the mercury was hitting 30° and I'd usually be thinking about purchasing a fan.
However, eventually I had the components free, and now it was time to reassemble.
First, you need to unscrew the rear grille securing nut from the fan stand – thankfully there are markings that show which way to turn to unscrew and tighten as it's the opposite to the generally universal 'righty tighty lefty loosey' mantra that has seen me through 40 years of self-assembly so far.
Then you slot on the rear grill and secure it with the nut you've just loosened. Next, it's the fan blades and then the fan blade securing cap. Followed by attaching the fan cover. Annoyingly this needs a screwdriver to undo and then refasten the small screw at the bottom of the grill plate, and no tools or allen keys are provided in the box. The need for a screwdriver also isn't mentioned on the box or in the assembly instructions, which is a little frustrating.
Screwdriver found, and the screw undone and refitted, you then remove the base plate securing nut from the standing pole, thread the standing pole through the base plate, and refasten the securing nut.
All in all, this took me roughly 30 minutes – longer than it should have because I struggled for 10 minutes to free the two grills at the start –and far longer than I expected from the appearance of the box, form which I assumed I was getting a ready-to-use fan. The process also required a fair amount of dexterity, and a few basic tools, which the box didn't warn of – a shame, as it could well make for a lot of disappointed customer returns.
However, assembly frustrations to one side, once built the Russell Hobbs 12" Scandi Desk Fan does look stylish, with the oak-effect front disc and fan blades definitely adding some welcome Scandi vibes to jazz up an otherwise fairly basic fan.
---
Russell Hobbs 12" Scandi Desk Fan: Performance
Fan assembled, good-looks admired, now it was time to find out whether it could deliver on the cooling front, and whether those metal grill guards were going to lead to any noisy rattling.
Plugging this fan into a power socket really is as simple as it gets, and the fan is then operated via manual control buttons that are located on the rear of the unit behind the rear grill guard.
This is a bit awkward, as it means you need to reach behind the fan to adjust the settings, and seeing as it's intended to be used as a desk fan, that means that when you're sat at a desk you need to stand up to operate the controls.
However, there aren't really that many settings to choose from, so once you've chosen your desired setting, I suppose it's likely you might just leave it running without much adjustment. Still, it would have been nice to have the controls on the fan base stand.
The limited settings are both a plus point – how nice not to be overwhelmed with 30 speed settings the Duux Whisper Flex Smart Fan boggles the mind with – but at the same time a little more variation would have been welcome in practice.
There are three speed settings – low, medium, and high – and then a toggle that you push in to make the fan oscillate left and right through 90 degrees, and pull out for static, directional airflow.
The controls aren't very ergonomic or nice to the touch; they feel pretty basic. And the corrugated edges of the speed button in particular are quite uncomfortable to hold and left some big indents in the thumb after twisting through the settings. But, the controls are manual and don't involve any clever (faffy) touch screens or tiny (easily lost) remote controls to be operated, and they produce a good stream of air that has a cooling effect on a hot day.
At this price, I expected the fan to be fairly noisy, and it is, especially on the medium and high speed settings. But whilst it definitely can't give the Duux Whisper Flex Smart Fan or MeacoFan 1056 Air Circulator a run for their money in the quiet stakes, it is still a lot quieter than the budget Honeywell Turbo Force Power Air Circulator Fan, and it's half the price and certainly looks far more stylish. The air it delivers certainly isn't as cold as the powerful MeacoFan 1056 Air Circulator can deliver, but it does make a difference when you're feeling hot and bothered.
The last thing to note is the Russell Hobbs 12" Scandi Desk Fan's size. Pictures make this appear a fairly compact design – perhaps because the grill is see-through rather than solid like the MeacoFan 1056 Air Circulator – but in practice this fan is really pretty large, especially so if it's going to be sitting on your desk next to you. You will definitely need a desk larger than mine.
When it's sat on a desk then because the fan head is angled slightly upwards – and because it's on a short pedestal that lifts up the fan blades – I found the air blew directly at my head, which could be good but gets a little much after a while and somewhat forgets the fact that your body might also be feeling too-warm. In my opinion, it may be better sat on a kitchen work surface, sideboard, or (deep) windowsill.
However, there is also the Russell Hobbs 16" Scandi Pedestal Fan and the Russell Hobbs 12" Scandi Floor Fan to consider if your desk is as lacking in space as mine!
---
Russell Hobbs 12" Scandi Desk Fan: Verdict
The million-dollar question; should you buy the Russell Hobbs 12" Scandi Desk Fan?
Overall this feels like a fairly basic desk fan that benefits from a little added pizzazz thanks to its on-trend Scandi-inspired oak-effect detailing. It certainly blends in a lot better with a stylish interior than most, and that's a big plus point in its favour. At around the £50 mark, it's also reasonably affordable.
The self-assembly is annoying, but as long as you're prepared for it then it isn't too much of a big deal, and although it isn't quiet, it's not as noisy as many fans at this price point, and it also oscillates so you get a little extra bang for your buck.
Other than that, the settings are limited, and a little awkward to use, but if, like me, you're not a fan of temperamental touch screens or app connectivity, then its manual operation may be another plus point.
All in all, the Russell Hobbs 12" Scandi Desk Fan looks good, isn't too expensive, and if you're not going to use it too often then it does the job of blowing some cool air towards you during particularly hot and clammy days. If you're willing to invest more for quieter operation and better performance, then there are better fans to be found in Ideal Home's best fans guide.
Get the Ideal Home Newsletter
Sign up to our newsletter for style and decor inspiration, house makeovers, project advice and more.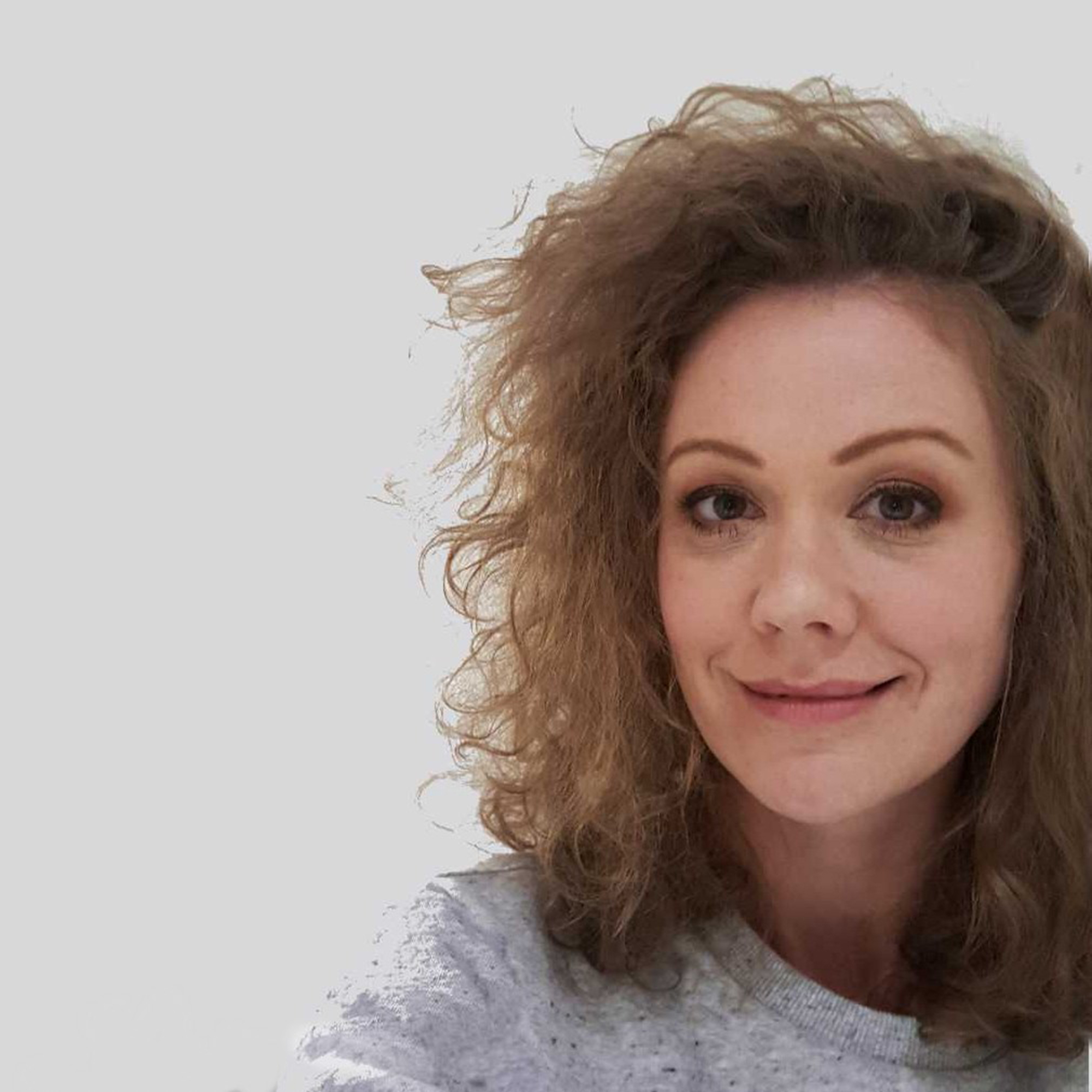 After studying Print Design at Winchester School of Art, Amy spent multiple years working in the interior industry, including styling and visual merchandising for many well-known brands. She's now Ecommerce Editor at Ideal Home, offering expert advice on the best products for decorating your home and ensuring it functions smoothly. That includes sourcing stylish yet affordable furniture – from the best sofa beds for combining style, comfort, and function, to the best artificial Christmas trees for a stress-free festive season – helping our readers to find the best mattress for their sleep style, and testing top-rated dehumidifiers and air purifiers to narrow down the best-in-class.