How to sew a bench cushion
The latest sewing project from Country Homes & Interiors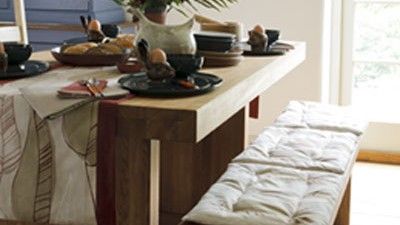 (Image credit: TBC)
Follow our step-by-step instructions and create your own tailormade squab cushions. Use a fabric that will co-ordinate with your room.
You will need
Main fabric (we used Macapa, ref 01, £35 a metre, Swaffer (opens in new tab))
Cushion pad (we used fire-resistant duck feather box cushion pad, 46cm by 60cm by 5cm, £10.75, Merrick & Day, merrick-day.com)
12 self-cover buttons, optional (we used Prym 23mm self-cover buttons, £2.49 for four, Calico Laine (opens in new tab))
Matching thread
Fabric marker pen
Strong upholstery thread
Step 1) Cut two 68cm by 54cm rectangles in main fabric. Place
right sides facing and matching raw edges all round and pin together.
Stitch all round taking a 1.5cm seam and leaving a 50cm gap along one
long edge. Remove pins.
Step 2) Trim and clip seam
allowances, turn through and press. Open up the gap along the long edge
and carefully ease the cushion cover in place over the cushion pad,
working the pad into each of the corners for a neat fit. Neatly slip
stitch the opening closed (see illustration).
Step 3) Using
a fabric marker pen, mark the position for six buttons on one side of
the cushion, making sure they are evenly spaced. Repeat on the other
side of the cushion.
Step 4) Cut twelve 35mm circles from the main fabric and use to cover the buttons, following manufacturer's instructions.
Step 5) Thread a long needle with strong upholstery thread, or similar (we used a Roxanne basting needle, which is 21/4in long, from The Cotton Patch (opens in new tab)). Knot the ends together to form a double thread.
Ste
p 6) Beginning at your first marked button spot,
over-stitch a few times to anchor the thread and then thread on your
first button. Push the needle through the cushion on the marked spot and
bring the needle out on the corresponding marked spot on the reverse of
the cushion. Thread on the second button, then push the needle back
again to the other side and through the first button again (see
illustration).
Step 7) Carefully draw up the thread so
that the two buttons either side of the cushion move together. Push the
thread through the pad and through both buttons as previously and,
again, pull up the thread. Continue to do this until the buttons feel
firmly anchored to each other, then finish off.
Step 8)
Repeat Steps 5 to 7 with the five remaining sets of buttons.
Alternatively you can use a heavy cord rather than buttons (work through
the cushion pad in the same way). Tie in knots to finish on one side of
the cushion.