Outdoor living room ideas – 24 ways to make the most of your garden
Create the ultimate outdoor oasis with these tips on bringing a living space to life in your garden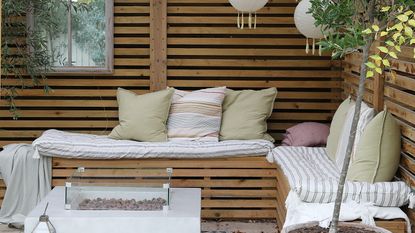 (Image credit: Future)
Time spent in the sun can be limited in the UK, so making the most of our gardens when we can is essential. Outdoor space is as valuable as ever in recent years, so many of us are looking to outdoor living room ideas to spruce up our exterior decor.
Whether you have a sprawling garden, a patio, or a small outdoor space to work with, you want it to feel relaxing, stylish, and like an extension of your home. Garden seating is the most obvious place to start, with large sofas, bistro sets, or even pallets to pick from. Consider how you like to use your garden - you might enjoy lounging outside with a book for hours or maybe you just want a spot to perch with a drink.
If you enjoy entertaining, choosing a dining set will also be a worthy investment. And how you choose to style this up will transform how you use the area, especially by opting for Mediterranean garden idea-inspired accessories such as rattan rugs and lanterns.
Whatever set-up you choose to go for, the best garden furniture will help you achieve an outdoor living room that feels just like the aesthetic you've created indoors - peaceful, sophisticated, and above all, comfortable.
Outdoor living room ideas
From outdoor kitchen ideas to garden seating ideas, all it takes is a little planning, design know-how and expert advice to transform your garden with an outdoor living room idea.
Whether you're looking to extend your living space, divide what you have into zones or update the furniture, our relationship with our gardens has never been more important. Any change, big or small, can be transformative, so we asked the experts to share their insider tips and advice on where to start…
If you're wanting to take your garden to the next level, the best outdoor kitchen ideas and garden seating ideas will make it the go-to spot for dining and relaxing. All it takes is some design know-how, clever planning, and expert advice to achieve the garden you've dreamed of.
Extending your living spaces to the outside of your home offers plenty more flexibility on where you can host friends and family and enjoy your downtime so that each zone of your property is being used to its full potential. If you're looking for easy garden ideas for a fast update, you'll also want to explore the seating and style advice below that will be simple to integrate.
1. Take inspiration from Scandi style
Scandinavian design has risen in popularity over recent years, and it's definitely here to stay - so why not bring it into your outdoor living room?
The Scandi trend of hygge is all about bringing a cosy aura into our living spaces in the winter months, and the summer equivalent is the idea of a 'sitooterie'. This is defined as an outdoor living zone that feels tranquil, so you can immerse yourself in nature in the comfort of your own home.
Emily Simmons, Creative Director, at Ruggable, says 'Scandinavian design is known for its minimalist, simple and functional approach. To incorporate this style into your sitooterie, opt for light natural wood furniture and neutral tones. Then you can incorporate understated accessories such as simple planters, woven patterned rugs, and soft cushions in muted colours.'
Using rattan in an outdoor space is great for creating an earthy feel that is also right on trend. It's durable too, so you won't need to worry about it being ruined by the elements.
'Rattan's extremely durable construction makes it highly resistant to temperature changes and rusting, making it ideal for both indoor and outdoor use. Its versatility allows it to tie into existing décor while maintaining its unique character seamlessly,' says Cleo Allen, Design Account Director at Andrew Henry Interiors.
'It can be styled in endless ways to fit whatever vibe your space has - whether you prefer a classic relaxed feel or are more modern and edgy in your tastes, rattan will provide the perfect touch.'
2. Pick pallets
If you're looking for a laidback outdoor living room space, then pallets could be your answer. They're easy to get hold of, and you can paint them in a colour of your choosing to customise the look to your scheme, whether that's opting for an Ibiza-inspired white look or keeping it down-to-earth by sticking to the original wood.
Opting for pallet ideas for your garden will also be a functional seating choice You can easily move them around in different configurations, or even store them in a shed or garage when the weather takes a turn.
3. Reflect the sun
Choosing a colour scheme for your outdoor living room is just as important as picking the decor for within your home. It can be the marker for giving your garden personality, and you can also tie it into your interiors to create an indoor-outdoor look that effortlessly flows.
Paul Garland, Lead Designer at Andrew Henry Interiors, says 'Vibrant combinations of Peach Pink, Fiesta and Daylily create a juicy palette, oozing the flavour of sweet fruit. This sun-loving colour wheel elicits a sense of happiness, reminiscent of joyful days spent by the pool, whilst brighter shades are softened with Mellow Yellow and Bisque. Introduce lighter woods into outdoor living/dining areas as well as touches of greenery to mimic an alfresco vibe.'
A yellow scheme is the perfect sunny solution for bringing the heat to your outdoor living space, even when the clouds appear. Bursts of colour are also easy to incorporate through outdoor cushions and outdoor rugs, so you can find affordable options to complete your furniture.
4. Embrace nature
Embracing nature seems like an obvious choice for a garden, but being intentional about the flora you choose around your living zone will greatly impact how you use it. This is especially true if your outdoor seating is positioned on a patio or decking, as adding varied plants will make the whole garden feel like a curated oasis.
'If space is limited, I would utilise vertical space, such as incorporating hanging planters, trellises, or wall-mounted herb gardens to add a touch of nature without compromising on precious floor space,' says Interior Designer, Rudolph Diesel.
'These vertical elements also create a sense of depth and visual interest, taking your outdoor space from just a cosy seating area to a luxurious haven.'
Easy climbing plant ideas will be low maintenance while creating a striking look, leaving you plenty of time to enjoy the fruits of your labour.
5. Choose strategic seating
Creating a flexible seating arrangement in your garden will hugely impact how you use the space, and how often you sit outside. Big outdoor sofas are great for large gardens, but they can take longer to set up if you have many cushions stored away. By opting for separate seating options, you can quickly get your outdoor living area arranged if you want an impromptu breakfast outside, and it's easy to pull out of storage.
Rudolph recommends choosing 'compact seating options that can be easily tucked away when not in use such as during the winter or days where you want more floor space. Bistro sets, folding chairs or stools are great space-saving choices, but I would also consider incorporating built-in seating like benches along the perimeter of your outdoor area.
This not only maximises seating but also saves space and creates a defined 'zone' where you can chill out, helping break your garden up and make it feel less crowded.'
6. Don't forget to accessorise
Your living room wouldn't be complete without the perfect accessories, so why would your outdoor living room be any different?
Outdoor furniture is great for making a garden feel ready for entertaining, but it can sometimes feel lacklustre without the addition of decor. You can easily decorate by placing objects around seating areas or making use of brickwork with some wall decor ideas.
'You can add more artistic and interesting things to give an outdoor space a contemporary feel. Think outdoor mirrors, vases, clocks, and hanging artwork or sculptures. All of these create a feeling that the garden space is decorated in the same way you'd decorate your lounge,' says Emma Cottrel, Marketing Manager at BoConcept, says
'The key to creating an outdoor living room is cultivating a comfortable space that you can relax in. It's also important to create continuity and flow between your interior and exterior design choices whether that be in texture, colour or style.'
7. Layer up seating with soft furnishings
Just like you would in your living room, layer up your benches and armchairs will plenty of cushions for the ultimate spot for sundowners. A natural palette of neutrals and terracotta touches will work in almost any outdoor space, and will have a soothing, calming affect. Floor cushions are great for impromptu visiting friends and will add to the relaxed vibe.
8. Open up the space with a mirror
Mirrors are a great addition to any size garden, with the power to totally transform the space. Not only does it open up the space to make it seem bigger, it will reflect areas of garden that you might not be able to see from your seating spot, so allows you to enjoy more of it. Just like you would in your indoor living room, hang a mirror at a central point above your seating, or in the middle of a slim space.
9. Lay a rug over decking to add colour
If our outdoor space is lacking slighting on colourful plants and flowers, a great way to introduce more, is with an outdoor rug. While a heavier blanket will work better on a lawn or grassed area, a rug is the perfect addition to a patio or decked space. Outdoor rugs are made with different fibres to their indoor counterparts, so they should with stand most weathers through-out the summer, but will need to be rolled up and stored over winter.
10. Combine a dining and living space
Buy now: Ibiza shell texture planter, £15, Matalan
Let's face it, as soon as the sun makes an appearance, we want to spend as much time outside as possible, whether its at meal times, working in the shade or chilling with a good book. So create a space to combine all these things with an open-plan living and dining space. Bench seating is great for squeezing on several small bums, so ideal for family meal times. Armchairs and coffee tables will bring a reading nook vibe and layered rugs will keep toes cosy come sunset.
11. Utilise a parasol to keep things cosy
While a parasol will be great for blocking out direct sunlight during the day, it will also help to keep things cosy and intimate come the evening. It acts as a little 'roof' to your outdoor living space, keeping in the warmth of candles or patio heaters and will also act as protection should an evening shower hit. It's one of the most simple but effective outdoor living room ideas.
The best garden shade ideas will complement the rest of your outdoor decor as well as provide a much-needed retreat from the sun. Consider matching a parasol to your chosen colour scheme, or even opting for a micro-stripe to bring elements of the British seaside to your back garden.
12. Choose outdoor furniture that can be used inside too
Buy now: Faux bamboo indoor/outdoor armchair, £240, QVC UK
Just because outdoor furniture has the word 'outdoor' in it, doesn't mean you can't use it inside too! Mary Bunting, buyer at QVC says, 'Go for furniture that wouldn't look out of place in a living room or a conservatory. Outdoor suitable materials are key as they are more durable and suitable to be left outdoors, but can also be used inside too.'
Rattan, cane and woven furniture are all popular choices for both inside and out and will work in both spaces through out the year.
13. Break up the space with levels
'If you have existing level changes, it's best to work with these rather than fight them,' says landscape and garden designer Tom Massey, director of Tom Massey Studio.. 'Retaining walls can be very expensive. If your garden is flat, adding levels will add costs, but also interest and excitement to the space. If you were going to excavate a pond, then you could use the spoil to create a mound. Thinking creatively and limiting material taken off site is a good way to save money and lower the environmental impact of the build.'
14. Create a seamless flow
'Connecting different links between spaces enhances the sense of rhythm and flow. Try using a limited palette of hard materials, or drifting key plants between different areas of planting,' says Tom.
Stylist Selina Lake adds: 'I'm not sure they always need to connect visually – you could decide on a different planting scheme for each zone – think scented herbs for somewhere to sit and relax, wild grasses and wildflowers for a charming dining space, or a Scandi-style seating area with all-white flowers.'
15. Extend the interior decor
Extend your indoor space by dressing your outdoor living area with thoughtful furniture choices and accessories – such as armchairs and cushions. Woven rugs, like the jute rugs pictured above, are a great decor option for grassless garden ideas.
16. Define with edges and boundaries
'A mixed boundary with some planting, some screening and perhaps some features like integrated sculptural elements can add interest,' says Tom. 'Boundaries can end up costing a lot of money, especially in larger gardens where the linear meter rates stack up.'
17. Illuminate with an outdoor lighting scheme
'Festoon lights can be left out all-year-round and provide an easy and inexpensive way of adding magic to any outdoor space, while solar stake lights or path markers are a great solution of lighting your garden without plugs or wires,' Tom adds.
'The most simple and effective thing to do is to uplight trees – this looks dramatic and gives an ambient level of light. Too much lighting though and your garden can feel tacky and overblown.'
18. Enjoy alfesco mealtimes by creating an outdoor dining area
'Start with location,' says Tom. 'Ask yourself if you want morning or evening sun? Do you need shade/prefer to dine in the shade? What about proximity to the house? You could put the dining terrace at the end of the garden, rather than right outside the house, meaning you go on a journey to get there, making it more of an event and experience.
Selina adds: 'The very nature of dining al fresco evokes a relaxed, informal mood – I'd always choose a lovely spot in the garden over a practical decision. I have a mini meadow area near the bottom of my garden, and I happily carry all the tableware there as it's such a charming spot.'
18. Add shade to make the space more versatile
Get more from your outdoor living room by incorporating an element of garden shade, such as awnings and pergolas. Being able to shade the space during the hottest parts of the day will mean the area is available to use throughout all hours of the day.
'Always ask "do I need it",' advises Tom. 'In a shady garden, one will just add more shade, but on a sunny terrace, a pergola can make it useable in hot weather. It's not always nice to sit in direct hot sun'.
20. Be thoughtful with hard landscaping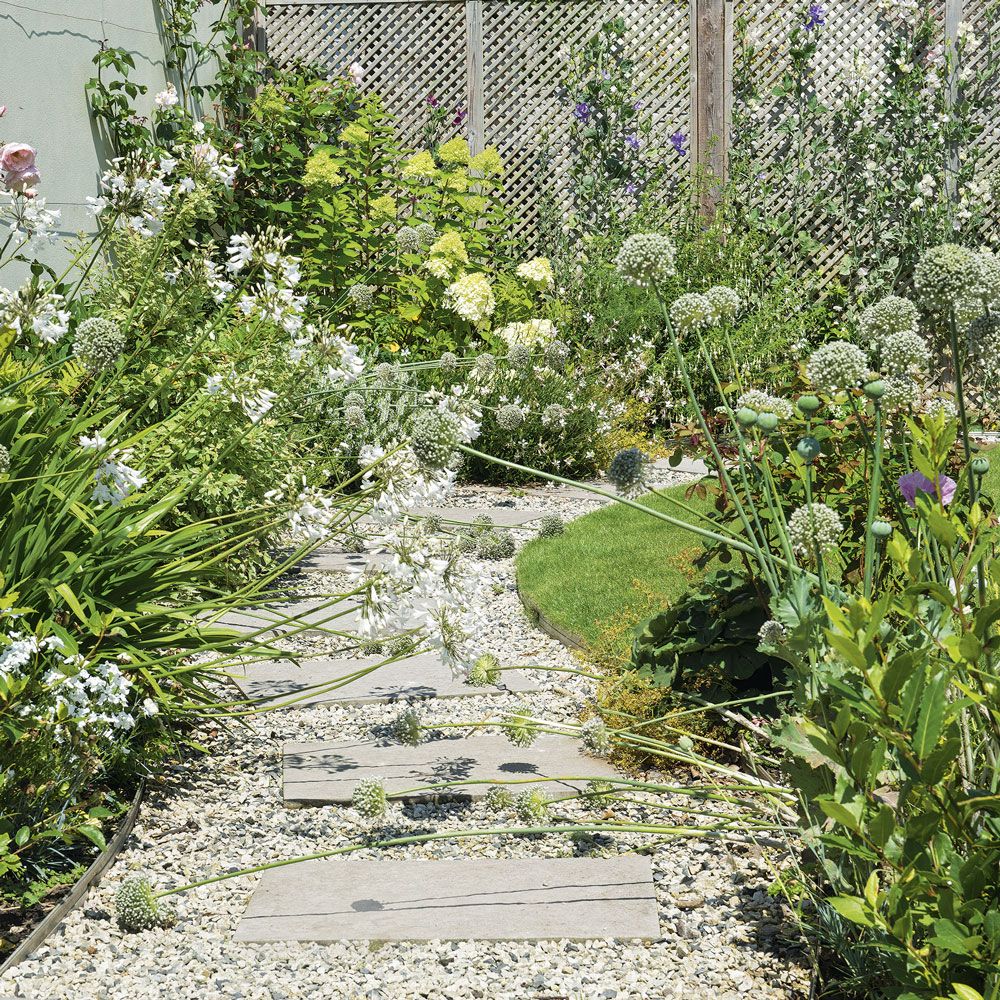 'Hard landscaping is a good idea for connecting areas,' says Tom, 'but this can be loose and informal, such as a planted gravel pathway, stepping-stones or floating timber boardwalk. Think beyond paving – it's not always the best solution and it is high cost too.'
21. Purposely use point outside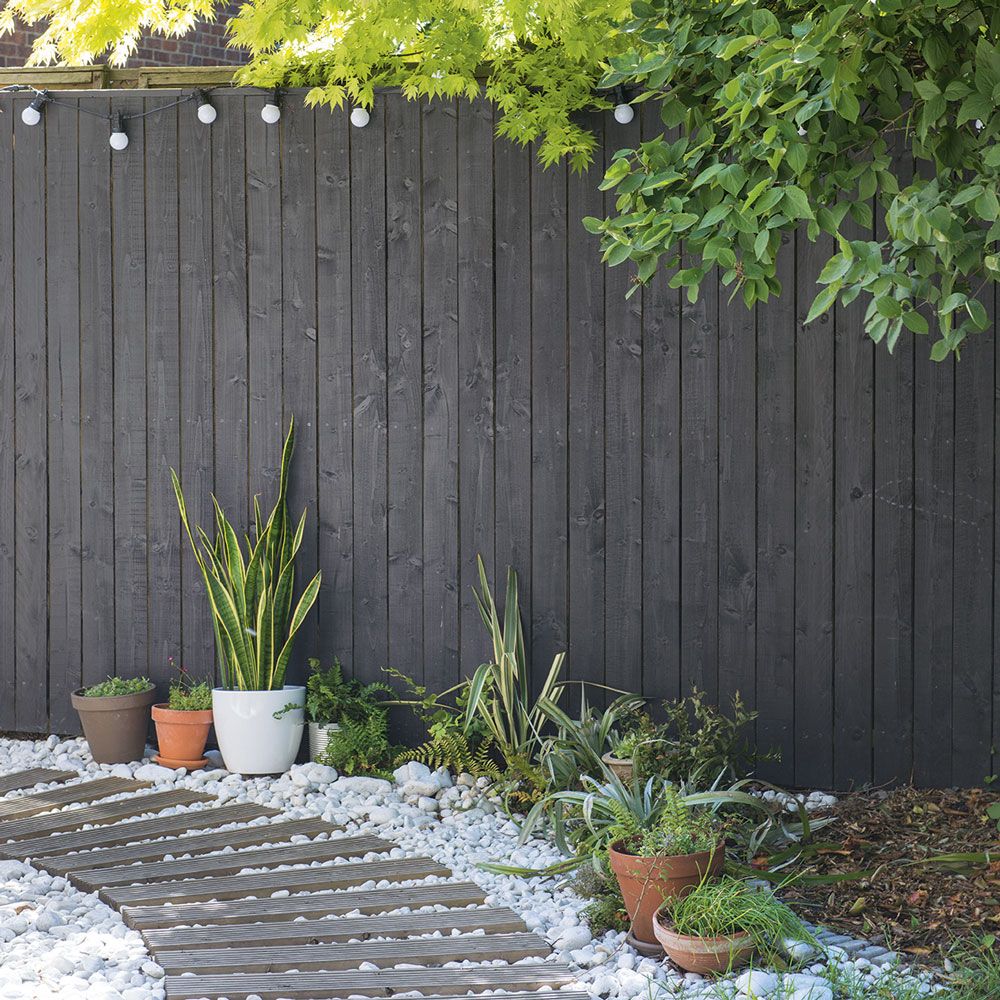 'If you have an existing fence, painting it black makes it recede and can make the space feel bigger,' says Tom. 'Planting is also offset by the dark backdrop. Painting is cheap and can make a big difference, but remember if you paint it once, you will need to paint it again and will result in ongoing maintenance.'
'Exterior paints and wood stains are great for revamping tired furniture – try painting black for a Scandi feel' advises Selina. 'For walls, a newly-built wall painted white is a great way of reflecting light, but I'd never paint an old, weathered wall – that would be a shame.'
22. Create a sense of calm with a water feature
'The sound of running water is so relaxing. Look for one that is just "plug and play" without any complicated set-up needed, or even an outdoor tap,' says Dani Taylor, creative director at Cox & Cox
23. Give your outdoor space a focal point
'Tables are great for adding interest,' says Selina, 'but I'm not talking about a dining one, rather a side table that can be used to create displays with planters or collections of gardenalia. I love a vintage metal folding table, which can be moved to the perfect spot each season, ready for a new display.'
Tom suggests a tree; 'One can be a fantastic sculptural element and cost a fraction of the price of an actual garden sculpture. Look for trees with multi-stem form and seasonality, such as hawthorn, crab apple or Amelanchier species.' Dani adds; 'A fire pit also makes a great focal point.'
24. Add a fire pit to make the space suitable for all seasons
Whether you choose to build a permanent solution or buy a moveable design a fire pit makes an outdoor living room more versatile. No matter how chilly the evenings get, sitting around a warming fire makes the space more useable throughout the entire year. 'A fire pit is great to sit around with the family, toasting marshmallows or cooking sausages, and is the perfect excuse to get everyone outside,' says Dani.
How do you make a good outdoor living space?
'I'm not a huge fan of the term "outdoor room",' says Tom. 'A garden is an outside space, and in my view, the main focus should be on plants and planting. Gardens obviously need to perform a range of functions for the human users, but I believe should also cater for local wildlife, and help support biodiversity.'
'When thinking about a garden I always consider balance between hard and soft landscaping, too much hard and it can feel cold and sterile,' Tom explains. 'A garden should be full of life.'
Start big, says Selina, 'Think about the bigger items of furniture, like you would with your indoor spaces. Invest in something comfy that can be easily stored away at winter. Then add your accessories, and a few pots with flowering plants that grow quite tall, like delphiniums, foxgloves or verbena bonariensis, which can be positioned around the furniture, helping it to feel more embedded into the garden.'
For Dani, it's about shelter and heat. 'If you're going to spend money on an outdoor room, then it's about using it as much as possible. You don't need to add a permanent structure – pergolas or a sail shade look fantastic – but a large parasol can work just as well for a smaller space. And for evenings, consider a fire pit.'
What is garden zoning and why is it a good idea?
'Zoning is a design trick used inside and out,' says Selina. 'It basically divides up a space into different areas, eg in a garden you'd have somewhere to dine, relax, entertain or sunbathe. Zones work particularly well for families as you can create a hang-out area for teenagers, a stylish sofa space for coffee mornings and a family table that's perfect for al fresco dining and bringing everyone together.'
Tom adds; 'All too often I see gardens that have a large-paved terrace outside the house, a huge lawn and tiny borders with a few drab shrubs. This doesn't offer any mystery or excitement – there's no reason to explore as the whole space is revealed immediately. Zoning and screening can provide intrigue and destinations to draw you out into the space.'
'You can use festoon poles and lights or even solar path lighters in planters to create pathways' advises Dani for defining the space.
What furniture materials are best for outdoor living room ideas?
'If you are looking for wood, then acacia is a good-wearing option,' says Dani, 'it's used in ship building. For a metal option, choose aluminium as it's light, lasts a long time and doesn't rust. Most cushions are waterproof – or showerproof – but you should try to bring them in over the wetter months and cover the frames of your furniture with a breathable outdoor furniture cover.'
'If you want low maintenance, thinking about how materials weather well is important. Choose timber that will fade naturally to a nice silver or corten steel that rusts to a deep dark brown,' says Tom.
How do I make an outdoor living room feel cosy, inviting and comfortable?
'It's about layering and coordinating,' says Dani. 'Keep furniture neutral and add colour and personality with things that are easily changeable, such as paint, textiles and lighting. Think about where you'll store everything when the weather turns though, with sheepskins and cushions that work inside as well as out.'
Mary says, 'Choose a centre piece and build your space around it, this could be a low coffee table, an indoor/outdoor rug or a fire pit that can keep you cosy when the sun goes down. Think about covering up your gas cylinders that are used to fuel your firepit, and go for a cover that can double up as a side table.'
'Complete the look with mature architectural plants that bring instant impact and drama to your space, compliment with indoor/outdoor basket effect planters as these give that indoor vibe and can be used outdoors all year round. It's important to add ambiance too. Lanterns and festoon lights can transform any outdoor space and create a welcoming glow so that you can continue to entertain and enjoy your space well into the evening.'
What interior design tips I can use outside too?
'I love to see jugs, vases and buckets filled with freshly-cut flowers,' says Selina. 'They will instantly jolly up a space.' Dani suggests a statement piece of furniture, 'like a hanging chair positioned at the bottom of your garden to give you something to draw the eye. Or an outdoor mirror on a wall to give the illusion of more space. And if you need occasional extra seating, then use a daybed just as you would a bench inside.'
'Your garden should be an extension of your home and style. Don't compromise on garden furniture or accessories that you would never have inside,' says Dani. 'All-in-one solutions are really exciting, like a corner set with a built-in fire pit. They provide a real luxe feel to your garden and are super practical as you can lounge and dine.'
Additional words: Holly Walsh
Get the Ideal Home Newsletter
Sign up to our newsletter for style and decor inspiration, house makeovers, project advice and more.