10 questions with...Ashlina Kaposta of The Decorista
In our new interview series, we talk to our favourite bloggers about their trend predictions and styles. Here, we meet Ashlina Kaposta...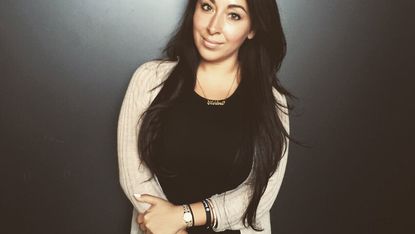 (Image credit: TBC)
Ideal Home Newsletter
The Home Of Great Ideas For More Than 100 Years
Thank you for signing up to . You will receive a verification email shortly.
There was a problem. Please refresh the page and try again.
1. What's your biggest trend prediction for 2017?
I think spirituality in the home is going to become a massive trend this year and beyond. We are all needing to create a little more harmony in our homes, a place to keep us nurtured and connected to a higher power. I believe that comes in decorating with natural elements that connect us with mother nature like crystal and stones, soft woods and lots of greenery.
2. Denim Drift and Greenery and are colours of the year – which one would you choose?
Greenery all the way. There is nothing more beautiful than the vibrant colour of leaves and palms. It goes with everything.
3. Paint or wallpaper – if you had to choose?
Wallpaper will always be my first choice. There is so much more opportunity to express yourself with a pattern on your wall.
4. How can you make the trend for dark colour easy to live with?
It's just a mindset shift. When you realise that dark colours on the wall can actually make a space feel bigger, roomier and more comforting, then you will allow yourself to see the benefits of its richness. Chromotherapy is a scientific method of using colours to heal us according what we feel we lack. In my book, Blissful Living, I show you which colours to choose for what feeling or need you lack and how you can use that colour to make you feel more calm, happy and blissful.
5. Give us three tips to make a small room feel bigger:
Paint walls a dark, cool colour. Cool colours make the eye expand and the darker the hue, the more expansion.
Add mirrors to your wall facing a window. The natural light will bounce off the mirror and expand the visible energy.
Place curtain rods all the way to the ceiling, the floor length hanging fabric will give the illusion of height.
6. What's the most common decorating mistake you see?
I don't really believe there are any mistakes when it comes to decorating your own home. You want to surround yourself with what you love and you are the only one who really can determine that. However, I can't stand to see rooms with small rugs. Large rugs that almost fill the living area are best. You want the rug to pull the space together, it should touch the sofa and all seating areas.
7. When decorating a room, where should you spend your money and where should you NEVER cut corners?
The sofa and the bed. Spend money where you spend your time. You want those things to be comfortable, durable because they are going to last you a long time.
8. Which colour would you NEVER work with?
I love all colours but my least favorite in the home is yellow. I don't know, I just would prefer to use gold.
9. What's your favourite room in your home and why?
The home office. I see people write checks, pay bills, write letters from the dining table and I just don't think that is the best use of space. Creating a space in your home to attend to life's responsibilities makes those moments more beautiful and blissful. So, I love to help my clients create a beautiful space to do that.
10. Describe your style in three words:
Beautiful. Glamorous. Exotic.
Follow The Decorista on Instagram @thedecorista (opens in new tab)