We earn a commission for products purchased through some links in this article.
Go on, make a statement
Being creative with your furniture coverings will lend distinctive character and style to your home. David Herbert, managing director of David Seyfried, reveals how to choose the perfect pieces of furniture to upholster.
1. Choose comfortable, well-designed pieces
"Good-quality upholstered furniture can make a style statement simply through its careful craftsmanship. Beautifully made, comfortable pieces that are well designed, with the right proportions will be notable for their elegance and presence."
2. A hardwood frame is important
"Look for designs with a hardwood frame, especially because they will last and make a good base for the upholstery. The frame should be glued, screwed and dowelled for strength and the base sprung to the front with coiled springs for the highest levels of quality and comfort."
3. Choose your filling
"Choose the cushion filling according to your personal preference. Standard European duck feather allows the cushion to hold its shape quite well, but not as well as a foam core wrapped in feather, which creates a firmer cushion that will look neater and require less puffing up after use.
"Pricing tends to be similar to pure feather, while a feather and down cushion can be about 15 per cent more expensive, but is sometimes preferred because it's lighter and much easier to plump up. Foam is the cheaper cushion filling, but it doesn't give the natural look of feather."
4. Don't forget the piping
"When it comes to finishing, we are seeing lots of self-piping or contrast piping for a smart look. Striped fabric can be self-piped and, if cut on the cross, will achieve a rope effect for added interest. Seat cushions finished without piping will create a clean, contemporary look that is currently quite in vogue."
5. Button up
"While fringing seems to have fallen from favour, buttoning is popular, both deep buttoning with pleated dips and shallow buttoning in the same or a contrasting fabric. Nailing in either antique finishes or in more modern-looking nickel is also in demand."
When it comes to choosing the fabric, design director at Romo and Black Edition, Emily Mould, has the following advice:
6. What's the use?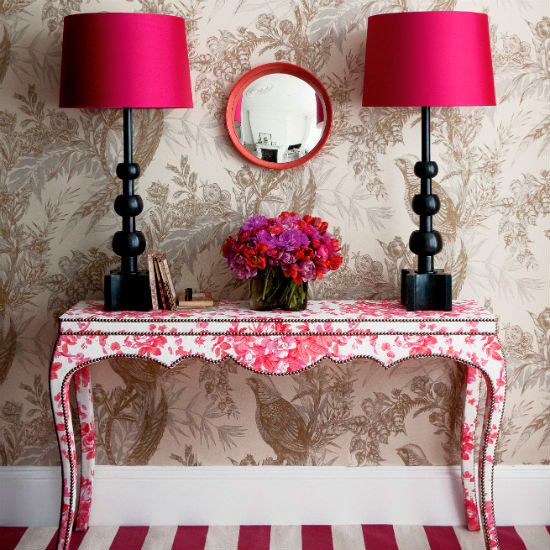 "When it comes to choosing suitable fabric for upholstery, think about how the piece of furniture will be used. For frequent use, a practical hardwearing fabric is important. Fabric durability is measure by a Martindale test: any fabric that achieves a Martindale results in pattern books, on sample swatches and on websites. Some fabrics are available with a stain-repellent or Teflon finish that protects the surface of the material from small spills."
7. Be bold
"Eye-catching, contemporary patterns and luxurious textural qualities are great for creating statement upholster. Look out for bold designs, such as abstract florals or striking geometrics in vibrant yet sophisticated colours.
"It's important to consider the size and repeat of the pattern to make sure you get the most out of it, especially if it is large-scale. Use statement pattern on simpler furniture to allow the design to be seen in its entirety across the pieces so that it works to best effect."
8. It doesn't have to be pattern …
"If you don't want to use pattern, a bold colour on an elegantly shaped piece of furniture can achieve striking results, while colourful trims can add interest and a sense of fun."
9. Stay on season
"Velvets featuring innovative jacquards and distinctive prints are prominent looks for the upcoming season, as are textural fabrics in contemporary shades, such as chunky chenille weaves in tones of copper and teal."