How to choose the right table lamp
Handy tips for buying the perfect table lamp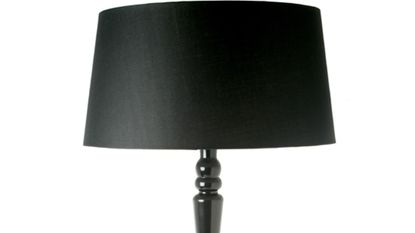 (Image credit: TBC)
Ideal Home Newsletter
The Home Of Great Ideas For More Than 100 Years
Thank you for signing up to . You will receive a verification email shortly.
There was a problem. Please refresh the page and try again.
Before you rush out and buy the first one that takes your fancy, here are a few things to consider to make sure you get the right table lamp for your home.
Where to put a table lamp
Most of the features you decide on will be based on where the lamp is going to go. For instance, if it's going to sit on a side table between two armchairs, you won't want a particularly fussy base or large shade, because it would obstruct the sightlines between people sitting either side.
At the same time, you won't want anything too small, as it may not project enough light. In fact, for a side table, the best thing to look for is a design with a glass base, or just a slim base, and a fairly small shade that doesn't reach over the edges of the table.
What style of lamp to choose
When buying a lamp for mood lighting, as long as the lamp won't be standing anywhere obtrusive, you can go for something that really makes a statement – the muted light it produces (in comparison with an overhead light) will stop it from overpowering the look of the room.
If you have a specific idea and you can't quite find it, you can always customise a plainer design by changing the shade, and could even have a shade made up in a patterned wallpaper or fabric if you prefer.
Wired up
If you plan to put your new lamp in a particular place in a room, check where the nearest powerpoint is and keep your eye out for lamps with a long cable if necessary.
Your decision shouldn't completely rely on this though - you could use an extension cable if the flex on your favourite design was too short, although this doesn't look as neat as a single cable.
Two by two
A lot of table lamps are sold in pairs. If you are looking for bedside lamps, bear in mind that buying lamps sold in twos is usually more economic, so have a look at what's available before you start spending more on individually sold designs.
Make it work
If your lamp is for a home office, you should look for a design that lets you adjust it for task lighting.
There are two standard designs that offer this, one lets you swivel the head of the lamp, and one lets you angle and bend the stem of the lamp (or you might find a model that does a bit of both). For straight-forward paperwork, a moveable head is fine, but if you will be using it for close work, the more flexible it is, the better.
Tamara was Ideal Home's Digital Editor before joining the Woman & Home team in 2022. She has spent the last 15 years working with the style teams at Country Homes & Interiors and Ideal Home, both now at Future PLC. It's with these award wining interiors teams that she's honed her skills and passion for shopping, styling and writing. Tamara is always ahead of the curve when it comes to interiors trends – and is great at seeking out designer dupes on the high street.