How to clean a Victorian tiled floor
You have a beautiful tiled Victorian floor in your hallway, but how do you keep it looking fresh?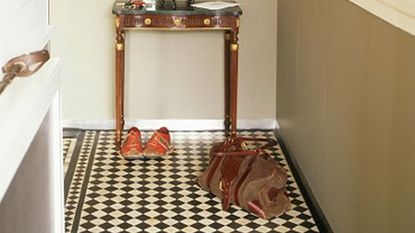 (Image credit: TBC)
Ideal Home Newsletter
The Home Of Great Ideas For More Than 100 Years
Thank you for signing up to . You will receive a verification email shortly.
There was a problem. Please refresh the page and try again.
A Victorian tiled floor looks great but, to keep it intact, it needs lots of care and attention. Most period hallway tiling designs combine plain tiles and encaustic tiles (with different coloured clays inlaid to create a design) which tend to get ingrained with dirt.
Cleaning tips:
The best way to maintain these tiles is to clean them with an alkaline cleaner. Once this is done, re-seal them so that they won't absorb any further spills or dirt. There are a range of products on the market that work particularly well on Victorian tiles: Original Features sells Tile Restorer for cleaning, Golvpolish for sealing, and a mild detergent called Superfloor that can be used to wash the floor on a regular basis. They also sell a Complete Cleaning Pack that is intended for use on geometric tiled floors.
Millie Hurst is Senior Content Editor at Ideal Home. She first joined the team at the start of 2021. Previously, she worked in women's lifestyle and homes news, writing about everything from budget kitchen makeovers and gardening tips to homeware dupes and cleaning hacks. Millie can often be found looking up trending terms, spotting news stories our readers need to know about and finding ways to decorate her rented flat.