How to stencil a wall pattern
Use a stencil set to create a feature wall in your home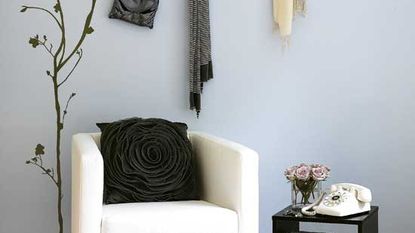 (Image credit: TBC)
Ideal Home Newsletter
The Home Of Great Ideas For More Than 100 Years
Thank you for signing up to . You will receive a verification email shortly.
There was a problem. Please refresh the page and try again.
1. Buy your stencils The Stencil Library (opens in new tab) has over 3,500 designs to choose from, plus brushes, paints and accessories online. Check if the stencil is cut or uncut. Cut stencils are ready to use, but more expensive. Uncut ones will require cutting with a craft knife first.
2. Paint the wall in your base colour and leave it to dry, ideally overnight. Work out how many times you'll need to repeat the stencil across the wall and use a spirit level and tape measure if you're going for a straight-line design. Mark the final positions with a dot at each corner of the stencil. Use spray stencil mount or masking tape to attach the stencil to the first marked position on the wall before you start painting.
3. Pour a small amount of paint into a saucer. Use a small roller for large designs, and a stencil brush for more intricate ones. Don't overload the roller or brush with too much paint as it could seep under the edges of the stencil. Work from the outside, painting inwards until you've filled the design. Remove the stencil immediately (but gently) and leave the paint to dry.
4. Repeat the process, being careful to follow your measuring marks and making sure that the patterns connect.
Heather Young has been Ideal Home's Editor since late 2020, and also edits its sister title Style At Home. She is an interiors journalist and editor who's been working for some of the UK's leading interiors magazines for over 20 years, both in-house and as a freelancer.