If there's one way to make an IKEA trip more stressful...
Ladies and gentlemen, meet Dana. Dana has the patience of a saint for if there's one thing worse than a trip to IKEA, it's a trip to IKEA with this man.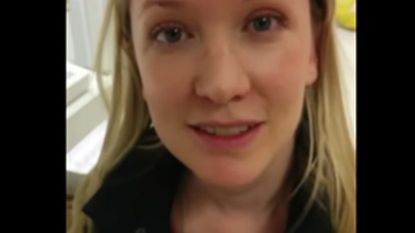 (Image credit: TBC)
Ideal Home Newsletter
The Home Of Great Ideas For More Than 100 Years
Thank you for signing up to . You will receive a verification email shortly.
There was a problem. Please refresh the page and try again.
Now, don't get us wrong, we love IKEA. Every home we've ever lived in has had a base-level of flatpack keeping it functioning. However, there have been times, deep in the warehouse section, frantically trying to find everything we need before the tills close (usually with a blister-inducing shoe or a wonky trolley) when we've wished we were anywhere else on earth.
One can only imagine trying to deal with all of that with a boyfriend like Simon in tow.
Simon, you see, is a funny man. A joker. A maverick. A man who knows not the importance of identifying the right base to that cabinet or just how crucial it is to bag a Billy in that limited-edition colour. Simon cares only about gags.
Funny-man Simon decided to film a recent trip around IKEA with Dana, making a series of hilarious puns from every item he encountered. He recorded Dana's reactions (which range from absolute despair to complete exasperation) and uploaded it to his YouTube channel. (We told you he was funny.)
Simon has only just moved in with Dana. He does not yet understand that IKEA is not a place for gags. But Simon will learn. We're sure Dana will teach him pretty quick.
Love getting creative with IKEA furniture? Browse our easy-but-brilliant IKEA hacks for some brand new inspiration for ways to customise flatpack furniture.
Tamara was Ideal Home's Digital Editor before joining the Woman & Home team in 2022. She has spent the last 15 years working with the style teams at Country Homes & Interiors and Ideal Home, both now at Future PLC. It's with these award wining interiors teams that she's honed her skills and passion for shopping, styling and writing. Tamara is always ahead of the curve when it comes to interiors trends – and is great at seeking out designer dupes on the high street.