What is the diamond on a tape measure? Turns out they have an important purpose
Turns out those little diamonds on a tape measure aren't just for decoration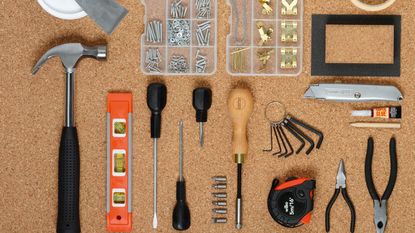 (Image credit: Future PLC/Andrew Woods)
Before we get started on a DIY project we like to have all of our toolkit essentials to hand. And one of the handiest and most-used tools in our arsenal has got to be the humble tape measure, but have you ever wondered what the black diamond shapes on a tape measure are for?
I wouldn't think about putting up floating shelves, replacing blinds or curtains or painting a two-tone wall without one. And don't get us started about going furniture shopping without first measuring up the space. We've been burned one too many times by not measuring an item before bringing it home or vice versa. Let's just say, there's a reason why a tape measure takes the top spot in our toolbox.
But even though we routinely rely on a tape measure when doing easy DIY projects, there are some marks on the tape, namely the little black diamonds that remain a bit of a mystery even to us and Ideal Home. But we recently found out they're are there for an important reason.
What is the diamond on the tape measure?
If you don't remember seeing the little symbol, grab your tape measure and start to unspool it. As you increase the length you may start to see a small black diamond shape at regular intervals along the entire length of the tape.
Now, if you have a background in construction you're probably already aware of the purpose of this little mark. But for those of us planning a DIY project such as building a radiator cover this weekend, it could be just as helpful to understand its very useful purpose.
While not every tape measure is the same and there are often differences between a UK tape measure and one from the US, for example, when these small black diamonds appear they typically indicate one thing.
On a UK tape measure, you will find a black diamond every 19.2 inches along the tape.
But why 19.2 inches?
Well, that diamond marking is a joist or truss indicator. In the UK, joists and trusses are traditionally found in 19.2 inch increments along a wall or structure. This is because a lot of boards, such as plywood, are eight feet – or 96 inches – long.
And when you divide 96 inches by five you get 19.2 inches exactly. This means that the diamond mark gives you a good indication as to where the centre of a joist is positioned.
'It's there to help construction professionals (builders and carpenters) space floor trusses and roof rafters at the standard interval of 19.2 inches on centre, allowing for efficient material usage,' confirms John Graham, Managing Director at DIY Alcove Cabinets.
'The diamond mark ensures accurate positioning of structural components during construction,' he adds.
Because a truss or joint is part of a framework – such as rafters, posts and struts – and ultimately supports a building, it makes sense that you'd want to know where these are located before you begin any work.
They are especially helpful to professional builders, as it helps them to speed up the process of locating where these components are and to avoid compromising them.
Exceptions to the rule
To confuse matters slightly, there are certain tape measures that have a set of black diamonds at the top of the tape and another set at the bottom. While joist marks appear every 19.2 inches, studs are sometimes situated – particularly in the US – every 16 inches.
You'll be able to tell based on where the first set of diamonds appears on the tape as to which is which, in this circumstance.
Occasionally these diamonds will be circular in shape but they still serve the same function.
If your specific tape measure doesn't have any black diamonds – or circles – don't worry. Many of us won't be undertaking DIY projects where we will need to consider trusses or studs. But it's a handy thing to know what they mean just in case you ever do need to use them.
Get the Ideal Home Newsletter
Sign up to our newsletter for style and decor inspiration, house makeovers, project advice and more.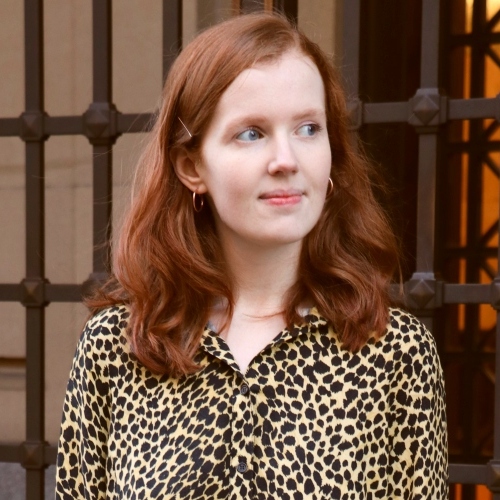 Ellis Cochrane has been a Freelance Contributor for Ideal Home since 2023. She graduated with a Joint Honours degree in Politics and English from the University of Strathclyde and between her exams and graduation, started a lifestyle blog where she would share what she was buying, reading and doing. In doing so, she created opportunities to work with some of her dream brands and discovered the possibility of freelance writing, after always dreaming of writing for magazines when she was growing up.
Since then, she has contributed to a variety of online and print publications, covering everything from celebrity news and beauty reviews to her real passion; homes and interiors. She started writing about all things homes, gardens and interiors after joining Decor & Design Scotland as a Freelance Journalist and Social Media Account Manager in 2021. She then started freelancing at House Beautiful, Country Living and in Stylist's Home team. Ellis is currently saving to buy her first home in Glasgow with far too many Pinterest boards dedicated to her many design ideas and inspirations.