How to get rid of moss in a lawn – 5 steps to healthy grass
Follow these tried and tested expert methods to rid your lawn of moss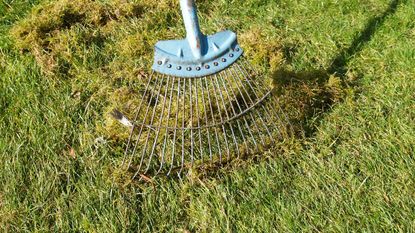 (Image credit: Getty Images)
If you are wondering how to get rid of moss in a lawn, you are not alone. This year's wet winter – and now wet spring – have provided the ideal conditions for moss to flourish. There is nothing it likes more than damp conditions with poor drainage – the perfect environment for moss to thrive.
Tackling moss is among the lawn care tips you will need to focus on now so that your garden is ready for when you want to start enjoying time outdoors and hosting garden parties and BBQs. If you have been planning lawn ideas, you want healthy, luscious green grass for them to make a real impact. At the same time as you are getting rid of dandelions in your lawn, you should be removing moss.
As with many things, prevention is better than cure. 'The best way to prevent moss is with lawn control,' explains David Hedges Gower, Chairman of the Lawn Association.
Following the correct lawn care techniques outlined below will reduce the chances of moss as 'thick, native grasses will grow back to stop the moss spores from germinating.'
David Hedges Gower has more than 40 years of lawn care experience. He established his successful lawn care company in 2004, and is Chairman of the Lawn Association
How to get rid of moss in a lawn
'Removing the moss that has built up over the winter is for many households a spring ritual,' explains Guy Jenkins, consumer manager of Johnsons Lawn Seed.
'The fact is, moss won't permanently disappear unless you change the environment in which it thrives. Heavy shade from hedges, buildings and fences often causes it to spread, but the good news is that it is easy to remove and keep at bay for the foreseeable future,' Guy adds.
Spring is the best time to sow grass seed and so 'it's important that moss and weeds are removed from your lawn as they compete with the healthy grass for vital nutrients and soil moisture, which are vital in the hotter weather to prevent the shallow grass roots from suffering lasting damage.'
The key to how to get rid of moss in a lawn is in taking steps to improve the soil condition to encourage healthy grass to grow in its place.
What you'll need
5 steps to getting rid of moss in a lawn
'Finding moss in your lawn is frustrating; not only is it aesthetically unpleasing, but it also spreads very quickly and can make mowing with a lawnmower difficult,' says Chris Bonnett, founder of Gardening Express.
These steps should help to keep moss at bay.
1. Scarify the lawn
One of the best ways to remove moss and prevent it from coming back is to scarify your lawn.
'The process of scarifying removes all the thatch and dead grass that prevents sunlight and nutrients from reaching the grass and its shallow roots, and which ultimately causes issues such as moss and weeds,' explains Peter Chaloner, managing director of Cobra. He recommends scarifying lawns in spring and autumn to remove any dead grass and thatch.
'For a small lawn, this can be done using a spring-tined rake; for a larger lawn area, or if the thatch is thick, it's more efficient to use a mechanical scarifier,' says Chris Bonnett.
Remove and break up layers of dead matted grass and moss by raking in different directions, which loosens the moss and pulls it up from its roots.
'When using the blades of a mechanical scarifier, you create grooves, which help oxygen and water to reach the grassroots so they can grow better,' explains Amanda Kincaid, marketing manager at lawnmower manufacturer Stiga.
Guy Jenkins, however, cautions that: 'You should avoid scarifying your lawn if it is too wet. If your lawn is wet when you scarify, you may pull up the grass by its roots instead of just removing thatch and moss. Scarifying is best done when the temperature is between 15°C and 20°C.'
'Think of scarification as a pruning technique as well as a thatch controller. But don't try and remove every bit of thatch or moss. You need to leave as much grass as possible, to help fill the lawn back in,' says David Hedges Gower.
2. Aerate the lawn
Once you've learned how to get rid of moss in a lawn, it's then important to keep it at bay. Once you have scarified the lawn, you need to maintain a good lawn care regime, including aerating, to keep the grass thriving.
'Aerating the lawn is done by poking small holes in it with a garden fork or aerator. This method improves the soil condition and removes moss by encouraging better drainage,' says Chris Bonnett.
'Hollow tine aerate your lawn yearly to ensure compaction is relieved and your soil is brought back to life,' adds David Hedges Gower.
3. Apply a liquid moss control
'Apply a liquid moss control after you have scarified. It's essential in dehydrating as much of the plant as possible,' says David.
'Always feed your lawn immediately after scarification and moss control,' he adds, 'so that you get the lawn to fill back in with fresh new grass.'
4. Reseed the lawn
When you're looking at how to get rid of moss in a lawn long-term, you should be aware that 'dense, luscious lawns are great at suppressing weeds and deterring the return of moss,' says Guy Jenkins of Johnsons Lawn Seed.
So, after you have removed the moss, encourage the growth of a dense lawn.
'Many people think that creating a densely-packed lawn is a tough job to complete, but it really couldn't be easier,' says Guy.
Follow these simple steps to repair patchy lawns post moss:
First, check the acidity of the soil – which you can check for yourself with a soil testing kit. If your soil's pH is too low, it becomes acidic and moss will flourish and keep coming back. You need to raise the pH – Johnsons Lawn Seed's After Moss is coated in calcium carbonate which raises the pH of the soil.
Disturb the surface of the soil with a rake, removing any stones and debris.
Sow the grass seed.
Gently rake the seed, to ensure even distribution, and then firm it down with your feet or a light roller.
Improved results can be achieved by de-compacting the area by digging in a fork and gently leaning back on it to crack the soil.
5. Mow the lawn regularly
'When it comes to mowing, the best approach is little and often,' says Peter Chaloner.
Check first when you should start cutting your grass. 'Regular mowing will stop moss and weeds from growing and only removing one-third of the grass blade height each time will keep lawns healthy. Cutting more than this weakens the plant and creates a shallow root system that will cause more problems in the future,' Peter adds.
David Hedges Gower agrees, adding: 'Never set your lawn mower lower than 25mm, and sharpen the blade monthly.'
FAQs
What will kill moss but not grass?
'You cannot kill moss, regardless of what product you are being sold. This is a simple myth,' says David Hedges Gower.
The best way to get rid of moss and not the grass is to maintain a good lawn care regime of scarifying, aerating and mowing to prevent any moss, keeping lawns thriving and allowing air and nutrients to reach the roots of the grass.
'Keep soil and thatch levels healthy and apply a moss control after each time you scarify and this will help in preventing moss from taking hold,' adds David.
Why is my lawn full of moss?
Your lawn is full of moss generally due to poor soil health. 'Put simply, thatch build-up shows poor soil. Poor soil leads to moisture retention in the thatch and lawn surface, and spores germinate,' says David.
This can be worse in shady areas of the garden that are more likely to become waterlogged. By following the lawn care steps outlined above you can help to improve the soil health, and therefore the growth of healthy grass and a reduction in moss.
Get the Ideal Home Newsletter
Sign up to our newsletter for style and decor inspiration, house makeovers, project advice and more.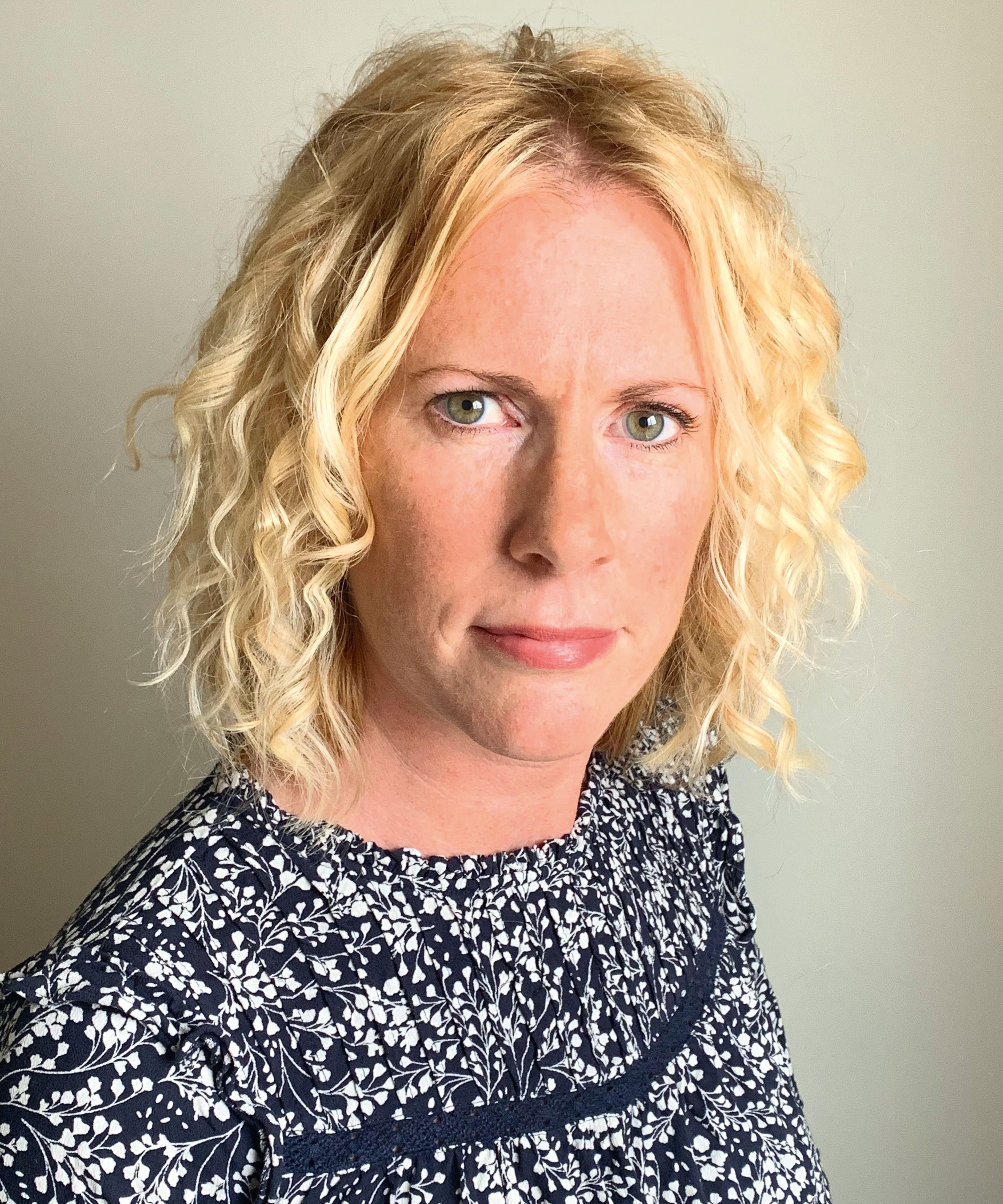 Rachel Crow is a senior content editor, contributing gardening content for idealhome.co.uk, and is currently the acting editor of Ideal Home's sister title, Period Living magazine. She was deputy editor of Period Living for 10 years and has written for lifestyle magazines for many years, with a particular focus on historic houses, arts and crafts, and gardening. Rachel started out her journalism career on BBC radio, before moving into lifestyle magazines. Always harbouring a passion for homes and gardens, she jumped at the opportunity to work on The English Home and The English Garden magazines for a number of years, before joining the Period Living team, and more recently the wider Ideal Home team.