Garden railway sleeper ideas to add an extra alfresco dimension
Utilise this versatile material to add a new design touch to your garden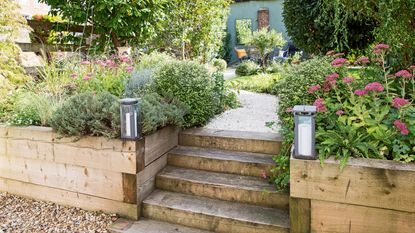 (Image credit: Future PLC/Lizzie Orme)
When it comes to landscaping, garden railway sleeper ideas prove a popular material and we see them used again and again - and they work in nearly every style of garden out there, too.
'Railway sleepers are a popular choice for garden landscaping, as they're affordable, versatile and durable. They offer a range of practical and decorative uses,' explains Chris Bonnett, founder of Gardening Express. 'They can be used for different projects in the garden, including creating pathways, raised beds, borders, steps and retaining walls.'
Garden railway sleeper ideas
There are a few options for buying garden railway sleepers, reclaimed sleepers, which have a more rustic, aged look and new timber sleepers available in either hardwood, which is longer lasting or treated softwood, which is a more budget-friendly option.
'When choosing timber sleepers, always opt for high quality timber that has been kiln-dried and pressure treated,' advises Leigh Barnes, Jacksons Fencing. 'This will ensure the sleepers are prepped for a long life in the ground.'
1. Create a herb bed
As a structural material you can't beat railway sleepers and they are ideal for building a mini herb garden, especially on a patio near your kitchen door where you can enjoy the fragrance and easily grab cuttings for cooking.
They make a great focal point and by alternating the way you stack each sleeper you can create a striking look using the end grain of the wood. Fill your herb bed with compost and your favourite herbs – rosemary, thyme, oregano, parsley, mint and sage are good options. It's an easy garden idea that can have a big impact in your outdoor space.
2. Build an archway
For a more modern garden idea, you can build archways staggered along your garden over a path. Not only will it guide visitors through your garden, you can plant climbers alongside to grow up the sleepers to blend them into your garden scheme.
Jasmine will provide beautiful small flowers with a heady scent that you can enjoy as you walk along.
3. Install raised edging
One of the more common garden railway sleeper ideas is to use them to create edging along a border.
'Using sleepers to edge pathways is a quick way to instantly create the shape of the path,' explains Mark Lane, gardening expert for Stannah.
'You can haunch them in with cement if you think they will move, but the weight alone should keep them in place, especially once you've planted on the opposite side of the pathway itself.'
4. Build a pergola
If you're after a shady spot in your garden, using railway sleepers to make a pergola is a good option. It will be a sturdy structure, perfect above a seating or dining area.
Growing grape vines or wisteria (in a south-facing garden) will create a beautiful canopy around the structure and help to provide some shade.
5. Make a bench
Because of the sturdiness of railway sleepers they are also a good material to use for building garden furniture. 'In my own garden, I have benches that have been made from sleepers,' explains garden expert Mark.
'Take a 1.2m length, saw and chisel out a couple of slots where the legs are to go, wide enough for a sleeper to slot into, cut another 1.2m length in half, sand down and fix each half into the slots with wood glue and either nails or screws. This makes a sturdy bench that will last for years.'
6. Use sleepers for retaining walls
If you've got a sloped garden, another practical railway sleeper garden idea is to use them to build retaining walls. 'Railway sleepers are strong and chunky, making them ideal for tiering gardens,' explains Fiona Jenkins of Myjobquote.co.uk.
'This is a great way to make sloped gardens more usable. While tiering flat gardens adds another dimension, to make them more interesting. Building tiers into a small garden can also help it to appear bigger. Use the sleepers to create a natural retaining wall on each tier and to add in steps.'
7. Set sleepers into a pathway
To lay a pathway in a garden, railway sleepers can be sunk into the ground to act as stepping stones for a rustic feel. Lay the sleepers with a slight gap between each and surround with gravel for an even surface.
8. Make steps from sleepers
If you've built retaining garden walls from railway sleepers, you can also use sleepers for steps for a cohesive feel. Bear in mind, you'll want to make sure the steps are away from any overly shady or damp areas as this can encourage algae growth, which can make them slippery when they are wet.
9. Make a raised vegetable bed
As well as herb gardens railway sleepers also make fantastic vegetable beds and you can stack several sleepers on top of each other creating a bed at the perfect height for you. 'Lay out the sleepers in your chosen area to visualise how the beds will look and to check that the ground is level,' advises Steve Chilton of LeisureBench.
'For the best results, use a standard size sleeper for the long sides of the bed, and half sleepers for the short sides. The depth of a single sleeper bed can be used for shallow rooted plants or vegetables, whereas root vegetables or larger plants will be more suited to a double or triple layered bed.'
To ensure the longevity of your sleepers, Steve has this advice: 'Remember to line the beds with a weed membrane or gravel, as this will prevent weeds from growing and assist drainage. Once the beds have been filled with soil, leave them to settle for at least a week before using them for planting.'
10. Build some raised planters
Another option for railway sleepers is to stack them in threes (secured in place with the relevant fixings) to create a raised planter. You could either build a small planter along a fence or garden wall, or create an entire raised bed running alongside a seating area. Building a bed with height makes it much easier to maintain and weed the plants.
Can you lay railway sleepers on soil?
Choosing well-prepared timber is key. 'Timber is susceptible to rot and insect attack and that is more likely when it is in contact with the ground,' advises Leigh from Jacksons Fencing. Do your research whether you're buying in person or online via garden discount codes.
'To combat this, treatment is needed to protect the sleepers. A good quality timber treatment will protect the timber from rot and insect attack for years to come. Always choose sleepers with a long lifetime guarantee against rot and insects so you can be sure the timber is suitable for use and will last a long time.'
What do you put under railway sleepers?
Preparing the ground can help to make the area around your railway sleepers easier to maintain. 'You don't necessarily need to put anything under the sleepers,' advises Leigh from Jacksons Fencing.
'It may be worth adding a weed suppressant layer to prevent weeds. If the ground is uneven, it's recommended to level the ground to ensure the timber sleepers sit level. Some people do concrete the sleepers in place but if you are installing them in a rectangular format, simply screwing them together will create a sturdy structure.'
Get the Ideal Home Newsletter
Sign up to our newsletter for style and decor inspiration, house makeovers, project advice and more.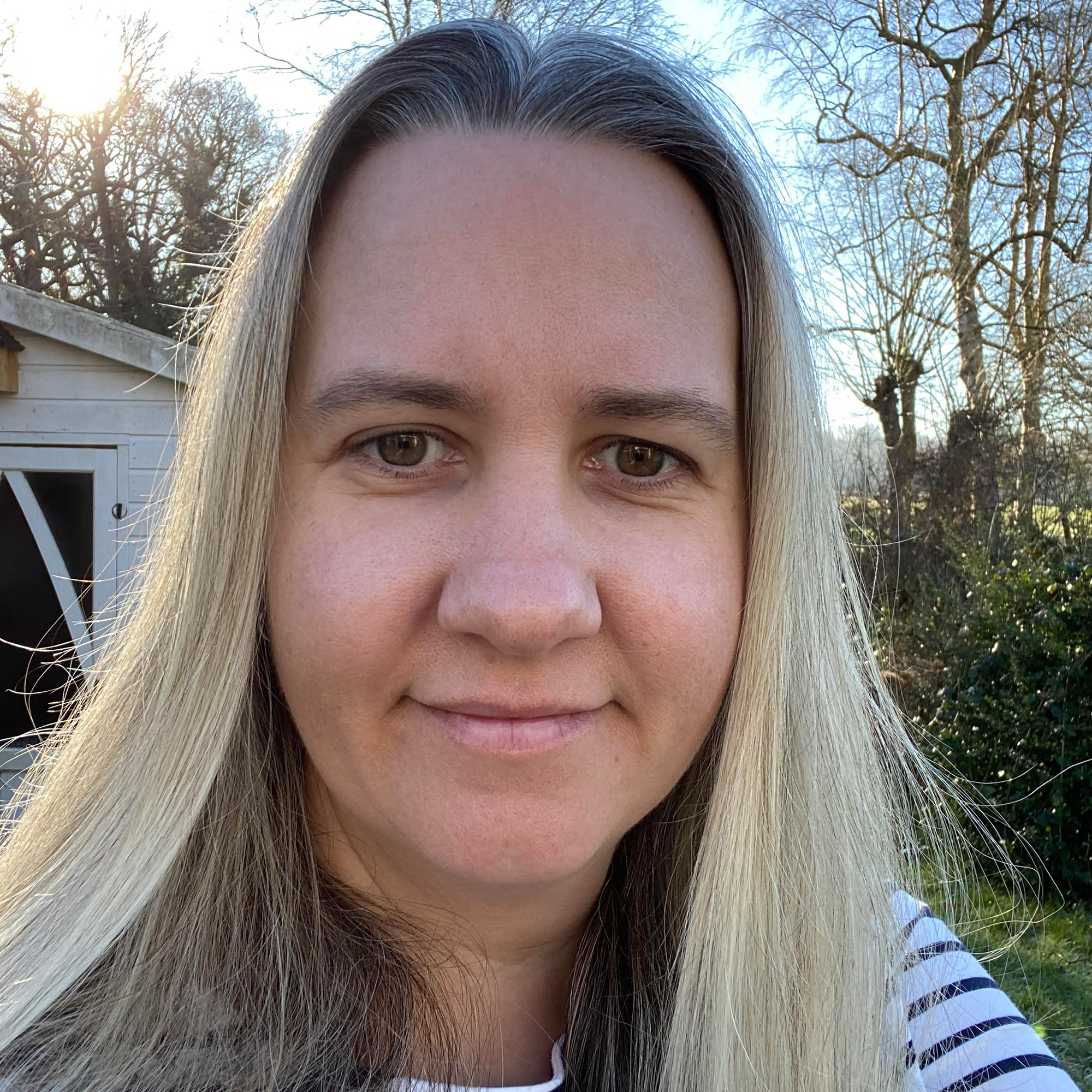 Amy Hodge has been working on interiors magazines for over 11 years. She's a freelance writer and sub editor who has worked for some of the UK's leading interiors magazines including Ideal Home, Style at Home and Country Homes & Interiors. She started at Style at Home just after it launched as food editor and is now chief sub editor for Ideal Home, Style at Home and Country Homes & Interiors.