15 Herb garden ideas - for a cook's garden that you'll actually use all year round
Easy to grow, herb garden ideas are perfect if you are just starting out on your grow-your-own journey. From raised beds to pots in the kitchen, we've rounded up the very best ideas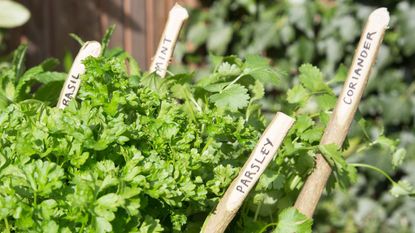 (Image credit: Future)
Easy to grow yet beautiful and practical, herb garden ideas are among the best additions to a garden or kitchen set-up. A great beginner's garden idea, the benefits of a grow your own garden don't stop at the eating.
'Whether planted into the earth or potted and placed decoratively around your garden, we love growing our own fresh herbs. Fragrant varieties like basil and thyme are perfect for adding an extra special something to your evening meal. At the same time, mint and lemon verbena can be picked and brewed with hot water to make a cosy cup of tea whenever you like,' says Francesca Hadland, styling expert for Bridgman.
Whether you've got acres of land, a small balcony or just a kitchen windowsill, we've rounded up herb garden ideas that will help with your cooking needs and create a sustainable garden to boot.
Herb garden ideas
If you're looking for budget garden ideas, then herb gardens are a must. In this cost of living crisis, we have all found ourselves trying to save money where ever we can – one way to do this is by growing your own.
A fresh sprig of basil from the supermarket can cost around £1 each time – while a pack of 500 seeds (that's the potential for 500 basil plants) costs just £1.50 from Thompson & Morgan. Pair that with this coir compost which is just £1.75 at Wilkos and, in next to no time, you can easily make your money back.
If planning to buy seed online, be sure that you opt for a reputable retailer to guarantee planting success.
1. Add a raised trough to a patio or garden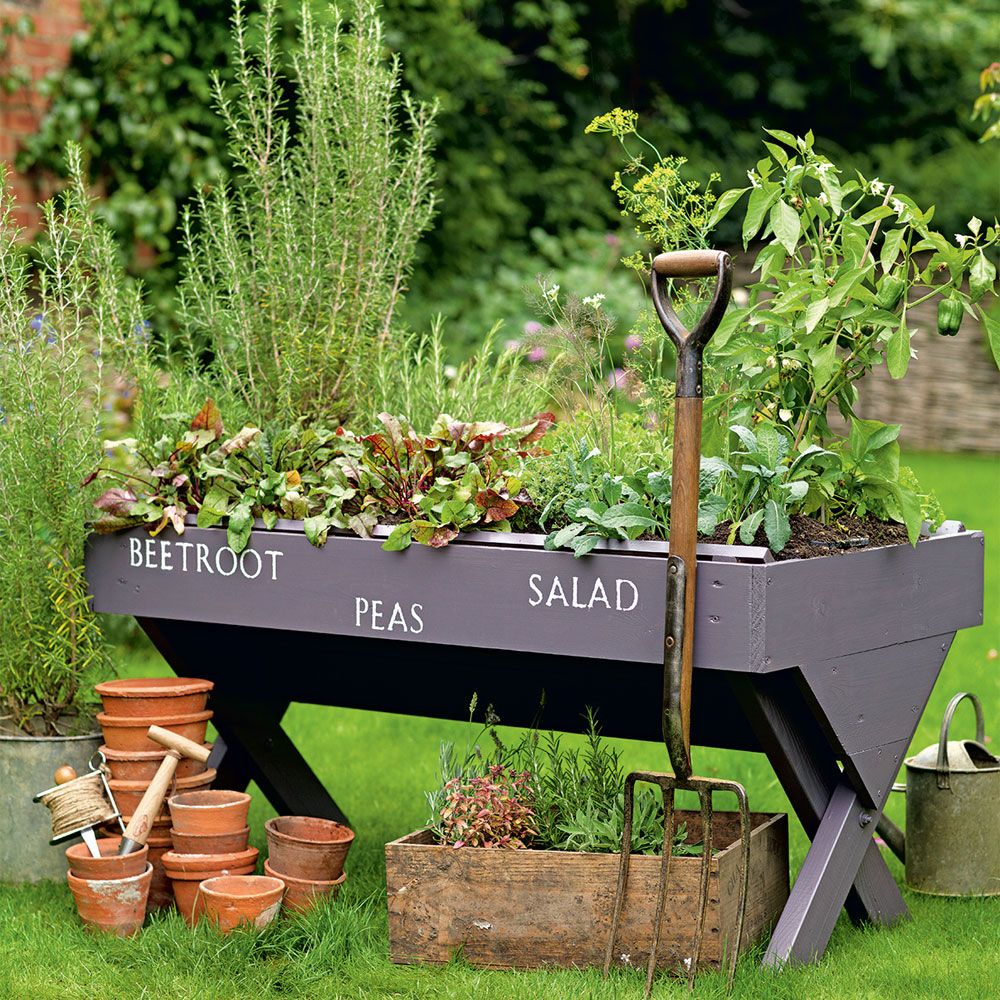 Positioned by the backdoor, a raised trough – like this Vegetable Grow Bed from YouGarden – is ideal for a wide range of gardens. Self-contained, you simply fill it with soil and add your plants. Since the trough is around table height, it means you don't have to bend down to harvest or tend your crops. It also reduces the risks of pests as the elevated position makes it more difficult for slugs and snails to work their way through your harvest.
While this layout is great for most herbs, it should be avoided for fast-growers such as mint which can choke and overwhelm the other herbs. Instead, opt for a pot of mint next to the raised bed.
For a more affordable alternative to a raised trough, learn how to upcycle a planter from a chest of drawers which will not only provide the perfect place to grow herbs but will also add an interesting aesthetic dimension to your garden design.
2. Grow herbs in pots
Perfect for placing around the patio, pots of herbs bring both decorative and practical benefits. Opt for terracotta designs to add a Mediterranean feel to the space. An added benefit of potted herb garden ideas is that the planter will contain vigorous growers – such as mint – and prevent them from taking over.
You can also move them to different positions depending on their needs and the weather. Thyme, sage, rosemary, French tarragon and oregano are the sun-lovers, while parsley, chervil and sorrel take the shade. Remember to bring pots of tender herbs indoors for winter.
Why not take it a step further and combine multiple pots by learning how to build a herb planter?
3. Upcycle vintage tins
When it comes to adding herb garden ideas to your kitchen, aesthetics are everything – after all nobody wants a load of dirty plastic ruining their kitchen ideas. Instead, why not upcycle some beautiful vintage tins to house your herbs? Ensure that the tins are clean and if you aren't using them to house an inner pot, ensure they have drainage.
When figuring out how to grow your own in a kitchen, space is limited so don't get carried away, there is no point in planting vast quantities of herbs that you're never going to use.
4. Add pots of herbs to an outdoor kitchen
If you're embracing the outdoor kitchen trend, then this is the perfect place to add a couple of herb garden ideas. Simply position a few of your favourite pots alongside the best pizza oven so they are to hand when cooking.
If your kitchen area backs onto a trellis or wall you could also use this space to house a few extra pots as seen in this space.
5. Try your hand at hydroponics
This soilless method of growing is ideal for kitchen herb garden ideas. Removing the presence of dirt on your window sill, these beautiful jars enable you to grow herbs from seeds using only water.
'Aside from being made from recycled and biodegradable materials our kits use the simplest (passive) form of hydroponics meaning they are very low maintenance. They help the herbs grow to their full potential, not only by providing an organic source of nutrients but just as importantly, an oxygen-rich environment for the roots to help maximise nutrient uptake,' explains Julian McAlpine, director at Hydro-herb.
6. Add a window box to a balcony
If you have a small garden or lack outdoor space altogether, it's no problem, all you need is a window box which can then be attached to your wall, windowsill or balcony. Their compact nature and hanging design mean they don't take up any floor space and so are perfect for small garden ideas.
Plant your window box as you would a pot – ensuring each plant is securely bedded in and has enough space to grow. Then be sure to follow our top tips for window box planting to ensure your new plants thrive.
If you are adding a window box to your balcony garden ideas, be mindful of its weight, especially if it is to be hung over the railings.
7. Try indoor vertical planting
Save space by adding a vertical herb garden to your kitchen – not only is it practical but it's a great way to bring foliage into this productive area of the home.
'All you need to do is wrap metal cable ties around the neck of a jar, leaving enough slack to slip over a cup hook screwed into a floorboard. In each jar add a layer of gravel for drainage, before adding soil and herb seeds,' explains Ideal Home's style editor, Nikki Phillips. Water when the soil feels dry to the touch and you'll have a beautiful herb garden in no time.
8. Plant herbs in raised beds
If you have the space, raised beds are one of the best herb garden ideas. Not only do they help to contain your planting to a specific area of the garden but they also allow you to control the growing conditions to help you get the most from your crops.
You can buy premade designs – like this Verve design from B&Q – but you'll be thrilled to know that even a novice DIY-er can learn how to build a raised garden bed for a fraction of the cost.
9. Add herbs to your borders
Not only are herbs very useful additions to the garden, but they are also beautiful. Rosemary with its tall billowing stems and blue blooms makes for an eye-catching addition, while voluptuous sage plants can provide the perfect foil to show-stopping blooms. If you plan to harvest your herbs be sure to put them within easy reach so you don't end up trampling your border to access them.
While most herbs are fine to add to your border, avoid planting mint outside of a container. Its fast-growing nature will mean you will be weeding mint plants out from all over your garden if you give it a chance.
Remember to make regular sowings to keep your crop alive and kicking for an easy garden idea.
10. Use herbs to line your vegetable patch
Lining the edges of your vegetable patch with herbs brings endless benefits. Not only does it mean you'll get to harvest delicious herbs alongside your veg, but it will also help to increase your yield. The herbs – when flowering – will attract pollinators 'the flowers of many herbs such as mint, rosemary and thyme are well-liked by bees,' says Liam Lapping of Flowercard. The bees will then also pollinate your fruiting crops such as beans, peas, tomatoes, cucumbers and peppers and increase your harvest.
Herbs also have strong aromas and while it's one of the reasons that we love them, it proves an effective deterrent for insects and pests that can ravage your crops.
11. Grow herbs in gaps and cracks to prevent weeds
'You can plant beautiful flowers in your paving cracks and wall gaps, rather than letting the weeds establish themselves,' says plantswoman Sarah Raven.
'Whenever I have done this, it has created such a pretty cottage garden look that's very low maintenance and adds a delicious scent to your garden if scented herbs or plants are used. There are many plants that this will work for, but a few suggestions would be Erigeron, Chamomile, or Lavender.
Start by making sure there are no perennial weeds already in the gaps, these can be removed by hand or with a weedkiller. After this, simply mix your chosen seeds or small seedlings with a little compost, and push them into the crevice, watering lightly until they are established. They'll be fending for themselves in no time!'
12. Use herbs to flank a path for a sensory garden
As well as their culinary benefits, growing herbs can help you to incorporate sensory garden ideas into your plot. 'Plant them close to paths, or in elevated positions where you catch their scent as you brush past; in a sunny, sheltered courtyard to fill the air with their aroma; in a pot by the back door, or on a windowsill,' advises Heather Birkett, senior gardener at the National Trust's Acorn Bank in Cumbria.
13. Make a vertical planter from a pallet
Vertical planters are ideal if you don't have much outdoor space and this DIY planter made from pallets, makes the perfect space-saving budget garden idea. Here's how to make a DIY herb planter via avid DIY-er, and grandmother, Hellan Pearce:
Take a pallet and fill in the bottom of each row with wood from another pallet to create the trough
Line each box with a plant liner and drill holes in the bottom of each box for drainage.
Write the name of the herbs on the front in permanent marker.
If you aren't as confident in your calligraphy skills as Hellan you can create a stencil out of paper to help guide your hand.
14. Grow herbs in the greenhouse
If you already have a greenhouse, then why not bring your herb garden ideas inside and enjoy a plentiful harvest?
'Growing herbs is also a great way to take advantage of your greenhouse ideas all year round, and especially as a shelter from the winter frost. Herbs which are popularly used in cooking, such as thyme, often have varieties from warmer climates such as the Mediterranean which means they suit a greenhouse well as they are not completely hardy,' explains Tom Barry, CEO of Hartley Botanic.
'Many herbs are ideal for growing in containers and can be kept by the door of your greenhouse for ease of picking and so you can appreciate the scent they release when touched,'
Growing herbs in a greenhouse will increase your yield meaning you'll need to know how to freeze fresh herbs to ensure that none of your harvest goes to waste.
15. Create a built-in herb planter on a table
Haven't enough room for a herb garden? You could give your existing garden table a simple update by jazzing it up by adding a built in herb planter. Expert, Marianne Shillingford from Cuprinol showed us how to make a table planter so you'll always have fresh herbs an arm's length away for whatever dish is on the menu.
How do you start a herb garden for beginners?
Starting a herb garden is a great way for beginner gardeners to get into growing their own food because herbs are pretty easy plants to grow.
It couldn't be any simpler than sowing herbs from seeds. Basil, coriander and parsley can be grown in pots on your kitchen windowsill from January to April. Then as summer weather approaches and temperatures start to rise, with soil conditions permitting, you can sow chives and dill seeds, directly into outdoor pots or directly in the ground.
Richard Redman, garden buyer at Robert Dyas says, 'Pick the herbs you want, sow your seeds in seed trays and wait until seedlings are roughly three inches tall and all risk of frost has passed before planting them out into your garden.'
'Feed every three to four weeks with liquid fertiliser. Wait for them to establish before you start cutting – ideally, a stem will have three segments – and then harvest what you need regularly throughout the season.'
Here's what you'll need:
What herbs can be planted together
Herbs that are commonly planted together are sage, thyme, rosemary, marjoram, lavender, and oregano, among others. Try and avoid planting any mint with other herbs to avoid these invasive herbs from choking your slower growing herbs.
Many herbs do very well together in containers in their growing season. However, mixing different kinds in a single pot isn't as clear cut as it sounds.
Make sure any herbs planted together have the same needs. For example, find out your herbs' growing requirements and group those that need lots of water and sun or less water and more shade together.
Do herbs need to be cut back?
Herbs such as mint and chives will need a cutback after flowering. Picking from them regularly and removing flower stalks will encourage fresh leaves to grow and, if you pick from the tips of the plants, will stimulate bushy new growth. 'Some varieties, including mint, chives, tarragon, and oregano tend to die back over winter to then make a return the following season,' says Richard Redman, garden buyer at Robert Dyas.
For the woodier herbs (sage, rosemary, thyme), they'll need a light prune to keep their shape.
Get the Ideal Home Newsletter
Sign up to our newsletter for style and decor inspiration, house makeovers, project advice and more.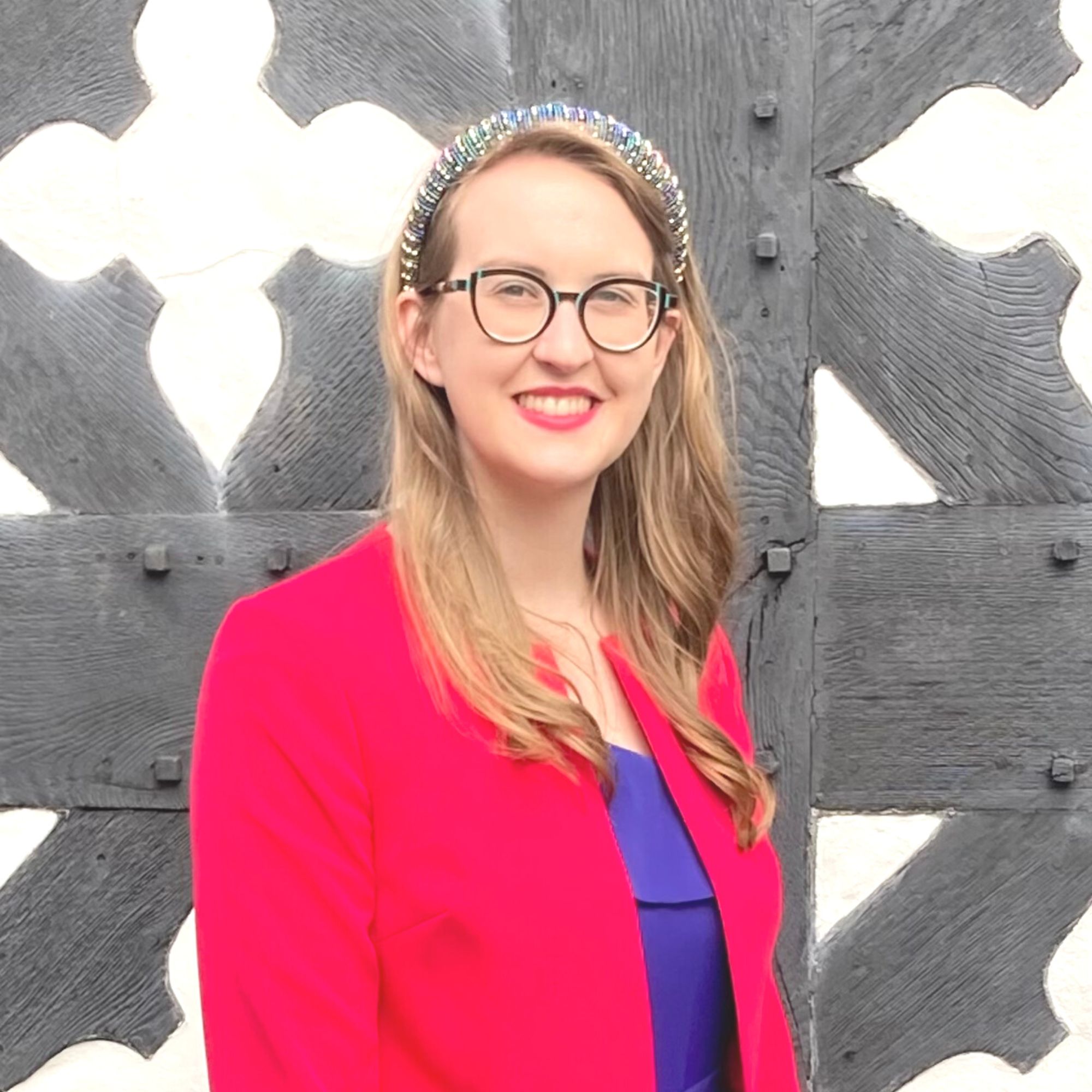 Holly is one of Ideal Home's content editors. Starting her career in 2018 as a feature writer and sub-editor for Period Living magazine, she has continued this role also adding regular features for Country Homes & Interiors and the Ideal Home website to her roster. Holly has a passion for traditional and country-inspired interiors – especially kitchen design – and is happiest when exploring the countryside and hills of the Lake District. A keen gardener, she is a strong believer that you can never have too many houseplants.