Shade garden plants - Sarah Raven's must-haves for spaces that lack light
Ideal Home's garden expert Sarah Raven reveals the best shade garden plants that will thrive in spaces without direct sunlight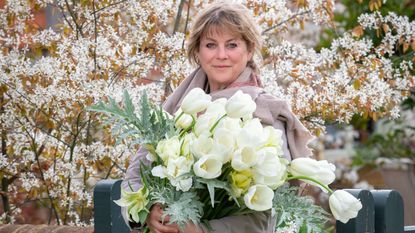 (Image credit: Jonathan Buckley)
When I'm planning a small shade garden border or a corner of a garden, I try to think of my garden ideas in layers. What's going to give us a silhouette against the sky, a small tree or decent-sized shrub for the upper storey? What will clad the walls or fence, enclosing the space, and what will fill the borders permanently just below, the architecture that will be there for all or most of the year?
Then I think of temporary highlights — the annuals, biennials and bulbs which scatter the area with flowers, but come and go. And another layer down, the ground-cover, the plants linking everything together, forming a low carpet. Finally, I pin down what would suit this spot in a pot or two, to give a highlight to that pocket of garden?
This is how I design any garden space, but in shade we all need to be cleverer with shapes and forms, rather than colours. To get darker spaces glowing and brighter than they truly are, white or eau-de-nil, soft pale green are ideal for your small garden colour palette, alongside strong, leaf shapes. That's what we stick to pretty strictly in our shade areas of the garden.
Without much sunlight, we are all a bit more restricted in what we can grow but sometimes that can be a good thing, narrowing the choices down a little.
Here, based on thirty years of gardening, are my shade-tolerant favourites.
Shade garden plants - Sarah Raven's top plants for gardens and planters that lack direct sunlight
The Top Layer
Amelanchier arborea 'Robin Hill'
My current number one for the top layer is a compact Amelanchier, (or Snowy Mespilus) which we have planted against a north-facing wall here, where it gets sun only for a few hours a day — and it's thriving. I love its simple, airy blossom in spring, followed by crimson to purple berries in June.
Blackbirds adore these and the whole area becomes like a natural aviary for a week or two until they've stripped every branch and move on to early rosehips. Then in autumn, the leaves turn flame and amelanchier has its third great moment.
Alongside this, for a climber to clad fences, walls or screens, my top recommendation would be Trachelospermum jasminoides. This jasmine-scented plant does need a sheltered spot, but surprisingly, grows happily in dappled shade (the shadier it is, the less flowers you'll get).
It's evergreen, so has presence even in winter and then all summer long is clad, top to toe with jasmine look and smell-alike flowers which are incredibly fragrant.
The Middle Layer
Hydrangeas
Ballooning up from ground level there can be no better family for a shade border than hydrangeas. Depending on how much space you have, I'd advise anyone to grow an invaluable pairing of the huge-headed Hydrangea 'Incrediball' with H. 'Limelight'.
The first, is as its name implies, hugely impressive with soft ivory green flower globes, the size of a man's head. We have one planted outside our kitchen window, just to the right of our sink, and I'm often fooled into thinking someone is coming to the door. As the spheres bob gently in the breeze, out of the corner of my eye, they look surprisingly human.
Counter the outrageousness of the scale and drama of this with the classy and elegant pyramidal flower structures of 'Limelight' and you're on to a good thing. 'Limelight' flowers longer than any other plant in the garden here.
In what we call Hydrangea alley on the northside of our house, it blooms away happily in shade with fresh flowers still developing in September. I love it!
Acanthus 'Rue Ledan'
If I only had room for one shade-loving perennial, Acanthus 'Rue Ledan' would be my choice. With its sculptural dark green leaves with the glossiest texture, this is a handsome plant.
It dies down briefly in winter but emerges with great gusto in early spring and then unlike its sun-loving cousin, however dry and hot the season becomes, never gets mildew. In May, huge flower spikes, like jagged edged spears, erupt up to nearly my height covered with ivory napkin flowers all summer.
The Flowery Divas
Annuals & biennials
We rely hugely on annuals, biennials and bulbs to give us our main blasts of colour all over the garden here, but in shade, there's a limit on what will grow and perform. Luckily for all of us, there are one or two glamorous stalwarts.
In autumn we plant out as many white and soft-pink foxgloves as we can fit, allowing them to settle in well over the winter (they're totally hardy) before the demands of flowering. Alongside these, once the frosts are over, we plant Nicotiana sylvestris and N. grandiflora, which are exceptional amongst annuals, in being happy in shade.
Growing to nearly two metres, Nicotiana Sylvestris 'Only The Lonely's' white trumpet flowers are moth pollinated and pour out delicious perfume at night. Keep the roots moist with a good watering once a week, and these will perform all through summer and autumn.
Bulbs
For spring, in shade we stick with the pale colours — ivory, white, cream and pale-yellow plants, shining light into any gloomy corner. You can have the lightest scattering of another colour (such as purple or blue) but the overall effect needs to be white. Tulips 'Exotic Emperor' and 'Purissima' are our number one choice and the delicate white daffodils 'Thalia' and 'Silver Chimes'.
In summer and autumn, we move onto the lilies, L. regale 'Album' followed by L. speciosum 'Album', leaving all these perennial bulbs in from one year to the next, to flower up our dappled shade.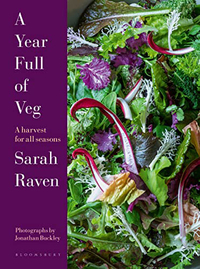 A Year Full of Veg: A Harvest for All Seasons by Sarah Raven | £22 at Amazon
Discover all the inside tips and tricks on how to grow your own, from garden to table, all broken down into monthly tasks and do do lists to make the journey a whole lot easier.
Ground cover
If you have an inch of space between all this abundance there are a couple of plants worth seeking out to knit everything together and prevent weeds.
The first is a white periwinkle, (Vinca minor f. alba 'Gertrude Jekyll') with reliably evergreen leaves and Catherine wheel white flowers from spring to autumn. If this starts to look scrappy at the end of the year, get your scissors out and give it a shear. It will come back almost instantly and may even grace you with another whole lot of flowers.
I also love sweet woodruff (Galium odoratum) with whorls of bright green leaves and a confetti of white scented flowers all through spring. To help you sleep, like lavender, you can pick this and pack it into cotton bags.
Shade Containers
As well as any of the bulbs already mentioned, and the tobacco flower, Nicotiana grandiflora, which are brilliant for container garden ideas, there are a couple of plants perfect for permanent pots for shade corners which are stellar.
The first is a Hydrangea 'Little Lime' which is like 'Limelight' in its flower form and length of flowering, but half the size. It has the same beautiful progression of flower colour. Starting a soft-lime, progressing to a brighter green, then washed with pink before gradually browning in November.
We also love the newly bred, exceptionally long-flowering honeysuckle, 'Chic et choc'. This smells fabulous and reaching only just over a metre when fully grown, is perfect as the permanent planting for a good-sized pot in the shade.
If it starts to outgrow its space, either lean them onto a fence and encourage it to merge with the Trachelospermum, or cut it back by about a third after flowering.
With all these plants up your sleeve for a shady corner, you'll be tempted to move the deckchairs!
Get the Ideal Home Newsletter
Sign up to our newsletter for style and decor inspiration, house makeovers, project advice and more.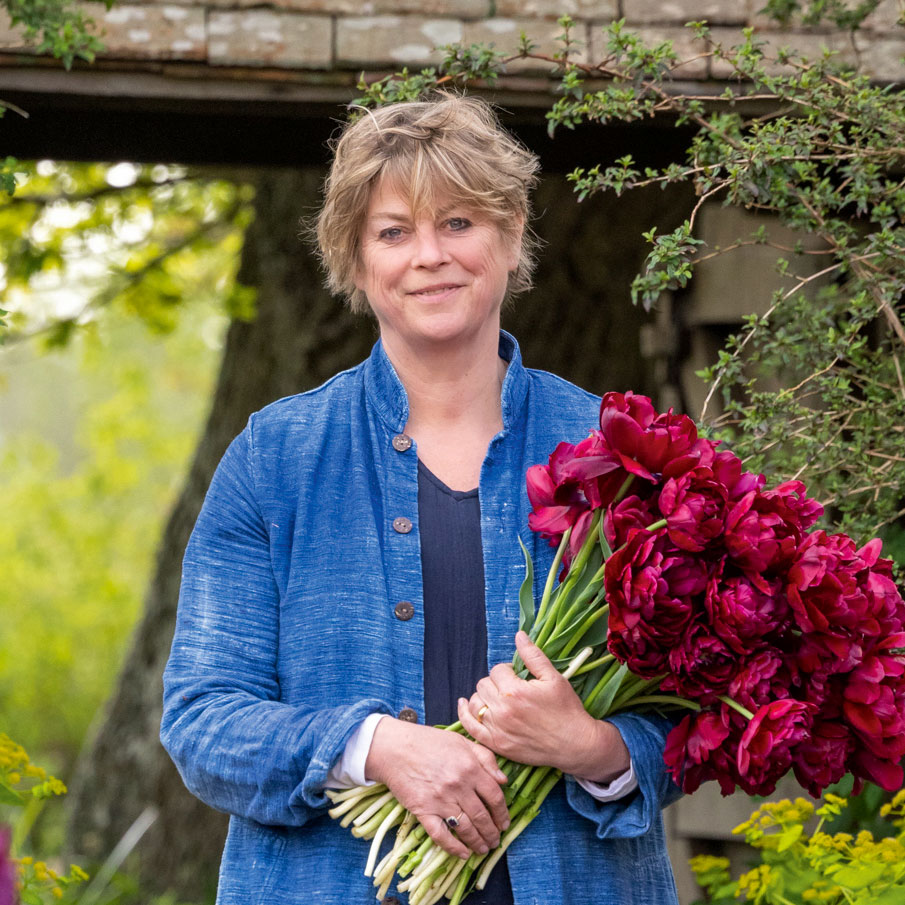 Sarah Raven is a gardener, teacher and writer who runs her own online plant nursery specialising in colourful, productive cut flower seeds and seedlings, edible crops and a large range of perennials, shrubs and roses (as well as the kit to grow them).
Over the last three decades, she has written regularly for the Financial Times, The Telegraph, and many other publications including Ideal Home.
Sarah presented on BBC Gardener's World, including several one-hour specials (e.g., Bees, Butterflies and Blooms).
She has an online course with Create Academy on growing cut flowers launching in autumn 2023 and has her own successful podcast Grow, Cook, Eat, Arrange.
Her garden - Perch Hill Farm in East Sussex - is open 20 days a year.